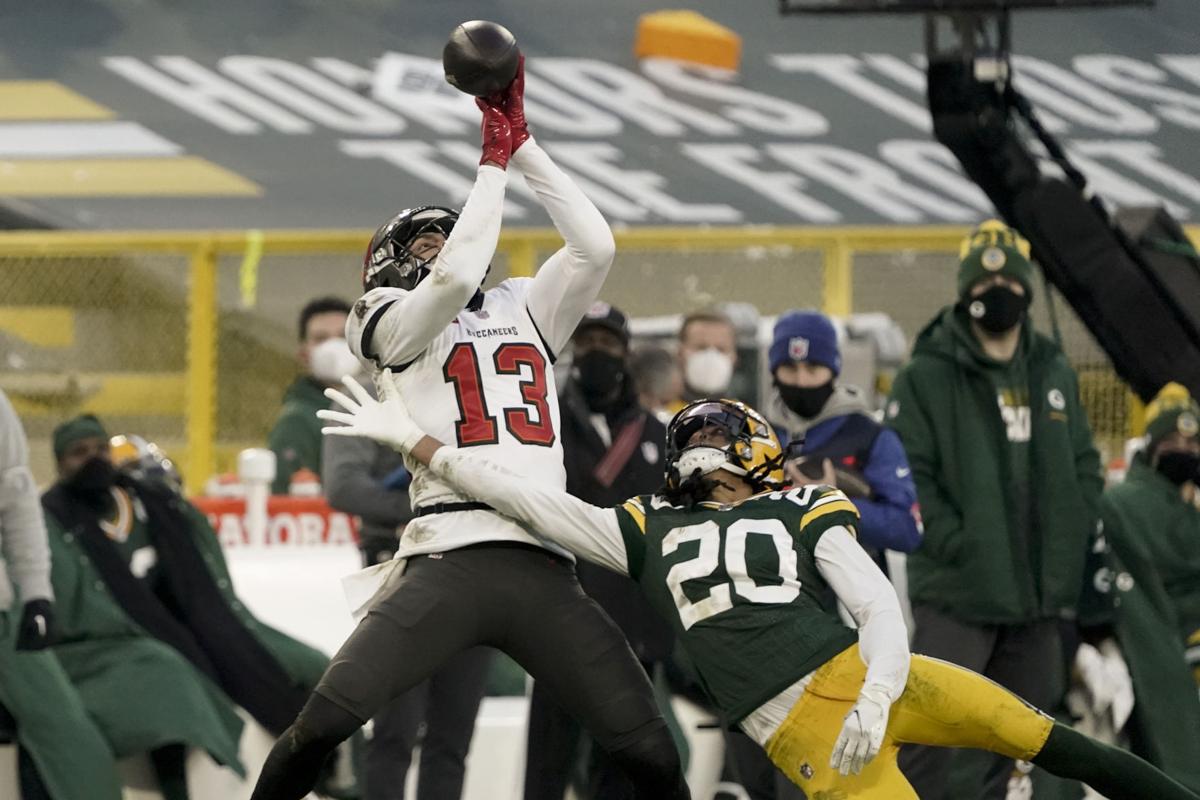 GREEN BAY — To hear Matt LaFleur afterward, the defensive play-call was just as big of a mistake — if not a bigger one — than cornerback Kevin King's failure in coverage.
LaFleur was just as perturbed, if not more so, with defensive coordinator Mike Pettine's call on the play.
"It was man coverage. Definitely not the right call for the situation, and you can't do stuff like that against a good football team and expect to win," LaFleur said. "When you look at it, there was 120 some-odd plays on both sides of the ball plus all the special teams. There were a lot of plays in that game that could have been made, that could have changed the outcome of the game.
"But the ones that really hurt us the most were that play, and then to come out to start the second half, (Aaron Jones) had the fumble and they score to make it 28-10. That really was the big difference in the football game. You just can't do that stuff.
"I blame us as coaches for putting our guys in that situation. That's inexcusable. That should not have happened. So, we've got to take a look at it, do some self-reflection, and try to figure out ways on how that can't happen again."
King was part of another crucial play that came after another questionable coaching decision: LaFleur's decision to kick a field goal with 2 minutes, 5 seconds left in the game. After Mason Crosby's 26-yarder made it 31-26, the Packers defense got the Bucs to a third-and-4 from the Tampa Bay 37-yard line with 1:46 left. Brady threw wide across the middle to rookie receiver Tyler Johnson, with King trailing in coverage. In a game where only five other total penalties were called (for 23 total yards), King was flagged for a 15-yard pass-interference penalty, essentially dashing the Packers' remaining hopes.
"I was pretty surprised, just based on how the game went," LaFleur said of the penalty. "I felt like there was multiple plays throughout the course of the game that they were letting us play."
LaFleur said he hadn't seen the replay of the play, which did show King tugging at the back of Johnson's jersey. King, who is set to become an unrestricted free agent in March, was not among the players who did Zoom video calls with reporters after the game.
"From what I was told, there was a tug there. Whether the ball was catchable or not, I think that always goes into it," LaFleur said. "But bottom line, the official made the call, and that's what it is. And we have to live with that. There's no use crying about it now or complaining about it now. What's done is done. All you've got to do is you've got to move on.
"But they were letting both sides play all game. There was a lot of things in that game that got me very, very upset that … maybe they were right. I don't know. I've got to go back and watch the tape."
Added quarterback Aaron Rodgers, whose interception earlier in the game came when it appeared wide receiver Allen Lazard had his jersey pulled by Bucs cornerback Sean Murphy-Bunting: "I think it was a bad call. I think there were a few opportunities for some plays down the field for us (on offense) that weren't called. Just surprised that call, in that situation, was made.
"We get the ball back with probably 1:35 and a timeout with a chance to win the game, go to the Super Bowl. Didn't look like it was even catchable, so yeah, I think it was a bad call."
---
Photos: Packers' Super Bowl hopes dashed as Bucs win NFC title