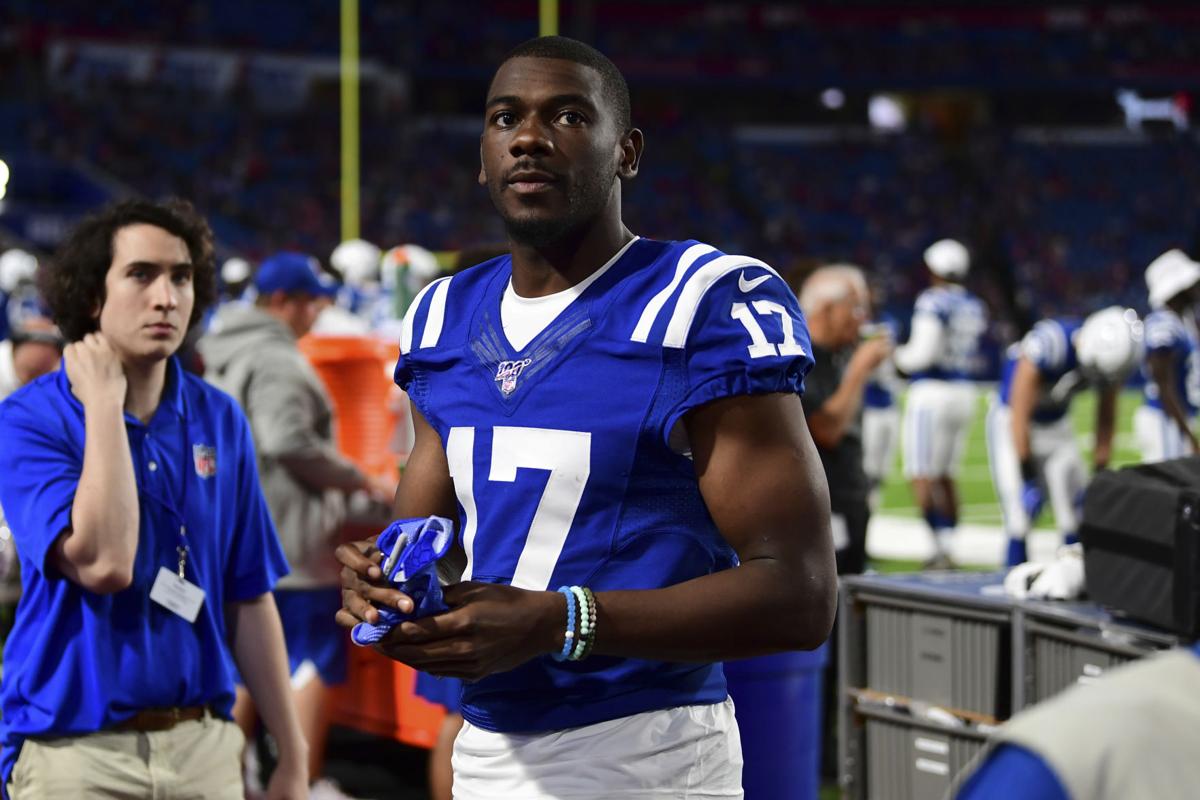 GREEN BAY — Calling it a family-first decision, Green Bay Packers wide receiver Devin Funchess opted out of the 2020 season on Tuesday, citing his concerns about the COVID-19 pandemic.
As his veteran teammates reported to Lambeau Field to undergo the first of three days of COVID-19 testing, Funchess informed the club he would not play in 2020. The Packers had hoped Funchess would bring a much-needed veteran presence and production to their wide receiving corps.
Funchess was placed on the reserve/opt-out list, according to the NFL's official transaction wire. Linebacker Greg Roberts was placed on the reserve/COVID-19 list, meaning he either tested positive for the coronavirus or informed the club that he had been in close contact with someone who has tested positive.
Funchess posted his reasoning for the decision on his Instagram page: "FAMILY IS FIRST. Always has been. Always will be. In such unpredictable time. It's been one of the constants on my mind as I've worked through one of the toughest decisions of my life.
"My closest family members have experienced the life-threatening impact of COVID-19 firsthand and for their and my own safety, I've decided to opt out of the upcoming NFL season. This was not a decision I took lightly but it's what is best for my family and myself at this time."
Funchess had not spoken to the Wisconsin media since signing with the team, and multiple sources indicated he was dealing with family members who were ill, so his concerns about putting them in peril were not surprising.
"I can't thank the Packers organization enough for their understanding and for giving me the opportunity to be a part of one of the most storied franchises in the league," Funchess continued on Instagram. "I look forward to getting back to work with them next season."
Funchess signed a one-year, $2.5 million deal in April after spending the 2019 season with the Indianapolis Colts — a season that ended midway through the first game when he suffered a broken collarbone and spent the remainder of the year on injured reserve.
By opting out, Funchess' contract is tolled, meaning the Packers can bring him back in 2021 under the terms of that deal. NFL players who are considered high risk can receive a $350,000 salary advance and be credited with an accrued NFL season if they choose to opt out. Players considered to be low risk can still receive $150,000 if they choose to opt out.
Funchess was hardly alone in choosing not to play this season, as nearly two dozen players have already opted out, even with the league having yet to set a firm deadline for making such decisions. Among those players who have already opted out are ex-Packers fullback Danny Vitale, now with the New England Patriots; several of Vitale's new teammates, including linebacker Dont'a Hightower and safety Patrick Chung; Minnesota Vikings defensive tackle Michael Pierce; Chicago Bears defensive tackle Eddie Goldman; Buffalo Bills defensive tackle Star Lotulelei; and Philadelphia Eagles wide receiver Marquise Goodwin.
Speaking in an ESPN Wisconsin interview earlier this month, Packers defensive lineman Kenny Clark said he expected a player or two to decide to sit out this season given the dangers and uncertainty.
"If somebody doesn't report because of it, it's completely understandable," Clark said at the time. "Everybody is leading different lives, and everybody has families and a lot of different things going on with their families. You never know if you're going to get your kids sick, or anything can happen. It's totally understandable if somebody doesn't want to come back for those reasons."
Team president/CEO Mark Murphy, in a Zoom video conference call with reporters following last week's annual shareholders meeting, said he didn't expect a lot of players to opt out, but indicated he wouldn't be surprised if some did.
"If people — players or staff — aren't comfortable returning to work, absolutely they should have the right to opt out," Murphy said. "We've had a number of our employees who have continued to work from home. In terms of the players, if a player is uncomfortable working for whatever reason or coming back and playing under these circumstances, absolutely they could opt out. I don't anticipate that there'll be large numbers, but we'll see."
Funchess was supposed to be an inexpensive pick-up who could augment a wide receiver group that is largely unproven behind three-time Pro Bowl selection Davante Adams. He was expected to compete with Allen Lazard for the team's No. 2 receiver job.
A second-round pick out of Michigan by the Carolina Panthers in 2015, Funchess struggled with consistency in Carolina, with his best year coming in 2017, when he caught 63 passes for 840 yards and eight touchdowns. He followed that up with just 44 receptions for 549 yards and four touchdowns in 2018, then landed with the Colts in free agency on a one-year, $10 million deal.
Despite having his 2019 season derailed after three receptions for 32 yards in last year's season opener, Funchess, who turned 26 in May, would have been the team's second-most experienced receiver behind Adams.
Instead, the Packers will be counting on Adams to stay healthy and big jumps from Lazard, whom the team cut at the final roster reduction but broke out during the second half of last season; Marquez Valdes-Scantling, who began the season as the No. 2 receiver but disappeared late in the year; former UW-Whitewater standout Jake Kumerow, who had limited offensive opportunities last season; Equanimeous St. Brown, who spent last year on injured reserve, and former Canadian Football League player Reggie Begelton, who was signed in spring.
The Packers did not select a wide receiver in the 2020 draft, despite it being arguably the deepest draft at the position ever.
"For them to not pick a guy early on, to me, says they really like our guys," quarterback Aaron Rodgers said midway through the virtual offseason program. "It all starts with Davante and his abilities. He's a dynamic player. When you have a dynamic guy like that, he opens up the field for the rest of the guys. That's where you saw guys like Allen Lazard make big strides, you saw Jake make big plays, you saw MVS have games where he was a big factor for us.
"I'm excited about seeing 'EQ' back in the mix and then adding Devin, who's a veteran guy who's made plays in the league for a number of years and is hungry. I feel really good about that group and obviously the front office did as well."
If the Packers want to add someone else with Funchess out of the equation, one option could be ex-Bears and Falcons wide receiver Taylor Gabriel, who had 29 receptions for 353 yards and four touchdowns last season with the Bears and played in a version of the Packers' offensive system when he was with the Falcons in 2016. Packers coach Matt LaFleur was the Falcons' quarterbacks coach at the time.
Asked in May what he knew about Funchess midway through the team's virtual offseason program, offensive coordinator Nathaniel Hackett said: "Right now with our situation, everybody's been secluded, but very excited to have Funchess on our team, and very excited to get to know him and see what he can bring. Right now, it's kind of hard to say. He's been in the league for a lot of years, and I've known of him and seen him, but I think until I get the opportunity to truly meet him — I haven't even gotten to meet him yet, due to the situation — I think that's when we're going to find out where he's going to fit. But excited to have him here."
Concerned about COVID-19?
Sign up now to get the most recent coronavirus headlines and other important local and national news sent to your email inbox daily.