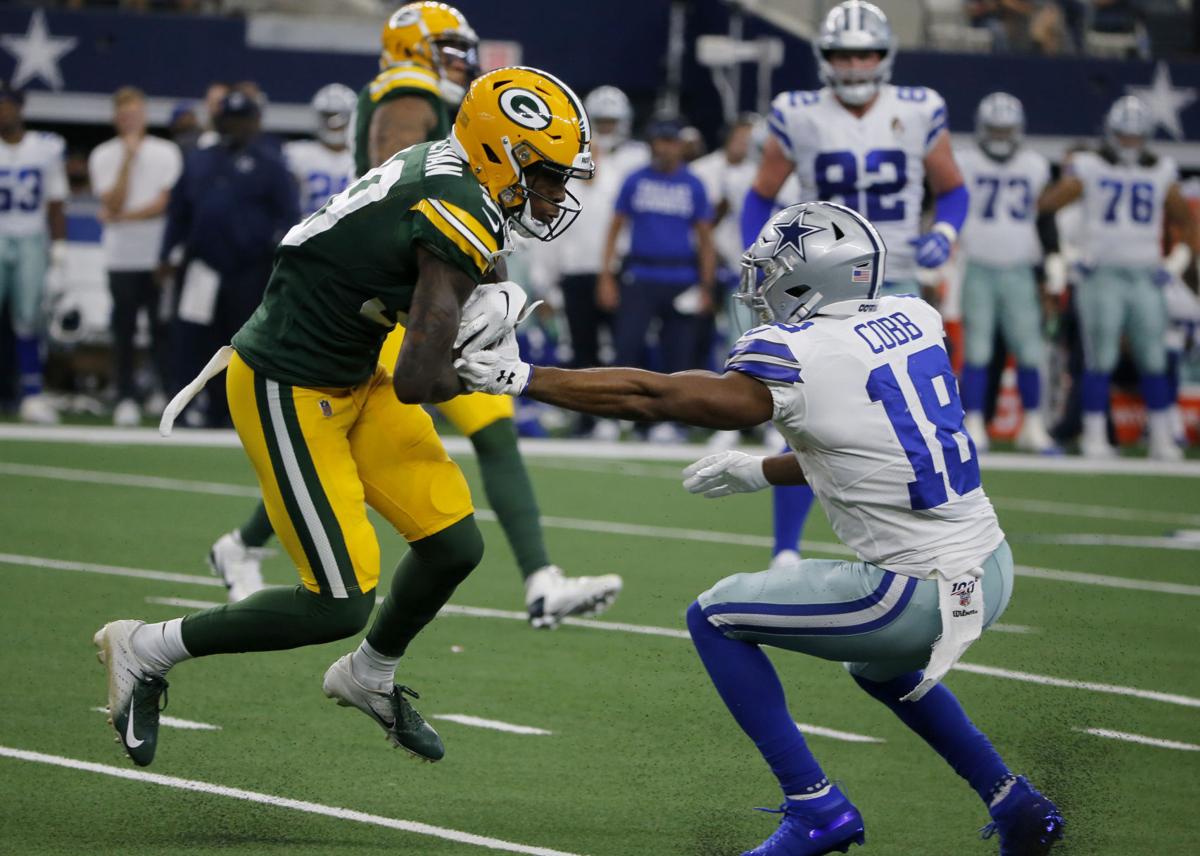 GREEN BAY — Training camp is officially underway, and the Green Bay Packers' confidence in nickel cornerback Chandon Sullivan is so unwavering that they've given no indication that they've even considered bringing back veteran Tramon Williams for another year.
There's an old adage in the NFL that it's better to get rid of a veteran player a year too early than a year too late, and while the 37-year-old Williams has expressed his desire to return for a 14th NFL season — and 11th in Green Bay — general manager Brian Gutekunst doesn't seem inclined to call the guy who helped the 2010 team to the Super Bowl XLV title but also helped the 2019 team to an NFC Championship Game berth with his steady play in the slot.
That's about as big of a vote of confidence a team can give a young, still largely unproven player such as Sullivan, who flashed at times last season but will be counted on heavily this season if he is the nickel cornerback — the role he played with the No. 1 defense during Saturday's first practice of camp.
And if Sullivan does succeed in that role, the Packers will have — get this — Williams to thank in part for Sullivan's development.
For not only did Sullivan follow Williams around last year trying to absorb every ounce of advice Williams could dispense, but Sullivan also watched all 761 defensive snaps he played last year during the offseason and the two continue to speak regularly.
"Tramon is a guy who came in undrafted like myself and has played a long time," Sullivan said during a Zoom video conference call with reporters over the weekend. "I told him what my goals were long term, and I just paid attention. Over the offseason, I pretty much watched every snap he played last year and just tried to see ways I could implement his game into mine.
"He definitely played a big role and I still keep in contact with him to this day."
That the selfless Williams would take such an approach with Sullivan, whom the Packers quietly signed last offseason after he'd been cut by the Philadelphia Eagles, is hardly a surprise. Throughout the secondary, youngsters Jaire Alexander, Kevin King and Darnell Savage all rave about the kind of mentor Williams was to them during his second tour of duty with the team.
In Williams' mind, he was simply paying forward what cornerbacks Charles Woodson and Al Harris had done for him early in his career — even if it means he won't get the call to return to Green Bay this year because Sullivan proves more than capable of filling his role.
Asked before camp opened about Williams and whether the Packers were considering bringing him back, Gutekunst replied, "As far as Tramon goes, I have great respect for Tramon, what he's done here. We're certainly very aware of where he is. No updates at this time, but I have a lot of respect for Tramon and what he brings to the table."
Meanwhile, the Packers are still figuring out exactly what Sullivan brings to the table. He played in all 16 regular-season games and both playoff games last season, posting 26 tackles (17 solo), his first career interception, one forced fumble, one quarterback hit and eight pass breakups while also registering two special teams tackles in 350 defensive snaps and 198 special teams snaps.
"The coaches just told me to continue to stay flexible and versatile, and whatever role they throw me in, they just told me to be ready — whether it's safety, nickel, dime, it didn't matter. And I told them I would be ready," Sullivan said. "It just shows that my hard work is starting to pay off. I'm just trying to gain respect in this league and prove that I belong."
Nevertheless, it won't be easy to play at the same level as Williams did last season. Pro Football Focus had him as the sixth-highest rated cornerback in the league, and given the way the COVID-19 pandemic wiped out on-field training this offseason and preseason games have been canceled, his experience surely would have come in handy. While Williams might draw interest from other teams if injuries strike their secondaries, he made it pretty clear in an ESPN Wisconsin interview late last month that his preference would be to play one last year in Green Bay.
The Packers' other options inside if Sullivan struggles would be 2018 second-round pick Josh Jackson or 2019 sixth-round pick Ka'dar Hollman. Or, Alexander or Savage could move inside on obvious passing downs.
"Chandon's been a big help to our secondary. He's able to make plays on the ball and he just has good instincts," Alexander said. "I think that if I'm able to get inside, I definitely would (like to do it) because I like being able to do multiple things. I like to be able to switch it up. We'll see."
Added Gutekunst: "Chandon did an excellent job for us coming in last year. This is going to be Year 2 of the defense so I can see he just has a different level of confidence than he had last year — and he performed well for us last year. So I'm excited about that."
So is Sullivan, although even with the votes of confidence he's received so far, his path into the league won't allow him to get complacent, he said.
"My mindset's pretty much the same. I'll always have a chip on my shoulder. I came into the league undrafted, so I'm going to continue to fight and give the best I can on every rep," Sullivan said. "So regardless of what role I have, what the position is, I'm going to do my best."