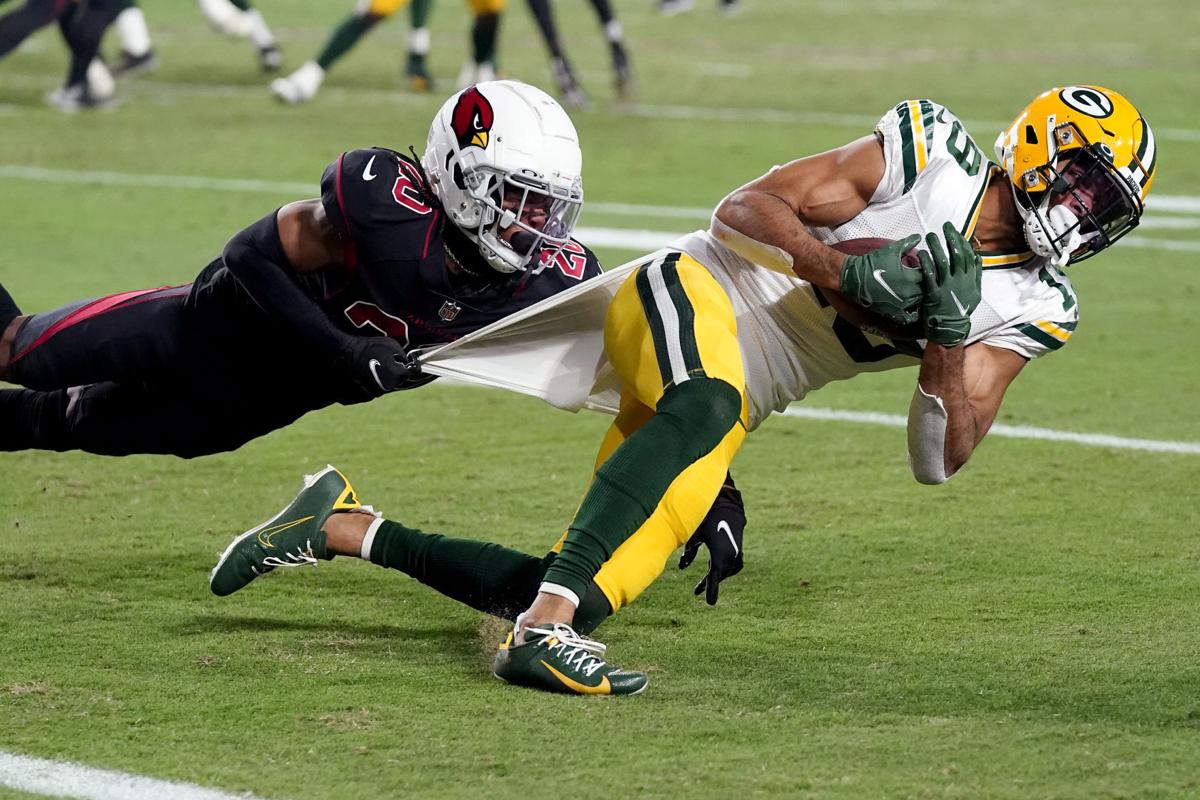 GREEN BAY — Aaron Rodgers contemplated all that had transpired during the season's first 12 games — from the Green Bay Packers' 9-3 record at the bye to the overcrowded training room amid an epidemic of injuries to the reigning NFL MVP himself missing a game after contracting COVID-19 — and delivered a succinct assessment.
"I'd say that that's a pretty damned good start," Rodgers said following last Sunday's victory over the Los Angeles Rams.
That 9-3 record includes a seven-game winning streak that began after what coach Matt LaFleur termed an "embarrassing" 38-3 loss to the New Orleans Saints in Jacksonville and ended when Rodgers missed the Nov. 7 loss at Kansas City because of the coronavirus.
It was accomplished despite losing a host of key contributors to injuries in the first 12 games, including some of the team's biggest stars to long absences such as defensive standouts Za'Darius Smith and Jaire Alexander, key offensive skill-position players such as tight end Robert Tonyan and wide receiver Marquez Valdes-Scantling and offensive line stalwarts such as left tackle David Bakhtiari (who has yet to make his 2021 debut), left guard-turned-left tackle Elgton Jenkins and rookie starting center Josh Myers.
And it matches the Packers' record through 12 games during each of LaFleur's first two seasons, which both ended in NFC Championship Game losses— in 2019 to the San Francisco 49ers and last year to the eventual Super Bowl LV-champion Tampa Bay Buccaneers at Lambeau Field.
"After that ugly loss in Jacksonville to open the season and, obviously, me missing a game with COVID and then all the injuries … it's been a lot of adversity, for sure," said Rodgers, who once again is among the favorites to win the NFL MVP — it would be his fourth if he was selected — having thrown for 2,878 yards with 23 touchdowns and four interceptions (105.5 passer rating).
"I'm proud of the guys. We've had so many guys step up, though, in their stead — guys we expected to play well, and guys maybe we didn't expect to play a whole lot, or even be a part of the football team. I'm really proud of those guys and their efforts."
One thing the 2021 team will aim to do now is finish the regular season by doing what those 2019 and 2020 teams did — win all the remaining games. For this year's team, that means beating the Chicago Bears on Dec. 12 at Lambeau Field, winning at the Baltimore Ravens on Dec. 19, beating the Cleveland Browns at Lambeau in a Christmas Day game, winning the rematch with the Minnesota Vikings on Jan. 2 at Lambeau after losing to the Vikings in the Twin Cities two weeks ago and winning at the Detroit Lions on Jan. 9.
If the Packers can do that, they'll almost certainly earn the NFC's No. 1 seed and the lone conference playoff bye that comes with it. The road to Super Bowl LVI in the NFC would then come through Titletown, just as it did last year, when Tom Brady and the Buccaneers prevented the Packers from returning to the Super Bowl a decade after the 2010 team — with Rodgers in just his third year as the starting quarterback — beat the Pittsburgh Steelers in Super Bowl XLV.
While players had the bye week off, coaches came into team headquarters Tuesday and Wednesday for self-scouting projects to examine deficiencies and tendencies in all three phases of the operation. While some might be glaringly obvious to anyone who's watched this team play this season, here's a look at five ways the Packers can bolster their Super Bowl chances by fixing what ails them.
1. Reclaim the so-called 'Gold Zone'
While offensive coordinator Nathaniel Hackett's rebranding of what the rest of the NFL calls the "Red Zone" — the area inside the opponent's 20-yard line — into the "Gold Zone" in an homage to the Austin Powers villain "Goldmember" might have been a bit corny, it seemed to work. The players, from Rodgers on down, seemed to embrace the idea, going so far as to incorporate gold references into their touchdown celebrations. And there were a lot to celebrate: The Packers' 80% touchdown success rate in the red zone not only led the NFL and set a franchise record, but it was the highest success rate since the NFL began tracking the statistic in 1998.
A year later, they're an anemic 25th in the 32-team NFL, having scored touchdowns on just 55.3% of their red zone trips. No wonder it was the No. 1 item on Hackett and LaFleur's self-scouting to-do list on offense.
"We set such a high standard," Hackett said. "We really need to look at that and make sure we're doing the right things, see what people are doing to stop us — or what we're doing, and how we might be hurting ourselves — and just make sure we've got a good package going into these last five games. It's December football now. You're going to have to score in the 'gold zone.'"
Last season, when Rodgers threw a career-high 48 touchdown passes, 35 of them came in the red zone — and he didn't throw a red zone interception. Now, of his 23 TDs, 18 of them have been in the red zone, but he's thrown two of his four picks inside opponents' 20-yard lines.
It would appear defenses are gearing themselves to stop the pass in such situations, which might not have been the case at least early on last season. That's because in 2019, when the Packers finished eighth in the NFL in red zone touchdown percentage (64%), running back Aaron Jones did most of the work, scoring a league-high 14 red zone rushing touchdowns. Last year, he had only seven red zone TDs; this year, just three.
Wide receiver Davante Adams, meanwhile, has gone from catching 14 red zone touchdowns a year ago to just five this year. The loss of Tonyan, who had seven red zone TD catches a year ago but didn't catch any before a season-ending torn ACL, also has hurt."I think right now, we have to look and see where we need to go from that standpoint. It always starts with the run down there to make (the defense) stop that, which then will open up some passes. It's about being consistent and being able to execute down there."
2. Fix situational D
Even after a pair of high-scoring games the previous two weeks, the Packers entered this weekend's games seventh in the NFL in total defense (321.7 yards per game) and fifth in scoring defense (20.2 points per game).
But even defensive coordinator Joe Barry had to admit that those numbers are pretty remarkable given how disappointed he's been with the unit's work in two situational areas that almost always decide a defense's success or failure: red zone defense and third-down defense.
"Every statistic matters, but the big ones are the things that we talk about from a situational standpoint: Obviously red zone, third down and points," Barry said. "You're going to play pretty good defense if you're really good from the specific situation of third down, red zone and just keeping people off the scoreboard."
And yet, through 12 games, the Packers rank 27th in third-down defense, allowing a 43.7% first-down conversion rate, and 30th in red zone defense, allowing touchdowns at a 71.9% clip. So how on earth are they not giving up more points?
"We've done a good job of keeping teams out of the red zone, but when they get down there, it hasn't been up to our standard," LaFleur said. "We've got to be better in those situations."
Earlier this season, as opponents scored touchdowns on their first 15 combined trips into the red zone, the Packers discovered that despite being one of the NFL's least-penalized teams, their defensive flags spiked in the red zone. That hasn't been as big of an issue of late, but Barry acknowledged there wasn't any clear explanation entering the self-scouting process for how his crew was overcoming those situational failures. Now, the goal is to improve in those areas and reach the defense's full potential."Obviously I want to improve in all areas, but the most important thing at the end of the day is limiting our opponent from putting points on the board," Barry said. "That's been good. We refer to third down as the 'money down,' we refer to the red zone as the 'gold zone,' and that's definitely something I know I'm looking forward to really diving into."
3. Create something special
The kicking woes have been well-documented, with kicker Mason Crosby, holder Corey Bojorquez and long-snapper Steven Wirtel being scrutinized every time they step on the field. But that hasn't been the Packers' only special teams issue.
The return game has been nearly as problematic, with the Packers ranking 30th in kickoff return average (18.2 yards per return) and dead last in punt return average (5.9 yards per return). Worse yet, with rookie third-round pick Amari Rodgers looking indecisive on punt returns and with rookie Kylin Hill, the team's preferred kickoff returner, having suffered a season-ending knee injury at Arizona on Oct. 28, the Packers haven't gotten that one big play that can ignite not only the return units but the entire team.
While the Packers don't have a history of such players, no one can forget the way a dynamic returner, be it a young Randall Cobb in 2011 or Super Bowl XXXI MVP Desmond Howard in 1996, can be a game-changer.
With Hill out, No. 2 kickoff returner Malik Taylor having missed the last two games with an abdominal injury, Rodgers now struggling with both kickoffs and punts, and Cobb having coughed up a fumble against the Rams when he replaced Rodgers on punt returns, it's hard to envision this group getting more dynamic. But if it can?"Breaking one, it would be awesome. From your lips to God's ears, I hope it happens. It would mean the world," special teams coordinator Maurice Drayton said. "But Amari is getting better. Once again, rookie returners, I tell you, at anytime, they can go haywire. But he is getting better and (it's all about) just building that confidence."
4. Run to daylight
LaFleur seems earnest in his belief in the importance of running the football, and the Packers' run-to-pass ratio of 41.8% run to 58.2% pass is actually higher than it was a year ago. But if there's one thing LaFleur beats himself up over after games it's the way he has a penchant for getting away from the run.
Again, who can blame him? He's got one of the all-time greats at quarterback, and it's not as if that formula isn't a successful one. Even so, with the calendar turning to December and LaFleur having seen what big, bruising back AJ Dillon can do to would-be tacklers already, he knows it's something he has to remain committed to doing.
Against the Rams, there was meaningful progress. Even though it didn't result in big production — Dillon carried 20 times for 69 yards, while Jones carried 10 times for 23 yards, with neither back generating a gain greater than eight yards — the Packers still ran the ball 30 times with their dynamic duo.
"It wasn't always pretty. There were some hard-fought yards," LaFleur acknowledged. "I was really proud of our backs, how they ran, especially late in the game when everybody knows you're going to run the football. But also, our offensive line, the way they battled. The numbers don't look great, but I think that when you're playing a team of (the Rams') caliber, you have to stay with the run, otherwise it can get ugly."
What could be even uglier is opponents trying to tackle the 247-pound Dillon late in cold-weather games, or trying to corral the shifty Jones, who should be back to full health after the bye following a knee injury suffered Nov. 14 against Seattle that sidelined him for a week and limited his effectiveness against the Rams."Both those guys, at any time they could pop one," Hackett said. "I think that's the most exciting thing about it. (And) I think those are two guys that as you hand them the ball, even if it's not perfect, even if it's not pretty, they're going to find a yard. They're going to find two yards. They're going to drag somebody. They're going to make somebody miss. To have both those guys is just incredible."
5. Have their injury luck change
The Packers are keeping hope alive that Bakhtiari (knee), Smith (back) and Alexander (shoulder) will all return before the end of the regular season, though the team also sees any contributions made by that threesome as a bonus at this point. Bakhtiari, who hasn't played since tearing the ACL in his left knee during a Dec. 31 practice a year ago, was on track to return before needing an arthroscopic clean-up surgery, while Smith hasn't played since seeing 18 snaps of action in the opener and Alexander has been out since injuring his shoulder on a tackle against Pittsburgh on Oct. 3.But as welcome as their returns would be, the Packers' biggest hope is they've reached the end of their run of bad luck.
"I don't know if I've ever been around a team that's suffered this many injuries," LaFleur confessed.
Certainly, losing Rodgers to something other than his one-game COVID-19 absence would be catastrophic, given where backup Jordan Love appears to be in his development. Adams, who missed one game as a vaccinated breakthrough COVID-19 case himself, is indispensable as well, despite the Packers' inexplicable 7-0 record over the past three seasons in games he's missed. And Jones and Dillon are also irreplaceable, especially with Hill out for the year and promising youngster Patrick Taylor still very green.
And while a host of lesser-known defensive players have risen to the occasion, losing defensive tackle Kenny Clark, one of their outside linebackers (Preston Smith or Rashan Gary), inside linebacker De'Vondre Campbell or one of their safeties (Adrian Amos or Darnell Savage) would be potentially devastating, too.
NOTES: The Green Bay Packers activated linebacker Jonathan Garvin from the reserve/COVID-19 list, it was announced Saturday. The second-year player has 12 tackles and 1½ sacks in 11 games this season.
Photos: Packers' 2021 season in pictures
Check out photo galleries from every game of 2021 from the preseason through the end of the regular season and the playoffs.