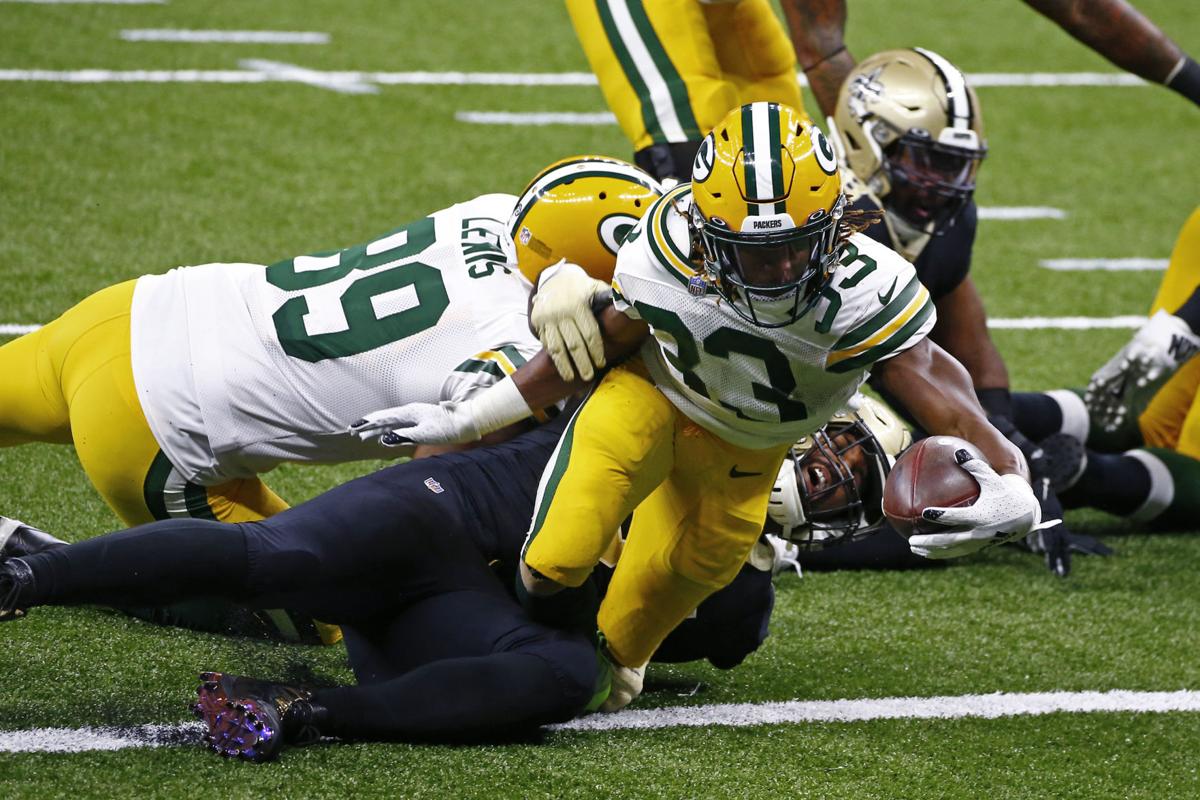 GREEN BAY — With his team's bye week coming to an end, Matt LaFleur was like just about everybody else watching the closing minutes of "Sunday Night Football."
"Watching that game live, you're trying to put yourself in that situation, trying to think, 'All right, what would I do right here?'" the Green Bay Packers coach said Monday of the Seattle Seahawks' 27-26 victory over the Minnesota Vikings the night before. "Sometimes it works out, and sometimes it doesn't."
And for the Vikings and coach Mike Zimmer, it didn't.
The sequence LaFleur — and the rest of America watching at home on NBC — were grappling with was this: Leading 26-21 at the 2-minute warning, the Vikings faced fourth-and-1 from the Seattle 6-yard line. Zimmer's options? Kick a 24-yard field goal which, if good, would have given the Vikings an eight-point lead, thereby forcing quarterback Russell Wilson and the Seahawks to score a touchdown and successfully convert a 2-point conversion just to force overtime; or go for it on fourth down which, if successful, would have essentially ended the game and sealed the victory.
Unfortunately for the Vikings, running back Alexander Mattison was stuffed for no gain, the Seahawks marched 94 yards the other way and won the game on Wilson's 6-yard, fourth-down touchdown pass to DK Metcalf.
"It was about a half a yard. If we got the half a yard, we win the game," Zimmer told reporters afterward. (According to ESPN's win-probability model, the Vikings had a 98% chance to win by going for it, and they would have had a 97.8% chance to win had they elected to attempt a field goal.) "I was trying to go win it. I told 'em on the headset, 'We didn't come here for this. Let's go win it.'"
To be clear, LaFleur wasn't Monday-afternoon-quarterbacking Zimmer when asked about Zimmer's call; in fact, LaFleur never actually said what he would have done. Rather, he was talking in broader terms about the use of analytics and probabilities in his decision-making, and admitted while the numbers might've told him to go for the first down in the same situation, he may not have followed the math.
While the Packers have their own analytics department — a five-person group led by Mike Halbach, the team's director of football technology — LaFleur said Monday he doesn't treat the intel they give him as gospel. (The group also includes Jack Prominski, manager of football analytics; Dawson Friedland, a football data analyst; Joe Reuter, a football technology assistant; and Eric Prosise, the football technology application developer.)
Asked if he ever goes against the group's analytics-based suggestions, LaFleur smiled and replied, "I think that happens almost on a weekly basis."
Rather, LaFleur explained, he tries to be proactive and use situations such as Zimmer's from around the NFL in preparation for similar scenarios that may happen to him in the future.
"I'll be honest with you: I know what some of the analytics say," LaFleur continued. "Sometimes you kind of get a lot of that information after the fact, and I think that's why I think it's so important that you stay up to date and are in tune with what's going on around the league so you can have a lot of these discussions prior to getting in certain situations."
LaFleur certainly hasn't been afraid to take chances or be aggressive in his decisions, and if such situations present themselves Sunday on the road against the Tampa Bay Buccaneers at Raymond James Stadium, he is unlikely to shy away from such aggressive calls, either — even with the mixed results he's had so far.
In the Packers' pre-bye 30-16 win over Atlanta on Oct. 5, LaFleur decided to go for it on fourth-and-goal from the Atlanta 1-yard line, rather than taking a short Mason Crosby field goal that would have given the Packers a 10-0 lead. The Falcons went on a 10½-minute, 94-yard drive for a field goal that made it 7-3.
At New Orleans the previous week, after trailing 17-13 at halftime, the Packers drove down to the Saints' 1-yard line on the opening possession of the third quarter. After being stopped on third-and-goal from the 1, LaFleur went for it on fourth down — and Aaron Jones' 1-yard TD plunge gave the Packers a 20-17 lead they would never relinquish.
And in the Sept. 13 opener against Zimmer's Vikings, LaFleur again went for it on fourth-and-goal from the 1 early in the second quarter, only to see Aaron Rodgers' pass to Davante Adams fall incomplete, leaving the Packers still in a 7-3 hole. Two plays later, Jaire Alexander sacked Kirk Cousins in the end zone for a safety, the Packers scored a touchdown on their ensuing possession and went on to win 43-34.
"I think Matt's been really aggressive, and plays have been there to make," Rodgers said leading into the bye week. "Right now, our offense, I feel really good about it. We've gotten in a good flow. I feel like Matt's gotten into a really nice flow with the calls. We've done a nice job on third down for the most part and were opportunistic with some big plays when we needed it."
For LaFleur, such decisions are not made lightly, but they aren't made in the heat of the moment based on emotion instead of rational thought. At the same time, though, it sometimes just comes down to how he feels as the head coach and play-caller.
"For the most part, I would say you're relying more on the gut feel that you have. At least that's how we've operated here for the last year and a half — more so on the gut feel," LaFleur said. "But again, a lot of these conversations take place on a weekly basis with our (analytics) guys here. Our guys do a great job bringing us a lot of different scenarios that do come up across the league, and we talk through them. You kind of go through and try to think (about what you would do).
"But I think you've always got to trust your gut and the feel that you have for your football team, as well as just the flow of the game."
Extra points
The Packers returned to practice post-bye with a short session inside the Don Hutson Center, where LaFleur had the heat blasting to mimic the 80-degree temperatures the team will play in against the Buccaneers. "That's a tough thing to simulate. We'll do our best," LaFleur said. "We definitely had it cranked up in there and it was nice and 'sweltry,' if that's right word." … Inside linebacker Kamal Martin (knee) and wide receiver Equanimeous St. Brown (knee) both took part in practice, starting their three-week window in which they are eligible to return from injured reserve. Neither player has seen action this season. … Adams (hamstring) took part in practice, as did outside linebacker Rashan Gary (ankle), tight end Marcedes Lewis (knee), inside linebacker Krys Barnes (shoulder) and cornerback Chandon Sullivan (concussion). Running back/returner Tyler Ervin (wrist) and cornerback Kevin King (quadriceps) did not practice. … LaFleur said he believed the team made it through the bye week without any positive COVID-19 tests, despite the Green Bay area's high positivity rates. "We've got a couple more days before you're really (in) the clear, and really, you're never (in) the clear, right?" LaFleur said. "Especially, with where we're living. But I think our guys are being responsible and taking the appropriate actions to make sure that we all stay safe." … The Packers added tight end Dominique Dafney to the practice squad Monday. Dafney, who was in camp with the Indianapolis Colts in August, played at Indiana State, the same school that produced tight end Robert Tonyan.
Be the first to know
Get local news delivered to your inbox!