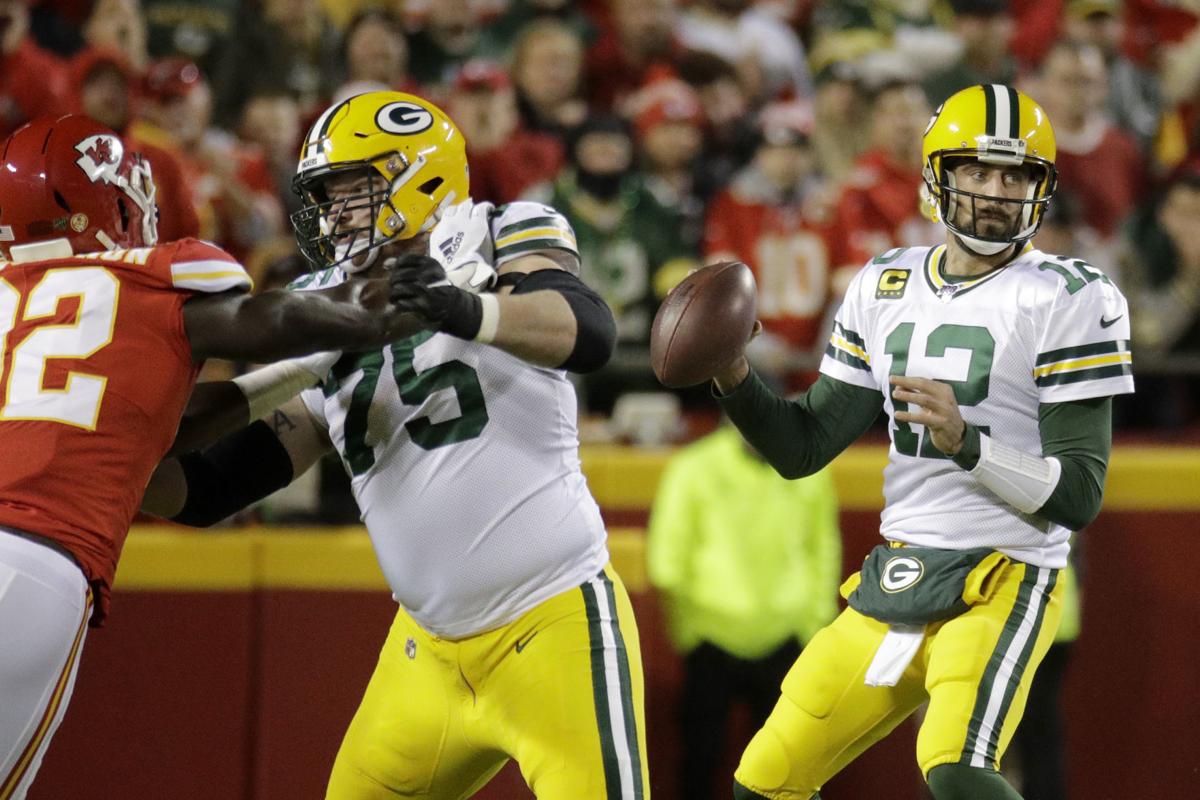 GREEN BAY — When Bryan Bulaga and the rest of the Green Bay Packers offensive line had their usual Monday film session, it got ugly. And not just what they were watching up on the screen from their horrendous collective performance in last Sunday's loss to the Los Angeles Chargers.
"There were no words minced. Everyone was open and honest," Bulaga said as the Packers prepped for Sunday's game against the Carolina Panthers at Lambeau Field. "We were very critical of ourselves — and we deserved to be. It was very uncharacteristic.
"I think we've put together a good week and there's no reason why we shouldn't be able to put that one behind us and play better. I think we have a group of guys that can come together and bounce back and put a good performance together."
From their three false-start penalties to surrendering three sacks on quarterback Aaron Rodgers' 39 drop-backs — even though the Chargers used a basic four-man rush on all but one of them — to the running game failing to generate an explosive play, the linemen certainly felt much of the offensive malaise could be traced back to them.
"I don't know if we weren't necessarily ready to play. I feel weird because we're all vets except for (rookie left guard) Elgton (Jenkins), but we have to do something different to get ourselves ready to play, our mindset, our focus, whatever," veteran center Corey Linsley said. "Whatever it was, it was everybody on the offensive line. We started out lethargic. And it might've shown up somewhere different in other position groups. But for us, it manifested itself as penalties. We played hard. It wasn't a lack of effort. It wasn't a lack of mental focus. Whatever it is, we had to critically look at it and figure out what it was for each individual guy and fix it.
"I've got to play better, and everybody has to play better. We all have to play better."
You have free articles remaining.
If the week's practice was any indication, the linemen took their challenge to heart. Although coach Matt LaFleur acknowledged that the practices weren't all that different last week, when the offense laid a colossal egg with only 11 points and a season-low 184 net yards.
"But I think that goes not just for the offensive line, I think that's everybody on this football team," LaFleur said Friday. "You've got to show up and you've got to bring your best every day in this league, otherwise you'll get embarrassed — especially when you're going against quality opponents. All you can go back to is how you prepare. And I think specifically that group, the offensive line, has done a great job all week. Now, you've got to go out and play."
Added Rodgers: "Those guys are great guys and they care about it so deeply that I'm sure they were bummed out. I was bummed I didn't get out of a couple of those (sacks) that I've gotten out of at times in the past, but it was a tough day for all of us. I'm confident that we're all going to bounce back. They're the energy guys for this locker room, and the energy's been good from those guys. I'm sure they're ready to get back out there on Sunday.
For his part, Bulaga insisted that his right hand injury wasn't the reason for his worst performance of the season. Bulaga, who dislocated his right ring finger against Kansas City on Oct. 27 and wore a splint/cast to protect it against the Chargers, surrendered his first sack of the season as he and left tackle David Bakhtiari struggled against edge rushers Melvin Ingram and Joey Bosa. Now, they'll have to stand their ground against the Panthers, whose pass rush leads the NFL in sacks (34) through eight games.
"I definitely didn't play well, if that's the question," Bulaga said. "I'm not going to make any excuses for myself. I didn't play well enough. And that's what it is."
Extra points
Cornerback Jaire Alexander was added to the injury report with a groin injury that evidently cropped up either after Thursday's practice or during Friday's practice. Alexander, who wasn't on the injury report earlier in the week, was added Friday as questionable after participating only on a limited basis. … Safety Adrian Amos, who didn't practice on Wednesday or Thursday because of a hamstring injury, practiced on a limited basis on Friday and was listed as questionable. … Tight end Robert Tonyan, who seemed to be trending toward playing for the first time since sustaining a hip injury at Dallas on Oct. 6, did not practice and is now unlikely to play. Tonyan was listed as doubtful. … Wide receiver Davante Adams (toe) was one of 15 players removed from the injury report, meaning he will play after returning to the lineup last week.