Badgers in the NFL: Check out top performances by former Wisconsin players in Week 3
With the NFL regular season now in Week 3, here's a look at some notable performances from former Badgers players across the league. 
Ryan Connelly — Giants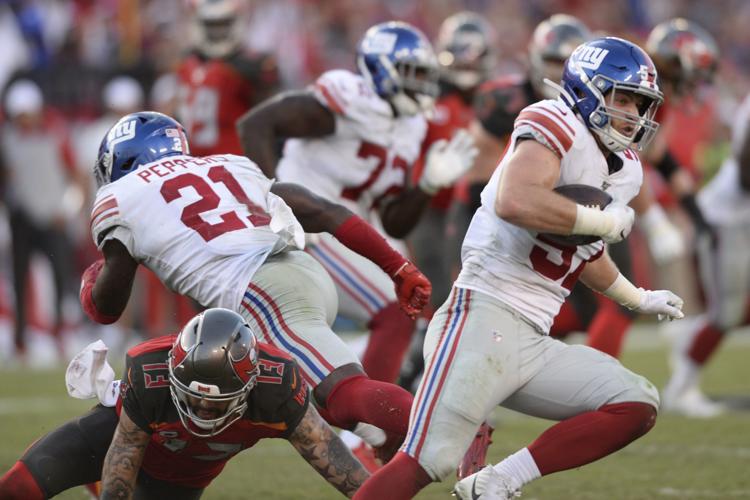 Rookie linebacker Ryan Connelly — promoted to the Giants' starting lineup before Week 2 — didn't disappoint Sunday, intercepting Buccaneers quarterback Jameis Winston in New York's 32-31 win at Tamp Bay. 
In addition to his fourth-quarter pick, which he returned 13 yards, Connelly had two solo tackles and five assisted tackles as the Giants picked up their first win of the season. 
The interception came with the Giants trailing, 28-25, with 11 minutes, 20 seconds left in the game. With the Buccaneers facing 3rd and 5 in New York territory, Connelly came up with the turnover at the Giants' 26-yard line.
Michael Deiter — Dolphins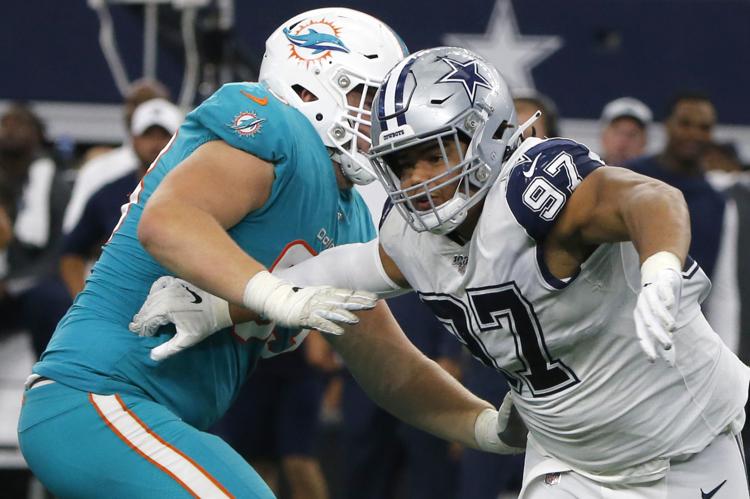 Playing in his third NFL game, Michael Deiter was on the move Sunday in Miami's 31-6 loss at Dallas, switching from left guard to left tackle after teammate Jesse Davis was injured in the second quarter. 
Even though the Dolphins went another week without earning their first win, Deiter turned in a solid performance against the Cowboys' talented defensive line. 
Deiter, a third-round pick in this year's draft, allowed one sack but received praise from Dolphins coach Brian Flores after the game. 
"There were some tough matchups out there, and I thought he performed well," Flores said, according to a South Florida Sun-Sentinel article on Deiter's play. "Not perfect. But given the circumstances, I was happy he was there to fill that role. … I was happy watching a guy, a rookie at that, in that environment, step into that type of situation and give us some really good effort and some good plays."
Deiter, who played both left guard and left guard with the Badgers, took the position change in stride.
"You never know how it's going to play out," Deiter said, according to an article on miamidolphins.com. "I definitely didn't expect to play left tackle, but it is what it is and I just had to adjust to it. It could have been better. It could have been worse. There are two ways to look at it, but it was cool. It was just another little challenge that I had to navigate through, and I thought it went all right."
Alex Erickson — Bengals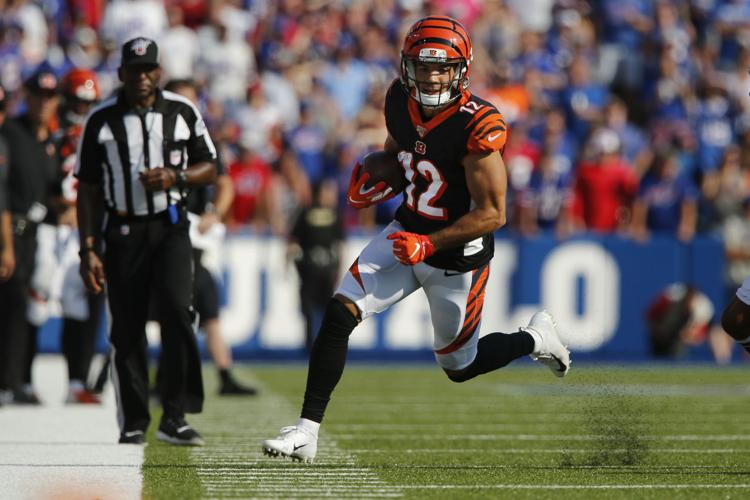 Wide receiver Alex Erickson contributed on offense and special teams Sunday, but it wasn't enough as the Bengals went a third week without a win, falling to the Buffalo Bills, 21-17, on the road.
Erickson, in his fourth season with Cincinnati, caught one pass for 13 yards and returned two punts for 4 yards a piece. 
The 26-year-old has six receptions this season for 55 yards, while also adding 22 yards on the ground on three carries. He's returned six punts for 42 yards, with a long of 11 yards.  
Leon Jacobs — Jaguars
Jaguars linebacker Leon Jacobs came up with a key fumble recovery as Jacksonville earned its first win of the season, defeating the Tennessee Titans, 20-7, on Sunday in Florida. 
Jacobs, drafted by Jacksonville in the seventh round in 2018, also had two solo tackles and was credited with a half sack on quarterback Marcus Mariota, who was brought down nine times by the Jaguars defense. 
Dare Ogunbowale — Giants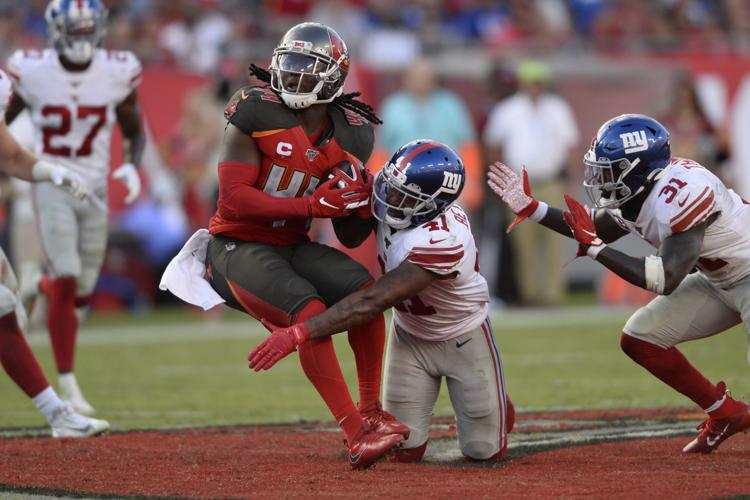 Playing in his third game for the Buccaneers this season, running back Dare Ogunbowale caught three passes for 23 yards in Tampa Bay's 32-31 loss to the New York Giants at Raymond James Stadium in Tampa. 
Ogunbowale has yet to carry the ball on the ground this season, but the 25-year-old has caught eight passes for 65 yards, while also returning seven kickoffs for 137 yards. 
Joe Schobert — Browns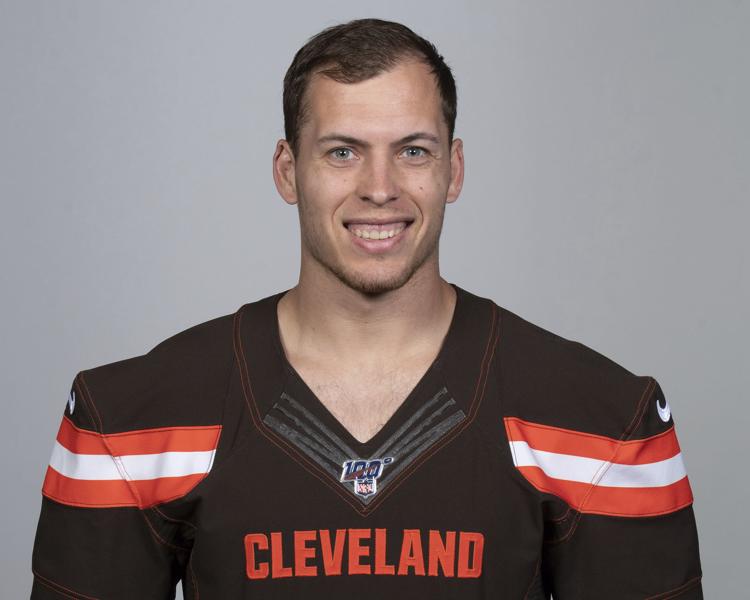 While linebacker Joe Schobert's play wasn't enough for the Browns to hand the Rams their first loss of the season, the former Badger came up with a big fumble recovery, nearly running all the way for the score, in the final minute of the first half. 
After teammate Myles Garrett stripped Los Angeles quarterback Jared Goff, Schobert picked up the ball at the Rams' 38-yard line and ran it back 21 yards to the 17. After failing to gain any yards in three plays, the Browns had to settle for a field goal with 18 seconds left in the half to take a 6-3 lead into the break. 
Schobert also had three solo and three assisted tackles as the Browns lost to the Rams at home by a touchdown, 20-13, to fall to 1-2 on the season. 
Derek Watt — Chargers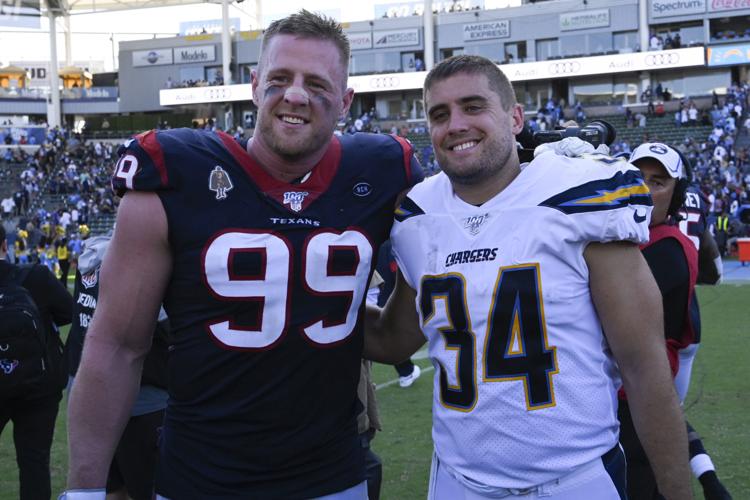 While Chargers fullback Derek Watt may not have had the performance on the field he would've liked Sunday, finishing with -1 yard rushing as Los Angeles fell to the Houston Texans at home, it was still a notable game for the former Badger, who was facing off against older brother J.J. Watt.
"We sure did dream about this," the younger Watt said. "Crazy we are living it out."
In his fourth season with the Chargers, Watt has had limited opportunities, carrying the ball three times for 3 yards, while also catching one pass for 3 yards through the first three games.  
J.J. Watt — Texans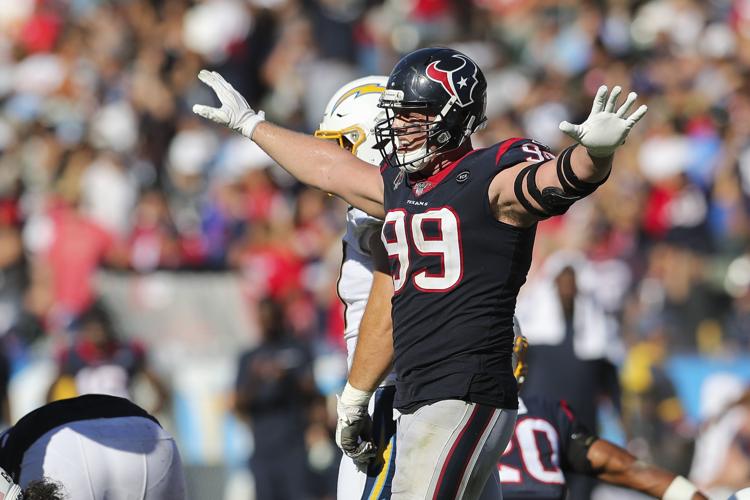 With family bragging rights on the line, J.J. Watt turned in arguably his strongest performance of the young season as the Houston Texans defeated the Los Angeles Chargers, and younger brother Derek Watt, by one touchdown on Sunday in California. 
The older Watt, a three-time NFL defensive player of the year, had five tackles and two sacks as the Texans defense held the host Chargers to only 3 points in the second half, for a final score of 27-20. Watt entered the game without a sack through the first two games. 
The Watt brothers shared a moment together on the field after the game and J.J. shared some of his thoughts on facing his brother with the Houston Chronicle.
"Once I sit on the plane and I actually think about it, that's a moment that I'll never forget," Watt said, according to a Houston Chronicle article. "We've literally dreamt about that growing up, and we just did it. There's nothing else like that. A win, a loss, that's a memory we'll have for the rest of our lives."
Before kick off on Sunday, J.J. got some time with nephew Logan during warmups, playing peek-a-boo on the sidelines in a video the Texans shared on Twitter. 
T.J. Watt — Steelers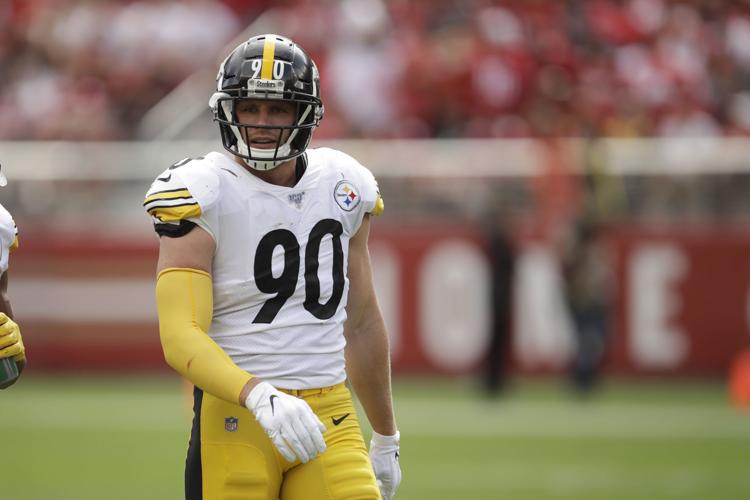 Not to be outdone by older brothers J.J. and Derek, who were in southern California battling it out, youngest brother T.J. Watt was farther north having some fun of his own up at Levi's Stadium in Santa Clara. 
While it wasn't enough for the Steelers to take down the 49ers on the road, Watt did his part with an interception and a fumble recovery, but the Pittsburgh defense still gave up 24 points. That proved too much for the Steelers offense, which put up 20 points.
Watt's interception came on San Francisco's first drive of the game, with the Steelers taking over at the 49ers' 42-yard line. Pittsburgh came away with a field goal after failing to pick up a first down. 
San Francisco lost three fumbles, with Watt recovering his fumble with 6 minutes, 49 seconds left in the fourth quarter. But the Pittsburgh offense wasn't able to do anything with the ball, giving it back up on a fumble three plays later. 
Watt, in his third year with Pittsburgh, also had two solo tackles.  
Russell Wilson — Seahawks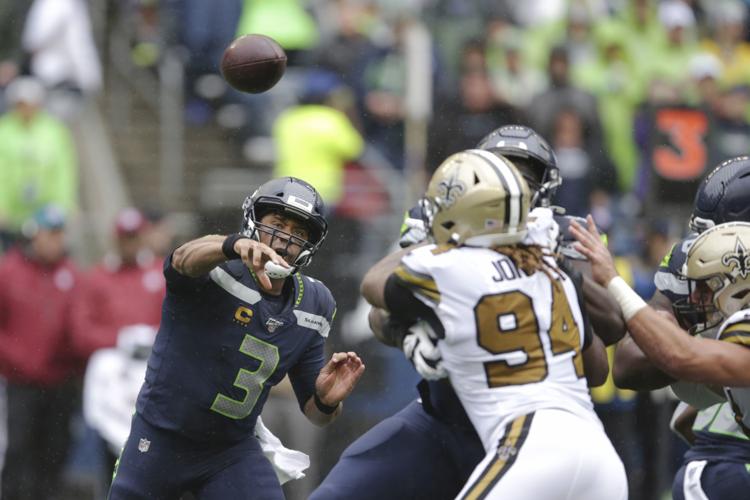 Seattle quarterback Russell Wilson threw a career-high 50 times for over 400 yards while passing for two touchdowns and rushing for two more, but it wasn't enough to carry the Seahawks over the Saints on Sunday in Seattle. 
Wilson completed 32 of 50 passes for 406 yards and two touchdowns, with a quarterback rating of 102.6, while also running the ball 7 times for 51 yards and two more scores as the Seahawks picked up their first loss of the season.