From Alec Ingold living out a childhood dream at Lambeau Field to Alex Erickson's career day in Cincinnati, here's a look at eight notable performances from former Wisconsin Badgers players in Week 7 of the NFL season.
Vince Biegel — Dolphins
Dolphins linebacker Vince Biegel (above right) turned in a strong showing Sunday, but Miami still wasn't able to pick up its first win of the season, falling on the road to the Buffalo Bills 31-21. 
Biegel, who was traded from New Orleans to Miami before the start of the season, had three solo tackles, two assists and a sack as the Dolphins fell to 0-6 on the year. 
Appearing in four of Miami's six games this season, Biegel has 13 totals tackles and two sacks. 
David Edwards — Rams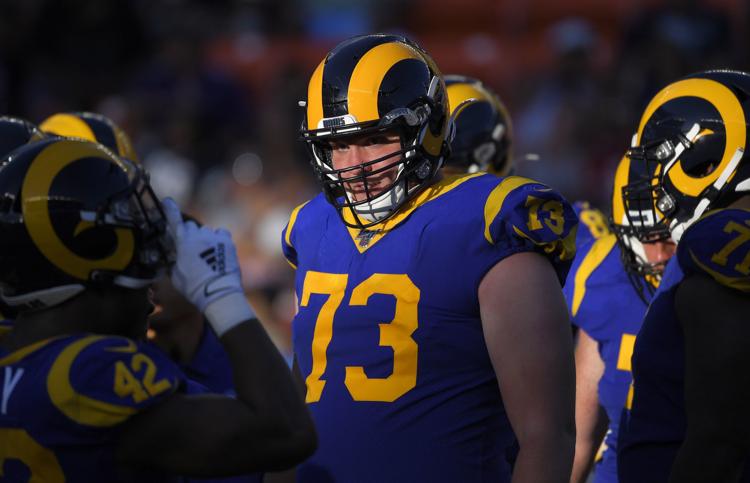 Rams rookie offensive lineman David Edwards made his first NFL start Sunday, turning in a strong performance as Los Angeles defeated the Atlanta Falcons 37-10 at Mercedes-Benz Stadium in Atlanta. 
Despite his first start as a pro coming at left guard after he played tackle at the University of Wisconsin, Edwards drew praise from Rams coach Sean McVay after the game. 
"I was really impressed with his poise and maturity for a rookie," McVay was quoted as saying in a USA Today article. "You're talking about a guy that's played the tackle position at Wisconsin and to be able to seamlessly transition inside to left guard. ... Seemed like they protected really well all day, did a nice job with communication, and I'm excited to look at the tape, but it feels like he did a nice job today."
Edwards did a solid job corralling elite defensive tackle Grady Jarrett, who failed to register a sack or a tackle for loss as quarterback Jared Goff turned in a strong performance to help the Rams improve to 4-3 on the season. 
Alex Erickson — Bengals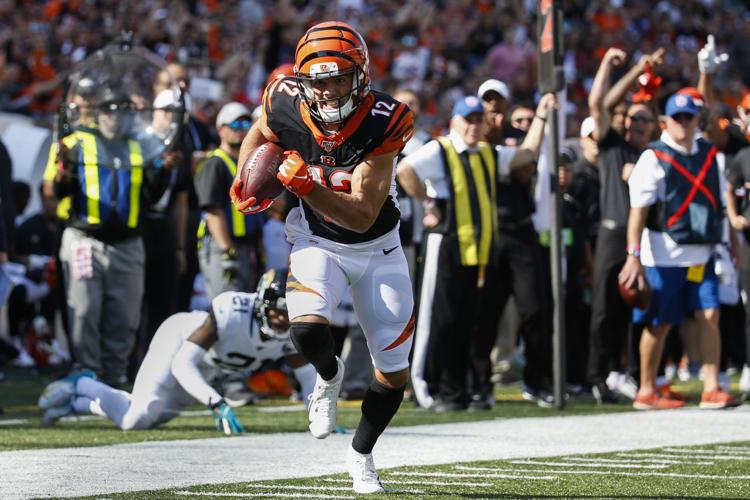 Despite a career day from wide receiver Alex Erickson, the Bengals still couldn't win their first game of the season, falling to the Jacksonville Jaguars 27-17 on Sunday at Paul Brown Stadium in Cincinnati, Ohio.
Erickson caught eight passes for a game-high 137 receiving yards (17.1 yards per catch), including a 48-yard reception from quarterback Andy Dalton, who threw 14 balls Erickson's way as Cincinnati fell to 0-7.
It was more of a mixed bag rushing the ball for Erickson, who had two carries but only netted -2 yards despite picking up 9 yards on one of the carries.
Regardless of his rushing output, Erickson, who has long made his impact on special teams, drew praise from his Bengals teammates for his play from scrimmage. 
"That's our mentality as a team. Who's ever number is called, you go with the play," Bengals running back Giovani Bernard said of Erickson in a piece on Bengals.com. "Obviously Alex is one of those guys that fits that description really well. He doesn't get a bunch of touches each and every game, but whenever his number is called he makes the play."
Erickson, who also returned a punt 5 yards on Sunday, has a career-high 246 receiving yards through the first seven games of his fourth season.  
Melvin Gordon — Chargers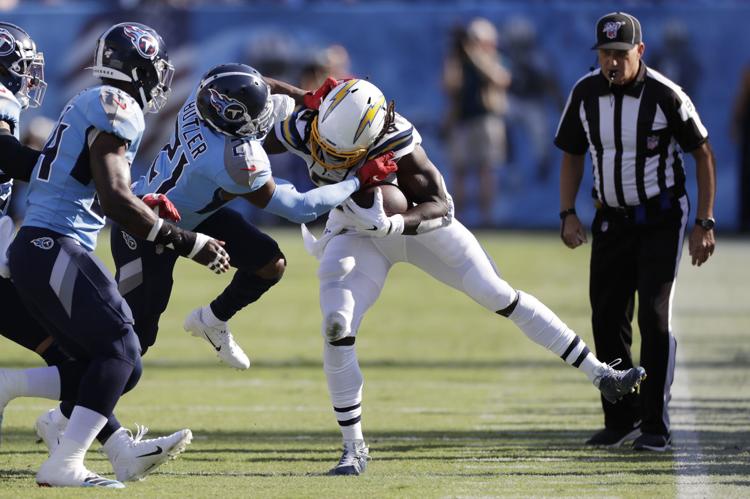 After missing training camp and the start of the season due to a contract dispute, Chargers running back Melvin Gordon continued to struggle to get back to form as Los Angeles came up short on the road, falling to the Tennessee Titans 23-20 on Sunday at Nissan Stadium in Nashville.
Despite carrying the ball 16 times, Gordon only managed 32 rushing yards. While he did catch two passes, including one for a touchdown, he netted -3 yards receiving. 
But most concerning for the Chargers was Gordon's inability to hang on to the ball, including a costly fumble inside the Titans' 1-yard line in the final minute of the game. The turnover sealed the loss for Los Angeles, which fell to 2-5 on the season after picking up its third-straight loss.
"I know I won't miss another training camp again, I can tell you that," Gordon said Monday, according to an article in the Los Angeles Times. "But if I was to go back, I can't say. Just with the running back thing and all that, we want to get paid, you know. I don't know. That's tough."
Alec Ingold — Raiders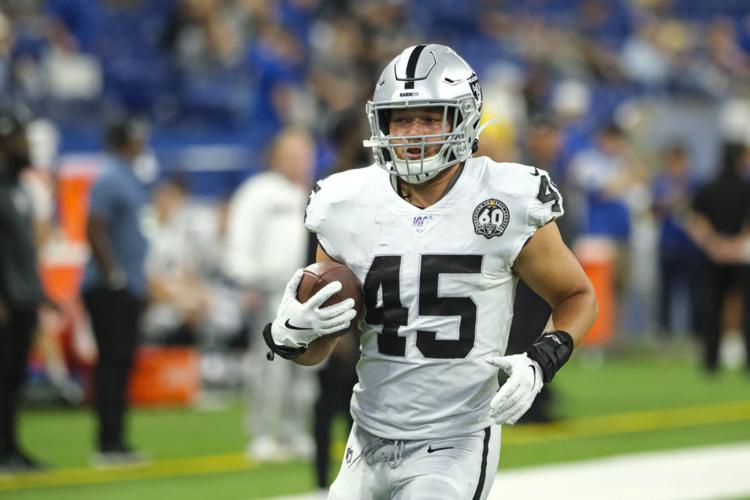 Raiders rookie fullback Alec Ingold didn't have much impact on the field Sunday as Oakland got routed by the Packers 42-24 at Lambeau Field, but his return to Green Bay was a moment to remember.
Ingold, who played at Bay Port High School in Green Bay before joining the Badgers, didn't have any carries in the loss but being able to play an NFL game at Lambeau was a childhood dream come true for the 23-year-old.
"Home always has been and will be about the people," Ingold wrote on Twitter alongside a picture of him wearing a Bay Port jersey before kickoff Sunday. "Thanks for letting a kid live out his dreams today."
J.J. Watt — Texans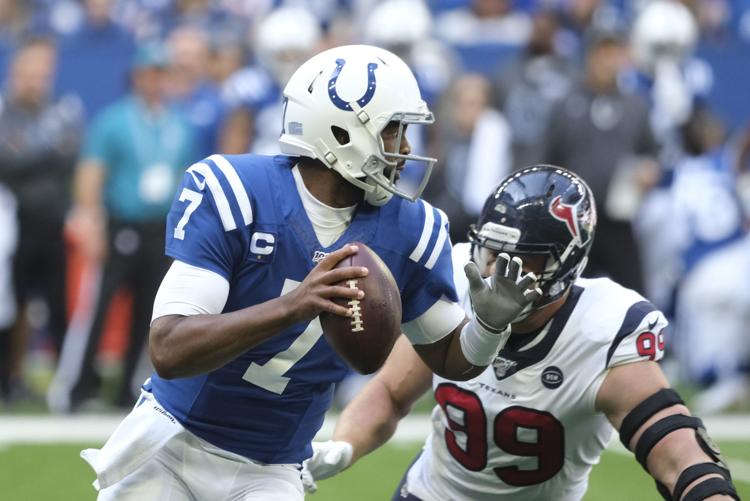 Defensive end J.J. Watt was frustrated with the penalties Houston's defense racked up Sunday as the Texans lost on the road to the Colts, 30-23, at Lucas Oil Stadium in Indianapolis.
The Texans had three costly penalties on third downs, allowing the Colts to extend drives and pull away for the win.
Watt, who failed to register a sack Sunday, had three solo tackles to bring his season total to 21 total tackles with four sacks. 
James White — Patriots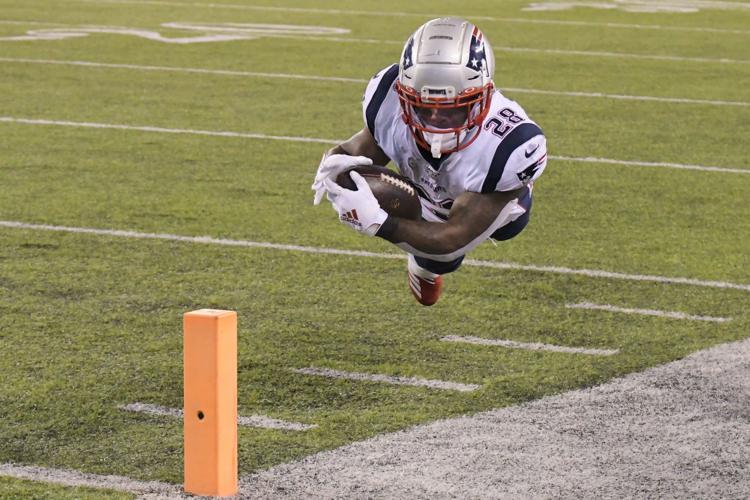 While the Patriots didn't get a monster performance out of running back James White on Sunday, his usual reliability was more than enough as New England cruised easily to a 33-0 win over the New York Jets on Monday night at MetLife Stadium in East Rutherford, N.J.
White did what he does best, catching 7 of 8 balls thrown his way for a team-leading 59 yards, including a 22-yard reception from quarterback Tom Brady.
White also carried the ball 5 times but failed to net any yards on the ground as the defending Super Bowl champs improved to 7-0 to start the season. 
Russell Wilson — Seahawks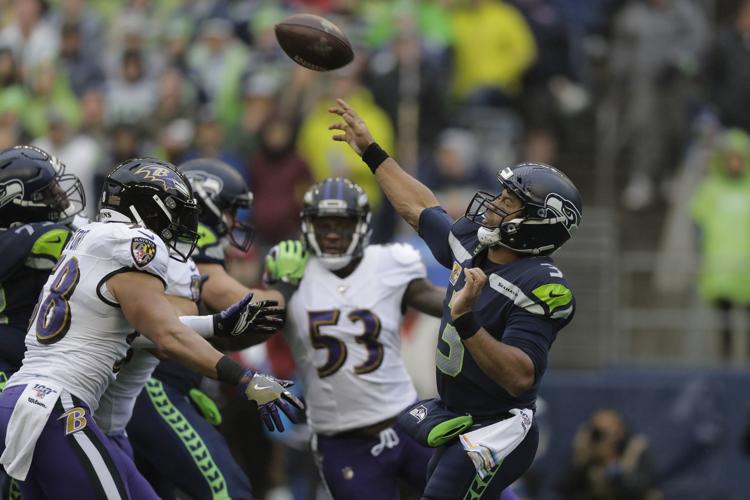 After a scorching hot start to the season, Seahawks quarterback Russell Wilson finally cooled off a bit Sunday as Seattle fell at home to the Baltimore Ravens 30-16.
Wilson, who entered Week 7 as the betting favorite to take home the MVP award at the end of the season, completed 20 of 41 passes for 241 yards with one touchdown and an interception as Seattle moved to 5-2 on the year.
Despite also contributing 27 yards on three carries, Wilson wasn't able to lead Seattle to any touchdowns in the second half, with a lone Jason Meyers field goal under the 2-minute mark in the fourth quarter accounting for the Seahawks' only points after the break.