Badgers in the NFL: Check out top performances by former Wisconsin players in Week 5
With the 2019 NFL regular season rolling along, here's a look at some notable performances from former Wisconsin Badgers players in Week 5.
Alex Erickson — Bengals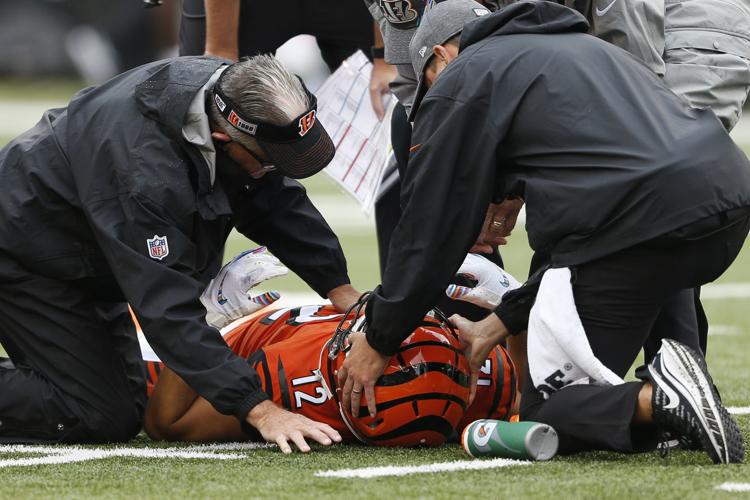 Bengals wide receiver Alex Erickson (above) was forced out of the game Sunday with a possible concussion before he could have much of an impact as Cincinnati fell to 0-5 on the season with a 26-23 home loss to the Arizona Cardinals. 
Erickson, who was starting the game in place of John Ross III, took the hit while trying to catch a pass on third down in the second quarter. He got up on his own and was followed off the field by trainers as he left the game and didn't return. 
Before leaving, Erickson caught one pass for 7 yards and returned one punt for 10 yards. 
Melvin Gordon — Chargers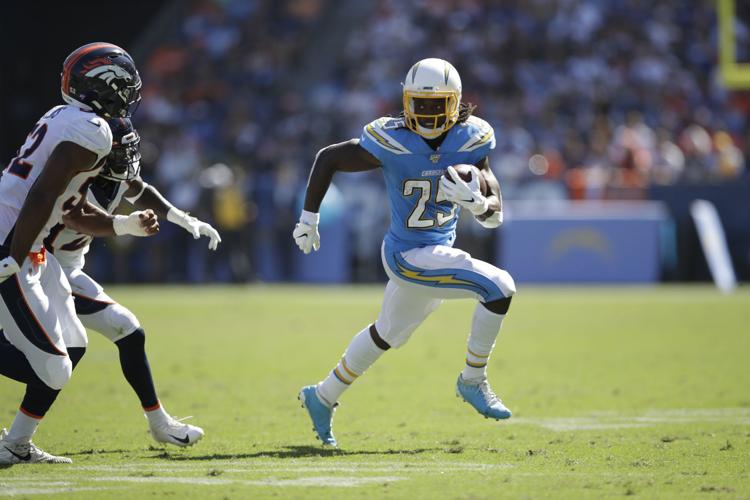 Playing in his first game of the season, Chargers running back Melvin Gordon (above) wasn't quite up to full speed as Los Angeles fell at home to the Denver Broncos, 20-13. 
After missing the Chargers' first four games while holding out amid a contract dispute, Gordon led Los Angeles in carries with 12 but only gained 31 yards on the ground. 
He also caught 4 passes for 7 yards, but the loss marked Gordon's first performance without a first down rushing or receiving in 56 career games, according to ESPN.
Now in his fifth NFL season, all with the Chargers, Gordon is coming off a year that saw him gain 1,375 yards from scrimmage and contribute 14 touchdowns (10 rushing, 4 receiving). 
Alec Ingold — Raiders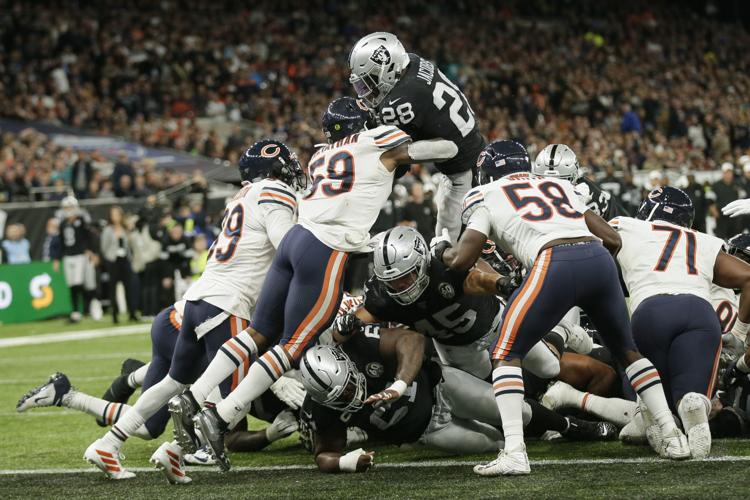 While Raiders fullback Alec Ingold only carried the ball once Sunday for a gain of 3 yards, it's what he did without the ball that helped push Oakland over the top in their 24-21 win over the Chicago Bears in London. 
Ingold provided a "fullback assist" by clearing the way for Oakland running back Josh Jacobs (above) to dive into the end zone from the 3-yard line for the go-ahead touchdown with less than 2 minutes remaining in the battle at Tottenham Hotspur Stadium in England. 
Through the first five games of his rookie season, Ingold has only carried the ball twice for a total of 4 yards but he's picked up first downs on both rushing attempts. 
Dare Ogunbowale — Buccaneers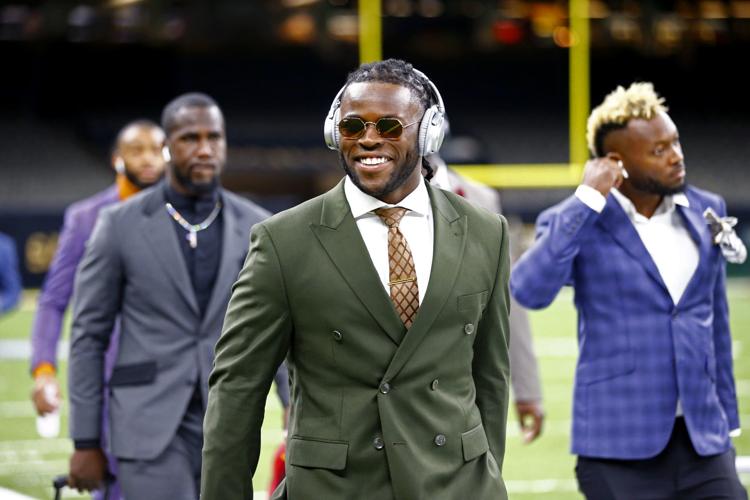 Buccaneers running back Dare Ogunbowale (above) didn't have the best day rushing the ball Sunday, losing 4 yards on his only carry, but he still managed to leave his mark on Tampa Bay's 31-24 loss at New Orleans. 
Ogunbowale's 27 yards on two catches were the second most receiving yards for Tampa Bay — trailing wide receiver Chris Godwin, who had 125 yards on seven catches. 
Ogunbowale also fielded his first kickoff of the season, returning it 19 yards as the Buccaneers fell to 2-3 on the season after coming up short against the Saints (4-1) at the Mercedes-Benz Superdome. 
Joe Schobert — Browns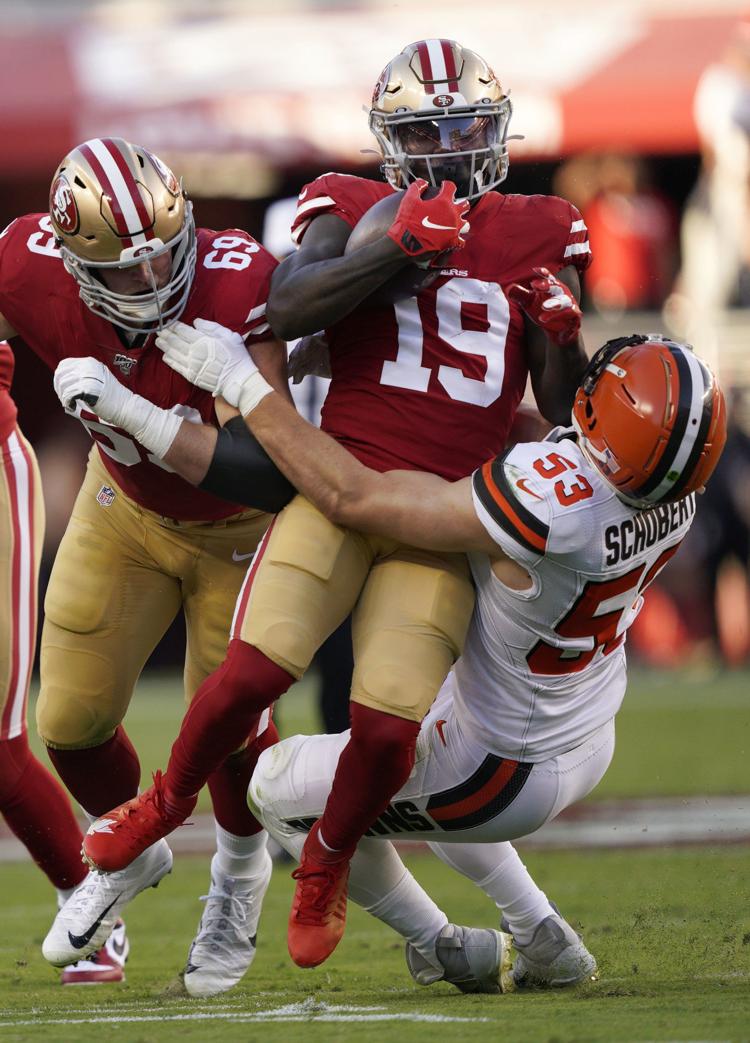 As usual there wasn't much for Browns fans to be happy about in Cleveland's 31-3 loss to the San Francisco 49ers on Monday night, but linebacker Joe Schobert (right) was one of the few bright spots. 
Schobert had a season-high 11 solo tackles as the Cleveland defense couldn't do much on the road to slow San Francisco. 
Through the first five games of his fourth season, Schobert has 54 total tackles, one sack and a forced fumble for the Browns (2-3). 
J.J. Watt — Texans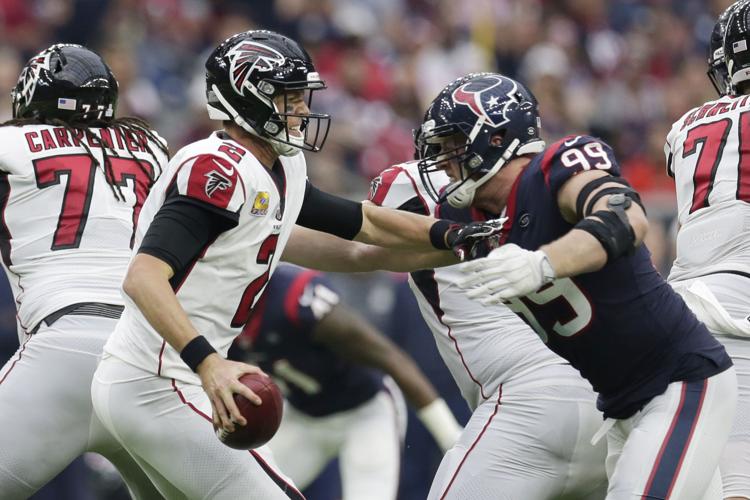 Defense wasn't the focus Sunday in a high-scoring shootout between the Falcons and Texans, but J.J. Watt (above right) made some noise with a sack of Atlanta quarterback Matt Ryan (above left) as Houston won 53-32 at NRG Stadium in Texas.
In addition to the sack, Watt had two solo tackles and an assisted tackle as the Texans improved to 3-2 on the season. 
In his ninth season, the three-time defensive player of the year has two sacks and 16 total tackles through five games, and he's also forced a fumble and recovered two fumbles. 
T.J. Watt — Steelers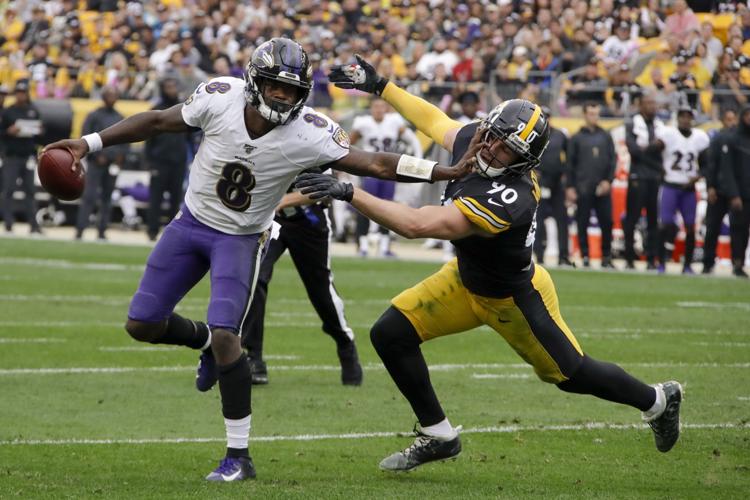 Things got a little physical between Steelers linebacker T.J. Watt (above right) and Ravens quarterback Lamar Jackson (above left) on Sunday in Pittsburgh's 26-23 overtime loss to Baltimore at home. 
While Watt registered a sack on the second-year quarterback, Jackson showed his physicality by sending Watt to the ground with a stiff-arm in the first quarter. 
Watt pursued Jackson with Baltimore facing a 2nd and 3 at Pittsburgh's 4-yard line. After shedding Watt, Jackson threw the ball out of the back of the end zone, but a roughing-the-passer penalty was called on Steelers defensive end Stephon Tuitt.
On first down at the Pittsburgh 2-yard line, Watt stuffed Ravens running back Mark Ingram for a 2-yard loss, but Ingram scored on the next play to put Baltimore up 10-0 after the extra point. 
In addition to the sack, one of five by Pittsburgh defenders, Watt also had two solo tackles and an assisted tackle as the Steelers fell to 1-4 on the season. 
Through five games, Watt has 17 total tackles with 3.5 sacks, one forced fumble and an interception.  
James White — Patriots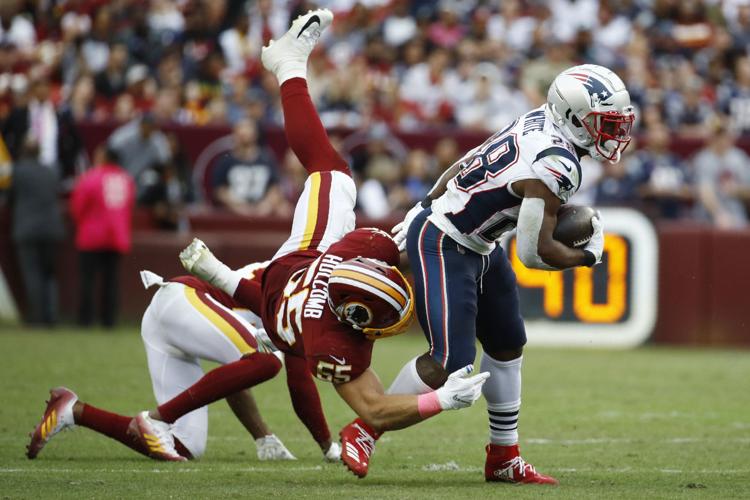 Patriots running back James White (above) provided his usual versatility as New England rolled past Washington 33-7 on Sunday at FedEx Field in Landover, Maryland. 
White had six carries for 26 yards, while also catching six passes for 46 yards with a long of 21 yards. 
Despite missing a game this season for the birth of his child, White has 63 yards on 14 carries and 22 receptions for 178 yards and a touchdown as the Patriots have started 5-0. 
Russell Wilson — Seahawks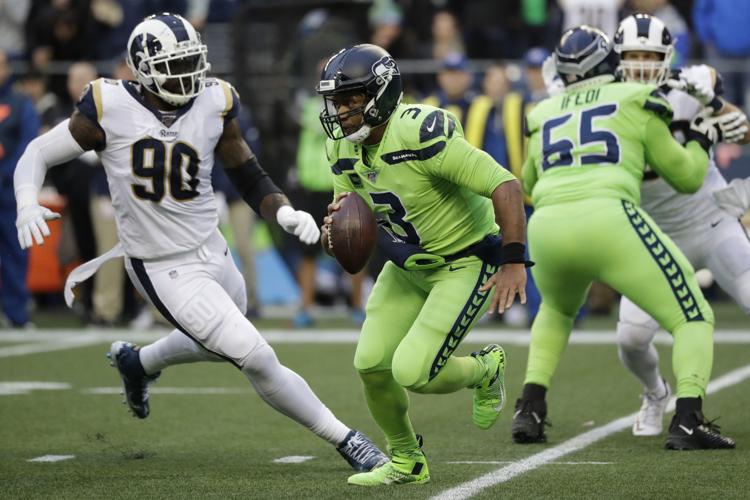 Seahawks quarterback Russell Wilson (above) was a model of efficiency to kick off Week 5 of the NFL season Thursday night in Seattle, helping the Seahawks edge the Los Angeles Rams 30-29 for the win at CenturyLink Field. 
Wilson completed 17 of 23 passes for 268 yards with four touchdowns and no interceptions while finishing with a passer rating of 151.8. He also added 32 rushing yards on eight carries and only took one sack for a loss of 6 yards. 
The Seahawks improved to 4-1 on the season, with Wilson continuing his strong play to start the year. In five games, he has completed 114 of 156 passes (73.1 percent) for 1,409 yards with 12 touchdowns and no interceptions. 
Wilson has ran the ball 27 times so far this season for 120 yards, picking up seven first downs and scoring twice on the ground.