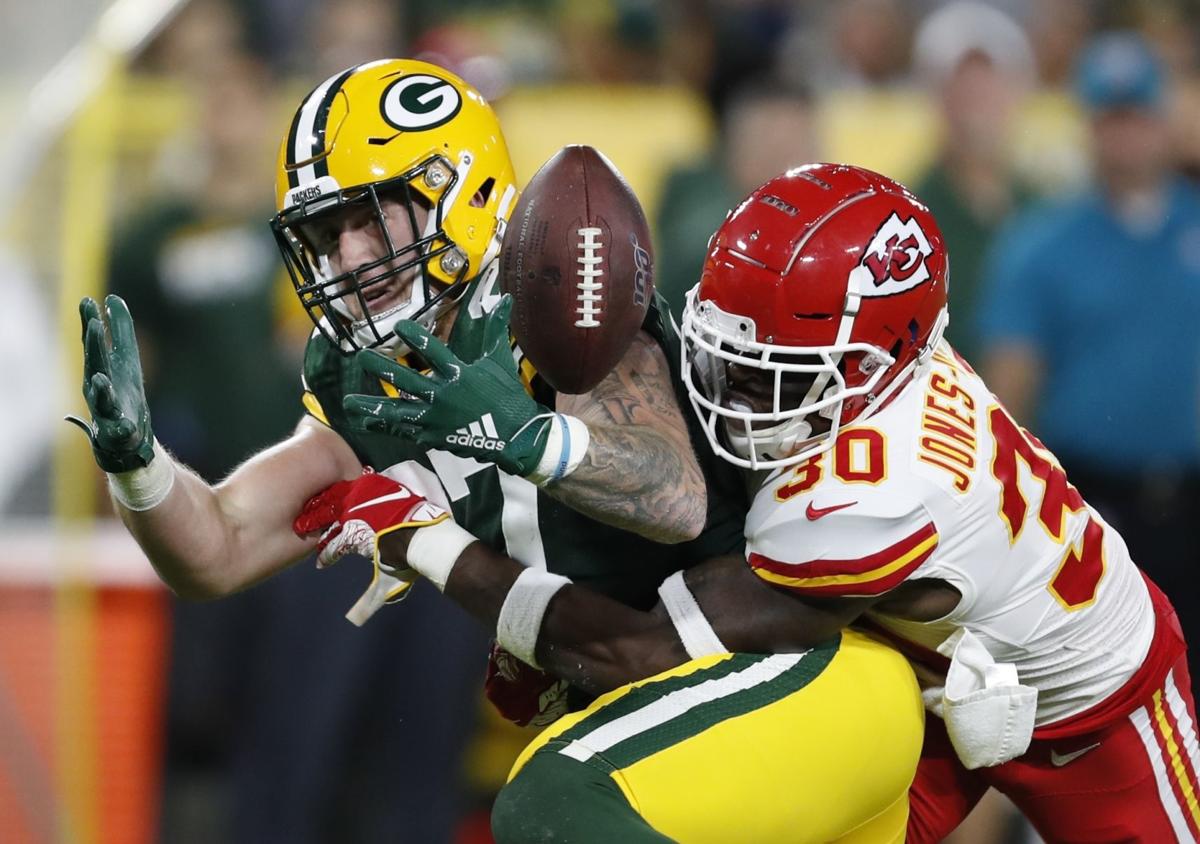 GREEN BAY — Somewhere along the way, the conversation about how new Green Bay Packers coach Matt LaFleur was going to integrate quarterback Aaron Rodgers' brilliant football mind into the Packers' iteration of the NFL's most innovative offensive scheme got twisted.
It ceased being a story about how LaFleur was going to maximize the benefits of marrying an intelligent quarterback and an intelligent offense. Instead, the narrative became more about the personalities involved — and whether the coach or the headstrong quarterback would win a perceived power struggle at 1265 Lombardi Avenue.
Perhaps that's what was going through LaFleur's mind Tuesday after practice when, a day after he told reporters Rodgers officially had the "green light" to change plays at the line of scrimmage, he grew somewhat exasperated with a host of follow-up questions that hadn't been asked at the time.
"You guys just will not stop with this audible thing. It's unbelievable," LaFleur said, forcing a smile. "What do you guys want me to say?"
What LaFleur said Monday was a good start: "We've given him all the freedom. So if he sees something, he's got the green light to do whatever he needs to do to get us into a good play. We're not going to take that from him."
The remark was meant to have a let's-put-this-to-rest-once-and-for-all vibe, but it did require some follow-up questions, which came Tuesday. Chief among them: Can Rodgers conjure up any play he can think of if necessary, and was this the natural progression of their football process?
"We've pretty much talked through every scenario. So, I've got a pretty good idea of what he's going to go to when he's out there. We feel good about it," LaFleur said. "It's just more or less laying a foundation of trying to teach him what we're trying to do and evolving the offense as we go. And I think that is the natural progression.
"We've had a lot of great discussions and certainly he's added a ton of value to what we planned on doing as well. So, I'm excited to see it come to life on Thursday."
"It is a very creative process," Rodgers said. "There's great collaboration."
Now, the Packers must show how effective that collaboration has been — and Rodgers must show he can use his freedom judiciously.
"We've always had adjustments within our plays. It's just that we called it something different. And the fact that I didn't call it an 'audible,' everybody's running wild with it. So, it's comical to me," LaFleur said. "But like I said, I feel good with what we've got in our plan, how we've gotten to this point and I'm confident that he's got a total command and control of what we're trying to get done.
Sternberger to IR
Third-round pick Jace Sternberger had a tough summer, from sustaining a concussion during an Aug. 5 joint practice with the Houston Texans to struggling to integrate into the offense to the ankle injury he suffered in last week's preseason finale against Kansas City.
On Tuesday, he was dealt another disappointment, when the Packers placed the rookie tight end on injured reserve. Since he began the season on the 53-man roster, Sternberger will be eligible to return from IR later in the season. After playing only one year of major college football, he might benefit from a "redshirt" year, though being on injured reserve means he won't be able to practice, which doesn't exactly help his development.
The move leaves the Packers with three tight ends — starter Jimmy Graham, veteran backup Marcedes Lewis and up-and-comer Robert Tonyan. The Athletic reported the team will promote wide receiver Allen Lazard from the practice squad to take Sternberger's spot.
Extra points
With Sternberger moving to IR, the Packers only had two players from their 53-man roster not practicing Tuesday: linebacker Oren Burks (chest) and wide receiver Darrius Shepherd (hamstring). They did have 20 players on the report, however, with cornerback Tramon Williams (knee) and swing tackle Alex Light (wrist) added to the report. Light practiced in full while Williams was limited. … The trade that brought ex-New York Giants linebacker B.J. Goodson to the Packers was finally announced by the team, meaning Goodson passed his physical and is officially on the roster. He was not at practice during the portion open to the media, however.
Be the first to know
Get local news delivered to your inbox!