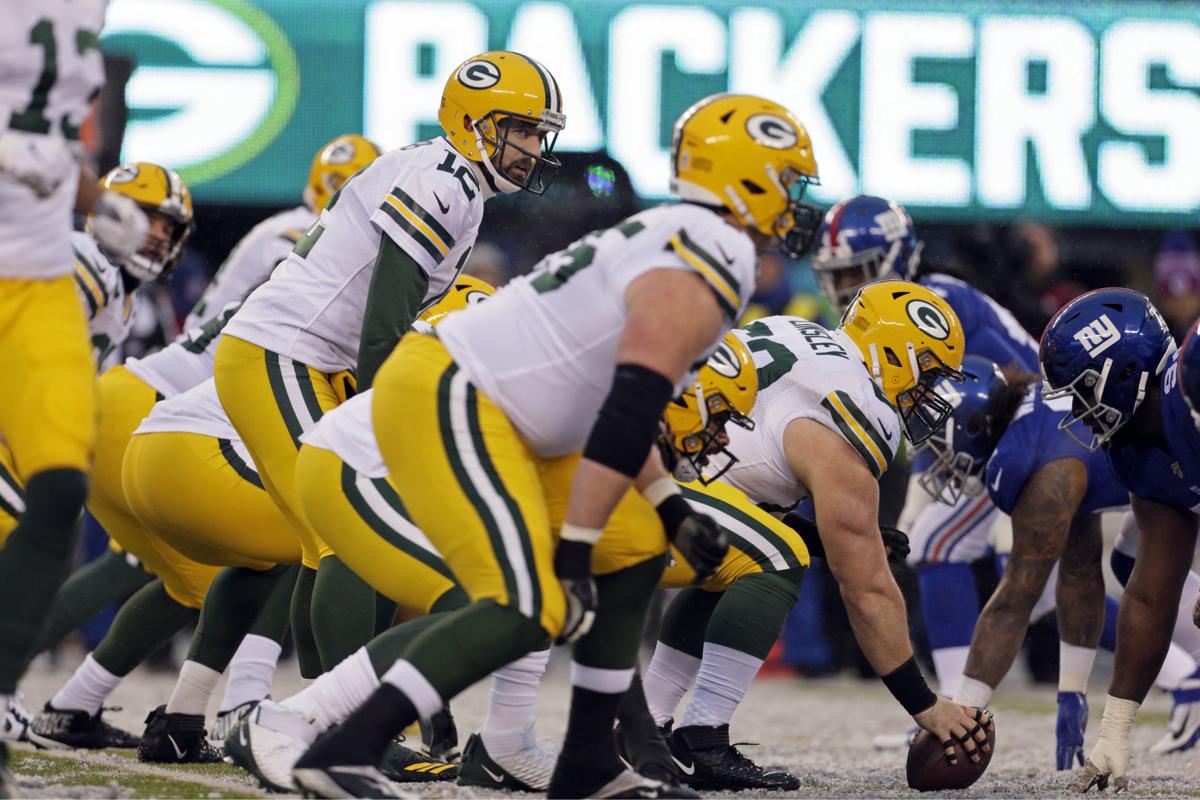 GREEN BAY — The question hadn't even reached its conclusion, and Matt LaFleur was already raising his knuckles to knock on the podium.
How rare is it, the Green Bay Packers first-year coach was being asked, for a team to be as healthy as his is entering the final four games of the season? The Packers once again had all 63 of their players — all 53 on the roster and all 10 from the practice squad — participate in practice on Thursday, a extraordinary accomplishment given how injuries can derail an NFL team's season and how frequently the Packers have endured injury misfortune in recent years.
"Knock on wood, but on the teams we've had success with, typically it's been a similar story," LaFleur said, referring to teams he's worked for in the past. "I know in Atlanta we were pretty healthy throughout the entire season in 2016 (when the Falcons reached the Super Bowl). In L.A., we had the same luck in terms of not dealing with a ton of injuries in 2017. I've seen it happen before."
In his first head coaching job, LaFleur is hoping it continues. The Packers did have to persevere through a four-game stretch without No. 1 wide receiver Davante Adams, but beyond that, they've been remarkably healthy while building the 9-3 record they'll take into Sunday's game against the Washington Redskins at Lambeau Field.
The team does have seven players on the injured reserve list, having activated rookie tight end Jace Sternberger (ankle) from the list last month. Of those seven players, only starting left guard Lane Taylor (torn biceps) and hybrid safety/linebacker Raven Greene (ankle surgery) could be considered significant losses. And Taylor might've eventually ceded his starting job to impressive rookie second-round pick Elgton Jenkins even had he not been injured.
LaFleur's predecessor, Mike McCarthy, suffered through a host of injury-plagued seasons, and went to great lengths to try to reduce injuries. In 2014, he introduced a Friday program he called STAA (Soft Tissue Activation and Application) when players would get massages, do yoga and various treatments in hopes of preventing muscle pulls and strains.
It worked that first year, as the Packers were among the NFL's healthiest teams and advanced to the NFC Championship Game, where they blew a 16-0 lead and lost on the verge of their second Super Bowl berth under McCarthy, whose 2010 team won Super Bowl XLV despite having 16 players on injured reserve that year.
You have free articles remaining.
"I've never seen anything like this," said cornerback Tramon Williams, who was on both the 2010 and 2014 teams. "In '14 we were healthy. It is rare. You always hope it's something we're doing. Every year, we try to do stuff to keep guys healthy, but the reality of it is, it doesn't just happen. It takes a little bit of everything and that includes luck. Obviously, the years we were healthy, like '14, we made it far. It's definitely a rare thing."
That 2014 success didn't last, though, as the Packers lost multiple key players to significant injuries in McCarthy's final four seasons. And it's not as if this year's health can be traced to major changes in the Packers' support staffs, as Dr. Patrick McKenzie still heads the medical staff, Bryan "Flea" Engel is still the head athletic trainer, and Adam Korzun is still the team nutritionist, just as they were under McCarthy.
The only slight change LaFleur made was on the strength-and-conditioning staff, as ex-linebacker Chris Gizzi was promoted to the coordinator position after former coordinator Mark Lovat volunteered to be demoted to an assistant position.
LaFleur acknowledged Thursday that good fortune has been part of the equation, but also credited his players for doing more to take better care of themselves on their own.
"I do think (luck) is a big part of it," LaFleur admitted. "But I've got confidence we've got the right people working with our guys, and we've got a mature locker room that knows their bodies and knows how to take care of themselves — because that's a big part of it as well, just making sure you're doing all the little things the right way, getting the treatments."
During Thursday's practice, the only players who were limited were starting right tackle Bryan Bulaga, who hasn't missed a start this season despite a dislocated broken finger earlier this year and a knee injury two weeks ago; tight end Jimmy Graham, who is battling calf and wrist injuries; No. 2 running back Jamaal Williams, who was added to the report with a knee injury; cornerback Kevin King, who has a recurring shoulder issue; and Williams and tight end Marcedes Lewis, who were both limited for veteran rest purposes.
Center Corey Linsley, who was a rookie on that 2014 team, said he felt McCarthy did everything he could to improve his teams' chances of staying healthy.
"A lot of it, I think, is luck. Just me and my experience, it's been 50 percent luck," said Linsley, who had played an impressive 2,768 straight snaps dating back to 2016 before suffering a concussion at Dallas on Oct. 6, leaving that game after 19 plays. "It takes one play for anybody to get hurt.
"I don't think you'll ever find a quantitative answer to this. But I don't think anybody's any different. Look at Davante. He had a turf toe injury on a random tackle."