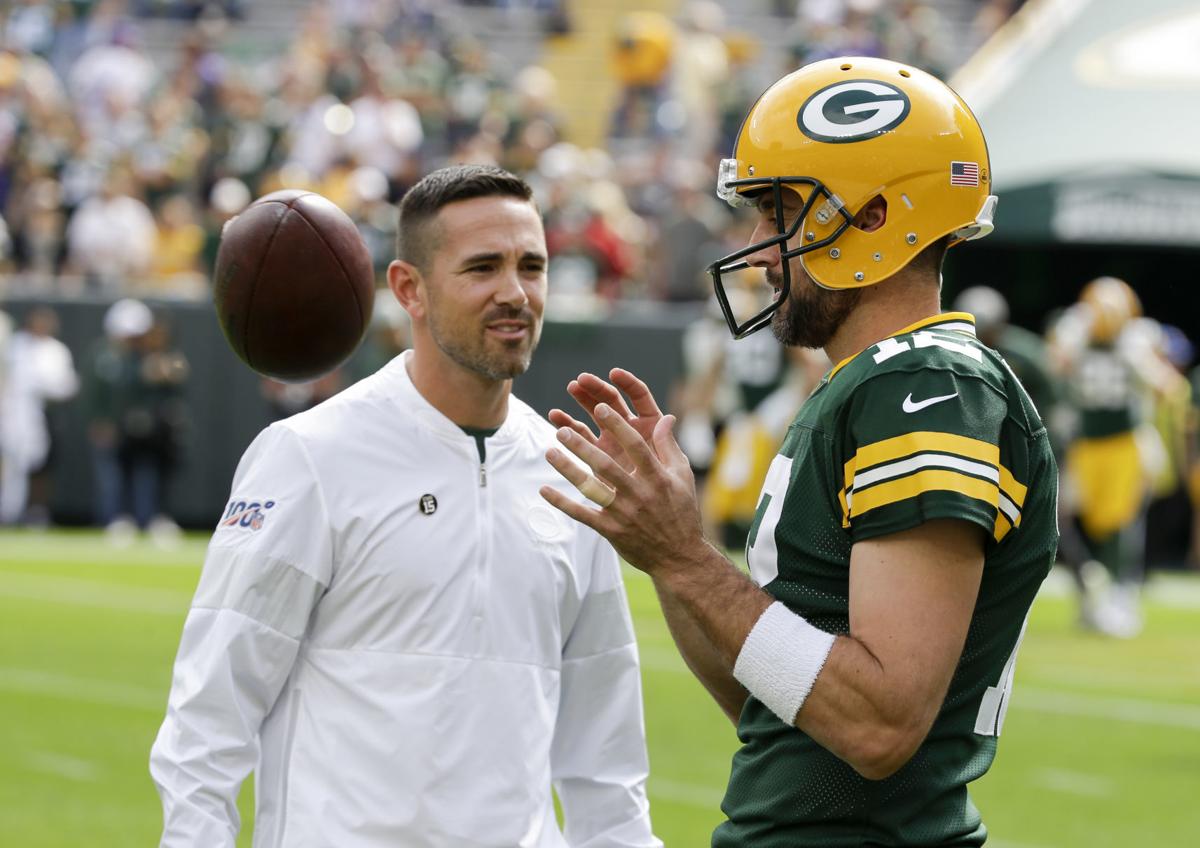 GREEN BAY — If there was one overarching theme in the days and weeks that followed the Green Bay Packers' season-ending loss to the San Francisco 49ers in the NFC Championship Game four months ago, it was undeniably this: Head coach Matt LaFleur could not wait to get back into his Lambeau Field office/Xs and Os laboratory and start working on how Year 2 of his offensive scheme would look.
The rookie coach had created an amalgamation of his own scheme and some holdover concepts from the system of his predecessor, Mike McCarthy, and the results were mixed. The team went 13-3 and were one win away from a berth in Super Bowl LIV, but the offense had delivered some uneven performances and had done next to nothing in its two matchups with the 49ers vaunted defense in the most critical games of the season.
Statistically, the offense had been a middling operation, finishing 15th in scoring offense (23.5 points per game), 18th in total offense (345.5 yards per game), tied for 17th in yards per play (5.4), 15th in rushing offense (112.2 yards per game), 17th in passing offense (233.3 yards per game) and tied for 21st in third-down efficiency (a 36% conversion rate).
Quarterback Aaron Rodgers, meanwhile, had a decidedly un-Rodgers-like season statistically, other than keeping his interceptions down. Rodgers finished his 12th season as the starter having thrown for 4,002 yards with 26 touchdowns and four interceptions for a passer rating of 95.4, the third-lowest of his career as a starter.
"I think (the offense) evolved over the course of the season, (and) the communication with our players got better," LaFleur explained a few days after the season ended. "The expectations, getting them to understand why we're trying to do certain things. Anytime you have a veteran quarterback — and I went through this in my time in Atlanta (with Matt Ryan) — you always want to make sure that guy feels comfortable with what you're doing. I thought that evolved as the season went along. I thought it got much better, especially when you look back, in hindsight, at what we did in Week 1 to the end of the season.
"I think it's going to continue to evolve. I think this offseason will give us a good chance to reflect and see what we did well and see where we want to go with it. I know there will be some changes that we'll make and we'll try to implement some different things to try to be more efficient and more effective.
"There were glimpses of some really good and then there were moments of really bad. We've got to try to eliminate those, and certainly there's some pointed areas of emphasis that we'll make sure we improve upon on – (such as) third down. That was not up to the standard and if you don't convert on third down, it's hard to stay on the grass and it's hard to be a consistent offense."
Thus, as LaFleur mapped out his offseason program and contemplated all the different things he could install or expand on in Year 2 — even before free agency and last month's draft — there was an excitement and an anticipation not just for him, but for general manager Brian Gutekunst and for Rodgers.
"I do think Aaron played at a really high level this past year and I'm excited about Year 2 with Matt and where those guys can go together," Gutekunst said before departing for the annual NFL scouting combine in February. "I know Matt talks a lot about Matt Ryan and what he did in Year 2, the comparatives there. Obviously Aaron has played at an elite level a long time. Seeing what (Rodgers) did in Year 1 with Matt, I'm just really excited where the offense and him can go."
Since then, of course, the NFL season has been turned upside-down by the COVID-19 pandemic, which obviously has had far more serious real-world implications than inconveniencing NFL coaches and players. Nevertheless, while all 32 teams have been impacted by the coronavirus, which forced the closing of all team facilities league-wide and required teams to conduct virtual offseason programs via videoconferencing applications.
"What this offseason has done is slow everything down," LaFleur said. "But when I was looking at our installs from when we first got here and before we ever had a practice with any of our players, it's just drastically different. It is drastically different. I think when you go through a season with your guys, you kind of find out who's good at doing what and you find out what you really are good at doing. And it's our job as coaches to make sure that we're putting our guys in a position to be successful and really showcase what it is that they do well."
How effectively you can do that without a single on-field organized team activity practice remains to be seen, but in a Zoom video call Friday, offensive coordinator Nathaniel Hackett tried to strike a hopeful chord that the coaches will be able to advance the offense in a meaningful way despite the circumstances.
"Obviously, we're very excited going into Year 2," Hackett said. "I think (the players) being more comfortable in a system is huge, and just being able to communicate and talk and adjust and maneuver and make it our system, not one system or the other. That has been really fun to do last year and even more this year because the conversations were so much different.
"Now, we know each other. Knowing each other and working together is a lot different than first time, 'Hi, I'm Nathaniel. This is Aaron and Matt.' And just thrown into a room and trying to get it to work. Going through a season together, you always can advance your system in general.
"This is such a unique situation with this COVID situation. It's so hard to tell what we're going to look like as we move into the season. Every year is so unique. This offseason, because we've been all in our houses (under the safer-at-home order), we've been able to look at a lot of different things and see if there's things want to implement or things that we did that we probably shouldn't do as much.
"Every single thing we're doing now is to make it so we can be a more quality offense, a more explosive offense. That's what we're always hunting. When we're going to be when we have the opportunity to get on the field, who knows. I'm just excited to teach the system to the guys and even more excited to hopefully get to meet them all soon and be in the same room with them one day."
Asked what his expectations are for the offense given the offseason circumstances, Rodgers replied, "That's a good question. (Last year), some of the stuff we got into (was) blending some of the things Matt loves to do with a few of the things I've done well over the years. This has been a great opportunity to go back and really fine-tune everything, go through everything last year that was good, what didn't work, what we want to add to it, what we want to take out.
"I think Matt and Nathaniel have done a really good job of going through those and keeping me in the loop about conversations. We've had a number of conversations about these installs and I feel really good about where they're at. Expectations-wise, I think it's too early to make some prognostications about our squad, because there's moving pieces.
"And when you don't have that physical offseason, I think it's too early to make any type of expectations or predictions about who's going to be playing where, what type of roles, or exactly what we're going to do until we see abilities of some of these guys that we brought in and see some of the jumps we have from guys in Years 2 and 3."
And yet, to some degree, the Packers are among the lucky ones. Although they may not evolve as much offensively as they would have during a typical offseason, at least they're not one of the five teams with new head coaches or one of the other seven teams whose head coaches remain in place but who have new offensive coordinators this season.
"I think that's critical," LaFleur said. "Just having the guys understand what we're all about and we've got the majority of our team returning, they understand the expectation. What it takes, what they can expect from myself, from our other coaches, what they should expect from each other.
"There's just so many advantages to having that first year under our belt. Now, we understand that also, going into Year 2 that there's pressure with how we performed in Year 1 for the most part. There's going to be some heavy expectations and we've all got to be ready to embrace those and make sure, again, that we're doing everything in our power to get better each and every day so we can live up to those."
---
Get ready for the 2020 season with a week-by-week breakdown of the Packers' schedule
Get ready for Packers season with a week-by-week breakdown of Green Bay's schedule
WEEK 1 | AT MINNESOTA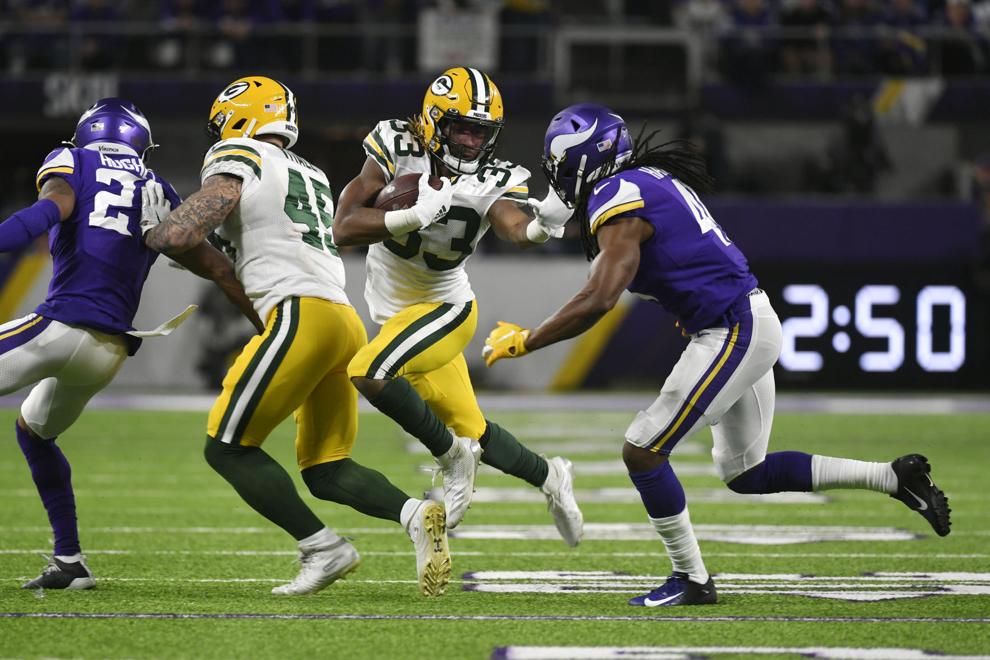 Last meeting: The Packers defeated the Vikings, 23-10, at U.S. Bank Stadium in Minneapolis on Dec. 23, 2019, to improve to 12-3 on the season and clinch the NFC North Division title. Packers running back Aaron Jones (above) had a season-high 154 rushing yards on 23 carries, scoring twice on the ground. 
Player to watch: The Vikings' top pick in the 2020 NFL draft, LSU wide receiver Justin Jefferson (No. 22 overall) could make his first appearance in the storied rivalry when the teams meet to open the season. In three season with the Tigers, the 6-foot-1 Jefferson racked up 2,415 receiving yards and 24 touchdowns. 
You should know: The Packers, winners of both meetings last season, lead the all-time regular-season series with a record of 61-53-3 against the Vikings. 
WEEK 2 | VS. DETROIT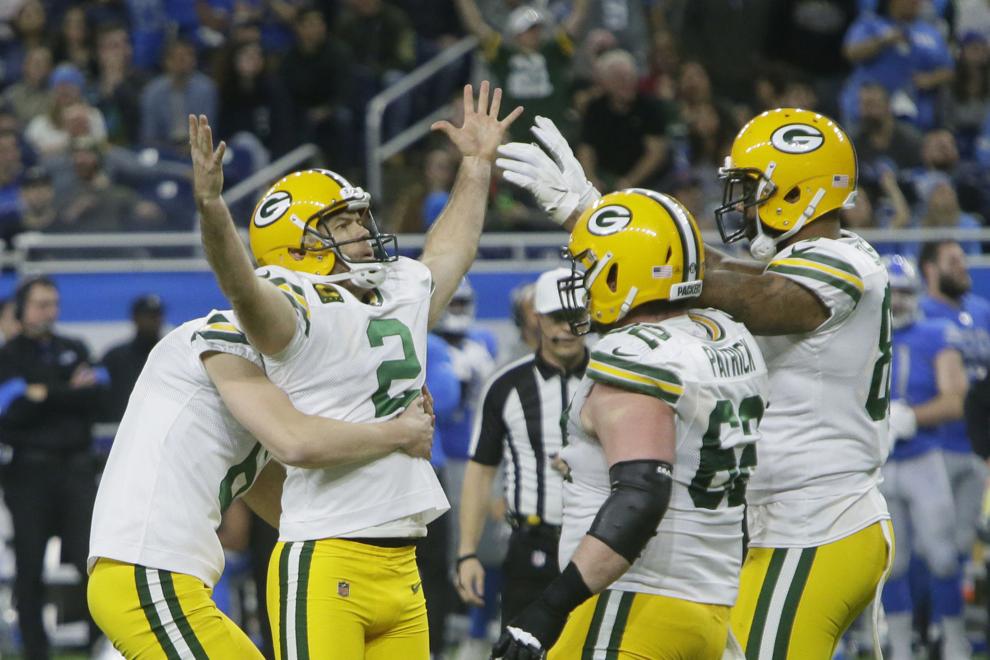 Last meeting: The Packers held off the Lions, 23-20, in their regular-season finale on Dec. 29, 2019, to finish the season with a 13-3 record under first-year head coach Matt LaFleur. While Aaron Rodgers completed 27 of 55 pass attempts for 323 yards, two touchdowns and an interception, it was kicker Mason Crosby (above) who proved to be the hero in the closing seconds, hitting a 33-yard field goal as time expired to give Green Bay the victory.  
Player to watch: Veteran quarterback Matthew Stafford, who missed the Lions' final meeting with the Packers last season after playing in only half of Detroit's games, is seen by some NFL insiders as due for a strong rebound this season. In his one appearance against Green Bay last season, Stafford completed 18 of 32 passes for 265 yards with no touchdowns and a passer rating of 83.5. Entering his 12th season, Stafford had previously been a steady presence for the Lions, not missing a regular-season game the previous eight seasons. 
You should know: After winning both meetings last season, the Packers extended their head-to-head lead over the Lions to 100-72-7 in regular-season matchups.  
WEEK 3 | AT NEW ORLEANS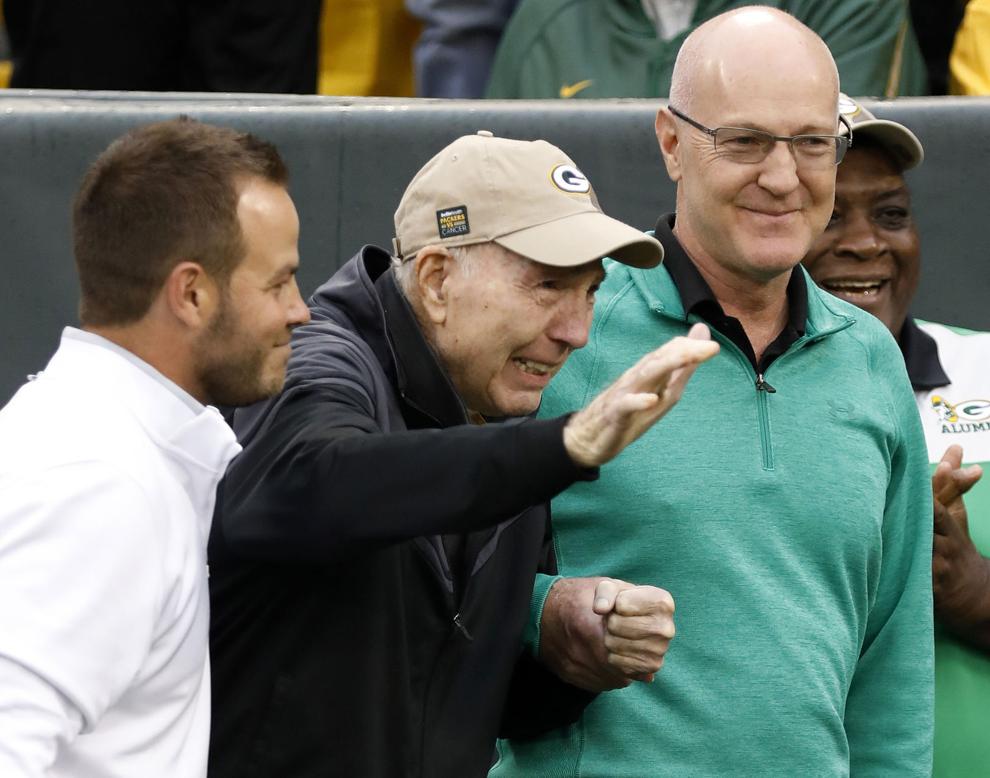 Last meeting: When the Packers and Saints meet this season it will have been nearly three years since they last faced each other, when New Orleans won 26-17 on Oct. 22, 2017, at Lambeau Field. With Rodgers out due to injury, backup quarterback Brett Hundley, making his first start, couldn't get the job done, completing only 12 of 25 passes for 87 yards with no touchdowns and one interception. Saints QB Drew Brees didn't have one of his best outings (27 of 38 for 331 yards with one TD and two interceptions) but it was enough to get the job done on the road as Green Bay managed only 3 points in the second half after leading 14-7 at the break. 
Player to watch: Wisconsin football fans are well aware of the damage New Orleans rookie linebacker Zack Baun is capable of inflicting on an offense. Baun, taken by the Saints in the third round (No. 74 overall), had a strong career for the Badgers, finishing his four years in Madison with 152 tackles, 15 sacks and two interceptions. 
You should know: During the teams' 2017 meeting at Lambeau Field, Packers legend Bart Starr (above) was in attendance as Green Bay celebrated the 50th anniversary of its 1967 championship team. It would be the last pubic appearance at a Packers game for the Hall of Fame quarterback, who passed away at the age of 85 on May 26, 2019. 
WEEK 4 | VS. ATLANTA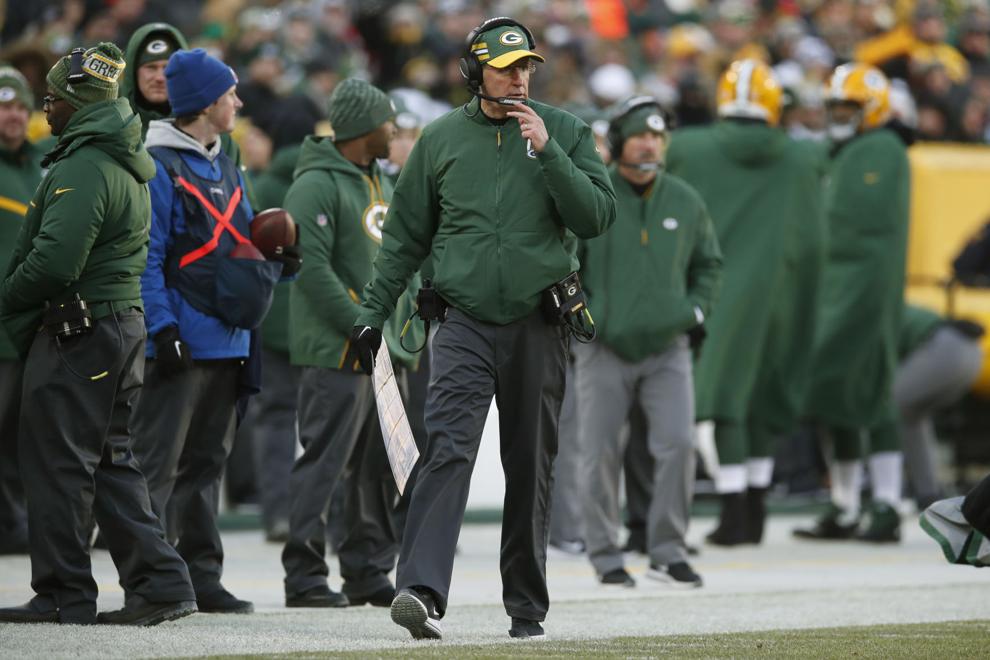 Last meeting: The Packers defeated the Falcons, 34-20, on Dec. 9, 2018, at Lambeau Field. Despite taking four sacks, Rodgers turned in a solid outing, completing 21 of 32 attempts for 196 yards and two touchdowns as Packers interim coach Joe Philbin (above) picked up his first win just seven days after longtime coach Mike McCarthy's ouster. 
Player to watch: Cornerback AJ Terrell, taken by Atlanta with the 16th pick in this year's NFL draft, could cause headaches for Green Bay's thin receiver corps. The 6-foot-1 Terrell finished his three-year career at Clemson with 101 tackles, two forced fumbles and six interceptions. Clemson fell to LSU, 42-25, in last season's College Football Championship, with Terrell registering five tackles in his final collegiate game. 
You should know: The Packers had reportedly asked the league for a road date for Week 4, with the University of Wisconsin football team scheduled to face Notre Dame on Saturday, Oct. 3, at Lambeau Field. Instead, Lambeau is now set to host two games in a span of three days. 
WEEK 5 | BYE
WEEK 6 | AT TAMPA BAY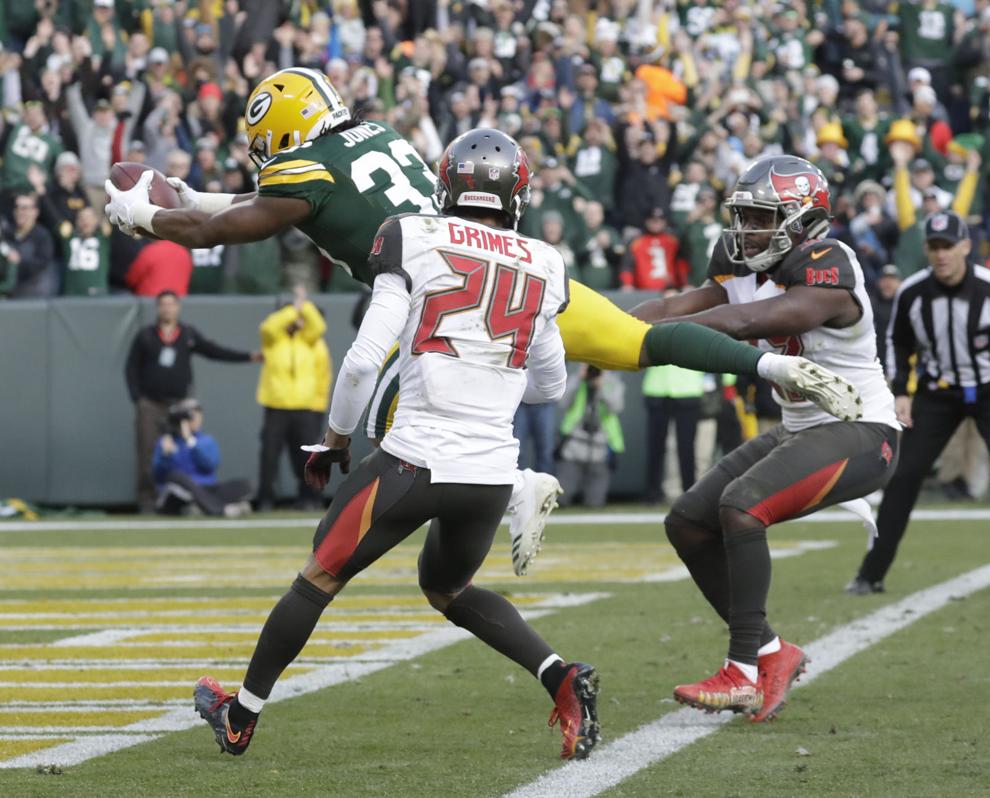 Last meeting: While Green Bay defeated Tampa Bay, 26-20, on Dec. 3, 2017, at Lambeau, these are far from the same Buccaneers. During the teams' last meeting, then third-year QB Jameis Winston, en route to 3-10 mark under center on the season, had a roller-coaster performance. Despite throwing for 270 yards and two touchdowns without an interception, Winston was sacked seven times as Green Bay needed an overtime score from running back Aaron Jones (above) to pull out the victory. 
Player to watch: Two words — Tom Brady. A sure-fire first-ballot Hall of Famer and one of the all-time great quarterbacks, Brady shocked the football world this offseason when he left the New England Patriots after 20 years — and six Super Bowl victories — to head south in hopes of turning around the woeful Bucs, who finished last season with a 5-11 record. 
You should know: Brady isn't the only big-name addition Tampa Bay made this offseason. One of Brady's favorite targets in New England, tight end Rob Gronkowski, came out of his one-year retirement to join his pal in the NFC South Division. 
WEEK 7 | AT HOUSTON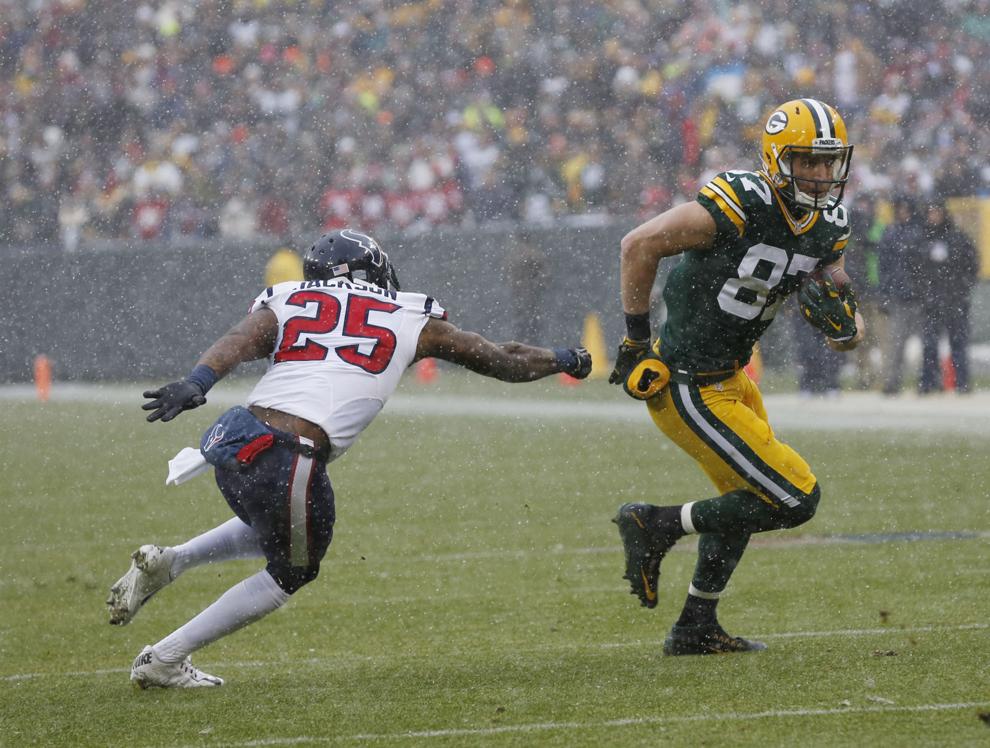 Last meeting: The Packers last faced the Texans on Dec. 4, 2016, pulling out a 21-13 victory at a snow-covered Lambeau after posting 14 points in the final quarter. Rodgers had a strong showing, completing 20 of 30 attempts for 270 yards and two scores with no interceptions. But it was wide receiver Jordy Nelson (above) who turned in a stellar performance, racking up 118 yards on eight catches, including a 32-yard touchdown in the final quarter. 
Player to watch: A three-time NFL defensive player of the year, Wisconsin native J.J. Watt needs no introduction to football fans in the Dairy State. While Watt missed a large chunk of last season, he did return in time for the playoffs, helping Houston defeat Buffalo in the Wild Card round before falling to the Kansas City Chiefs, who went on to defeat the San Francisco 49ers in Super Bowl LIV. 
You should know: This will only be the fifth meeting between the two teams, with the Packers having won 3 of the 4 previous matchups, including the last two. 
WEEK 8 | VS. MINNESOTA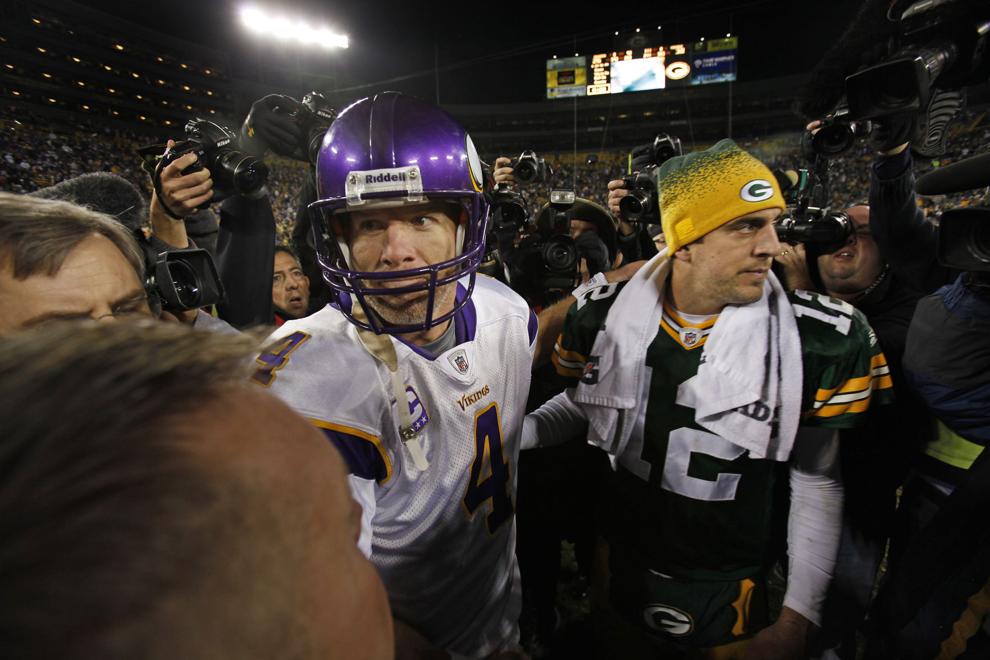 You should know: It's been over a decade since these NFC North rivals have wrapped their regular-season battle this early in the season. In 2009, the Packers and Vikings faced off in Week 8 on Nov. 1 for the final time in the regular season, with Brett Favre (above) leading Minnesota to a 38-26 victory over his former team. Last season, the teams didn't meet for the final time until Week 16, when Green Bay won in Minnesota to clinch the division title. 
WEEK 9 | AT SAN FRANCISCO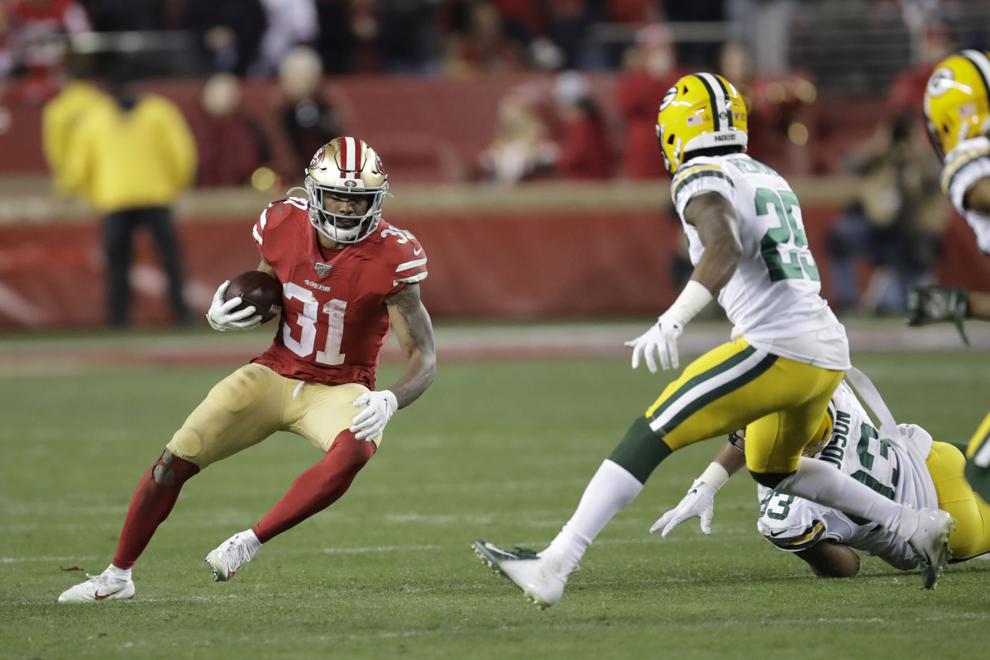 Last meeting: Packers fans likely don't need — or want — a reminder about what happened the last time Green Bay and San Francisco went head to head. But for those who blocked out that painful encounter, here's a quick refresher. With a trip to Super Bowl LIV on the line, the Packers' defense was no match for the 49ers' ground game in the NFC Championship Game on Jan. 19 as running back Raheem Mostert (above) had his way while rushing for 220 yards and four scores en route to a 37-20 victory. Green Bay also struggled mightily in their lone regular-season meeting last season as San Francisco handed the Packers one of their three regular-season losses, a 37-8 defeat in Week 12. 
Player to watch: While the Packers didn't use any of their selections in this year's draft on one of the many talented wide receivers, the 49ers traded up to take WR Brandon Aiyuk out of Arizona State in the first round (No. 25 overall). The 6-foot Aiyuk, who caught 98 passes for 1,666 yards and 11 touchdowns in two seasons with the Sun Devils, could contribute right away for the NFC champs, who are also thin at the receiver position. 
You should know: While the Packers have a narrow lead over the 49ers in regular-season matchups (32-28-1), the teams are now 4-4 in the playoffs, with the Packers having lost the past three postseason meetings.  
WEEK 10 | VS. JACKSONVILLE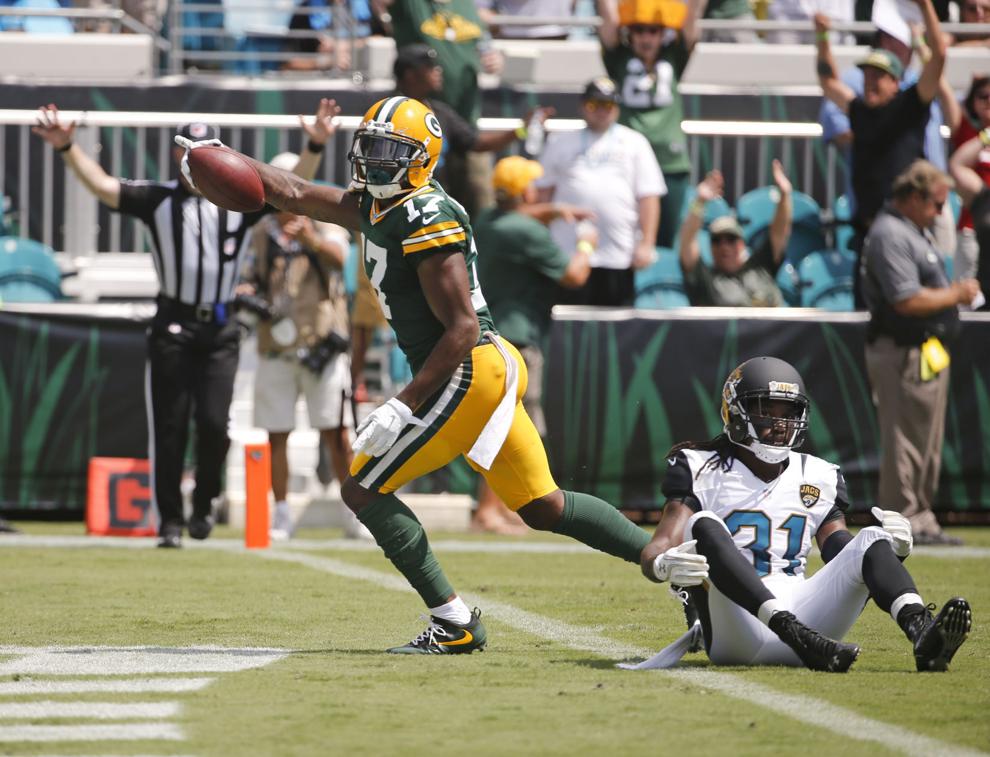 Last meeting: The Packers last faced the Jaguars four years ago in their season opener on Sept. 11, 2016, escaping with a 27-23 win at EverBank Field. With both teams posting only 6 points apiece after halftime, it was Green Bay's 14-point second quarter that proved the difference. Rodgers delivered his two touchdown passes of the day in the frame, connecting on a 6-yarder to Nelson and a 29-yard score to Davante Adams (above) in the closing seconds of the first half. 
Player to watch: The Jaguars used the No. 9 overall pick in this year's draft on cornerback CJ Henderson, who earned first-team all-SEC honors last season at Florida. The 6-foot-1 Henderson finished his three years with the Gators with 93 tackles, six interceptions and four sacks. 
You should know: Having only met six times, Green Bay leads the all-time series 4-2, with their last loss to Jacksonville coming in 2008, Rodgers' first season as a starter. 
WEEK 11 | AT INDIANAPOLIS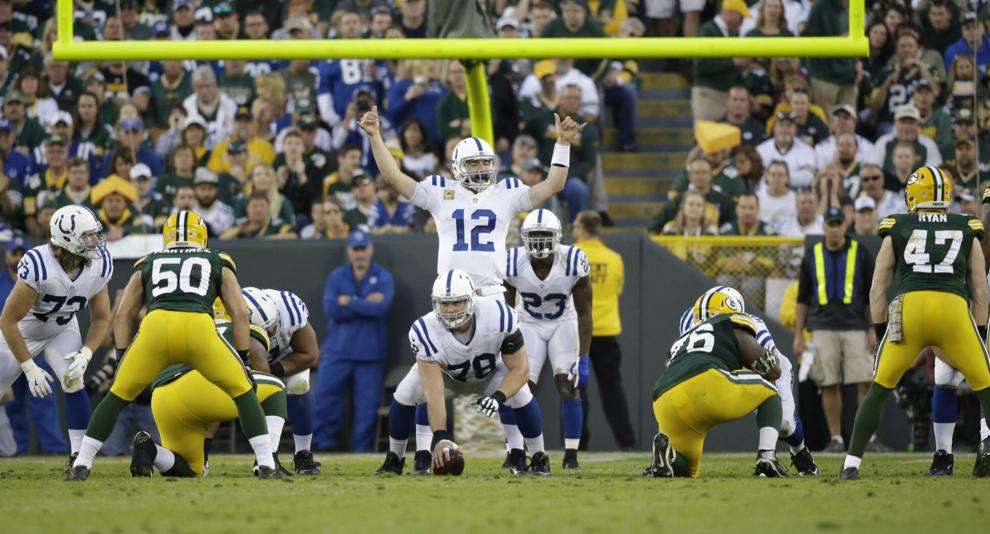 Player to watch: Quarterback Philip Rivers signed a one-year free-agent deal with the Colts on March 21 to become their new starting quarterback. The 38-year-old Rivers, an eight-time Pro Bowl selection, spent the first 16 years of his NFL career with the Chargers but struggled last season, finishing his final campaign with a 5-11 record. 
You should know: The Colts have a slight edge over the Packers in the all-time series, with 22-20-1 record in regular-season matchups. 
WEEK 12 | VS. CHICAGO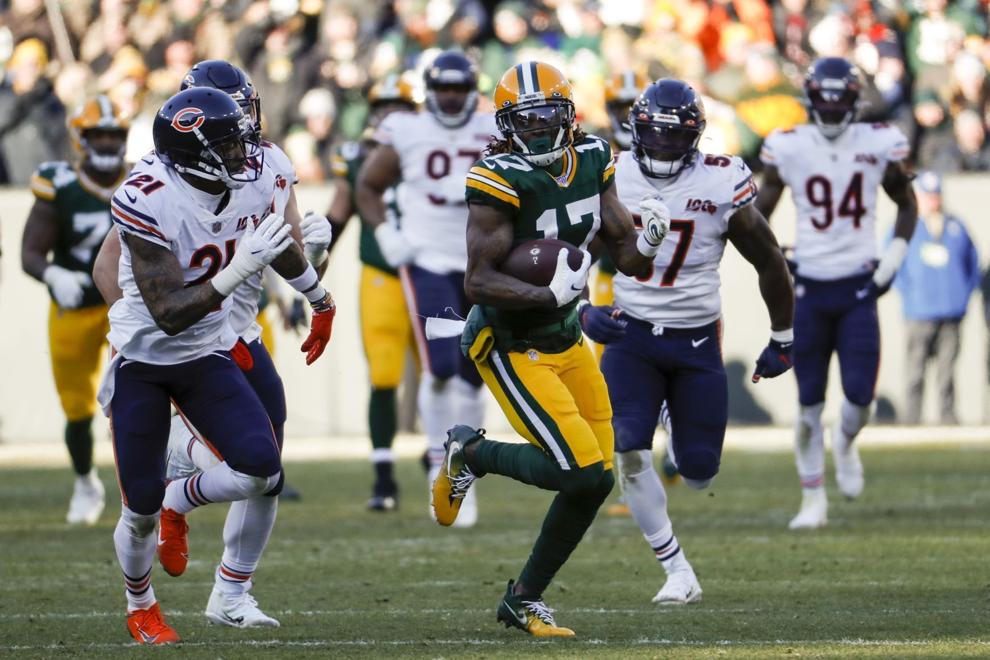 Last meeting: The Packers and Bears met for the final time last season in Week 15, with Green Bay defeating Chicago, 21-13, on Dec. 15, 2019, at Lambeau Field to improve to 11-3 on the season. Adams (above) had a monster day for the Packers, catching seven passes from Rodgers for 103 yards and a touchdown. The Packers also picked up a 10-3 victory over the Bears in Week 1.
Player to watch: Despite the Bears recently declining to pick up quarterback Mitch Trubisky's fifth-year contract option, worth $24.8 million, Chicago's front office is insisting that the team has faith in him. Starting 15 games in his third season last year, Trubisky finished with an 8-7 record after going 11-3 in 2018 and 4-8 in 2017. 
You should know: In one of the most-storied rivalries in professional sports, Green Bay leads Chicago 98-94-6 dating back to the 1921 season. 
WEEK 13 | VS. PHILADELPHIA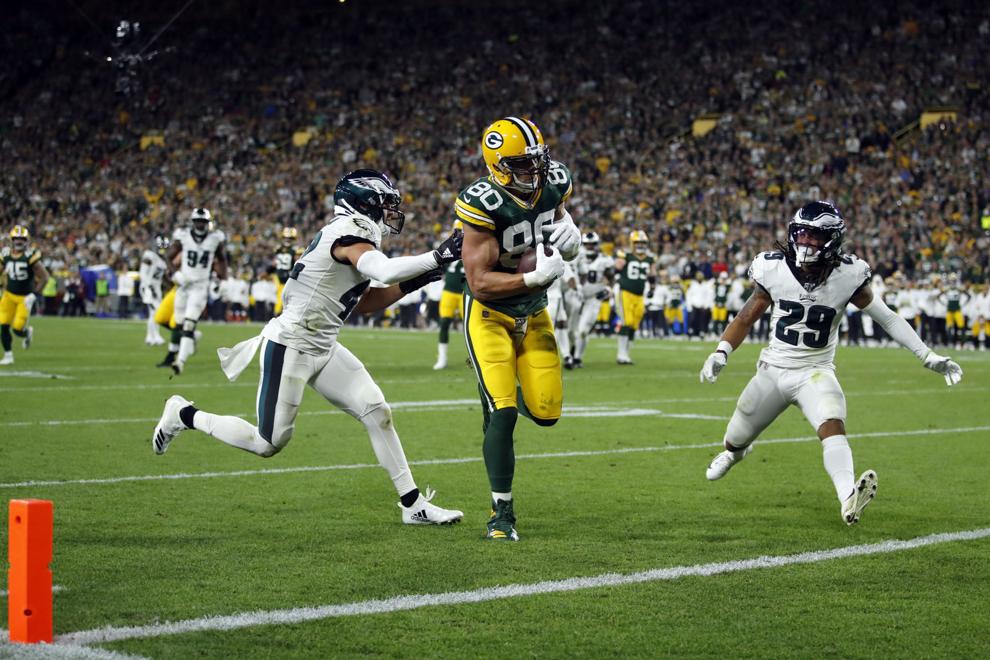 Last meeting: The fist of Green Bay's three losses last season came against Philadelphia as the Eagles pulled out a 34-27 victory over the Packers at Lambeau in Week 4 on Sept. 26, 2019. The Packers tied the game at 27-all late in the third quarter when Rodgers found tight end Jimmy Graham (above) for a 14-yard touchdown, but Green Bay failed to score again, with Adams leaving in the fourth with an injury. A 2-yard touchdown run by running back Jordan Howard early in the final frame put Philadelphia ahead for good. The Packers would rebound from the loss by winning four straight before falling to the Chargers in Los Angeles in Week 9. 
Player to watch: Veteran quarterback Carson Wentz says he's "excited" by Philadelphia's decision to draft former Oklahoma QB Jalen Hurts in the second round of this year's draft. With three years and almost $130 million left on his contract, Wentz likely isn't going anywhere soon, but there will be a lot of eyes on Philadelphia waiting to see how the move unfolds. Packers fans can surely relate after Green Bay traded up in the first round to draft QB Jordan Love out of Utah State with the intention of grooming him to be Rodgers' eventual replacement. 
You should know: The Packers lead the all-time series 27-15, but the Eagles have a 2-1 advantage in postseason matchups. 
WEEK 14 | AT DETROIT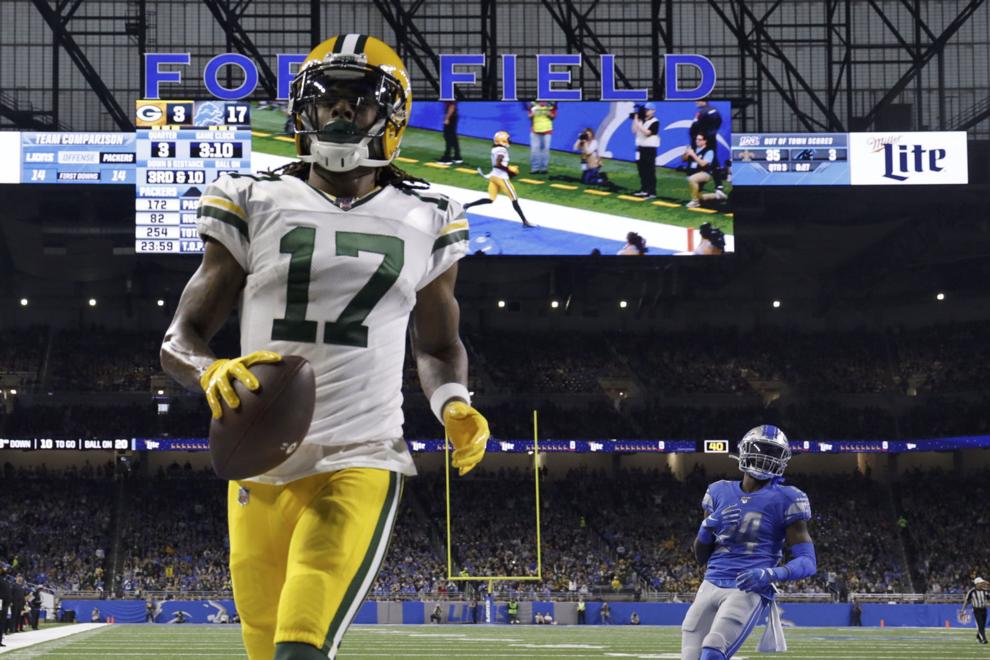 You should know: Before last season's Week 17 win over the Lions (above), the Packers had lost the previous two meetings at Ford Field by a combined 32 points. Green Bay's previous win in Detroit came on Jan. 1, 2017, in the final game of the 2016 season as the Packers were in the midst of an eight-game winning streak that spanned the regular season and playoffs and ended when they fell to the Falcons in the NFC Championship Game. 
WEEK 15 | VS. CAROLINA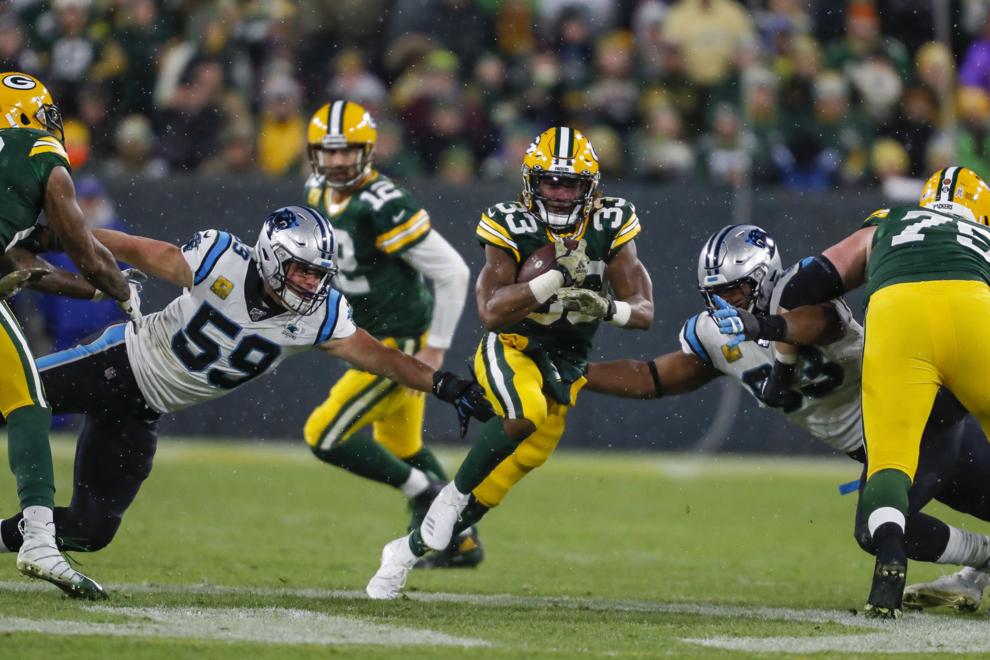 Date: Dec. 19 or 20 (Saturday or Sunday)
Last meeting: The Packers held off the Panthers, 24-16, in Week 10 last season at Lambeau Field on Nov. 10, 2019, to improve to 8-2 entering their bye week. Adams, after struggling in his first game back after missing a month due to a turf-toe injury, was back to his usual self, finishing with 118 yards on seven catches. Rodgers failed to throw a touchdown pass in the victory, but running back Aaron Jones (above) had three rushing touchdowns. 
Player to watch: The Panthers got a monster at defensive tackle with their first pick in this year's draft, taking Derrick Brown out of Auburn. The 6-foot-5, 325-pound Brown earned unanimous All-American honors in his senior year and finished his four-year career with the Tigers totaling 170 tackles and 13 sacks. 
You should know: The Packers are 9-6 all time against the Panthers, but they dropped the last two matchups, both on the road, before last season's victory at Lambeau. 
WEEK 16 | VS. TENNESSEE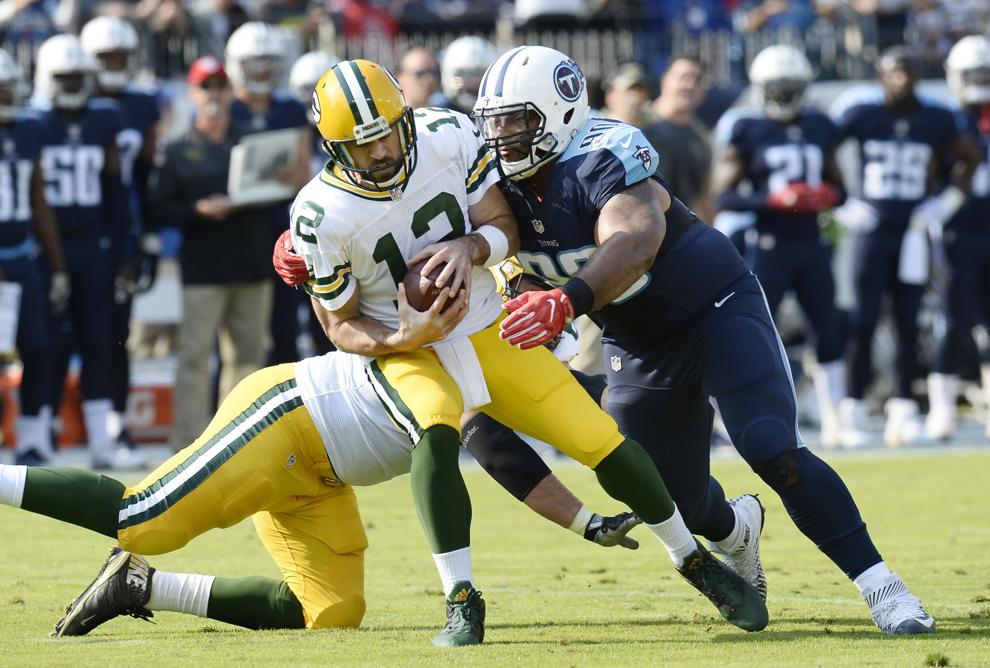 Last meeting: The Packers haven't faced the Titans in four seasons, which should hopefully have been enough time to forget the teams' last matchup. In Week 10 of the 2016 season, Green Bay was hammered in Tennessee as the Titans rolled to a 47-25 victory on Nov. 13, 2016. Rodgers (above) threw the ball 51 times, but struggled, completing 31 passes for 371 yards and two touchdowns while throwing two interceptions and getting sacked five times for a loss of 46 yards. 
Player to watch: Tennessee running back Derrick Henry, entering his fifth NFL season, is looking to build on his career year when he led the league in rushing yards with 1,540 and also posted career highs in carries (303) and rushing average (102.7 yards per game). Henry, who was franchised tagged this offseason, is one of the favorites to lead the league in rushing again this season.  
You should know: The Packers, who trail the all-time series 5-7, have lost four of their last five games against the Titans, with their sole win in that span a 55-7 drubbing in Green Bay on Dec. 23, 2012. 
WEEK 17 | AT CHICAGO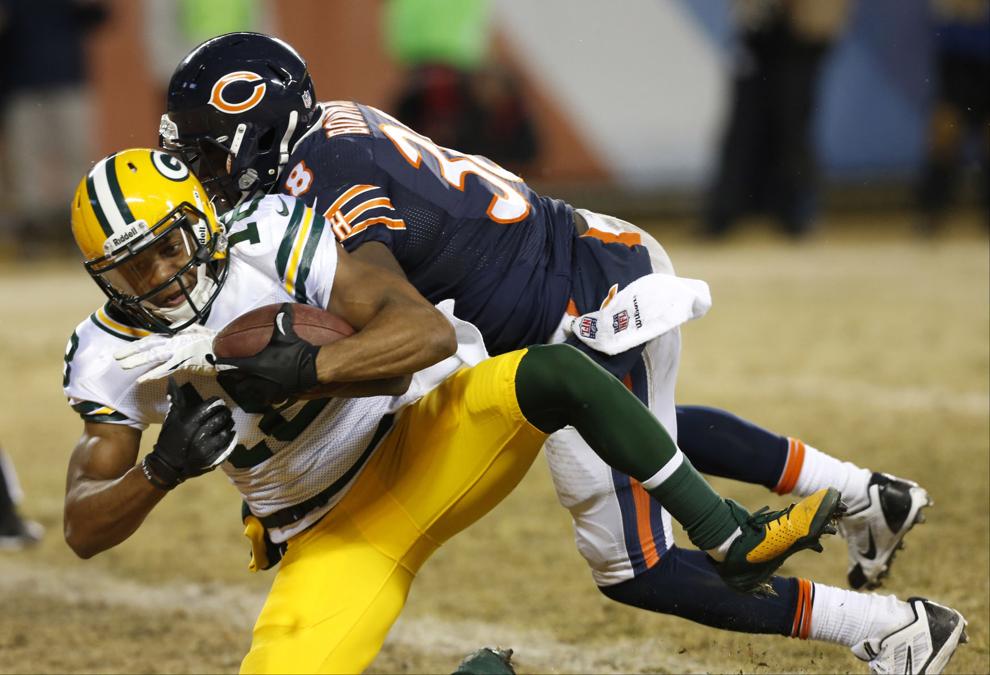 You should know: The last time the Packers and Bears faced off in Week 17 came in 2013, when Green Bay defeated Chicago, 33-28, to finish the regular season with an 8-7-1 record. Rodgers, in his first game back since fracturing his collarbone against the Bears in Week 9 that season, engineered a comeback at Soldier Field, scrambling on fourth-and-eight to find Randall Cobb (above) for a 48-yard touchdown in the final minute to put the Packers over the top and into the playoffs.