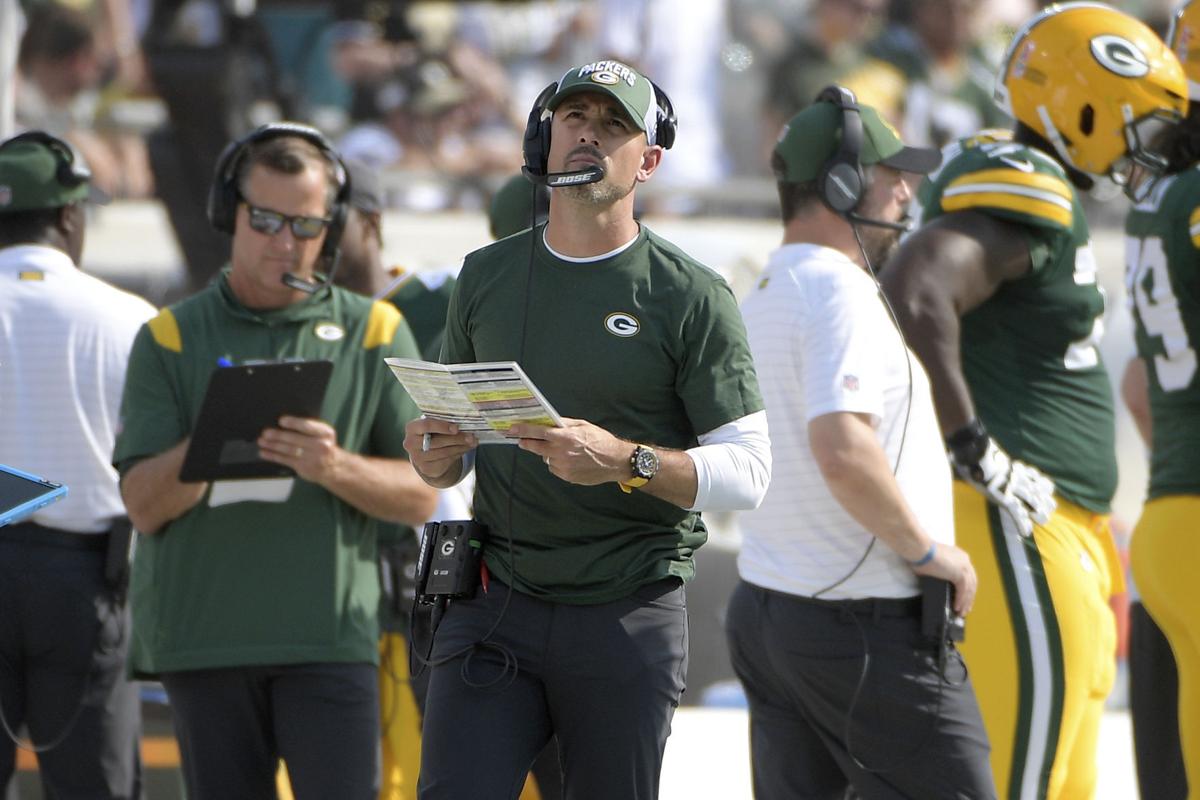 GREEN BAY — During his nearly two decades as an assistant coach in Washington, Kirk Olivadotti worked under eight head coaches.
Norv Turner. Terry Robiskie. Marty Schottenheimer. Steve Spurrier. Joe Gibbs. Jim Zorn. Mike Shanahan. Jay Gruden.
Some had offensive backgrounds. Some had defensive backgrounds. Some were hands-on with the defense. Some let their coordinators have almost unfettered autonomy.
But there was no one quite like Gibbs, the Pro Football Hall of Famer who'd been Washington's head coach from 1981 through 1992 and won three Super Bowl titles in that 12-year span.
For when Gibbs returned for a second stint from 2004 to 2007 in an attempt to revive the once-proud franchise, he took the idea of being hands-off with the defense — Gibbs had come up as an offensive line coach, running backs coach and offensive coordinator before getting his first head-coaching job — to a hilarious level.
"Joe Gibbs used to just walk down the hall and he would say (to the defensive coaches), 'Hey, guys. … Stop 'em!' And that was it," Olivadotti, now in his third year as the Green Bay Packers' inside linebackers coach, recounted with a laugh at midweek. "It was really different depending on the personalities."
While Gibbs might not have been as apathetic as Olivadotti's anecdote might have made him sound, the tale does underscore the point of how many offensive-minded head coaches allow their defensive coordinators to run things the way they want to.
In Green Bay, for example, a pair of Super Bowl-winning head coaches allowed their trusted defensive coordinators to handle almost everything on that side of the ball. With Mike Holmgren, it was Fritz Shurmur. With Mike McCarthy, it was Dom Capers. While Holmgren and McCarthy would certainly discuss game plans and ideas with Shurmur and Capers — including during their Super Bowl-winning seasons of 1996 and 2010, respectively — Holmgren and McCarthy didn't ever micromanage the two veteran defensive coordinators.
That seemed to be the approach, at least from the outside, that Packers head coach Matt LaFleur took with defensive coordinator Mike Pettine during their two years together in 2019 and 2020. Hired by McCarthy in 2018, Pettine had a successful resume as a defensive coordinator, as well as head-coaching experience that was particularly helpful to LaFleur during his first year as a head coach.
But the two parted ways in the wake of last year's NFC Championship Game loss to the Tampa Bay Buccaneers, as Pettine's contract expired after the season. While he was willing to consider staying on, he and LaFleur eventually decided to go in different directions, despite Pettine's defense finishing 2020 ranked ninth in the NFL in total defense (334 yards per game) and tied for 13th in scoring defense (23.1 points per game).
Pettine's departure led LaFleur to hire Joe Barry as the team's new defensive coordinator after being turned down by the University of Wisconsin's Jim Leonhard and after interviewing seven other candidates. LaFleur and Barry had been on the Los Angeles Rams coaching staff together in 2017, and wanting to run a version of the Rams defense, LaFleur was willing to look past Barry's failures in his previous two coordinating gigs in Detroit (2008, 2009) and Washington (2015, 2016).
The Lions finished last in the 32-team NFL both of those seasons in both total defense and scoring defense, including the 2008 team going 0-16 under coach Rod Marinelli, Barry's father-in-law. Washington's defenses under Barry finished 28th in total defense each of those two years, with the 2015 defense ranking No. 17 in scoring defense and the 2016 unit ranking No. 19.
How active of a role LaFleur is taking with the defense is hard to say, but it's a conversation that had to be had last week after LaFleur offered up this tidbit in his postgame Q&A session with reporters following last Monday night's win over the Lions: That he went to Barry late in the first half and strongly suggested his defensive coordinator do something different as the Packers fell behind 17-14 at the half.
"I think we did make some necessary adjustments at halftime. One of the things certainly I talked to Joe about was, 'Either play coverage, or we have to pressure, because when we were doing our four-man rushes and playing man coverages behind it, we weren't getting to the quarterback,'" LaFleur had recounted immediately after the game.
Barry on Thursday made a big deal about the timing of LaFleur's admonition — emphasizing that LaFleur made the remark before halftime, not during halftime — and Barry also spoke at length about how unhappy he was with his players, using words like "irate" and "furious."
The Packers pitched a shutout during the second half, with the help of a pair of Jared Goff turnovers. And in the third quarter, Barry definitely dialed up more blitzes than he had in the first half.
Asked if what happened against the Lions is a sign that he'll be more involved with the defense moving forward, LaFleur said that wouldn't necessarily be the case.
"I think it's just based on the situation," LaFleur said. "I do know that ultimately, I'm responsible for all three phases and I feel like it's part of my responsibility to challenge (the assistant coaches), whether it's our offensive staff, our defensive staff or special teams — or when you have questions or when you see something that you think might be helpful.
"But at no point in time am I ever telling Joe or (special teams coordinator) Mo (Drayton) exactly what to do."
Photos: Packers' 2021 season in pictures
Check out photo galleries from every game of 2021 from the preseason through the end of the regular season and the playoffs.