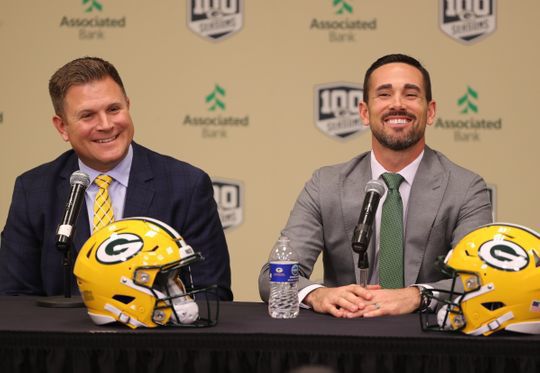 GREEN BAY — At first, nothing seemed different. An onstage table covered with black bunting. Two chairs. Two microphones. Two bottles of "the official bottled water of the Green Bay Packers." A room teeming with reporters and television camera crews.
Team president/CEO Mark Murphy pulled up a seat at the front of the room, prepared notes in front of him, and introduced the 10th general manager in the franchise's storied history, Brian Gutekunst.
It was January 2018, nearly 13 years to the day since Gutekunst's predecessor, Ted Thompson, had arrived in 2005. Sixteen months after Gutekunst's introduction, Thompson would reveal for the first time publicly that he'd been battling what he termed an "autonomic disorder," leading to the change atop the personnel department. Gutekunst had been chosen as his successor over fellow in-house candidates Eliot Wolf and Russ Ball, as well as ex-Buffalo Bills GM Doug Whaley.
Then, 747 words into Murphy's opening statement, everything changed in one sentence.
"I decided," Murphy announced, "it would be in the best long-term interests of the organization to change the structure."
Just days earlier, when asked if the new GM — whoever it would be — would continue to have total control over the football operation, including the power to hire and fire the head coach, Murphy had replied, "I don't anticipate changing that."
Now, he'd reversed field and changed it so Gutekunst, then-head coach Mike McCarthy and Ball, who was given executive vice president/director of football operations, would all be on the same line of the organizational flow chart and would all report to Murphy. Gutekunst later acknowledged that he had to contemplate the change before accepting the Packers' offer to become GM, knowing he'd have control of the roster but not over the entire football program.
Structure scrutiny
Ever since, the Packers' structure has come under scrutiny because it was a sharp turn from what had worked so well for more than 20 years under Pro Football Hall of Fame general manager Ron Wolf, who was given full authority upon his arrival in November 1991 by then-president/CEO Bob Harlan, and Thompson, whom Harlan hired in 2005 after stripping head coach/GM Mike Sherman of his personnel power.
After he fired McCarthy last December, Murphy was asked a pointed question about his qualifications for hiring the team's next head coach and ended up defending himself and his bona fides leading into the search that led to Matt LaFleur's hiring.
And the structure was in the news again late last week when the Milwaukee Journal Sentinel detailed concerns and criticism of the new triangle of authority beneath Murphy had drawn both around the league and inside 1265 Lombardi Avenue. The story also raised questions about LaFleur's hiring, citing sources who told the paper that Murphy made the call on hiring LaFleur while others were planning to interview him a second time before making the final call.
While the announcement of Thompson's autonomic disorder marked the first public acknowledgement of his illness, it brought no clarity to how it may have impacted the football operation as Thompson's health deteriorated. The Journal Sentinel story also called Ball a "polarizing figure" inside the building, and in the wake of the report, two NFL sources said they believed legitimate questions needed to be asked about what role Ball played in the decision-making process during the later years of Thompson's tenure.
But interestingly, against this backdrop, Gutekunst and LaFleur have forged a partnership that appears to be off to a very strong start.
'Excellent relationship'
At his own introductory news conference in January, LaFleur referred to Gutekunst as "Gutey" — the nickname that not only serves as shorthand for Gutekunst's sometimes-difficult-to-pronounce surname, but also a term of endearment used by those in Green Bay who've known Gutekunst since his early scouting days.
Since then, the pair have seemingly been in lock step. And perhaps the fact that Gutekunst isn't LaFleur's boss has helped foster that connection.
"Wait," LaFleur interjected with a smile when asked about their relationship at the NFL scouting combine in February. "He's not my boss?"
You have free articles remaining.
Certainly, it's fair to question whether the duo is merely making the best of the situation. The success of the organization — not to mention each of their individual successes — are tied to their ability to work together and bring another Super Bowl championship to Titletown after back-to-back losing seasons and with quarterback Aaron Rodgers nearing the end of his Hall of Fame career.
And while Gutekunst surely could handle overseeing the entire football operation, his reputation as a relationship-builder who works well with others is well deserved. So even if he doesn't see the current structure as his ideal set-up, he's smart enough to make it work.
But according multiple team sources, Gutekunst and LaFleur seem to have a genuine affinity for each other and have built a strong foundation for a relationship that will define both of their tenures.
"I have seen that. I think their relationship is excellent," Murphy confirmed in an ESPN Wisconsin interview earlier this month. "They're partners — they're working together, and really working well.
"I saw it in the lead up to the draft. I think the communication has been really good. That was the other thing (with altering the structure) — trying to break down the silos and have better communication, particularly between the personnel side and the coaching side. And I think a lot of that is due to the great relationship that Brian and Matt have."
'On the same page'
Gutekunst was part of the head-coaching interview process along with Murphy and Ball, and while Murphy had the final say, Gutekunst has said on multiple occasions that he was on board with LaFleur as the pick. After the draft concluded last month, LaFleur mentioned that he had "felt so comfortable" with Gutekunst during the interview process in response to a question about their rapport.
"I just think that we're really comfortable communicating with one another. Whether it's in football or in a business or whatever realm of life, you better have that crystal clear communication. Be clear, open and honest. I certainly feel like we can have tough conversations and work through things to make sure we're both on the same page."
They also share similar backgrounds as LaFleur, 39, and Gutekunst, 45, both grew up around the game, sons of coaches with strong Midwestern ties. Gutekunst's father, John, was the head coach at the University of Minnesota from 1985 through 1991; LaFleur's father, Denny, was a longtime assistant coach at Central Michigan.
Of course, all this comes before the Packers have even played — much less lost — a game under LaFleur. Scrutiny of the team's structure and on-field performance will continue, and surely increase if the Packers struggle early on.
Plus, there's history to overcome: In the team's 100-year existence, no coach – not even legendary head coaches like Vince Lombardi or Mike Holmgren – took his team to the postseason in his first year.
'This is Titletown'
But those are the expectations in Green Bay, with Rodgers, who's set to turn 36 in December, making it clear upon returning for the offseason program last month that this cannot be a rebuilding year.
"This is Titletown. We should expect us to bounce back," Rodgers said. "I expect to, our team expects to. (So) there's going to be no excuses this year. We don't need a grace period. And we all expect to get something rolling and hopefully we can get that rolling and come together as a team and do something great."
It's up to Gutekunst and LaFleur to assemble and lead the team to that — regardless of how the organizational flow chart looks.
"For me, quite frankly, in the role I'm in now, it's never been any different for me," Gutekunst said matter-of-factly. "I've seen how it was with Ted and guys before that, but for me, it's the same thing I had last year with Mike (McCarthy).
"I think people overblow that a little bit. It's really about everybody pulling in the same direction. We're not always going to be right, we're going to make mistakes, we're not always going to agree about things.
"But if we're all pulling in the same direction and have the same goals in mind, I don't think it's really going to matter. I've got a job to do — my end of it, my responsibility. He's got a job to do. And as long as we do it together, I think we'll be fine."
Jason Wilde covers the Packers for ESPN Wisconsin. Listen to him with former Packers and Badgers offensive lineman Mark Tauscher weekdays from 9-11 on "Wilde & Tausch" on your local ESPN station.