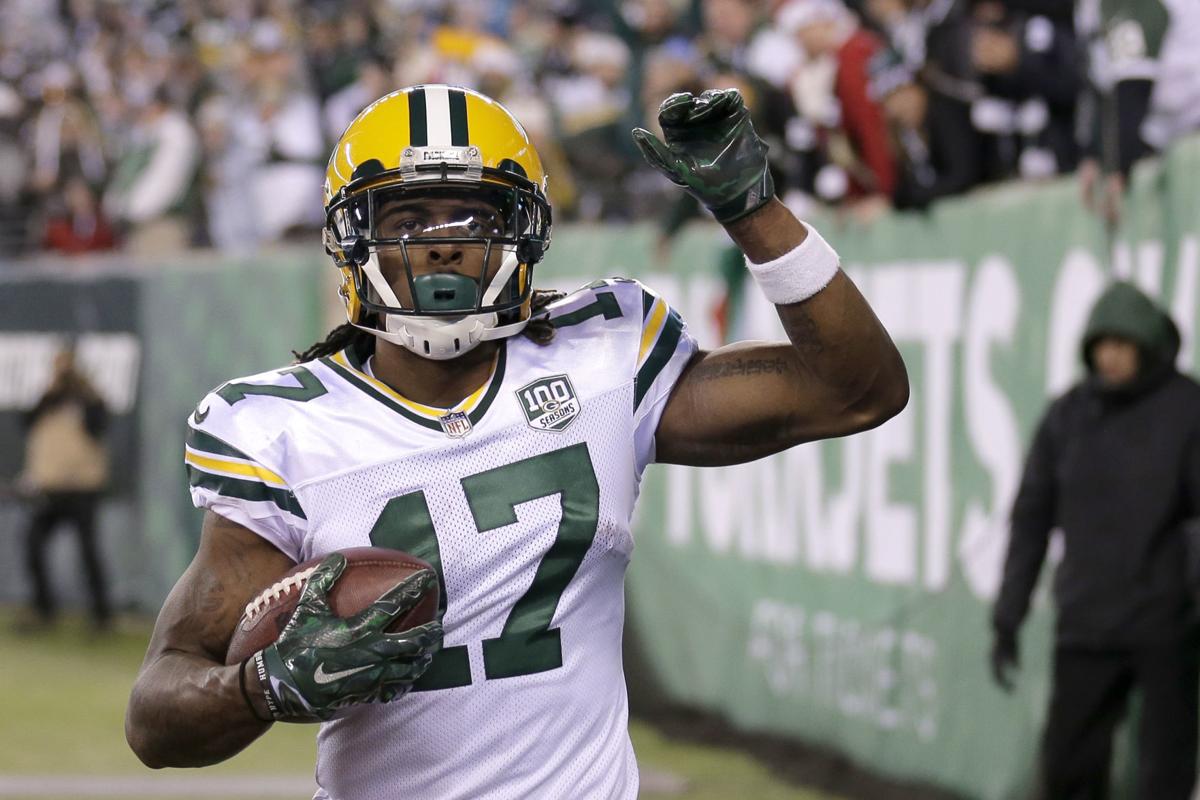 GREEN BAY — Davante Adams leaned against the wall of the alcove just off the Green Bay Packers' locker room Wednesday and pondered the question. He seemed offended.
"As far as what?" he replied indignantly. "Like, sit out?"
The conversation had begun with his underwhelming performance earlier in the week in the quarterfinals of the players' free throw shooting tournament inside the team meeting room, where new coach Matt LaFleur has installed a regulation basketball hoop to promote competition during breaks. Adams had lost to tight end Jimmy Graham and admitted he'd gone into the matchup "cocky" — and been publicly derided by his quarterback, Aaron Rodgers, for doing so.
"It was 100 percent a fluke," Adams insisted. "I got up there, I was showing out a little bit — had a coffee in my hand, was going to shoot with just one hand. I was the favorite, obviously, to win the whole thing — so they couldn't wait for the underdog to take me down."
But that's not what irritated Adams.
No, that came when the discussion shifted to how the Packers' star wide receiver had, after a 2018 season in which he caught 111 passes for 1,386 yards and 13 touchdowns, already outperformed the four-year, $58 million contract extension he'd signed at the end of the 2017 season — a deal that runs through the 2021 season.
Entering this season, Adams' $7.25 million in 2019 pay ranks him 32nd among NFL receivers, according to Spotrac. While the contract's per-year average of $14.5 million ranks 10th and the guaranteed $24 million he received at the time of his Dec. 29, 2017 signing also ranked him 10th, the guaranteed money runs out after this year and he'll have non-guaranteed $12 million base salaries to earn in 2020 and 2021.
That's not unlike the situation ex-Pittsburgh Steelers receiver Antonio Brown found himself in before forcing his way to the Oakland Raiders this offseason — and getting a new three-year, $50.125 million deal with $30.125 million guaranteed for his trouble.
So, Adams was asked, would duplicating his 2018 success in 2019 give him reason to push for a Brown-style pay raise while still under contract? And what might he be willing to do?
"I don't foresee that. That's not in my character," Adams said. "There'd definitely be things the Packers and I could talk about later on as we get closer to that, but it's still really early in this deal. Obviously, I'm a competitive guy, so I'm always going to be in the mindset of wanting to do as much and get as much as I can. But I don't see any dramatic stuff happening."
He paused for a moment, then resumed his thought.
"Hey, I'm not going to go broke. I'll be OK," Adams continued with a smile, acknowledging that one of his closest friends and mentors, Jordy Nelson, outperformed not one but two contracts shortly after signing them. "That's what you're supposed to do, right? Outperform your contract? I want to always be doing that, because that means I'm continuing to grow. If I'm not, then it means I'm not playing well enough. That's how I felt the day I signed. And I feel like that again now."
Adams, a 2014 second-round pick, signed his extension just a few months before he would have reached unrestricted free agency. On the open market, he surely could have gotten a bigger deal.
"Obviously at the time, I feel like I could have gotten more — could have had this, could have had that. But it was the right situation," Adams said. "I set my family up and I'm solid."
"I wouldn't say that the ball was being forced to me last year. So when you start seeing it being forced, I think that's when you're becoming overly reliant," Adams said. "I'm going to run every route to get open, and however many times he throws it to me, that's up to him. I'll never tell him to throw it to me any less."
"We've long had great role models in the receiver room with James (Jones) and Jordy and Randall (Cobb), but now it's Davante. What he does on a daily basis, his practice habits, his release patterns, are incredible. He's a true pro's pro, where he's working on things every single day," Rodgers said. "And he does have an incredible release pattern.
"It's tough to stop because he's so dynamic in-breaking and he has enough speed to get on top. As opposed to some guys who are extremely quick in a tight environment, most of the time they don't have the speed to get on top, so most guys can kind of slow-play a route if they want to stay tight to him. But because he's proven he can get on top and catch the ball down the field, it makes his at-the-line-of-scrimmage ability that much more effective."
For his part, Adams just wants to build on his success. Last year marked his first 1,000-yard season and the first time he's been voted to the Pro Bowl. (He went as an alternate in 2017.) So before he starts worrying about where he ranks among the rest of the league's elite wideouts, he needs to put together another top-flight season.
"Obviously I feel like I'm at the top of my game every year I play, so I just have to continue to get better and keep giving them something to talk about. Because this league is a what-have-you-done-for-me-lately league," Adams said. "I can't come out here and do what I did last year and not do it again this year. So keep stacking, and keep making plays until it's not close."
Extra points
As expected, LaFleur canceled the final practice of minicamp in favor of a yet-to-be-announced team-building outing on Thursday. And he did so despite what he acknowledged was not a great practice. "There's a long way to go, and I think our guys realize that," LaFleur said. "There's a lot of sloppiness that we're going to have to clean up moving forward." … LaFleur hasn't finalized the team's training-camp practice schedule but said the Packers are slated to have two joint practices with the visiting Houston Texans and that he's considering more nighttime practices in addition to the annual Family Night event inside Lambeau Field. … Special teams coordinator Shawn Mennenga rotated Trevor Davis, Jaire Alexander and Teo Redding on punt returns in practice. … Backup tackle Jason Spriggs was limited in practice after hurting his left elbow on Tuesday. … Defensive end Mike Daniels, coming off a season-ending foot injury, ended up not practicing at all during the offseason, sitting out Tuesday's final practice.