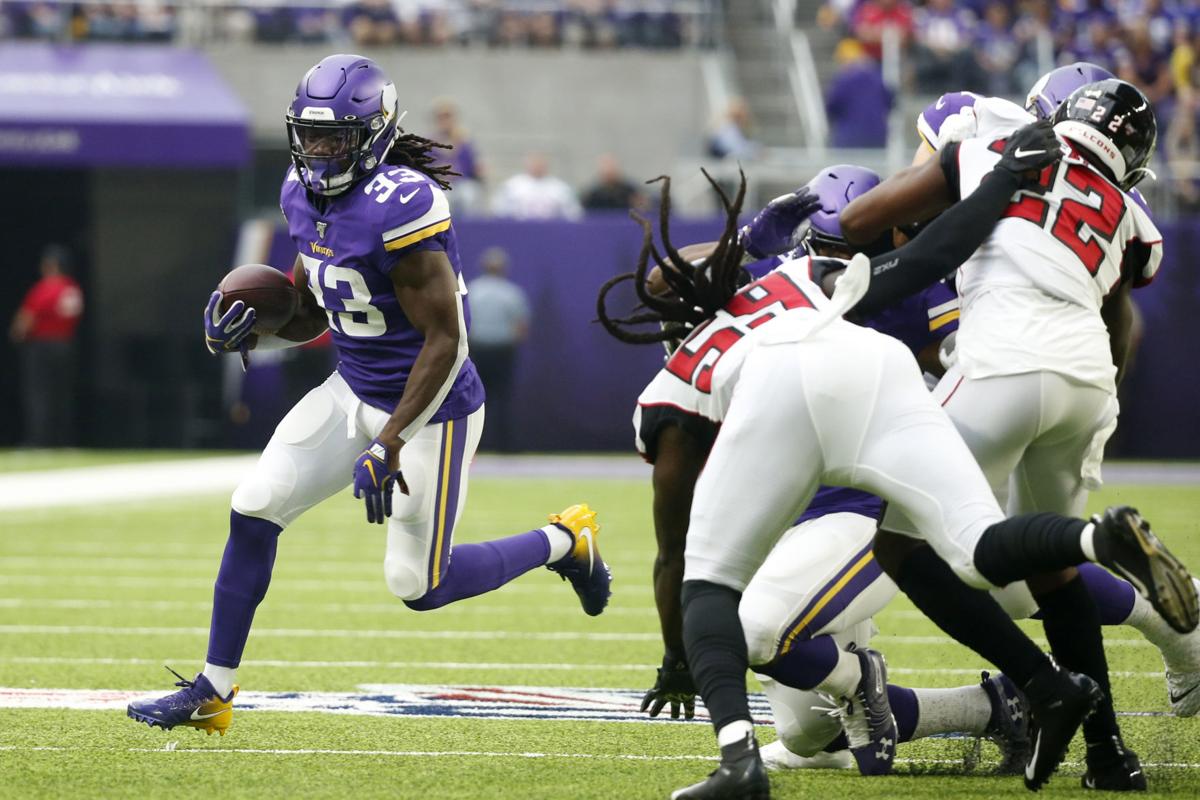 GREEN BAY — Matt LaFleur didn't invite his team over to his new house for some sort of viewing party Sunday, but most of the Green Bay Packers coach's players spent the day doing the same thing he did —watching the Minnesota Vikings throttle the Atlanta Falcons 28-12.
"Every snap," defensive tackle Kenny Clark said. "I was trying to scout and seeing what they were doing and how they changed stuff."
If Clark indeed saw every snap the Vikings offense ran Sunday, then he saw them run … and run … and run … and run.
Led by No. 1 back Dalvin Cook's 21 carries for 111 yards and two touchdowns, and with rookie Alexander Mattison chipping in 39 yards on nine carries, Vikings quarterback Kirk Cousins threw just 10 passes.
"It's crazy to see how they switched from last year," inside linebacker Blake Martinez said as the Packers turned their attention to Sunday's matchup with the Vikings at Lambeau Field. "I feel like last year they passed the ball a ton."
Martinez's memory wasn't failing him. In the teams' 29-29 tie in Week 2 last year, the Vikings' running backs ran the ball just 14 times while Cousins dropped back 52 times, throwing 48 passes, absorbing two sacks and running twice for 5 yards.
The Vikings' game plan figures to be somewhere in between on Sunday, but clearly Cook will be a focal point of the offense. After a torn ACL ended his rookie season after four games in 2017, he battled a myriad of injuries last season and finished the year with 133 carries for 615 yards and two touchdowns and 40 receptions for 305 yards and two more TDs.
You have free articles remaining.
It's clear Vikings coach Mike Zimmer wants to run the ball often and effectively this season, to reduce the pressure on Cousins and star wide receivers Adam Thielen and Stefon Diggs.
"We know that (running the ball) is the strength of our team," Thielen said Sunday. "We know we have one of the best running backs in the NFL, if not the best, and we know we have an offensive line that can ground and pound. We have to keep doing those things because that's what Coach Zimmer wants our identity to be — and that's what we're going to make it."
It will be interesting to see how the Packers defend the Vikings' run-first approach, since they essentially played with only one inside linebacker — Martinez — in Thursday night's 10-3 win over the Chicago Bears at Soldier Field. They used 3-3-5 alignment with safety Raven Greene serving as a hybrid inside linebacker/safety.
The team acquired inside linebacker B.J. Goodson in a trade with the New York Giants last week, but he wasn't up to speed with the defense to the point where he could contribute on that side of the ball. This week, though, Goodson's services might be needed against Cook.
"He's a great back, a great player," Martinez said of Cook. "I think he has the ability to do an all-around back type thing, where he's able to go out of the backfield and make plays. He's agile, quick, strong, everything you think of in a good back. And he still was able to break those tackles to find those extra yards."
Health watch
The Packers came out of Thursday night's win no worse for wear in the injury department. The only two players not to take part in Monday's bonus practice were inside linebacker Oren Burks (chest) and wide receiver Darrius Shepherd (hamstring). Cornerback Ka'dar Hollman continued to be limited in practice while wearing a red non-contact jersey.
"We came out of the game healthy," LaFleur said. "Which was a bonus, obviously."
With the extra day of work, LaFleur had the players attend a team meeting, a special teams meeting and individual meetings before practice, then had them lift and watch tape of practice before having the rest of the afternoon off. They'll return to work Wednesday with a normal schedule in advance of Sunday's game.