GREEN BAY — Tim Boyle noticed it right way.
Long before Aaron Rodgers started faux wrestling with him at practices, and days before Rodgers delivered his new-agey, touchy-feely soliloquy about "loving ourselves" and making important life "decisions" during an offseason derailed by the COVID-19 pandemic, Boyle could tell his pal and mentor was … different.
In fact, the Green Bay Packers were only a few practices into their truncated training camp last month when Boyle, the team's third-year backup quarterback, observed that Rodgers, the team's two-time NFL MVP and Super Bowl XLV champion and MVP, was in a good emotional and mental place.
"To be quite honest with you, this is probably the best mood I've seen him in training camp," Boyle observed that mid-August afternoon. "Not that he's been in bad moods (in past camps), but he's spunky, he's throwing jokes around."
To some, this may seem unimportant. After all, what will matter during the 2020 NFL season — which begins for the Packers with a matchup with the archrival Minnesota Vikings at noon Sunday at U.S. Bank Stadium in Minneapolis — is how well Rodgers plays, how effectively he orchestrates coach Matt LaFleur's offense in their second year together, how healthy he stays at age 36, how often he tilts the field in the Packers' favor as he's done for the past 12 years as the starter.
But considering the career-altering events of this offseason — chiefly, general manager Brian Gutekunst trading up in the first round of the April draft to select Rodgers' heir apparent, Utah State quarterback Jordan Love, with the 26th overall pick — Rodgers easily could have arrived for camp angry, bitter, insecure, or all of the above and more. He'd admitted he'd been "bummed out" and not "thrilled" about the pick, knowing it almost certainly signaled that he would not end his Pro Football Hall of Fame-caliber career with the Packers.
On top of that, 15 years earlier, Rodgers had seen firsthand just how furious his predecessor, Brett Favre, had been about then-GM Ted Thompson picking Rodgers at No. 24 in the 2004 draft.
But rather than arriving at camp full of anger and resentment, Rodgers — according to those who worked closely with him over the past seven weeks — was just the opposite. In fact, LaFleur recently revealed that during a film session after the team's Aug. 30 quasi-scrimmage at Lambeau Field, Rodgers commandeered a quarterback meeting and turned it into a master class lesson for Love in red-zone quarterbacking, talking through what Love saw and did and delivering lessons and advice to his young understudy.
"It just happened organically, and it was a really cool moment, just to see a guy with a wealth of experience just kind of break it down, bit by bit, for a young quarterback," LaFleur said Friday afternoon. "I think that's what makes coaching so much fun, when you're in those meeting rooms, you're having those discussions, and you see that camaraderie that's taking place, that bond that's taking place. That's part of the reason you do this thing."
Here are the thoughts of those close to Rodgers — and Rodgers' own self-aware observations — about his mood and his on-field performance as the Packers prepared for Sunday's opener. Some of their answers have been edited for clarity and brevity.
Rodgers: "The extra time (caused by the COVID-19 pandemic) was beneficial for those of us who chose to work on ourselves during that time. And I think that was the important thing. I think the more we work on ourselves and we learn to love ourselves, the more we can love others better. And when you're feeling good about yourself and confident and loving others, it's naturally going to put you in a better mood.
"I think my quality of life has been pretty high, based on some important decisions I've made in my own life. And just finding my center a little bit better during these strange months during the offseason. So I came in excited to see the guys, excited to continue to build relationships with them and get to know them. I have a lot of close friends on this squad, but I always enjoyed looking forward to seeing the guys and catching up and seeing how they're doing.
"And then the other part was just taking a critical look at my play the last few years and then going back to some previous years about what I felt like when I was playing really, really well, what was I doing slightly different than what I've been doing the last five years? And I picked up on some things and tried to start incorporating them into my daily routine and you pair that with a positive attitude and a comfort in the offense, it's not surprising to me how camp has gone."
Left tackle David Bakhtiari: "His mood? He's been doing a lot of, I think, personal wellness. And it really shows. I think a lot of people don't get to see this from Aaron because Aaron is more of a reserved guy — so the fact he feels more comfortable showing that speaks a lot. I mean, I see it all the time. It's nice and refreshing to see that he's more comfortable letting everyone else see his more lighthearted side. His sharpness, that's the Aaron I know, it's the Aaron I've become accustomed to. That's the standard for him. I expect nothing less of him."
LaFleur: "I'll tell you what, he's been so much fun to be around not only on the field but in the meeting room as well. He's bringing great energy, he's been super positive, and I'm really excited to be in Year 2 with him."
Quarterbacks coach Luke Getsy: "I think he's in a good place. I think his preparation has been awesome, I think is approach has been awesome. His leadership skills for the entire offense has been really good. I mean, he's a mentor to a lot of guys on this offense. He's been great, he really has. And I'm excited to get to see him go at it on Sunday and see where we're at as an offense."
Wide receiver Davante Adams: "I like where he left off (at the end of camp). He had a nice, clear mind. He seemed like he was kind of in a different space. Coming into this year, you see that magnified a little bit. I'm excited for the juice that he's been bringing, the attitude he's been bringing. It makes it fun going out there and going out to practice with him, so we're definitely look forward to it."
Boyle: "Aaron's been awesome. I think part of it is the comfort level of the offense. Like myself, he doesn't really have to think about formations, that kind of stuff. But he's in a great mood. We joke around 24/7 and Jordan brings a nice aspect into the mix. But Aaron's been great. He's not grumpy at all. He's a great dude. He's been awesome with me and Jordan."
Tight end Marcedes Lewis: "I think Tim hit it right on the nose. When you're in a position that Aaron's in, done so much and accomplished so much in his life and in this league — MVPs, Super Bowls — there's no reason to be insecure or unsure of anything. Him and I have had conversations about it, we text about it all the time: Aaron is in control of his process. Nothing on the outside, all external influences don't really matter. He's very internally motivated and right now
"I think that's what you're getting out of him right now. He believes he's (still) one of the best and he's going to continue to prepare that way and play that way. And the things that he can control, he's going to control those. And the things that he can't control, he won't. You don't control what the front office controls. But your attitude and your effort are the two most things you have complete control over when you wake up in the morning. He does an amazing job of controlling those attributes and it spreads throughout the team and through the locker room."
Offensive coordinator Nathaniel Hackett: "He's been awesome. Obviously we had the long offseason where we didn't get to really see each other except for the Zoom (video calls), and he's come in here with a vengeance. He's come in here with just a great attitude. Everybody's seen it, everybody's felt it, the whole team. From the installs to practice to everything — he's just been a lot more spirited, being great for Jordan and Tim.
"It's that fun factor. In the end, this is a game, and we want to play and we want to have fun and we want to compete, and that's why we all do it in the end. However he's gotten there, he's done a great job getting there. He's just been a pleasure to be around, just in the meetings and everything."
Rodgers: "I think when you're a Packer as long as I am, you — every year, I think — gain a little bit more of an appreciation for the history of this squad and the organization, what we've accomplished, the great names. Every now and then you let your mind drift a little bit to one day having your name up there. It's pretty special to be mentioned with those guys because I know how much they've accomplished. I always wanted to start and finish here and it's been a great run to get to this point. I've had so much fun and we've accomplished some pretty awesome things. And hopefully, we've got another couple rides."
---
Three things to watch in Sunday's game vs. Vikings
Three things to watch when Green Bay Packers face Minnesota Vikings in season opener
1. SOMETHING COOKING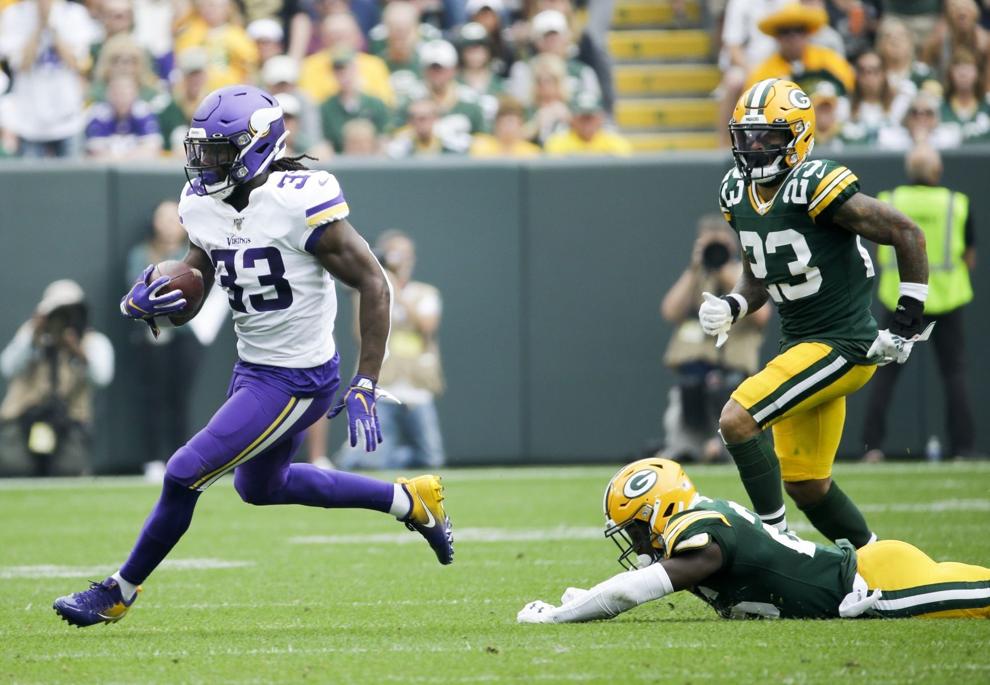 Everyone remembers what happened against the 49ers, of course, with Raheem Mostert running through the defense for 220 yards and four touchdowns as part of a 285-yard 49ers ground assault. And as they enter a new season, the Packers know that opponents will likely run on them until they prove they can stop the run. And defensive coordinator Mike Pettine believes they will stop it.
"We feel good about where we are," Pettine said at midweek. "From a run defense standpoint, just some of the tweaks we've made, some of the subtle changes that we've made, some of the things we put in, some of the things we've taken out, I think we're excited about it because we certainly know it's going to get tested. It's going to get tested right out of the gate on Sunday."
The Packers' only notable personnel change since that fateful day in the Bay Area was replacing inside linebacker and defensive communicator Blake Martinez with ex-Cleveland Browns linebacker Christian Kirksey, who played for Pettine in Cleveland.
"I think when it all comes down to stopping the run, having a good run defense is just attitude," Kirksey said. "Are guys all willing to stay in their gap? Make sure they're responsible for holding their gap? Are guys willing to stop the run? There's no secret formula to it. I think the guys are fully invested into understanding that teams are going to try to run the ball. And it's our job to stop 'em. I wasn't a part of the San Francisco game, but I can just see that guys are really putting a special emphasis on stopping the run here."
2. GETTING DEFENSIVE
Defense has long been the Vikings' calling card under head coach Mike Zimmer, who is entering his seventh season in Minnesota. Last year, the Vikings finished fifth in scoring defense, 14th in total defense, fifth in sacks and fourth in takeaways. But the group will have some noticeable personnel differences this time around, with recently acquired Yannick Ngakoue having replaced Everson Griffen as one of the edge rushers; sack leader Danielle Hunter (neck) on injured reserve to start the season; and the cornerback position having been remade with new starters Mike Hughes and Holton Hill and sub-package corners Jeff Gladney, Cameron Dantzler and Harrison Hand.
But there are still holdovers, including all-pro safety Harrison Smith (above), who leads the re-imagined unit.
"He's obviously a familiar face," Packers quarterback Aaron Rodgers said. "(Xavier) Rhodes and (Trae) Waynes are gone, but it's still the same linebacker crew with (Eric) Kendricks and (Anthony) Barr inside, who have been very consistent for so many years. Really good, heady football players — smart, tough, instinctive. Having (Kendricks) and Harrison there together for so many years I'm sure gives Mike confidence that it doesn't matter who they put in there. They're going to be able to execute what he wants to do."
That said, the Packers coaches did find it challenging during the week that with such scant film on the Vikings' cornerbacks, prepping for what they do best and what their weaknesses might be was a challenge.
"The guys they had last year were pretty darn good, too," Packers head coach Matt LaFleur said. "There's a lot of unknown with the new guys, but we're anticipating that they're not going to miss a beat. That's a really well-rounded defense. They've got stars on all three levels and we know that in order to go out and do our best, we've got to be prepared and put our best product out on the field."
3. MISSIN' COUSINS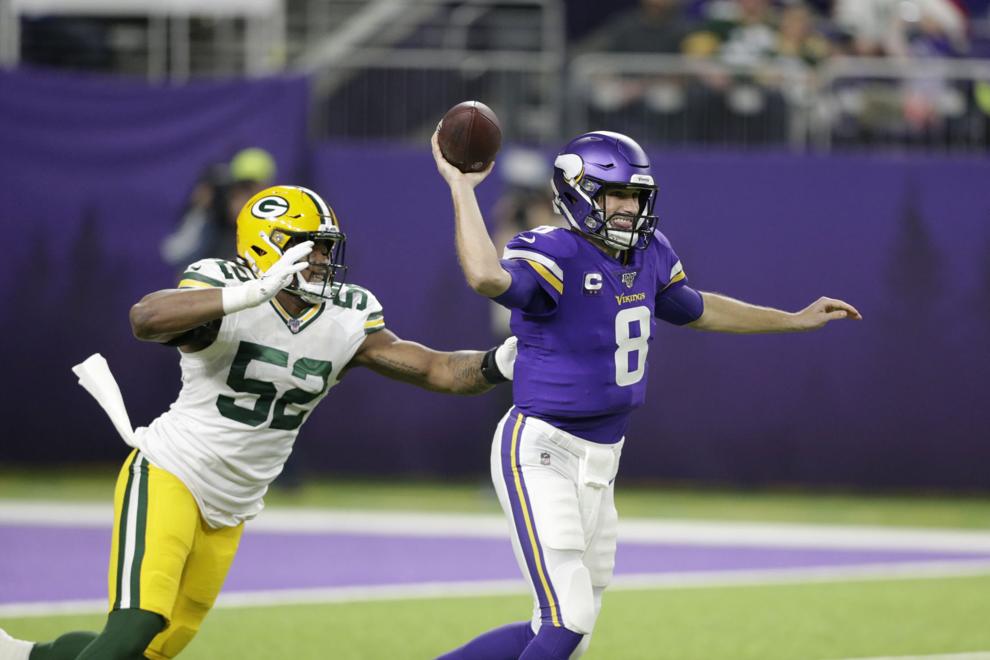 LaFleur has plenty of history with Vikings quarterback Kirk Cousins (above), having been the Washington Redskins' quarterbacks coach when the team drafted Cousins in the fourth round out of Michigan State — the same year the team picked Baylor's Robert Griffin III with the No. 2 overall pick.
"We talked about it from the day we drafted him, just his approach to the game is, it's rare," LaFleur said. "He does everything in his power to be at his best and you could see that early on in the process, just the amount of time that he would spend post-practice, the amount of time that he would spend in the film room, just watching tape, the types of questions he would come back on a daily basis (with). And, he's got elite arm talent. The guy's a natural thrower, he can hang in the pocket, he can make very tight-window throws, so it's definitely not a shock to me that he's progressed to being the kind of quarterback that he is today."
Nevertheless, Cousins hasn't always been good enough in his matchups with the Packers, with his teams going 2-3-1 against them (including playoffs) in games he's started. And for as good as Cousins was statistically last season, when he threw for 3,603 yards with 26 touchdowns and just six interceptions for a passer rating of 107.4, he was just 30 for 63 for 352 yards with two touchdowns and three interceptions (55.8 rating) against Green Bay.
"You're aware of how you need to be better," Cousins said. "I think they did a great job defensively. We've got to have a great plan and we have to go execute that plan. We can't afford to waste plays or make mistakes or turn the ball over. It's about many of the same things it's always about — protecting the football, running the football, time of possession. If you do those things, you give yourself a chance against a really good defense."
---
Jason Wilde covers the Packers for ESPN Wisconsin. Listen to him with former Packers and Badgers offensive lineman Mark Tauscher weekdays from 9 a.m. until noon on "Wilde & Tausch" on 100.5 FM ESPN Madison.