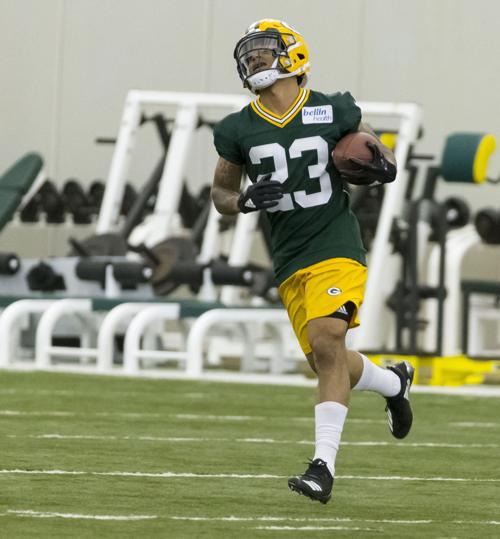 GREEN BAY — Having spent a lot of time on airplanes over the past few weeks, Jaire Alexander decided to make his time in the air more productive.
Whether it was his flight home from Dallas following the NFL draft, or his flight into Austin Straubel International Airport on Thursday for rookie orientation camp, the Green Bay Packers' first-round pick from Louisville powered on his Macbook, bought the in-flight WiFi, logged onto YouTube and went to work scouting his fellow rookies.
"I've been on so many flights, I (figured), 'I don't have anything else to do, I might as well,'" Alexander said with a shrug.
So as the team's annual post-draft rookie camp kicked off inside the Don Hutson Center late Friday morning, he knew his fellow rookies well — from fellow cornerback Josh Jackson, whom the team took in the second round out of Iowa, to the three wide receivers the team drafted in fourth-rounder J'Mon Moore from Missouri, fifth-rounder Marquez Valdes-Scantling from South Florida and sixth-rounder Equanimeous St. Brown from Notre Dame.
"I definitely checked all of them out. I thought, for the most part, they (all) brought a different aspect to the game," Alexander said of the wideouts. "I even watched their combine (workouts). I watched everybody. It wasn't just them. It was everybody. Just to see who I'm playing with."
And, at least on Friday, who he was playing against. Multiple times throughout practice — one that included the team's 11 draft picks, 14 undrafted free agent signees, 16 tryout players and 10 eligible first-years — Alexander battled those same receivers he will continue to match up against during a second rookie practice today, organized team activity practices starting later this month and in training camp this summer.
"Obviously good competition, that's only going to propel my game," Alexander said.
Alexander lined up extensively in the slot during 11-on-11 work. Jackson, meanwhile, spent most of his time outside, although both moved around at defensive passing game coordinator Joe Whitt's behest. Alexander had one terrific pass breakup down the seam against wide receiver Colby Pearson that he tipped multiple times but couldn't reel in for an interception. Afterward, he showed some of the swagger he exhibited at Louisville.
"That'll definitely be a pick here coming up," Alexander said. "So be on the lookout for that."
No guarantees
While it certainly looked as if the Packers' punting competition was over before it started on Friday — when the team signed fifth-round draft pick JK Scott and released incumbent Justin Vogel — Scott wasn't taking anything for granted.
"I didn't really know what to expect and still don't know what to expect," Scott said after practice when asked about Vogel's departure. "I'm just here to do the best that I can. Obviously there are a lot of guys in the country that are good punters, and all the teams are always looking for the best guy. So for me, I have to do everything I can to train right, to eat right, to sleep right and to kick right. Everything I can do to be the best."
A league source said Vogel, who set the Packers franchise record for net punting average last season (41.6 yards per punt), asked for his release, understanding the odds were against him after the team invested a fifth-round pick in a punter. General manager Brian Gutekunst granted his request, the source said.
Coach Mike McCarthy believes a good start is vital for all the rookies.
"This is a great opportunity for these guys — and they realize it. It's a unique opportunity, if you just look at the statistics in the National Football League," McCarthy said. "This is a very important two days, because you have an opportunity to make your roster better. And the better your 90-man roster is, the more competitive offseason program (is). Going into training camp, that's the goal."
Alexander, Jackson and third-round pick Oren Burks, a linebacker from Vanderbilt, are joining a defense that finished last season ranked 26th in scoring defense (24.0 points allowed per game) and 22nd in yards allowed (348.9). Defensive coordinator Dom Capers was replaced after nine seasons by Mike Pettine.
While overwhelmed at times with the sliver of the playbook they learned earlier in the day, all three were excited.
"This is what you came here to do. This is what you went through the whole process for, to play football," Jackson said. "For me, I'm happy for football again. I love the game and I'm just excited to be here."
The team brought back veteran cornerbacks Tramon Williams, who played for Pettine in Cleveland after spending his first eight NFL seasons in Green Bay, and Davon House, but McCarthy and Pettine want a deep, faster rotation at corner. Alexander and Jackson, along with 2017 second-round pick Kevin King, should provide that.
Extra points
Ex-University of Wisconsin defensive end Conor Sheehy was one of the undrafted free agents the team signed immediately after the draft, although news of his deal was slow to circulate. The Milwaukee native started 33 of his 54 games with the Badgers, logging 95 tackles, 13.5 for loss, and six sacks during his career. … Sheehy's teammate with the Badgers, safety Joe Ferguson, was among the tryout players to take part in Friday's practice. Ferguson played in 58 career games for the Badgers, mostly as a reserve. He did start five games as a senior in 2017, though, recording 17 tackles, four interceptions and two pass breakups. … The Packers signed long snapper Hunter Bradley, one of their three seventh-round draft picks.
---
The Associated Press contributed to this report
Be the first to know
Get local news delivered to your inbox!