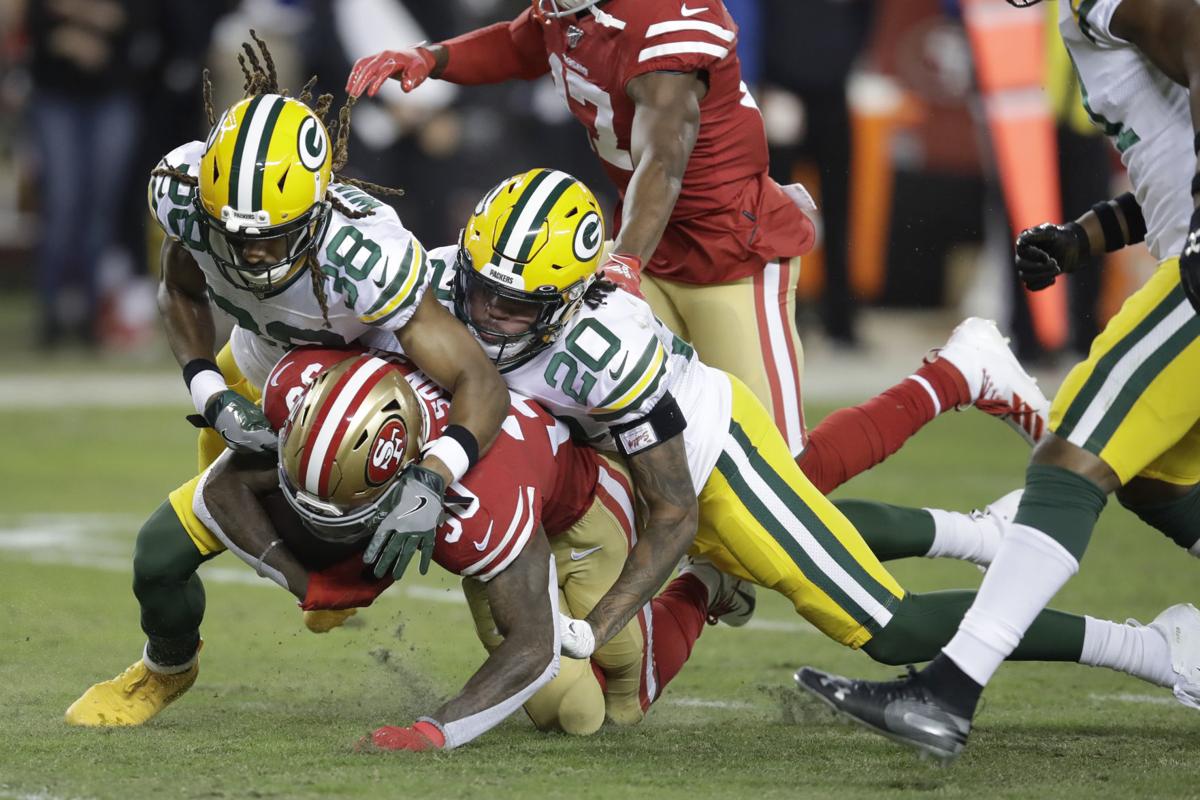 GREEN BAY — The proclamation came in a crowded anteroom beneath Soldier Field, in the aftermath of an emotional season-opening victory over an archrival, from a two-time NFL MVP who might've been a prisoner of the moment after years of wistfully watching other teams' defenses make their quarterbacks' lives easier.
"I think what we did on defense, I think we showed the league and the folks watching that we're not just an offensive football team anymore," Aaron Rodgers proclaimed that night in Chicago, after his Green Bay Packers offense managed just one touchdown during a 10-3 victory over the Chicago Bears.
Roughly three months after that Sept. 5 victory, Rodgers' effusive praise of that unit feels like wishful thinking. For while the offense has been far from flawless, including in last week's 37-8 loss at San Francisco where Rodgers & Co. did next to nothing right themselves, the Green Bay defense has scarcely resembled that dominating outfit over the past eight games.
Entering Sunday's game against the struggling New York Giants at MetLife Stadium in East Rutherford, New Jersey, the Packers defensive brand is obvious: When they get after the quarterback with edge rushers Za'Darius and Preston Smith (combined sacks: 20.5), when they force turnovers (at plus-8, tied for fourth in the NFL in turnover differential) and when they play strong red zone defense (10th in lowest touchdown percentage at 48.6), the Packers are certainly good enough on that side of the ball.
The problem is that even when the defense is doing those things, it's still susceptible to explosive plays (73 total, including 43 explosive pass plays) and still struggles to stop the run (28th in yards per rush allowed at 4.8).
Overall, while the Packers entered the weekend ranked 14th in the 32-team league in scoring defense (22.0 points per game), 28th in total defense (380.5 yards per game), 30th in yards allowed per play (6.1), 26th in total run defense (125.5 yards per game), 23rd in pass defense (255.0 yards per game) and tied for 17th in sacks (28).
"It's been frustrating. Because every game we play well for stretches and we can be dominant for stretches," defensive coordinator Mike Pettine said Friday afternoon, pointing out that "the first 20 plays against San Francisco" were very good but that the unit fell apart thereafter. "A lot of it is a consistency thing. It's something we've battled in the room.
"We're talking about guys that have to be able to focus on our jobs … and have every snap that ritual of processing information and then locking in and being able to shut it down. Unfortunately for us, we've had too many (mistakes) and we've had them at some inopportune times. It's a thing we talk about each week when we look at the last game. Our guys know, for us to get where we want to go, we've got to become way more consistent."
Coach Matt LaFleur said his biggest concern, and something his offense has had problems with as well, has been the communication problems the defense has had.
"We've got to make sure everybody's on the same page. We had too many mental mistakes, and too many lapses on communication really in all three phases," LaFleur said. "And that's the stuff that really gets you beat. Especially when you look on the defensive side of the ball, we're not communicating certain types of calls, we don't pass things off the right way and the next thing you know they get an explosive (play). So really in all three phases, the communication has to be much better."
You have free articles remaining.
Case in point: The back-breaking 61-yard touchdown catch by 49ers tight end George Kittle last week. The Packers offense had finally gotten on the board with a Davante Adams touchdown and 2-point conversion, making it a 23-8 game and bringing the Packers to within two scores with 3 minutes, 52 seconds left in the third quarter.
Two plays later, the Packers defense blew its quarters coverage against a three-tight end look, left cornerback Kevin King as the only defender on Kittle and disaster struck.
"The more I look back at the play, I personally thought everybody would have been where they're supposed to be. I felt like it could have been covered multiple ways, actually," cornerback Tramon Williams said. "I didn't think it was hard to cover. But I'm an experienced guy. I look at a lot of things different than how other guys look at them."
On that play specifically, it appeared safeties Adrian Amos and Darnell Savage were out of position, allowing the big play.
"It was a number of things. I'm not going to get into the specifics of it, to specifically assign blame as far as identifying what went wrong with particular players," Pettine replied when asked what went awry. "We didn't do a good enough job pre-snap, gathering information and having a solid understanding of what we were trying to get done in that situation, and we didn't play it right. Credit to them. That was a heck of a play call at the time and they executed."
Pettine said that while he's in his second season as the coordinator, having been hired by previous head coach Mike McCarthy, significant offseason personnel changes — general manager Brian Gutekunst not only added the Smiths, but also signed Amos in free agency and drafted Savage and outside linebacker Rashan Gary with his two first-round picks — have left the defense still struggling to execute consistently. Williams, though, said it's incumbent on the players to make plays even if the defensive call isn't perfect or not everyone is on the same page with the call.
"Players are doing what they're coached to do. (But) sometimes guys just have to be football savvy," Williams said. "There's going to be times where the coach calls a great play and you don't have to worry. You're like, 'Man, he called a great play.' And then there's going to be times where the play might not be that great and you've got to make up for the deficit of it. No defense is perfect.
"The stuff that Mike puts in, it's not overly hard (to grasp). But every call, every defense, there is some type of gray area. You have to go back to the drawing board, adjust a couple things, put some certain guys in different positions, difference scenarios and go from there. You can't do the same thing over and over."
For his part, Pettine believes his less-is-more approach with the scheme is still necessary with the limits there are on practice time and with personnel changing from year to year. But with the playoffs within sight, Pettine knows he and his guys have to rediscover that ability to take over games that they showed early on. Can they?
"When you feel like you're not playing how you should be or certainly not playing as consistently as you should be, there is going to be a level of frustration," Pettine said. "We're all frustrated together. These are competitive guys. They're professional, they want to win, they want to get it done. We have to break through that, get over that hump of just having those handful of plays that are lapses and we end up giving up explosives.
"Each week, we start fresh and (look at), who do we have available? What are we defending? What is best to defend this team? We put a plan together and work it that week. As we're moving forward, you're still feeling like this is a relatively new unit with a bunch of new faces and half the coaching staff new. We're still finding out who we are at times.
"But you feel good about where you are after this many games knowing if we keep plugging away and get hot at the right time, obviously we can get further to where we want to go."
Be the first to know
Get local news delivered to your inbox!