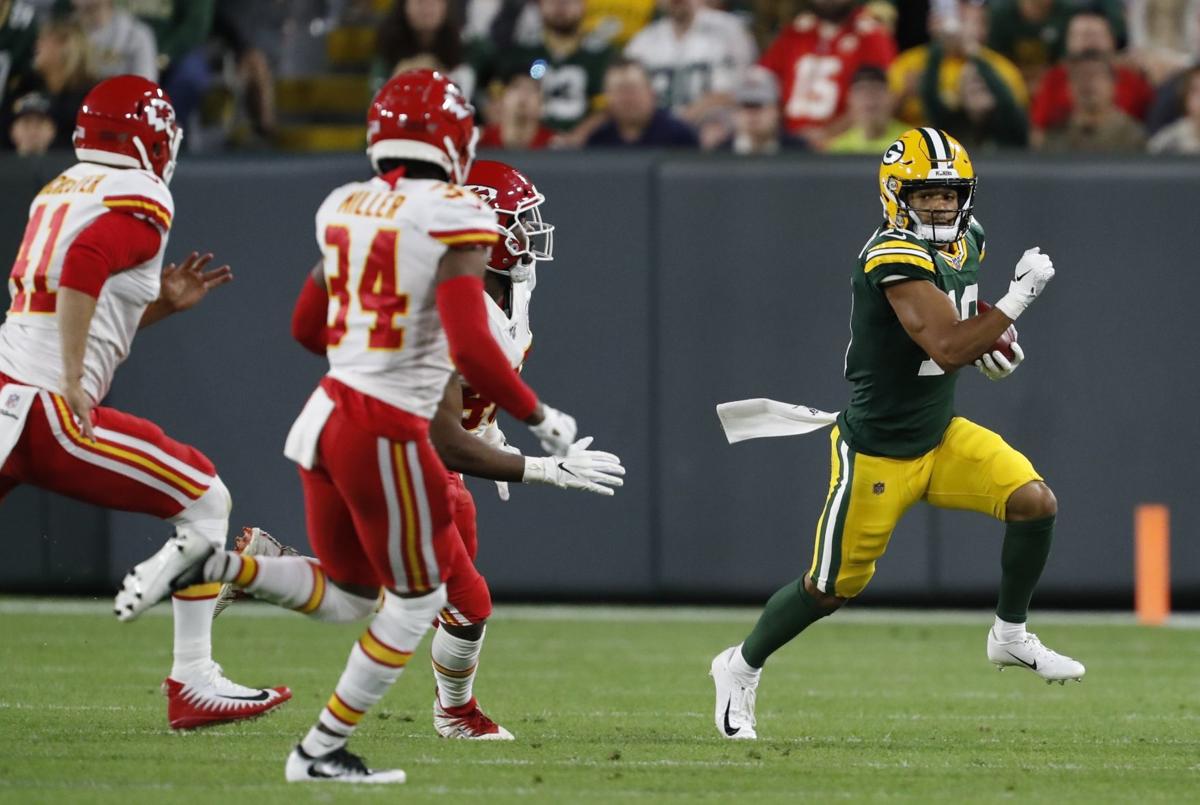 GREEN BAY — Shawn Mennenga knows the drill. With the roster churning on an almost daily basis in the NFL, he's used to juggling various pieces on his special teams return units and coverage units on a semi-regular basis.
But even the Green Bay Packers special teams coordinator had to admit that he wasn't exactly planning on the change that became official Thursday: Trevor Davis is no longer the Packers' kickoff and punt returner, because he's a member of the Oakland Raiders.
"It's been a busy 24 hours," Mennenga said Thursday afternoon.
The Packers and Raiders agreed to the trade on Wednesday, but the deal wasn't done in time to be included on the NFL transaction wire. It did appear there on Thursday, though, and the league confirmed that the Packers will get a 2020 sixth-round pick from the Raiders for Davis, who played college football at California and whose two young sons live in the area.
"My feelings haven't changed for Trevor. I have a lot of respect for him. I think he's going to continue to have a great career and I'm excited for him," Mennenga said. "But I'm also excited to work with the guys we've been working with. They're talented, and they wouldn't be here if they weren't. So we're excited to see what they can do."
The next men up, Mennenga said, are recently added cornerback Tremon Smith, who was one of the NFL's top kickoff returners as a rookie last year, and rookie wide receiver Darrius Shepherd, who handled kickoff and punt returns in preseason while Davis was sidelined by a stinger.
Mennenga wouldn't say who'd handle each role, but it seems likely that Smith would handle kickoffs and Shepherd would get the call on punts. Sure-handed veteran cornerback Tramon Williams would also be an option on punt returns if Shepherd, who was limited in practice with the hamstring injury he suffered at the end of preseason, isn't active.
Asked if he wanted one player to handle both jobs, Mennenga replied, "I'm OK splitting. It's whoever can help the team and give us the best opportunity."
Smith hasn't returned punts since his college days at Central Arkansas. Last season with the Kansas City Chiefs, Smith averaged 26.8 yards per kickoff return, ranking him sixth in the NFL among qualifying returners.
"(With Smith) coming from Kansas City, we're kind of in the same family of special teams. Even a lot of our terminology is the same," Mennenga said. "Even as we're going through things with him, you could see kind of a smile on his face like, 'OK, that's what we called it there.' He's probably going to be able to hit the ground a little bit faster than coming from somewhere else."
In preseason play, Shepherd averaged 9.2 yards per return on the five punts he returned and averaged 22.0 yards on his five kickoff returns, with a 36-yarder as his longest return.
"I don't know what the coaches have in mind, but I'm just trying to come out and work and show that I'm ready to go. And if they put me in there, I'm ready to make plays," Shepherd said. "It's a big opportunity. We have a lot to pick up with him being gone because Trevor is a great punt returner, kick returner. So we have to really step up our game and do what we can to make up those lost yards."
Or, lost yard — singular. Through two games, Davis hadn't returned a kickoff, as each one had gone for a touchback. He'd fielded 10 punts, fair-catching seven. The three he returned resulted in 1 net yard.
Mennenga said he wasn't surprised that the team hasn't had a kickoff return yet since the weather is still nice and returns are always down early in the season. Mennenga said he stresses to all his kickoff returns not to take unnecessary risks bringing the ball out of the end zone — and that opportunities will be plentiful later in the year when the weather turns inclement.
"Early in the season, I'm not disappointed. We've got No. 12 (quarterback Aaron Rodgers) back there and a great offense that can move the ball, so let's not put them in harm's way and back them up," Mennenga explained. "We're trying to play complementary football. You want to be aggressive but not be unsound with what we're doing."
Be the first to know
Get local news delivered to your inbox!