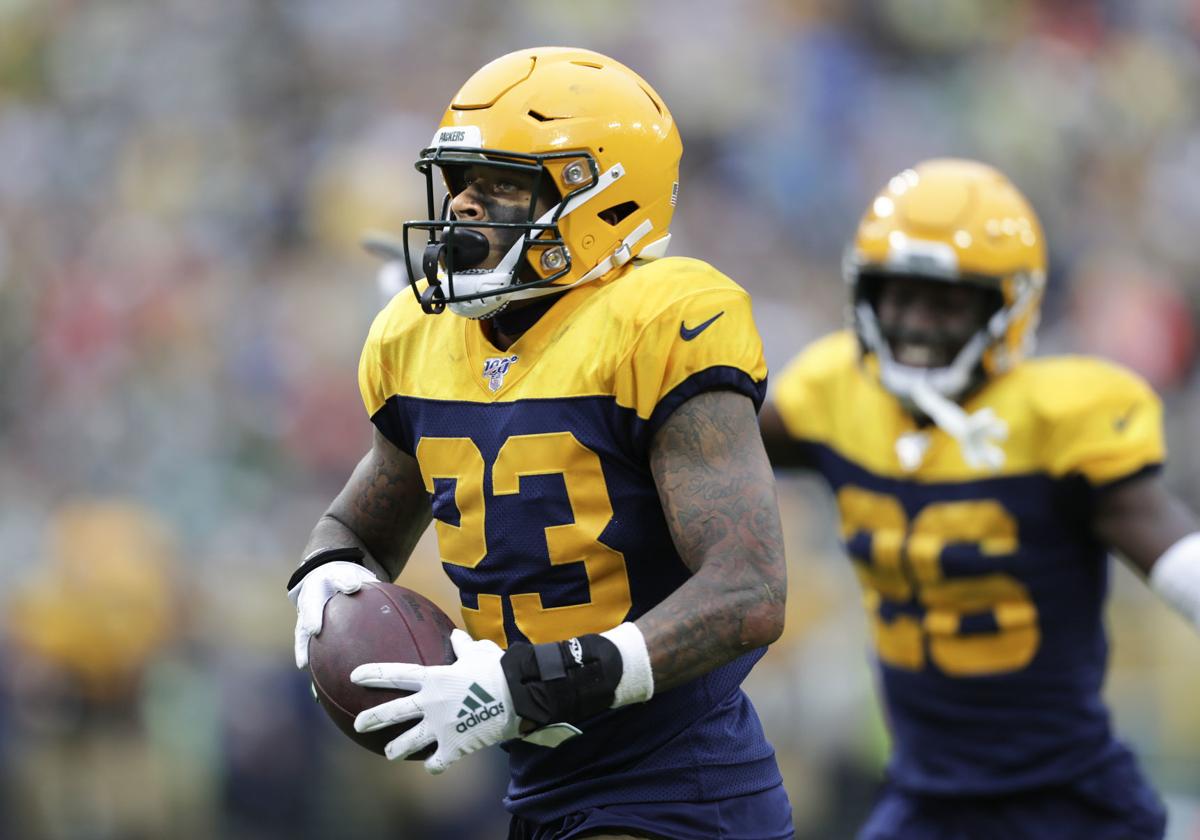 Jaire Alexander actually said it. The "H" word.
The Green Bay Packers ultra-confident second-year cornerback is one of the team's more effervescent personalities. During the offseason, he predicted he'd be a Pro Bowl and All-Pro selection this season, and there's no question he has ample talent to back up his swagger.
But during last week's 34-24 victory over the Dallas Cowboys, Alexander had what had to have been one of the worst games of his young career. Spending nearly the entire game traveling with Cowboys No. 1 receiver Amari Cooper, Alexander was in coverage for most of Cooper's 11 receptions for 226 yards and a touchdown. By unofficial count, Alexander was matched up with Cooper for eight of his catches for 201 yards and the TD, a 53-yarder with 7 minutes, 46 seconds remaining in the game.
Even Alexander's first-quarter interception came after Cooper had gotten open against him. Alexander was beaten at the line of scrimmage and was trailing Cooper, and when Dak Prescott's pass was behind Cooper and caromed off Cooper's hands, Alexander was there to snag it for his first interception of the season and second of his career.
And so, as Alexander looked back upon his performance before looking ahead to tonight's matchup with the Detroit Lions, he had a confession to make:
"You know, for me, it was … good. Definitely humbling," Alexander said . "It allowed me to be like, 'Hmmm, all right. I've got some things to work on before I want to consider myself the best.'
"I consider myself one of the best, but after that game, it's like, 'I've got things I've got to work on,' if I'm going to have that confidence to say I'm the best. It's definitely humbling."
Alexander confessed that he might have been too excited going into the Dallas, having played so well in the season's first month that he might've felt an air of invincibility. And he and fellow cornerback Kevin King were playing so well together that Alexander was boasting about them being "the best tandem in the league." But while King had an interception of his own against the Cowboys, their performance was a reminder of how much room for improvement they both have.
"Every dog has their day. What's important is that we got the win and I don't have to think about that as much as if we would've lost," Alexander said. "Some of the best corners have gotten beat way worse."
Against the Lions, defensive coordinator Mike Pettine may choose to match Alexander with either of the Lions' top receivers — Marvin Jones Jr. or Kenny Golladay — or may let Alexander just play one side of the defense and King the other. Pettine has spoken in the past about the extra energy cornerbacks expend when they match up with a specific receiver throughout a game, and Alexander was so spent during last week's game that he had to come out of the lineup for two plays to get oxygen during the first quarter.
"He's so into it and wants to do so much and wants to win so badly," Pettine said. "We always try to bring those guys back (to), 'Do your job, good things will happen.' And that's something that those guys have to learn sometimes."
Lions coach Matt Patricia has been impressed with Alexander's work.
"He's a really good young player," Patricia said. "(I) just think he's a real aggressive, very good, fundamentally sound player that's real productive. He's one of the better corners we're going to see. He does a lot of different things. They move him in a lot of different positions — they can match him up, they can leave him on different sides. He's been very productive for them. Just a really good young player.
"Confidence is critically important. The better corners, those are the guys that have the confidence that, when the game's on the line, they want the play coming their way and they're going to make the play. He's certainly shown he can do that."
And while his struggles against Cooper and mistake on the touchdown — "I definitely have to make that tackle," he confessed, having instead tried to force Cooper to fumble — were valuable lessons, they in no way dented his confidence level.
"It doesn't change it. If anything, it makes me feel more confident because (Cooper) is a good receiver. One of the best route-runners that I'll face all year," Alexander said. "So it kind of increases (my confidence) because I know how much better I can be."