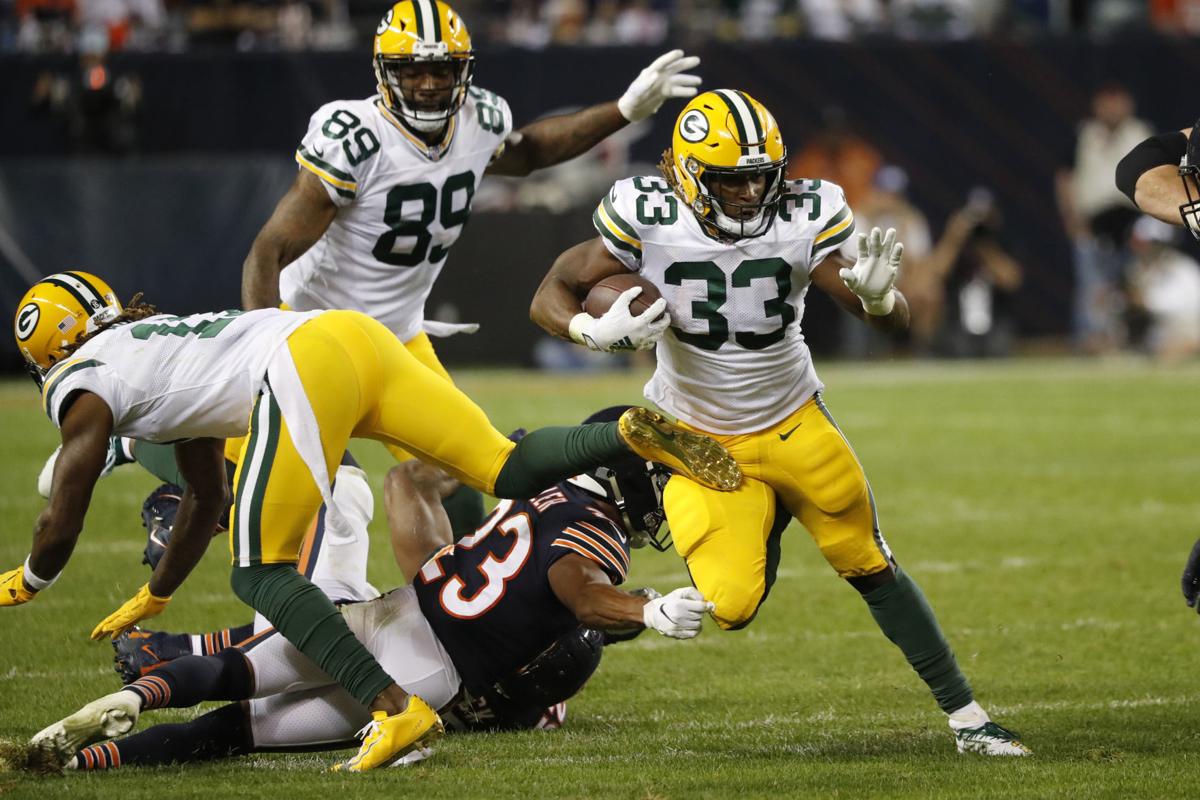 GREEN BAY — His first victory as the Green Bay Packers' head coach had been in the history books for about 45 minutes when Matt LaFleur was making his way through a cavernous concourse beneath Soldier Field en route to the team bus. There, he encountered a familiar face, who offered his congratulations.
"A lot to improve on," LaFleur told him. "A lot to improve on."
Yes, even after doing something three highly-successful head coaches who preceded him — Mike Holmgren, Mike Sherman and Mike McCarthy — failed to do, even after getting the game ball from appreciative quarterback Aaron Rodgers, and even having the team turn the post-game locker room celebration into an impromptu mosh pit with LaFleur in the middle of it, the rookie head coach wasn't exactly basking in the afterglow of Thursday night's 10-3 triumph over the Chicago Bears.
And that didn't change a day later. After the team's charter plane arrived back at Austin Straubel International Airport in Green Bay at 1:30 a.m. Friday, LaFleur headed home for a few hours of sleep before returning to his Lambeau Field office to start prepping for the team's Week 2 opponent, the Minnesota Vikings.
"There's definitely room for improvement and it's from everybody and again, it starts with myself and really look and make sure the plan is solid to put our guys in the best position to have success," LaFleur said Friday afternoon.
"(So I) got up early this morning and came in and watched the tape and went through all the corrections. Now, it's on to Minnesota. You don't spend too much time reflecting on the moment."
Even if that moment is historic.
"It was a special moment," LaFleur said when asked about the locker room scene, video of which the team posted to its website. "What's so special to me is I can tell these guys are coming together as a team and I think they care about each other. It was more special just to enjoy that moment with our team and our players and our coaches."
Much of the improvement LaFleur is looking for must come on offense. Even though they were facing one of the league's top defenses, the Packers managed only 213 total yards, converted 2 of 12 third downs and allowed Rodgers to be sacked five times.
In the pass game, Rodgers made four crucial throws: A 47-yard completion to Marquez Valdes-Scantling; the 8-yard Jimmy Graham touchdown catch that came from it; and 28-yard completions to Trevor Davis and Robert Tonyan to set up the Packers' other points, a Mason Crosby field goal. Otherwise, Rodgers finished the night 18 of 30 for 203 yards and the one touchdown (91.5 rating).
In the run game, Aaron Jones went next to nowhere (13 carries, 39 yards) and Jamaal Williams literally went nowhere (five carries, 0 yards).
Luckily for Rodgers and the offense, the Packers defense held the Bears to three points, 254 yards and a 20% third-down conversion rate (3 of 15) while stopping the Bears twice on fourth down and sacking quarterback Mitchell Trubisky five times.
"I hold myself to a high standard and I didn't play great," Rodgers said. "But to watch a defense like that, man … that gives you a lot of confidence for where this team can go. In a game that most people thought we were going to get probably trounced, to have them play that well and to win in a tough environment against the reigning NFC North champs (was impressive)."
Goodson gets going
B.J. Goodson wasn't sure what to expect Thursday night, especially after travel troubles kept him from arriving in his new NFL home until shortly before the team's flight to Chicago departed. The ex-New York Giants inside linebacker, acquired in a trade Monday, had his flight out of Newark, New Jersey, delayed Tuesday, forcing him to stay overnight in Detroit that night.
"The travel really was the craziest part," Goodson said.
No, what was crazy was that Goodson was active for Thursday night's game even though he was still being introduced to his new teammates on Wednesday morning before the team charter took off. He ended up playing three special teams snaps against the Bears.
"It was amazing, man, to go out with these guys," Goodson said. "To actually see these guys compete (Thursday) night, man, was awesome. They did a great job of getting after the ball and finishing plays, and just competing, man. That was exciting.
"I'm still learning a lot of the guys, man. But what I was telling them (was), I love the culture here, the guys here. They love ball. We're in the film room going over the tape, and everybody, you can just feel it. I love that. I'm excited to be here."
Be the first to know
Get local news delivered to your inbox!