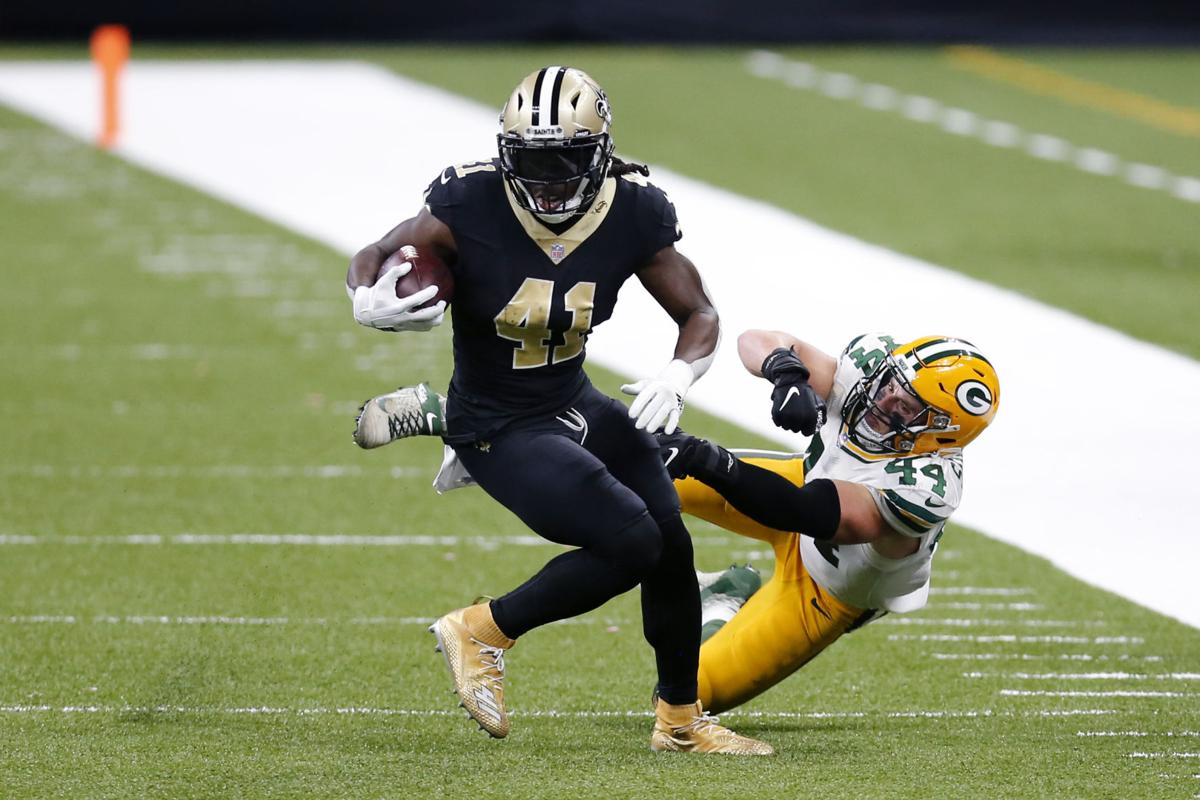 GREEN BAY — Sidnee Jo Summers was, admittedly, biased.
Her observations came from her heart, not from a thorough viewing of the all-22 film on her NFL Game Pass subscription. And her takes were delivered kindly, not critically.
Nevertheless, as Ty Summers beat himself up over his uneven 44-snap performance at inside linebacker in the Green Bay Packers' 37-30 victory over the New Orleans Saints on Sunday, his wife of not quite seven months did her best to soften his self-examination. And she successfully brought a smile to his face.
"I wish you could see some of the text messages I got from her after the game. It was pretty comical," Summers said as the Packers (3-0) turned their attention to Monday night's matchup with the Atlanta Falcons (0-3) at Lambeau Field. "Her being super excited after the game, telling me how well I did and of course, I was like, 'Ah, I could have done better.'
"(And) she was like, 'Hey, stop it. This is your first opportunity. You went out there, you made some great plays. Don't focus on the bad stuff. You can't change it now. Just go learn from it, move on.'"
That's exactly what Summers will have to do, because with veteran starter Christian Kirksey not expected to play because of the shoulder injury he sustained against the Saints, Summers is the logical pick to start against the Falcons. And while he did register a team-high nine tackles against the Saints, he did miss several tackles, including one on running back Alvin Kamara's 52-yard touchdown catch-and-run.
"I have high expectations for myself, so, I would say, not great," Summers replied when asked to evaluate his performance himself. "Thank goodness it was enough to help get a win, and so at the end of the day that's all that matters. But I'm just going to take things that I did right and the things that I did wrong, learn from them, try to work toward perfection for this next week."
A seventh-round pick from Texas Christian last year, Summers didn't play a single defensive snap from scrimmage in 2019. In fact, replacing Kirksey marked the first time he'd set foot on the field on anything other than special teams in a game that counted since his time at TCU.
Because Kirksey was also the signal-caller on defense, wearing the helmet with the green dot that signifies the communications headset inside, that task also fell to Summers, a former high school quarterback who was recruited to play the position in college at Rice before taking TCU's scholarship offer instead. And despite the flaws in his performance that everyone but his wife noted, Summers did well with that responsibility.
"He did a great job of relaying the calls to the other 10 guys on the field and helping guys get adjusted," Packers coach Matt LaFleur said. "I thought that was really good. He made some really good plays and then, like every player, there's always a couple plays here and there that you've got to get cleaned up.''
For his part, Summers said he enjoyed that aspect of his job against the Saints, especially given that he was matching wits on audibles and adjustments with future Pro Football Hall of Fame quarterback — and fellow native Texan — Drew Brees all night.
"It was super exciting. I mean, this guy got drafted when I was like 4 years old. So I've grown up watching him and respecting him as a quarterback," Summers said. "He's a great player, so to line up against him, see him calling out my number for whatever their play was going to be, and me trying to disguise, it was one of those things that I'll definitely cherish. Great first experience, for sure. Wouldn't have wanted to start off any other way.
"I love having the responsibility of being a leader out there, having to communicate calls, get people lined up. So I was just excited. I didn't really feel nervous. I didn't even really think about the fact that I was lined up against Drew Brees and guys like Alvin Kamara until probably like the second or third series I was in. I was kind of like, 'This is cool.' I was just trying to go out there and just focus on what my responsibility was."
How long the starting inside linebacker spot alongside undrafted rookie free agent Krys Barnes remains Summers' responsibility remains to be seen. ESPN.com reported Kirksey's injury isn't thought to be season-ending and won't require surgery, but the Packers could opt to take advantage of the COVID-19 injured reserve rules for this season and place Kirksey on IR for the minimum of three weeks if he can get healthy that quickly.
LaFleur refused to flat-out name Summers the starter against the Falcons, but it's hard to imagine him going with 2018 third-round pick Oren Burks, who spent much of last week's practice time working at outside linebacker and even lined up there against the Saints for a handful of snaps. Another would-be option at inside linebacker, rookie fifth-round pick Kamal Martin, remains on injured reserve after a training camp knee injury.
So in the meantime, while Sidnee Jo, whom Summers married on March 7, focuses on the positives, her husband will look to deliver less of an up-and-down performance the next time out.
"I had the chance to make a couple tackles that I thought were pretty good. I was proud of myself for that," Summers said. "But for me, it's always the ones that I left out there and I know, especially that long one on Kamara, that could have really helped us there. That could have saved a score, so things like that are the ones that fuel me for the next week, the next opportunity to make sure I don't do that again."
---
Photos: Packers' 2020 season so far in pictures
Photos: Packers' 2020 season so far in pictures
Check out photo galleries from every game of 2020 through the end of the regular season and the playoffs — if the Packers make it.