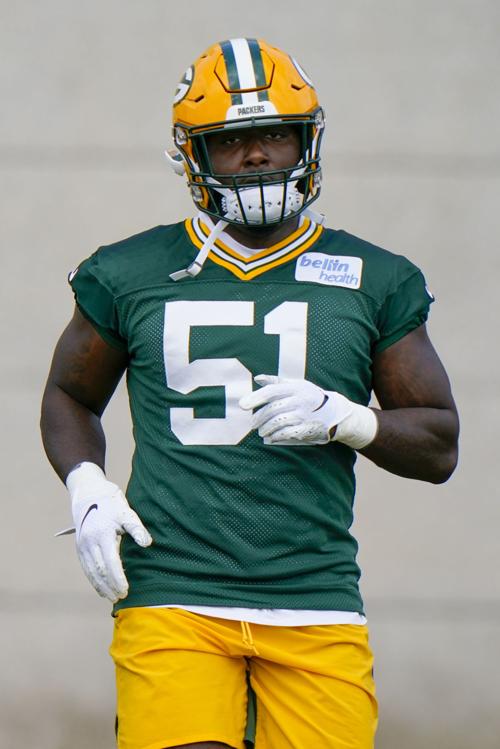 GREEN BAY — Christian Kirksey had a feeling about Krys Barnes from the start of training camp.
But even the duly impressed veteran inside linebacker didn't know that the kid would be his sidekick in the Green Bay Packers' season-opening 43-34 win at Minnesota.
"You know a ball player when you see him," Kirksey said this week, after watching Barnes register six tackles (second-most on the team) and two tackles for loss in just 15 snaps of playing time in the base defense against the Vikings. "I thought Krys did an amazing job. I thought he had a hell of a game. In the 15 plays that he was in, he made noise and he did a lot of damage.
"I'm just excited that he had his first game and his rookie debut, and it was good."
That debut not only was good, but it capped a wild eight-day span for the undrafted rookie free agent inside linebacker from UCLA, who was cut on the final roster reduction Sept. 5, signed back to the practice squad the next day, competed with two players who entered the league as draft picks (2018 third-round pick Oren Burks and 2019 seventh-round pick Ty Summers) throughout the week in practice, was promoted to the 53-man roster on Saturday and then learned he'd be starting at will linebacker against the Vikings shortly thereafter.
"I guess you could say it was an emotional roller coaster," Barnes said. "You come into this as an undrafted free agent and you do your best and you try as hard as you can during camp, and you never want to get called up to the third floor and hear you're getting cut.
"But to hear that they were bringing me back on practice squad the next day gave me some more motivation to keep going, and then talking to the coaching staff, they're telling me to be prepared for anything that might happen. So leading up to the game, being put up on active and getting the chance to even start and get some playing time, I'm grateful for the opportunity.
"It's one of the dreams I've dreamt of since I was a kid, so to be able to accomplish that was definitely a blessing. Nothing was really official until the day before the game and shoot, walking out on the field, that's when it was really official."
One of 15 undrafted rookie free agents to sign with the Packers following the draft, Barnes, who was high school teammates with Packers' first-round pick Jordan Love and now is the rookie quarterback's roommate, wasn't even the rookie inside linebacker who drew most of the attention in camp. That was fifth-round pick Kamal Martin, who was on track to start before suffering a knee injury that required surgery and landed him on injured reserve.
When the Packers cut Barnes and his fellow undrafted rookie classmates at the final roster reduction, it appeared to mark the end of a 15-year streak of at least one Packers undrafted free agent making the opening day roster. Under former general manager Ted Thompson, the Packers mined the undrafted ranks for a host of hidden gems over the years, and that streak began with Thompson keeping Michigan linebacker Roy Manning and Southern Mississippi offensive lineman Chris White in 2005, Thompson's first year as GM.
Barnes not only kept the streak alive — he also gave the defense a meaningful lift. Barnes' two tackles for loss were critical plays early in the second half — a stop of running back Alexander Mattison for a 1-yard loss and a nifty, veteran-savvy shutdown of a Kirk Cousins screen pass to running back Dalvin Cook, whom Barnes threw for a 2-yard loss.
"He did a lot of great things. We feel really confident with him as his teammates, and the coaching staff really felt confident him, too, to put him out there and give him a start on opening day," outside linebacker Preston Smith said. "He's a kid that flies around, makes a lot of plays. He's a guy that you can count on and we know he's going to do his job, he's going to be in the right place and he's going to be where he needs to be at the right time."
Barnes got the opportunity when defensive coordinator Mike Pettine and inside linebackers coach Kirk Olivadotti decided to have an open competition for the starting job in advance of the opener, and despite Burks and Summers being more familiar with Pettine's scheme, Barnes won out.
"I think we first took notice of Krys in the spring, just during our virtual meetings. We tested those guys routinely and you could just tell very quickly, not only could he pick it up and know it, but he also could process it very quickly," Pettine said. "A lot of the tests that we give, you get more points for getting the answer faster. He was a guy who we knew had a pretty good football aptitude, (but) you never know until you get them on the field.
"With no preseason, we did some of those controlled scrimmages, and I think he had maybe one actual live tackle. It didn't come as a surprise to us the way he had practiced, but there was still that threat of the unknown. But it's a credit to him, his preparation. He's a guy just when we evaluated across the board looking for that complementary linebacker, and we just felt from an instinct standpoint was what separated him.
"With some of the guys where it would be their first time playing — and I've seen it in the past, too — they don't handle the week of practice well, and as it gets closer they've got a bad look about them, and you just know they're not ready for prime time. That wasn't the case with Khris."
Pettine said the coaches rotated Barnes, Burks and Summers throughout the week of practice, and Olivadotti said that competition will be ongoing – meaning Barnes will have to continue to earn his keep.
"The stage was not too big for him. He didn't make it bigger than it was. It was nice to see him respond," Olivadotti said. "As coaches, we get into a week and we see who we think can handle the challenges of that week the best. One week it might be one way and then another week might be another way. He did a nice job doing what he was supposed to do."
For his part, Barnes seems to fully grasp that this is just the start of his journey — not the destination. Assuming he reprises his role this Sunday against the Detroit Lions, he'll have to replicate his performance against the Lions' running game – led by ageless Adrian Peterson, whom Barnes watched as a kid growing up – to keep his spot and keep showing that the Packers made the right call in signing him.
"I want to get better every day, to continue to prove that I belong to be here, continue to make those teams feel like they missed out on something great," Barnes said. "Because it definitely hurt, not being drafted, but it's going to push me each and every day.
"I'm trying to continue to do what I can to prove that they made a right decision as far as wanting me to be here. I've got a lot to prove, a lot to work on, and I'm trying to head in the right direction each and every day."
Extra points
Nose tackle Kenny Clark (groin) missed his second straight practice and appears unlikely to play against the Lions. "With Kenny's status up in the air, the rest of that group knows if he's limited, they're going to have to pick up the slack," Pettine said. … Rookie tight end Josiah Deguara (shin/ankle) went from practicing on a limited basis to sitting out Thursday — a bad sign for his availability for Sunday. … Offensive linemen Billy Turner (knee), Elgton Jenkins (ankle) and Lucas Patrick (shoulder) all were full participants, meaning the Packers should be able to start whoever they want on the line without concern for injury. … For the Lions, wide receiver Kenny Golladay (hamstring) and cornerback Desmond Trufant (hamstring) did not practice, although cornerback Jeff Okudah (hamstring) did practice for the second straight day.