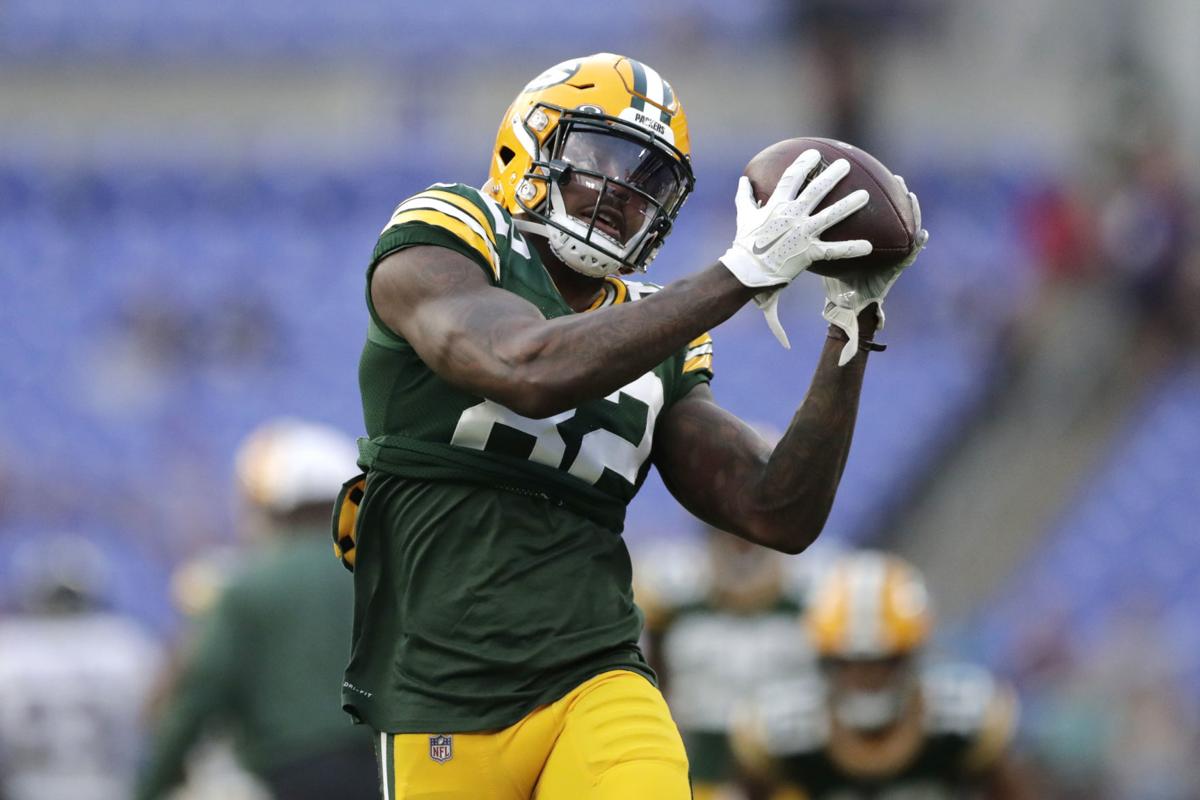 GREEN BAY — In the end, the cautionary tales all around them in the NFC North — and Mason Crosby's strong training-camp performance — made the Green Bay Packers' kicking decision no real decision at all.
And so, despite a strong camp by challenger Sam Ficken, the Packers stuck by Crosby and will have him as their kicker for the 12th consecutive season. Ficken was released Saturday morning as part of the team's cutdown to the NFL-mandated 53-man roster limit but might not be out of work for long.
"I think either way both of us will be kicking somewhere," Ficken said after the Packers' 27-20 victory over the Kansas City Chiefs in Thursday night's preseason finale. "All in all, I feel pretty good about where I'm at and we'll see what happens. It will be an interesting few days.
"I've gotten cut quite a few times, so it is what it is. But again, I feel really good about where I'm at as a kicker and the film that I've put out there this preseason, and we'll just let the chips fall where they fall. There's lots of teams out there looking for good quality kickers. I feel like I'm one of them."
Crosby, a 2007 sixth-round pick who hadn't had a challenger in camp since 2013, is in the final year of his four-year, $16.1 million contract. According to Spotrac, his $4.85 million salary-cap number is the highest of any kicker in the NFL — just ahead of Baltimore's Justin Tucker ($4.696 million) and Pittsburgh's Chris Boswell ($4.2 million).
Crosby missed an extra point against the Chiefs but finished the preseason having made his only field goal attempt and 6 of 7 extra points. Ficken, meanwhile, made his only field goal attempt and was 5-for-5 on PATs, but Crosby was more consistent in practice.
Crosby started camp on the non-football injury list with a mild calf strain in his right (kicking) leg but returned to action after missing the first two weeks.
"I'm glad with what I did all camp," Crosby said. "Disappointed with that one kick but as far as how the rest of camp went, I felt like I hit the ball really solid. I felt like for the most part, I missed two kicks all camp, so I controlled as much as I could. I do feel at peace. I know what I can do and I know what I'm capable of and whatever that looks like. Until I'm told otherwise, I'm going to keep preparing to be a Green Bay Packer."
Crosby opened the door for competition with one bad game and some critical misses last season. Although his numbers last year weren't far off from his career averages — he finished 30 of 37 on field goals (81.1%), and four of those seven misses came in team's 31-23 loss at Detroit on Oct. 5 — he still struggled enough to convince general manager Brian Gutekunst to bring in Ficken to compete.
Now the question becomes whether the Packers will see Ficken again — either opening night against the Bears or in Week 2 against the Minnesota Vikings. Both teams have played musical kickers dating to last summer, with the Vikings having traded a fifth-round pick earlier in camp for Baltimore's Kaare Vedvik, whom they released Saturday in favor of veteran Dan Bailey. The Bears' kicker, at least for now, is Eddy Pineiro.
"If it happens that way, I'm going to do everything I can to perform to the best of my abilities," Ficken replied with a smile when asked about such a scenario. "Obviously it would be a little strange. But we'll let things pan out and see what happens."
Moving on from Moore
The move hardly qualified as a surprise, but the Packers did indeed cut 2018 fourth-round pick J'Mon Moore, who was a colossal disappointment and seemed to have resigned himself to his fate following Thursday night's game.
Moore, who scarcely played as a rookie and caught just two passes for 15 yards, finished the preseason with just four receptions for 19 yards, including a 1-yard touchdown in the preseason opener against Houston. After the game, Moore told the Milwaukee Journal Sentinel's Jim Owczarski that he "just got the real short end of the stick. Don't know why. I'm not going to ask why. I'm going to be all right though, for sure. I'll be ready. I have no doubt what it is that I can do and I'm going to do it. It's all good."
A league source said the Packers don't plan to bring Moore back on the practice squad, and a fresh start might be best for Moore anyway.
Moore was the first of three consecutive wide receivers Gutekunst picked in the middle of his first draft as GM. His release marks the second straight year in which the Packers have cut a fourth-round draft pick after just one season. Last year, Gutekunst cut ex-University of Wisconsin outside linebacker Vince Biegel, whom Gutekunst's predecessor, Ted Thompson, had taken in the fourth round of the 2017 draft.
Interviewed midway through training camp, Moore insisted he wasn't finished in Green Bay.
"I really just want to live up to what's within myself and be better than what I have been," he said then. "I feel like a lot of people are frustrated with me, and I'd be frustrated, too, especially me knowing what I can do and what they brought me here for. I'm just trying to take it day by day. I'm trying to grow. I'm going to focus in, and I'm going to get better."
Let's make a deal
The Packers did make one trade, sending veteran backup offensive lineman Justin McCray to the Cleveland Browns. The trade reportedly calls for the two teams to swap 2020 seventh-round picks.
Earlier in the day, multiple news outlets had reported McCray had been told he was being released, but Gutekunst and Browns general manager John Dorsey swung a deal.
In 2017, when the Packers were forced to start 11 different offensive line combinations because of injuries, McCray played all across the line and then-head coach Mike McCarthy called him one of the team's MVPs for the season.
In Cleveland, he'll be reunited with ex-Packers offensive line coach James Campen, who coached him in Green Bay before joining the Browns after the Packers chose not to retain him from McCarthy's staff.