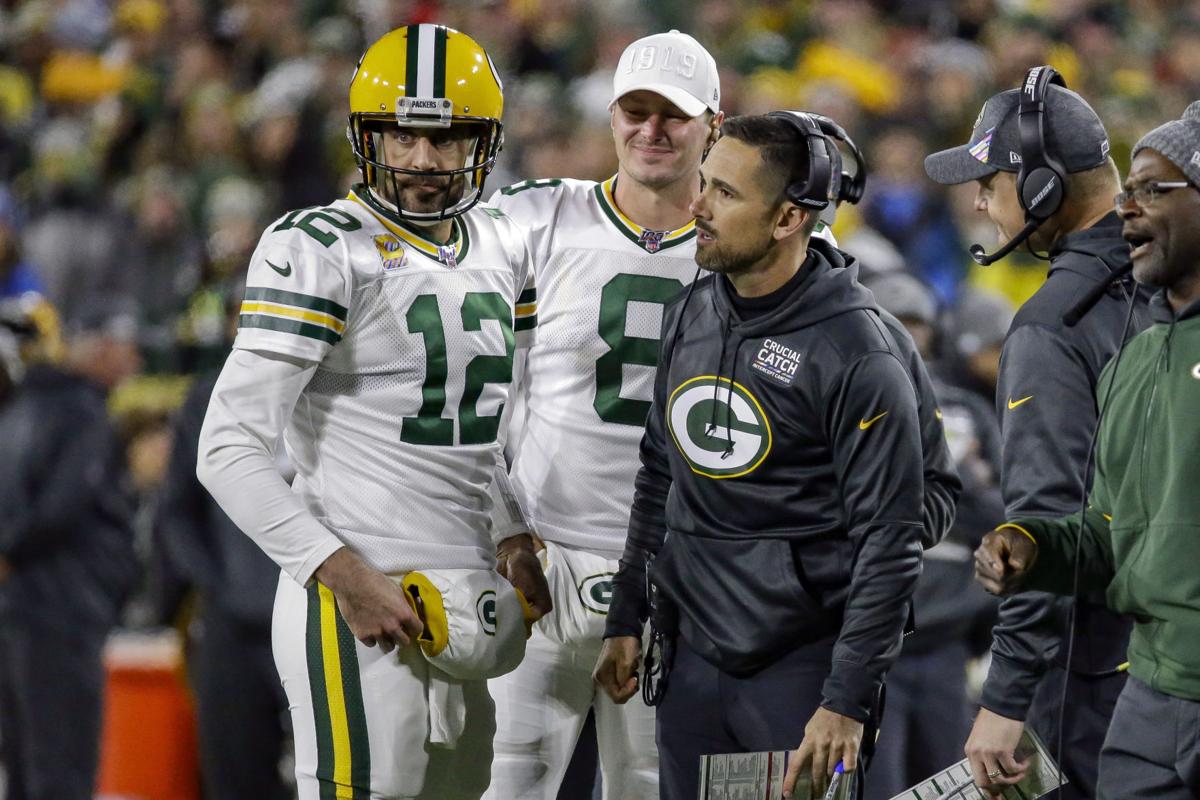 GREEN BAY — Matt LaFleur did his best to avoid it.
He may be the first Green Bay Packers head coach with a verified Twitter account (@CoachMLaFleur), but he had no interest in seeing the viral videos of him on the sideline captured by NFL Films last Sunday.
"I don't even like watching it," a slightly embarrassed LaFleur said of his "Mic'd Up" segment, a 3-minute montage that ran as part of the NFL's YouTube Series "Game Day All Access" after last week's 42-24 victory over the Oakland Raiders at Lambeau Field.
Among the clips that made the social media rounds: One of quarterback Aaron Rodgers saying "I want five today" — meaning touchdowns — and LaFleur smiling and replying, "I want six" after Rodgers' first touchdown pass of the game; another of LaFleur saying "All gas, no (expletive) brake" — a phrase that already had its own Twitter hashtag and seems tailor-made for bootleg T-shirts — into his headset as the Packers' offense poured it on; and a third of LaFleur meeting Rodgers at the Packers' sideline after Rodgers' fifth and final touchdown pass of the day.
It was that exchange — with Rodgers and LaFleur playfully smacking each other, both grinning from ear to ear — that sure felt like more than just a random inside-the-game glimpse.
For all the focus on how — or, for some, if — the rookie coach and the two-time NFL MVP would forge a meaningful working and personal relationship, starting from the moment LaFleur was hired on Jan. 8, the sideline back-and-forth appeared to be confirmation of what Rodgers had said all along: That there was nothing to worry about.
To be sure, there have been those who expected the 35-year-old Rodgers, after a tumultuous final few years with previous head coach Mike McCarthy, to prove difficult to coach for the 39-year-old LaFleur — despite being relatively close in age.
The offseason was littered with stories pontificating on whether the two could coexist and if Rodgers would have the requisite respect for his new boss. And Rodgers and LaFleur eventually grew weary of questions throughout the offseason and training camp.
Even relationship-related questions brought up to LaFleur at midweek in advance of Sunday night's prime-time matchup with the Kansas City Chiefs at Arrowhead Stadium were met with some derision on social media among those who watch the coach's daily news conferences on the team website, as some viewed the very topic as one that was innately negative.
The Chiefs also will be without the left side of their offensive line, with left tackle Eric Fisher (groin) and left guard Andrew Wylie (ankle) both being ruled out.
For Rodgers, nothing could be further from the truth — and their sideline slap-fest was proof, in Rodgers' mind, that their connection has developed just as he expected it to.
"I don't really care about any of the analysis. That relationship has always been very important to me," Rodgers told the State Journal. "And it's been good."
For further evidence, Rodgers pointed to another clip from last Sunday: One of him handing LaFleur the ball after his 3-yard touchdown run and saying, "Nice call" to LaFleur while slapping him on the chest. He also brought up another from the closing minutes of the team's Oct. 6 victory at Dallas: Rodgers reassuring LaFleur on the sideline "We're good" after the Cowboys cut the lead to 10 late in the fourth quarter.
To Rodgers, all these moments have been logical mileposts in the progression of a relationship that began with a phone call just before the Packers offered LaFleur the job, continued with LaFleur visiting him in person shortly after being hired, and gradually advanced the more hours they spent together at 1265 Lombardi Avenue.
You have free articles remaining.
"It's what I always said — it was going to take time," Rodgers continued. "I didn't put any pressure on our relationship. I didn't put any pressure on him and I becoming best friends right away. I just wanted for it to be a natural progression, built on trust and communication.
"That's what him and I talked about the first time we talked on the phone, and it's been the most important thing for our relationship — communicating first, and then trust. And trust is built over games. Where, he calls a play, and I trust when he calls the play in. (Or), I do what I do, and then he trusts what I do when I change it. And if things don't go the way we want it, we talk about it on the sideline, we talk about it afterwards.
"It's been really good communication — really fun working together. And Sunday was the first time everything clicked. So it was kind of cool."
Asked about his quarterback whacking him, LaFleur laughed. "I love it, I love it," he replied. "That means we're doing some good things."
Said Rodgers: "That's how we interact, you know? We enjoy each other's company. We enjoy working together. He's a fun guy. Obviously, we like teasing each other. That was a cool moment."
There were plenty of cool moments against the Raiders, considering the game was the offense's best of the season: The Packers scored a season-high 42 points; their 481 yards were their second-most of the season; and for the first time in his career, Rodgers achieved the maximum 158.3 passer rating, completing 25 of 31 passes for 429 yards (the fourth-most of his career) with five touchdowns and no interceptions.
Now, it's up to LaFleur and Rodgers — and the rest of the offense — to keep it going against the Chiefs and throughout the second half of the season. And their relationship's continued evolution will be part of the equation.
"Aaron's a guy that he's learned to deal with a lot of things. It was kind of clear where things were before, that it was not the best of times. It was just something he tried to stay positive through rather than just bitching all the time," said wide receiver Davante Adams, who was on the sideline all game last Sunday, missing his third straight week with a turf toe injury.
"Obviously (when LaFleur and Rodgers disagree), it gets blown up. When it's a third-and-whatever and Aaron comes off the field, people see the body language and they don't know what's being said. They just see the body language and 'know' it's negative. But that's just two passionate people.
"When you start having two people come together, now it'll happen (less) through times where it may not be as great because we know what we can do now. We're establishing what we can do as a team. It's not something that just happens overnight."
To be sure, winning makes every relationship better — not just the one between the coach and the quarterback. But for all that LaFleur has emphasized while establishing a different culture inside team headquarters, he's repeatedly emphasized that the connection between him and Rodgers would be most vital.
"I've said it before: I just think anytime as a play-caller that relationship with the quarterback is absolutely critical. So whether it's here or whether it was in my past, in Tennessee, wherever it's been, I've always valued that relationship because you've got to be on the same page," LaFleur said. "The way I view the quarterback is, it's an extension of the coaching staff. So, we've got to be on the same page.
"And I think just like anything, any relationship: It takes time to make sure that the communication is on point. I like where we're at right now, but we've got to continue to work each and every day just like any other relationship."
And is that what NFL Films captured?
"We were having fun, and I have a lot of confidence in him," LaFleur replied. "Obviously, I want to see all of our players have a ton of success, but I had a feeling it would be a really good day for him. And to his credit, he went out there and did it, and the other guys helped him out along the way.
"That's what ultimately we're here to do, to go out and put your best foot forward each and every day, get a little bit better each and every day and put a good product out there. All we ever ask of anybody is to be at their best, and whatever that level is, that's the expectation. And we're lucky that we have a really good quarterback that his level is pretty damn high. But the relationship just doesn't stop. It's an ongoing process each and every day."
---
Photos: Packers crush Raiders as Aaron Rodgers turns in stellar performance
Packers 42, Raiders 24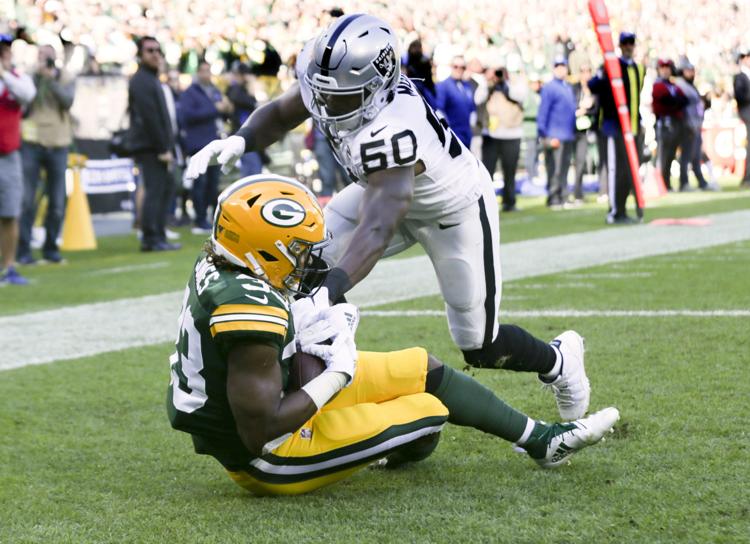 Packers 42, Raiders 24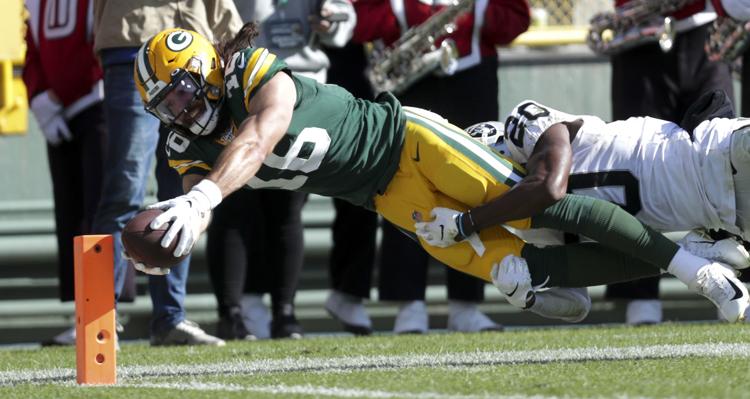 Packers 42, Raiders 24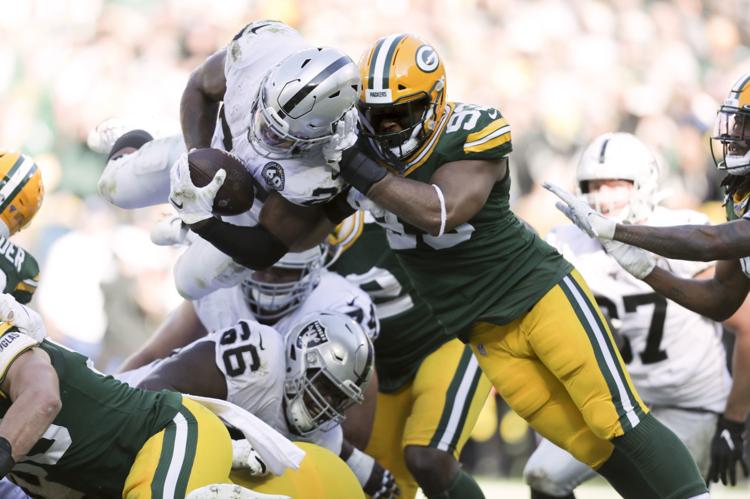 Packers 42, Raiders 24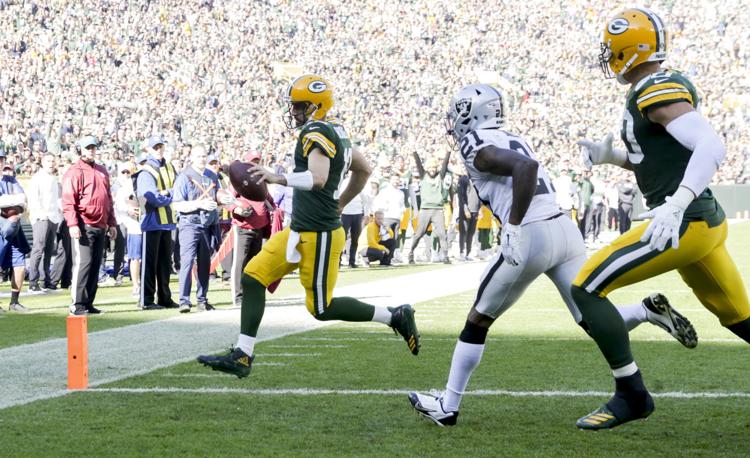 Packers 42, Raiders 24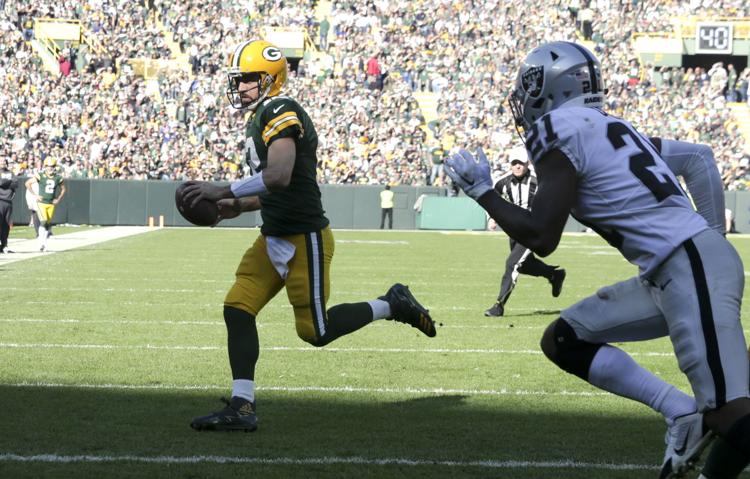 Packers 42, Raiders 24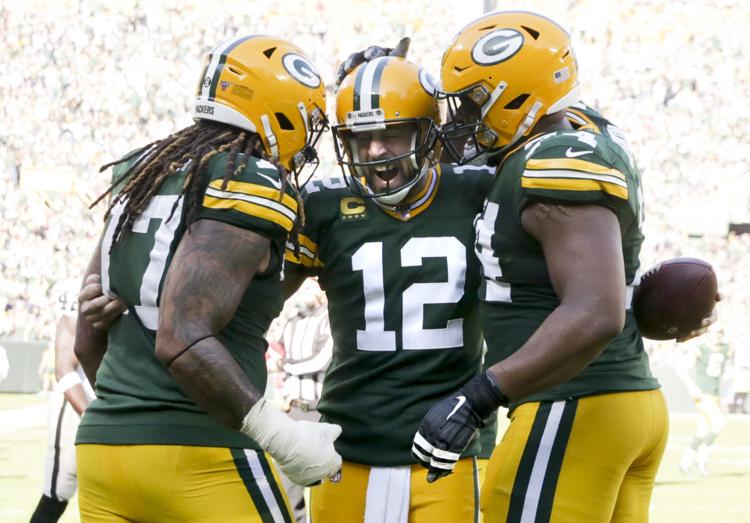 Packers 42, Raiders 24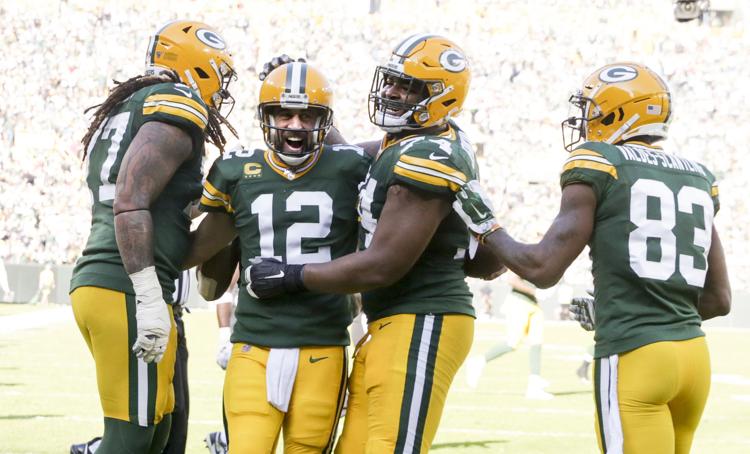 Packers 42, Raiders 24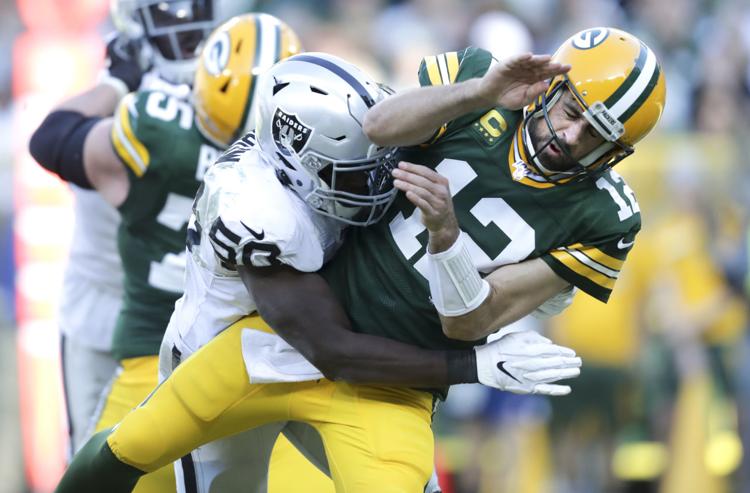 Packers 42, Raiders 24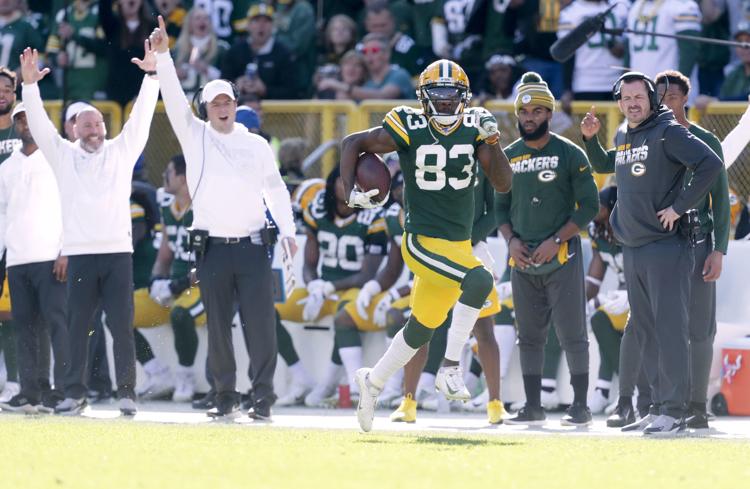 Packers 42, Raiders 24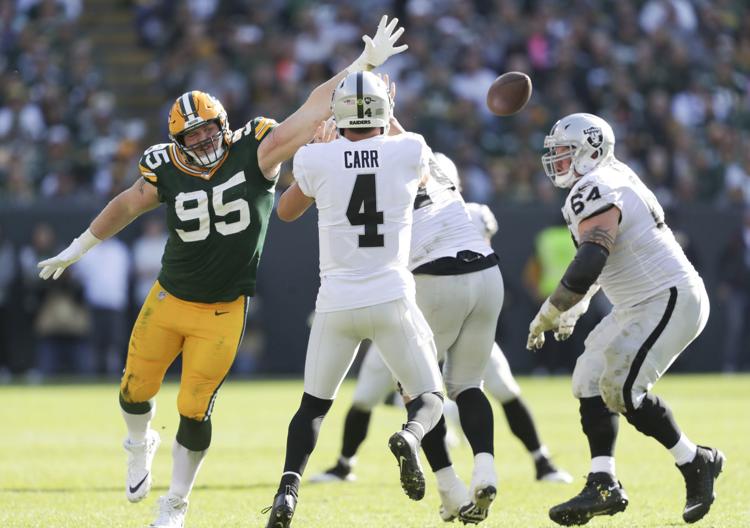 Packers 42, Raiders 24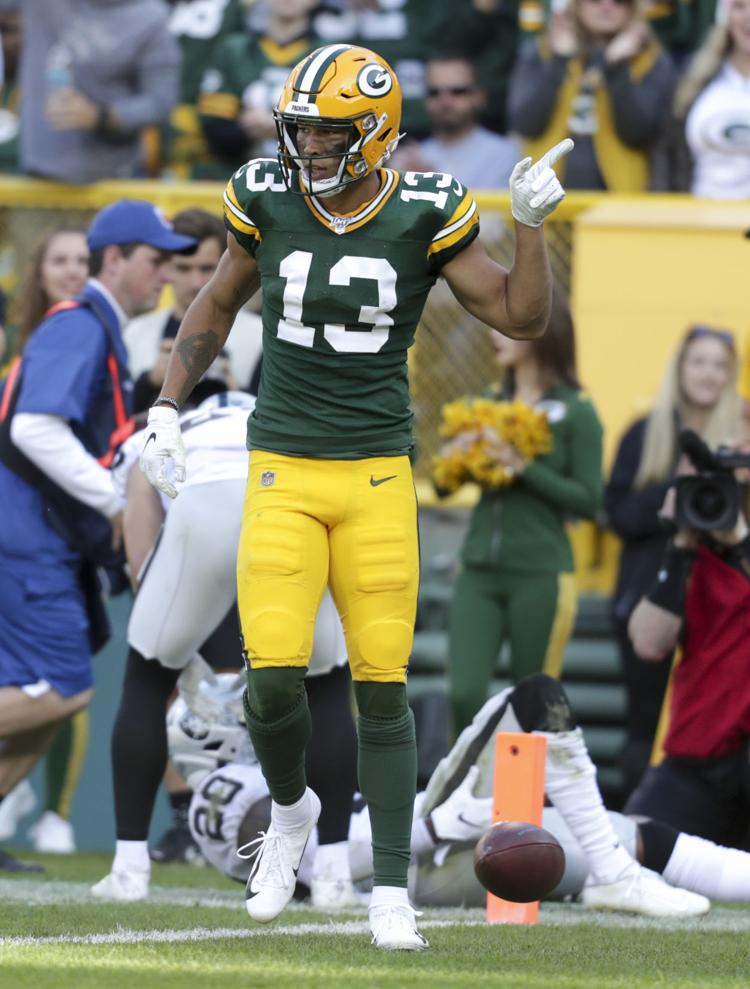 Packers 42, Raiders 24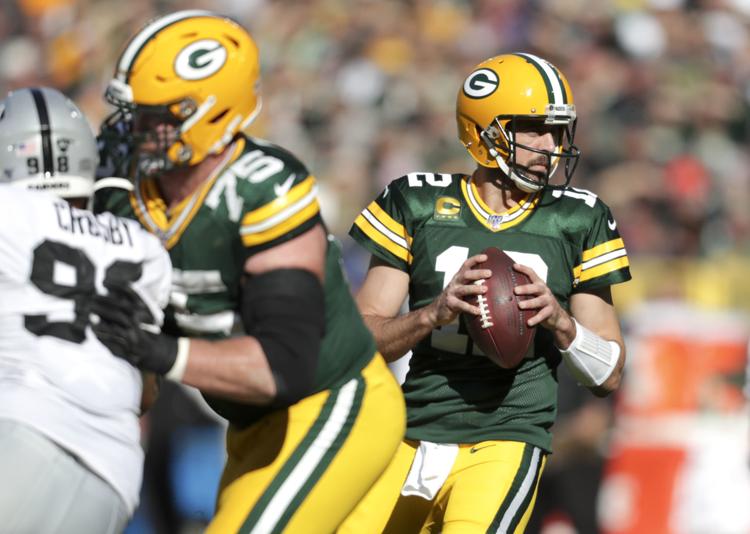 Packers 42, Raiders 24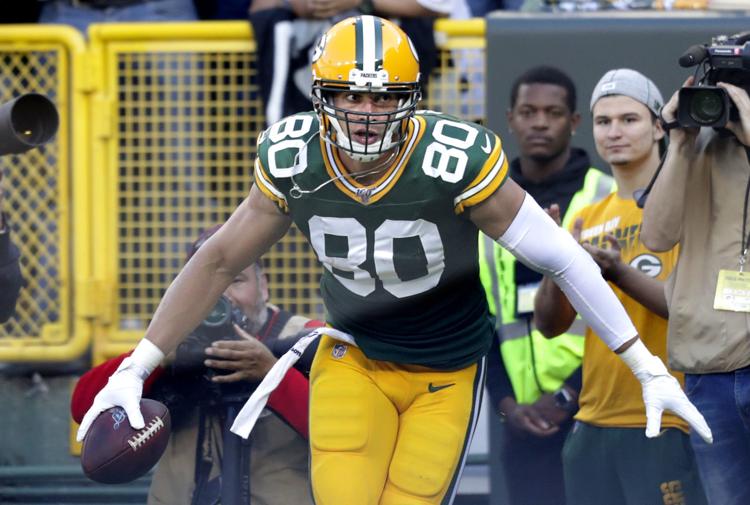 Packers 42, Raiders 24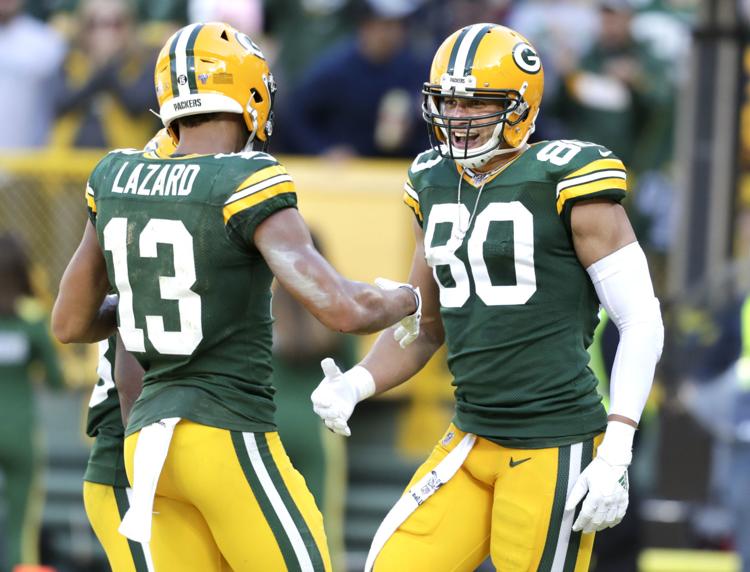 Packers 42, Raiders 24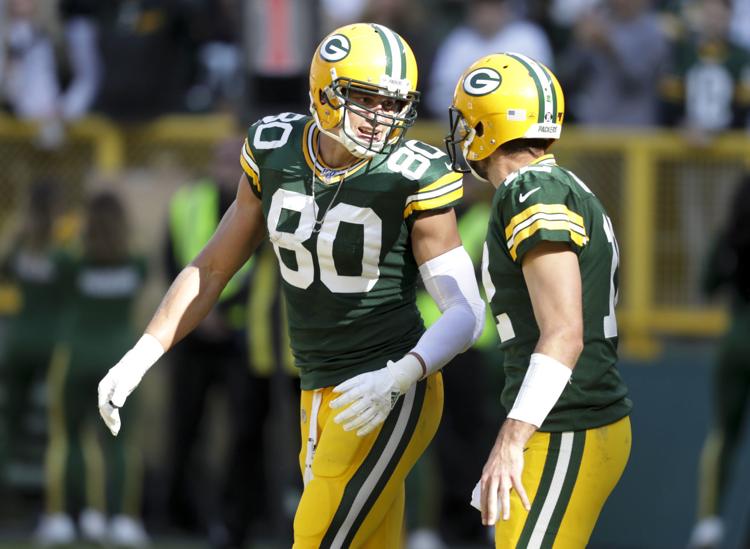 Packers 42, Raiders 24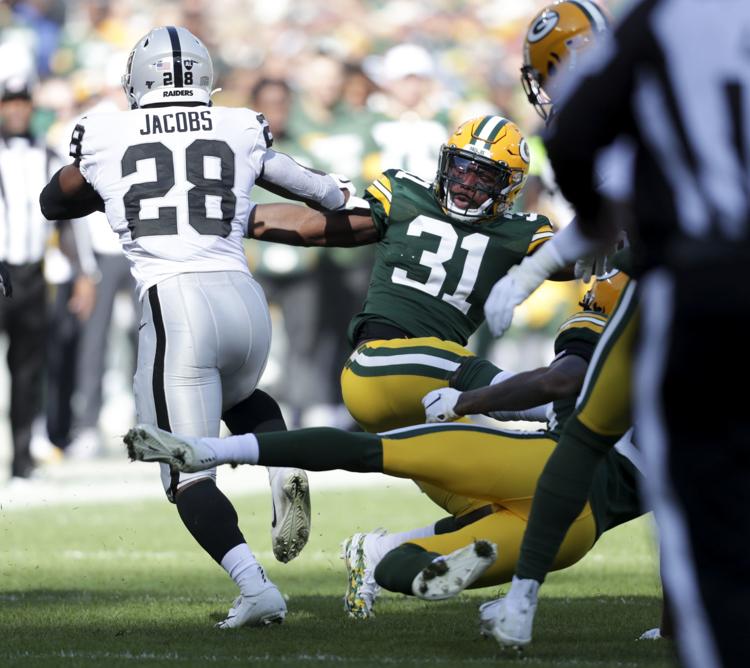 Packers 42, Raiders 24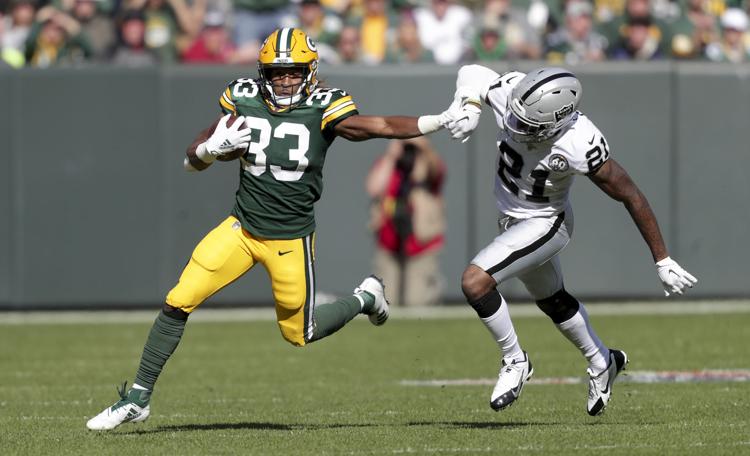 Packers 42, Raiders 24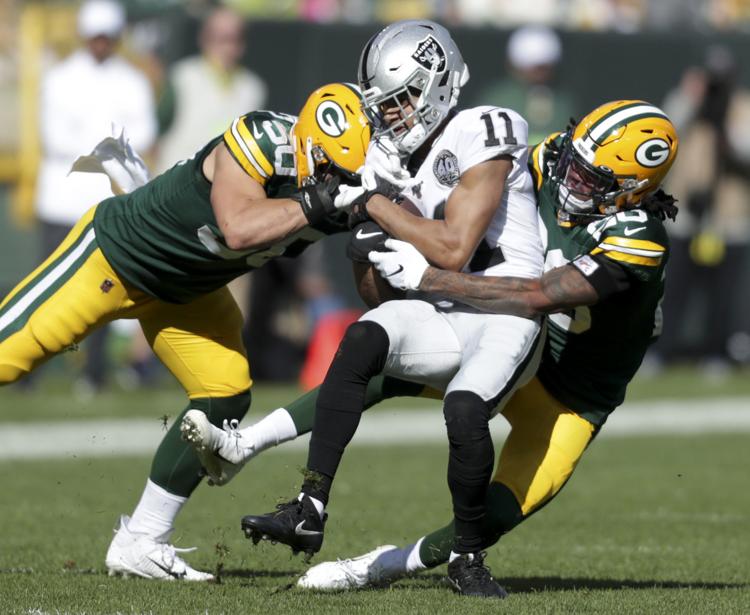 Packers 42, Raiders 24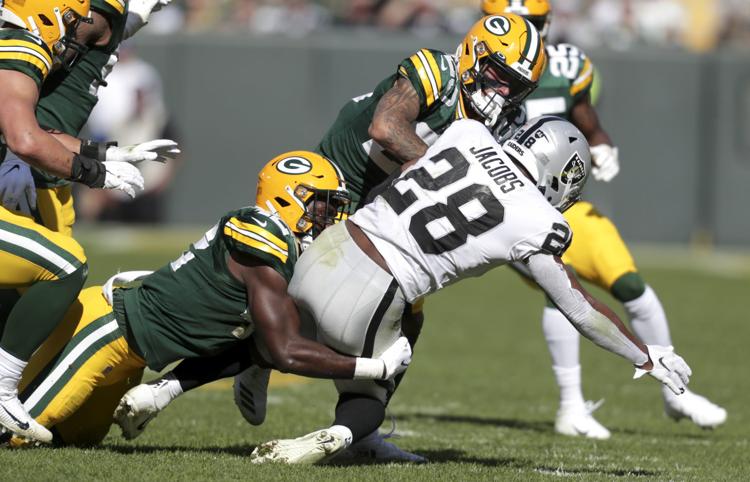 Packers 42, Raiders 24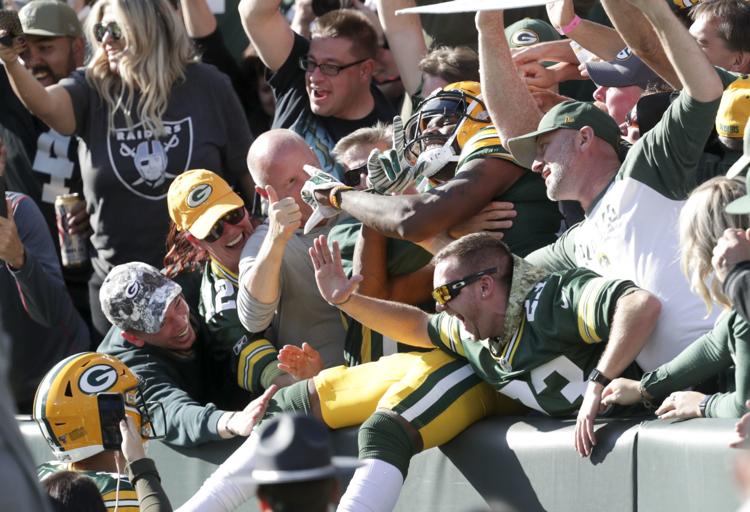 Packers 42, Raiders 24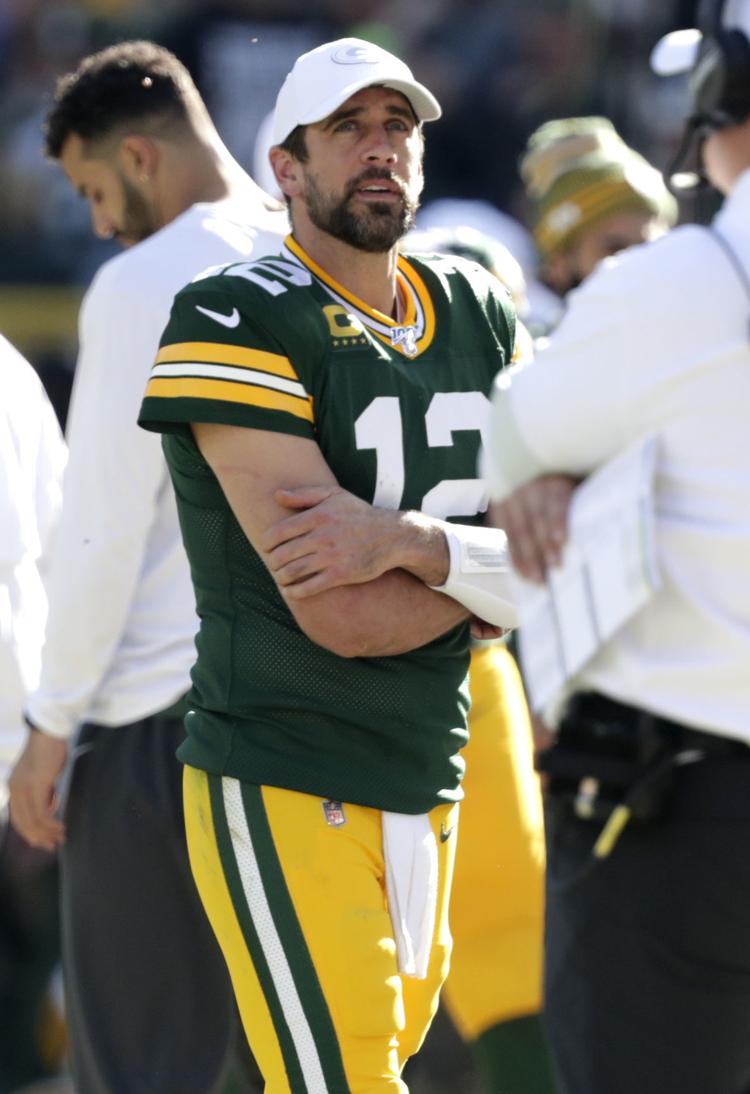 Packers 42, Raiders 24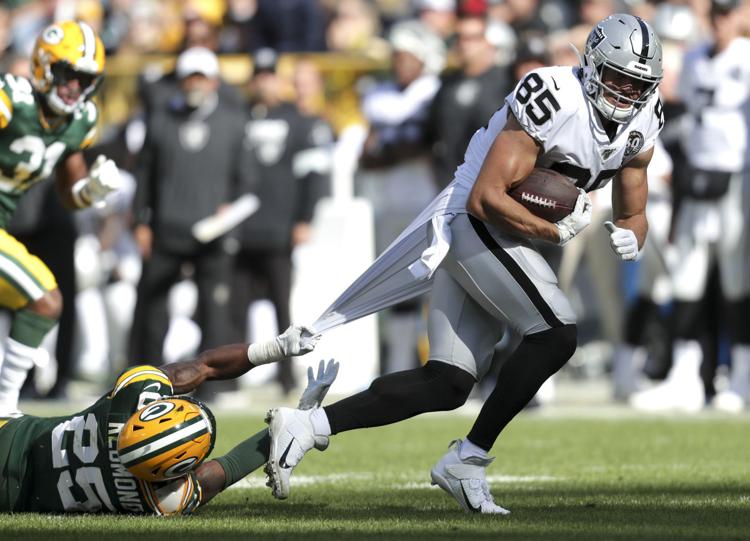 Packers 42, Raiders 24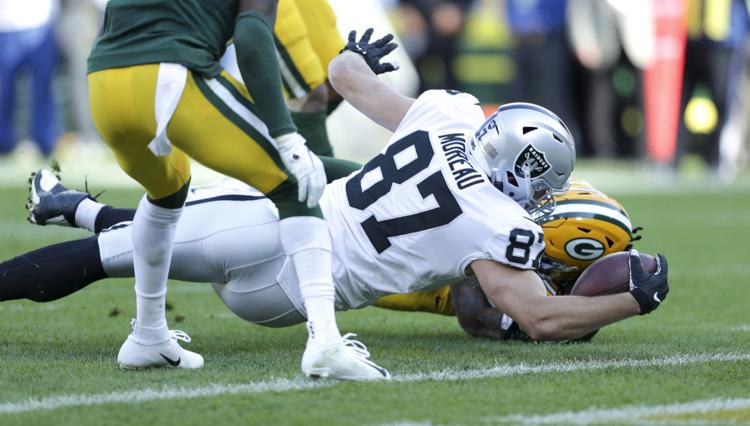 Packers 42, Raiders 24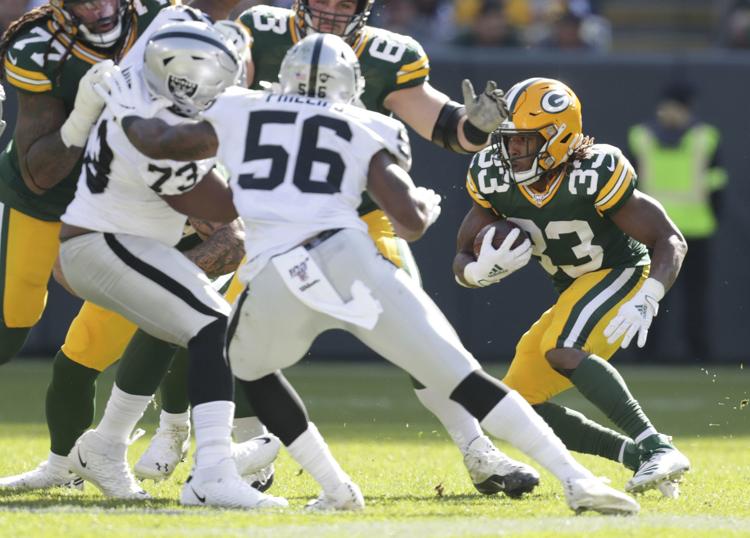 Packers 42, Raiders 24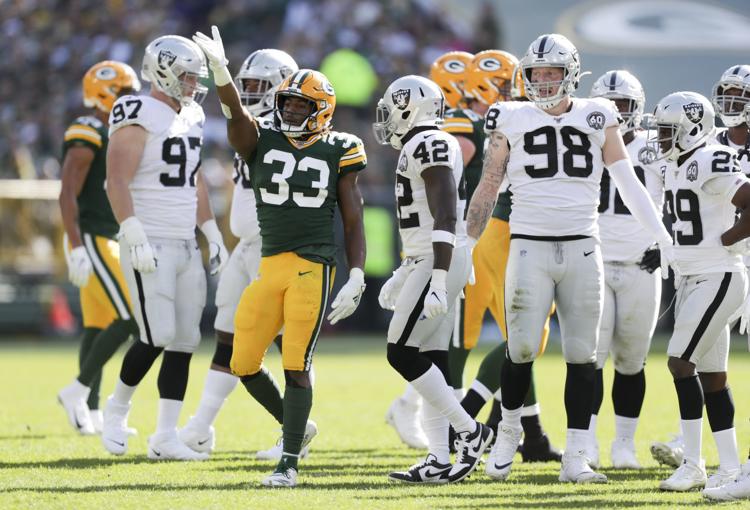 Packers 42, Raiders 24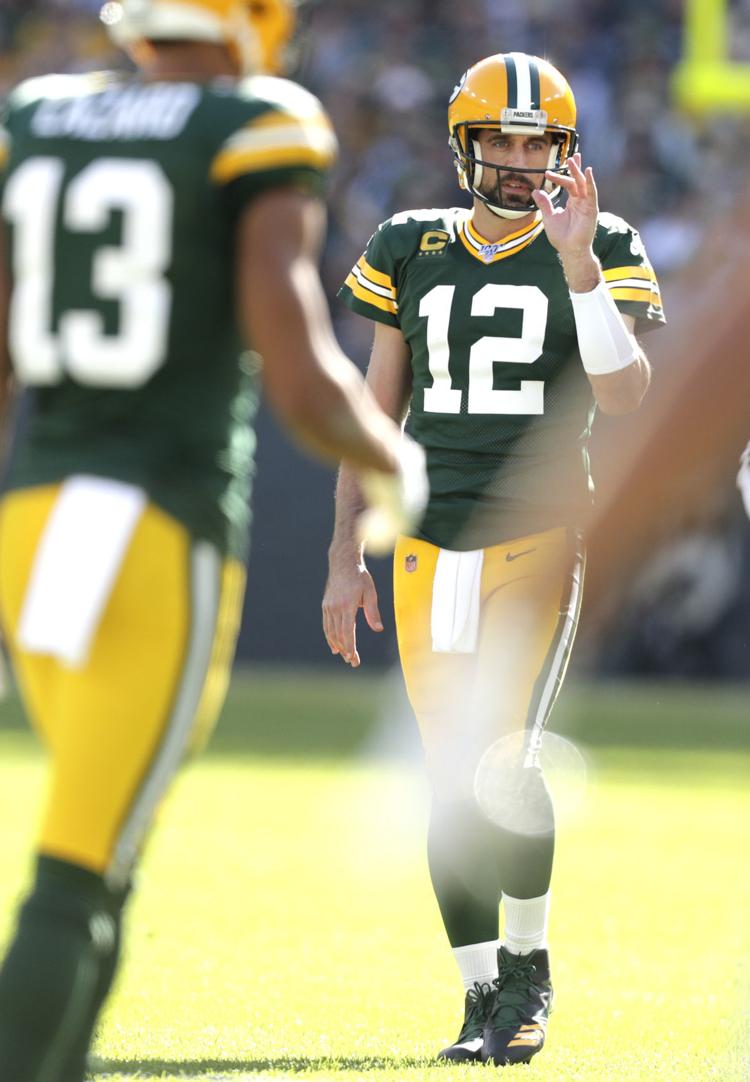 Packers 42, Raiders 24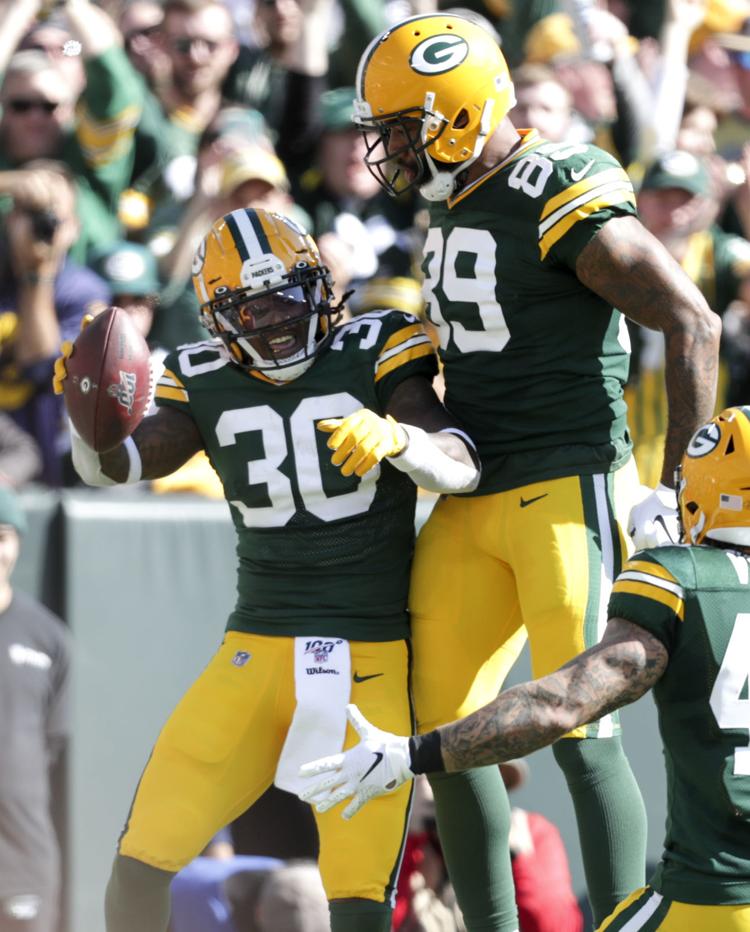 Packers 42, Raiders 24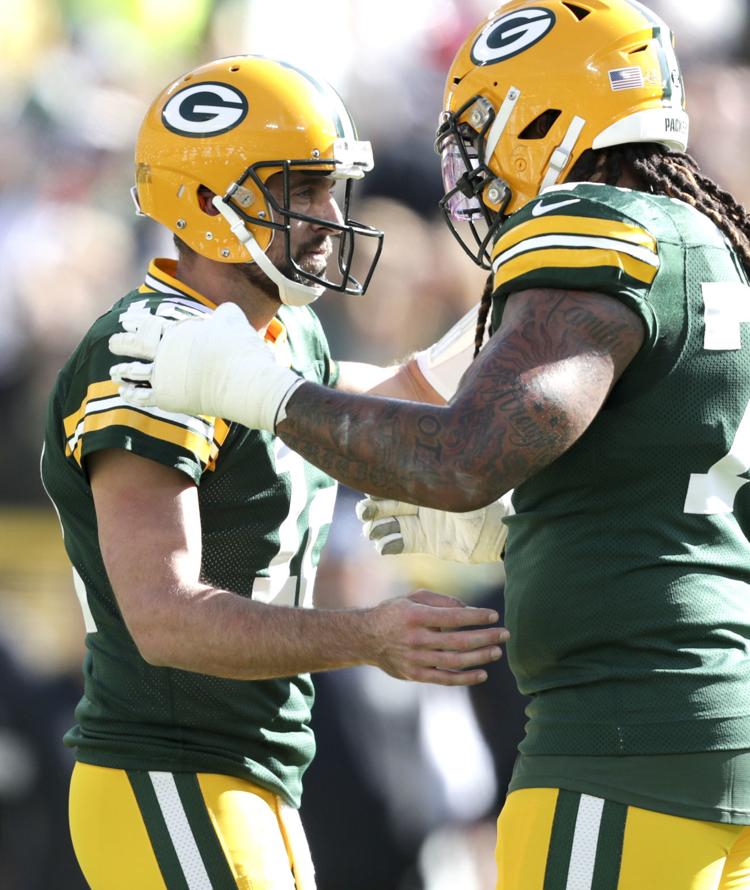 Packers 42, Raiders 24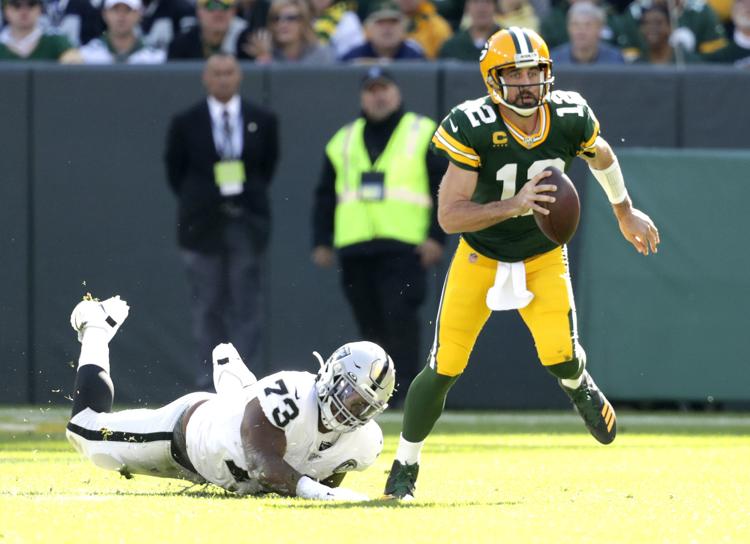 Packers 42, Raiders 24