GREEN BAY — Perhaps it was inevitable.
Given how many times Aaron Rodgers has spoken glowingly of wide receiver Jake Kumerow, he was bound to run out of superlatives at some point, even as the Green Bay Packers two-time NFL MVP quarterback continues to be excited about and impressed by the former University of Wisconsin-Whitewater star.
So, after yet another lengthy soliloquy on Kumerow during last week's mandatory minicamp, Rodgers came to a conversational dead end.
"Obviously, I'm a big fan of him," Rodgers said, smiling. "I don't think I need to keep going on that."
No, he probably doesn't. After all, Rodgers has been raving about Kumerow for nearly a year.
And at this point, with Rodgers yet again seeing big things for Kumerow in new head coach Matt LaFleur's offense following the team's final offseason practice last week, perhaps it'd be instructive to enumerate each time Rodgers has publicly backed Kumerow and rattled off reasons why he should be prominent in the Packers' receiver mix behind star wideout Davante Adams.
NASHVILLE, Tenn. — Tex Schramm often called Gil Brandt into his office to look at the fabric swatches draped all over his furniture, wanting a…
"I think Jake Kumerow has had a fantastic camp. I think you have to spotlight him," Rodgers said after practice on Aug. 3. "He's made a ton of plays, did it all spring and summer and now he's getting reps with me and making a ton of plays. He's running the right route all the time and making contested catches and putting the ball away. It's been pretty impressive for a guy from a small school in Wisconsin."
"I've said it before: The practice reps are very important because there's so many different types of defenses and coverages and pressures that we see in practice. And he's made plays consistently throughout those sessions," Rodgers said after Kumerow caught three passes for 114 yards, including an 82-yard touchdown, in an Aug. 16 preseason win over Pittsburgh.
"You never know how it's going to turn out in the game, but last week he was very productive, had a touchdown. Tonight, he made a catch near the sidelines, turns it upfield, stays inbounds and gets a first down. Then comes back, runs a nice route, (backup quarterback) DeShone (Kizer) puts a great ball on him, he stays inbounds, and turns a 17-yard gain into an 8(2)-yard touchdown.
"I'm very happy with him. I'm happy for him as well. He's a great kid. From the first time he got here, it's never been too big for him, and he continues to make plays and that's how you make the squad, you ball out on game day and you do things on special teams when you're a fringe guy and you give yourself an opportunity, not just for this squad, but for any team watching '16' on film."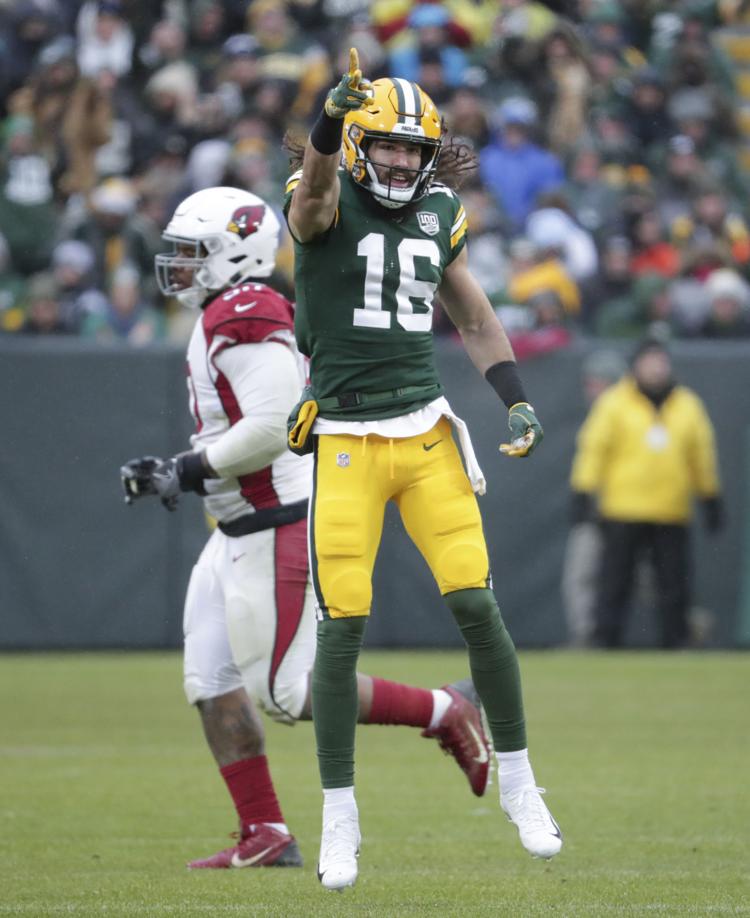 "He's a talented guy, and I think a lot of us were wondering if he was going to be back on the field this year," Rodgers said on Nov. 23. "He understands the game, he has a great sense about him. In space, he can get open. He was incredible in training camp earning a spot on the squad. Unfortunately, he'll learn from diving in the end zone (against the Steelers). But it will be nice to get him out there and get him some opportunities."
"What a rocky, crazy road for him," Rodgers said after that Dec. 23 game. "To come in, very little expectations, then he has a hell of a preseason, he scores the long touchdown, he dives in the end zone, hurts his shoulder and he goes on (IR). ... When he's out there, he makes plays. I just think he's such a good guy, good teammate. He practices the right way. He's been around. He's been cut by a number of teams. Just his story is so incredible. It was fun to be able to get him his first touchdown."
• Now, with the Packers trying to figure out their receiver pecking order behind Adams from a gaggle of largely unproven pass-catchers — while Adams finished last season with 111 receptions, the other receivers on the roster have 101 receptions combined — Rodgers once again publicly supported Kumerow. While Rodgers also praised other receivers during organized team activity practices and the minicamp — including Geronimo Allison, Marquez Valdes-Scantling and Trevor Davis — his praise of the 27-year-old Kumerow was strongest.
"The key is, as you guys know and you'll write about it from time to time, his being reliable and earning my trust," Rodgers explained to reporters at his locker last Tuesday. "I never feel like there's been a real difficult recipe or plan. It's, you know what you're doing, you're in the right spot at the right time and you don't make repeat mental mistakes.
"And that is who Jake Kumerow is. He is an extremely intelligent guy who is in the right place at the right time, he makes contested catches, he makes the plays that are there and he does the little things. I'm always applauding in an overt way (what he does) to let the other guys know, 'This is how you practice.'
"(It's) just little things that he does — I think almost innately — that separates him from a guy you might not trust as much because you know the guy is going to do it right, he'll always going to be in the right spot, he knows what he's doing all the time and what the other guys are doing. And when he gets a chance to make plays, he makes plays. And he does it in a super classy, understated way."
The Green Bay Packers announced Sunday that Bart Starr, the quarterback and catalyst of Vince Lombardi's powerhouse teams of the 1960s whose s…
For his part, Kumerow smiled and shrugged when told of Rodgers' latest pronouncement about him. He spent three years bouncing around teams and practice squads before finally playing his first regular-season game last year, so he's not about to get complacent over the quarterback's kind words.
Not that Rodgers' praise doesn't resonate. It clearly means a lot to him — "Aaron's the man," Kumerow said — but he also understands that he must continue to earn Rodgers' trust, and just as importantly, the new staff's trust.
If he can do that — and stay healthy — Kumerow knows he has as much chance as anyone to be complementing the Rodgers-to-Adams connection that figures to again be the lifeblood of the Packers' passing game. While the Packers' three-receiver set with the No. 1 offense most often included Adams, Allison and Valdes-Scantling, Kumerow was next up and got plenty of work with the starters, especially when Adams missed a few practices with a minor injury.
"I definitely feel more ready, having a few games under my belt, a few more balls thrown to me from A-Rod," Kumerow said. "It feels good. I have more confidence going in — hopping in the huddle, going in at any moment of the practice. Whereas last year, I'd get a few reps here and there but now with more reps I just feel ready and confident to attack any play.
"Being one of the older guys in the group, I feel like I have to be consistent out there and set a good example for the guys and try to take on more of a role this year. Every single year, I've felt more and more like a pro, and this year is a big jump. I see a lot of opportunity. Just to prove yourself every year, that's what I always see it as. Nothing's ever given. Maybe Davante, the top guy, he's going to be out there. But other than that, it's anybody's ballgame."