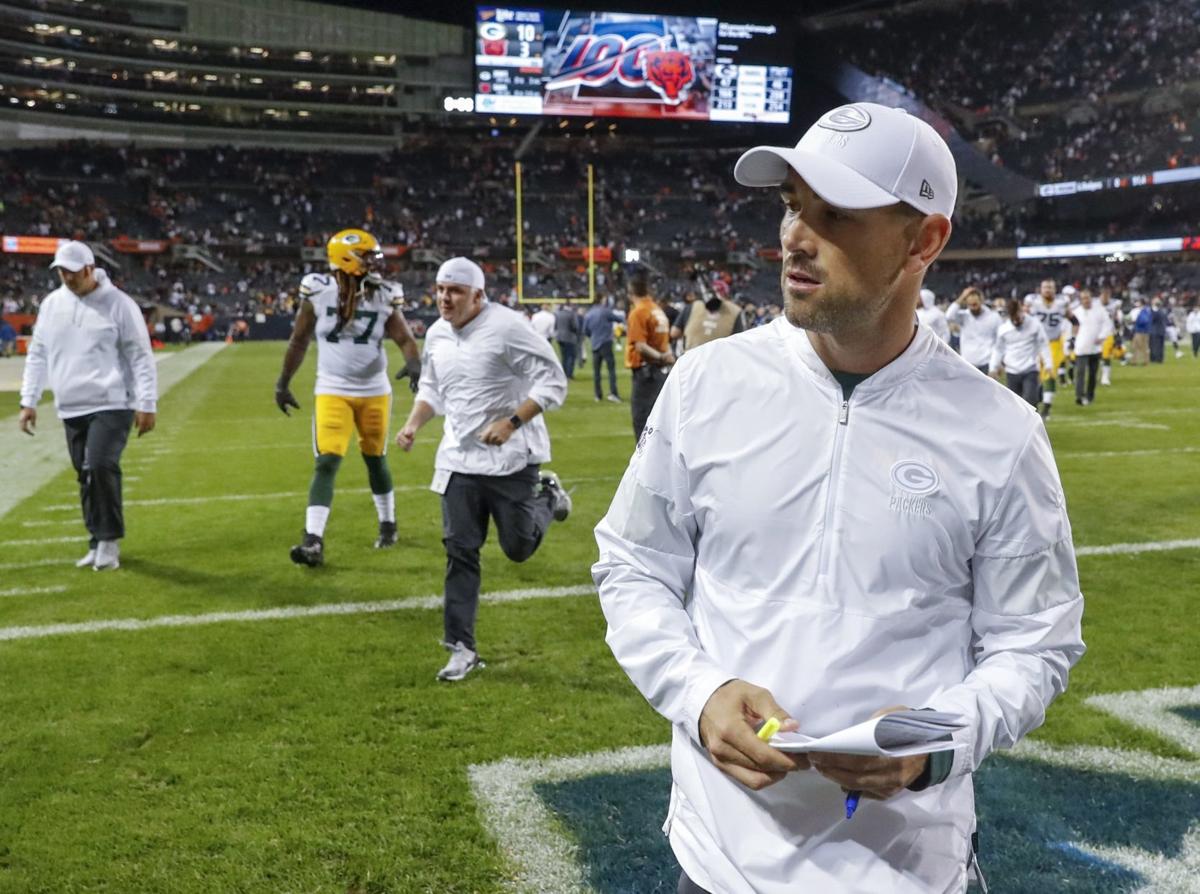 GREEN BAY — Bryan Bulaga was there, in the room where it happened.
He didn't need to wait a day until the Green Bay Packers posted the video on their team website or wait for it to spread swiftly across social media. The veteran right tackle saw it, live, in the visitors' locker room of Soldier Field, in the aftermath of the team giving Matt LaFleur his first victory in his first game as an NFL head coach.
LaFleur was nearing the end of his postgame speech to the team and, truth be told, rambling a bit — "I don't even know what I say half the time," he would later confess — when one of his players interrupted him from behind: Quarterback Aaron Rodgers — the player for whom LaFleur, a former quarterbacks coach and one of the NFL's new generation of offensive wunderkinds, had been hired more than any other.
With Rodgers approaching the twilight of his likely Pro Football Hall of Fame career but having reached a point of irreconcilable differences with longtime coach Mike McCarthy, the Packers were looking to reinvigorate and reengage their 35-year-old quarterback, and they determined the smart and even-keeled 39-year-old LaFleur was the man for the job. Rodgers hadn't hidden his frustrations with McCarthy and the Packers' offensive scheme in recent years, and that irritation had led to questions about whether Rodgers had become uncoachable.
Facing the Chicago Bears' top-flight defense, playing in a new system and seeing game action for the first time since being knocked out of the team's Dec. 30 season-ending loss with a concussion, Rodgers had not played well in the Packers' 10-3 victory. But, perhaps surprisingly to some, he had owned every bit of his disappointing performance while crediting the Packers defense for being the true heroes of the night.
"Obviously I hold myself to a high standard," Rodgers would say later, "and I didn't play great."
Back in the locker room, still in his pads, Rodgers held a football in his left hand. On the game's final play, he'd taken the last snap from the victory formation, knelt and made sure he kept possession of the ball. Now, he slung his right arm around LaFleur's shoulder and spoke.
"Hold on, hold on, hold on," Rodgers shouted, and the room got quiet. "The defense should probably be giving him this, but it's not every day you get your first win as an NFL head coach …"
Hoots and hollers from the rest of the team drowned out Rodgers' last few words, and as Rodgers and the rest of LaFleur's players mobbed him, a wide smile stretched across Rodgers' face. As the mosh pit dispersed, Rodgers grabbed ahold of his coach one more time.
"I'm going to be a lot better moving forward," he told LaFleur.
You have free articles remaining.
Bulaga watched it all unfold, and a day later, he was still thinking about what the scene said about the Rodgers-LaFleur relationship that had been constantly scrutinized and dissected over the previous few months.
Now, one viral video does not a healthy relationship make. But Bulaga — one of only three players on the roster who've been teammates with Rodgers for a decade or more (cornerback Tramon Williams and kicker Mason Crosby are the others) — has seen far more than just Thursday night's postgame interaction. And he knows his quarterback as well as anyone.
"I think a lot of people were vocal about him not being open to working with coach LaFleur. And I think those are some hot takes that people that don't know him just make because of what they assume," Bulaga said. "And I think that's unfair to him.
"I think he's done everything he can possibly do to get on the same page with coach LaFleur and do things the way coach LaFleur wants them. People made a big deal about 'the audible thing,' but to be honest with you, there was nothing different that we noticed from when this stuff was installed until now. So what he and coach figured out, that's between them. But to us, the operation's running the same.
"I think it's in a good stage right now with them. They're new at doing this. He and coach, I think they're doing a great job communicating, with what Coach expects from the offense and with what Aaron's doing. I think they're doing things really well together, working things out. And that's huge."
To be sure, the relationship will not only grow and deepen — but it also will be tested. It's easy for the coach-quarterback dynamic to be all puppy dogs and ice cream when you win, but how will it be when the offense struggles, the team has lost back-to-back games, and fans are questioning if the scheme is as brilliant as advertised and if Rodgers is washed up?
For his part, Rodgers insisted the locker-room scene Thursday night was merely a continuation of his evolving relationship with his coach. Last month, he had grown frustrated with constant queries about it.
"We have a great line of communication. I'm not sitting up here wishing, 'I wish (people) just knew this ...' I don't care," he said midway through camp. "Look, I don't need to go out and prove to anybody how great Matt and I are getting along or have him stand up there and say how great it's been."
Rodgers' tone was different on Thursday night as he reenacted that locker-room scene that would later find its way to every Packers fans' smartphone or tablet. He sounded genuinely thrilled for LaFleur and optimistic about what lies ahead.
"Like I said (to the team), it's a big deal winning your first NFL game as a head coach. And I'm happy for him," Rodgers said. "Obviously it's a lot of fun working with him. (And) I'm excited about the season, I'm excited about these guys. I turned to (security director) Doug Collins and (defensive coordinator) Mike Pettine, who were standing kind of behind me in the locker room. And just made a remark to 'em about how special that moment was."
Little did Rodgers know at the time how special what he'd done was to his coach. Not so much the game ball, as the I'm-going-to-be-better vow, to which LaFleur responded in kind.
"Heck, yeah. It always means something to me, especially because I have such a high regard for him, not only as a football player but as a person," LaFleur replied when asked about the exchange. "I can sit up here and talk all day about how much fun I have working with him, but I think that really shows our relationship (and) how it is.
"I told him I need to be better for him, too — not only for him, but all our guys."