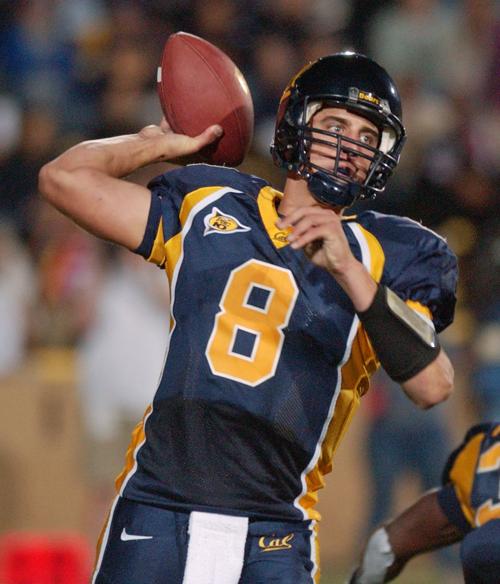 GREEN BAY — There was a time not too long ago when Aaron Rodgers was so down on the University of California-Berkeley and how it treated his former head coach that he wouldn't even say the school's name during prime-time television introductions.
But thanks to Golden Bears head coach Justin Wilcox, a former University of Wisconsin assistant, the schism between Rodgers and the school has been resolved. And Cal's football program is at least $1 million richer for it.
The school announced Tuesday that it had received what it called a "seven-figure gift" from Rodgers, which will be used to renovate the football locker room (which will in turn bear Rodgers' name) and also endow a scholarship that will be given to a junior-college transfer – just as Rodgers was before playing the 2003 and '04 seasons for the Golden Bears.
Rodgers signed a four-year, $134 million extension last August, putting him under contract with the Packers through the 2023 season. The deal included $98.7 million in guarantees.
Rodgers' generosity to the school is in large part because of Wilcox, who's entering his third season in Berkeley after spending 2016 as the Badgers defensive coordinator. Wilcox, who is seven years older than the 35-year-old Rodgers, was coaching the Golden Bears' linebackers when Rodgers played there under head coach Jeff Tedford.
"I loved my time at Cal. We had a lot of fun there in my two years. And Justin Wilcox was a buddy at the time," Rodgers recalled after the Packers' first practice of their three-day mandatory minicamp. "He wasn't that much older than some of us JUCO guys, and to see him go from assistant linebacker coach to around the county and even to the University of Wisconsin as a big-time defensive coordinator, (then) getting him back as a head coach was important to our program.
"One of the first things that he did was he reached out to a lot of us from those '03 and '04 teams and brought us back into the fold and made us feel like we were a part of the program again. I think that's the beauty of college athletics, that you can do with the right people in charge – charismatic people who care about furthering the university's sports programs, and as far as the football program is concerned, raising men who are going to be great husbands, great fathers, great businessmen and great in their community. That's what Justin and his staff are doing."
Rodgers was not shy about expressing his frustration with the school's 2012 decision to fire Tedford after compiling an 82-57 record in 11 seasons, including a 3-9 finish in his final year. Appearing on his weekly ESPN Wisconsin radio show at the time, Rodgers excoriated the school for not giving Tedford the facilities to be a more effective recruiter as other Pac-12 schools improved theirs. Tedford, who discovered Rodgers at Butte when he was there scouting another player, was fired one year after the long-promised upgrades were done to the stadium and the football area.
"It's a terrible decision, terrible decision. And I think it's disrespectful, too," Rodgers said then. "Coach Tedford endured some pretty difficult situations down there while his competitors -- Oregon, Washington, Arizona schools -- continued to improve their facilities. Now, you get some facilities in there, you get a new stadium, you get an awesome new top deck over there that can overlook the (San Francisco) Bay, you get a 100-yard weight room. You have some competitive facilities now where you can really recruit some kids. And what do they do? They fire him. The winningest coach in history. It's just a shame."
Rodgers struck a vastly different chord Tuesday.
"My issue was that for years they promised Jeff they were going to get it done, so Coach Tedford was recruiting, even to my class in December of 2002, and they didn't get finished until after he was fired. So he didn't get a chance to really recruit to those facilities," Rodgers explained. "We had the nudist folks have a rally there, we had the people living in trees, we had lawsuits. Like we always say, 'Only in Berkeley.' But they finally got it done. The facilities are amazing now.
"This helps out with the locker room because there's some other schools in the Pac-12 now that really have some big-time money behind them and it makes it a little more difficult to recruit some of those kids who are choosing between a Cal and a Stanford and an Oregon – well, not Stanford really, but maybe a Washington. It just gives us a chance."
Wilcox replaced Sonny Dykes, who went 19-30, including 10-26 in conference play, in four seasons following Tedford's firing. The Golden Bears went 5-7 in Wilcox's first season in 2017 and 7-6 last year, including wins over Washington and USC before a loss to TCU in the Cheez-It Bowl.
"We are thrilled and grateful that Aaron is making this important investment in the Cal football program," Wilcox said. "Aaron's gift will help provide our student-athletes with a tremendous place to gather and prepare for all our football-related activities. It will also be great to show recruits visiting our campus a top-notch space and the level of support our program has from one of the greatest to ever play the game."
Rodgers, who made a $1 million donation to support relief efforts in the wake of last year's California wildfires, seemed proudest of the scholarship endowment, which will help players just like him.
"Being a junior college player and having a scholarship that goes to a junior college transfer really means a lot to me because I was that guy and there I think nine other guys in our class who were I think a big part of turning the program around under coach Tedford," said Rodgers, who left Cal just shy of his degree. "The junior college players that we've brought to the program were really important during those two years not just for the talent on the field but the culture. A number of us actually played in the NFL – anywhere from a few years to many years. Those JUCO kids can really improve a program quickly, so to have a scholarship for those guys is really important."
Be the first to know
Get local news delivered to your inbox!