GREEN BAY — Aaron Jones credited just about everyone and everything but himself.
Coach Matt LaFleur and his play-calling and scheme. The offensive line and its blocking. The tight ends, wide receivers and their downfield blocks. Quarterback Aaron Rodgers and his play-fakes after handoffs.
"It all goes hand-in-hand," the Green Bay Packers third-year running back said. "Without them, it doesn't get done."
Perhaps, but without Jones — whose slashing, one-cut style the Packers believed was a perfect fit for LaFleur's outside zone run-blocking scheme — the Packers' run game probably doesn't spring to life the way it did in Sunday's 21-16 victory over the Minnesota Vikings at Lambeau Field.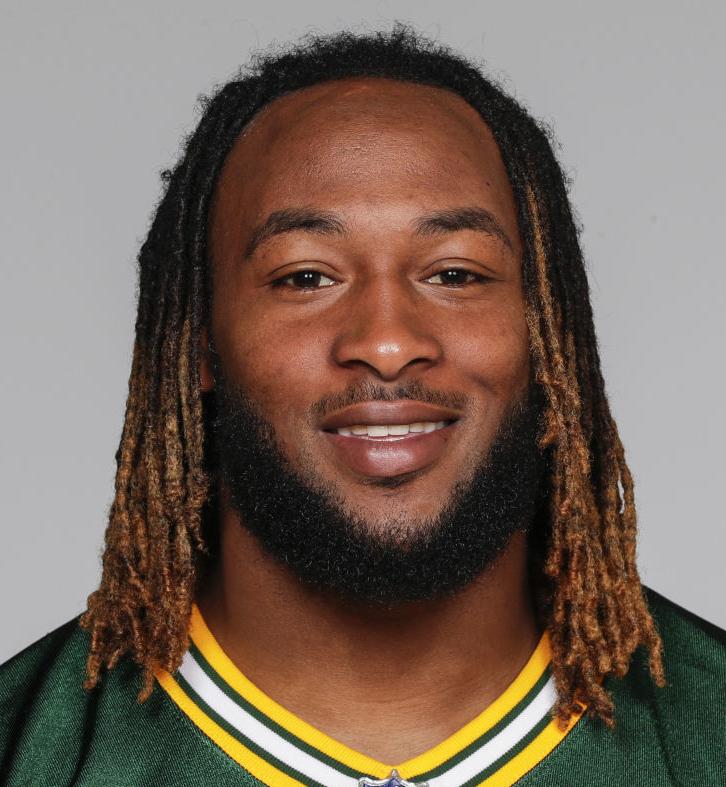 Jones carried a career-high 23 times for 116 yards and a touchdown, and also caught four passes for 34 yards. He was targeted six times in the passing game, tying a single-game career high.
"He did an unbelievable job. In fact, he was our player of the game on offense," LaFleur said as the 2-0 Packers shifted their attention to this Sunday's game against the 0-2 Denver Broncos at Lambeau Field. "He did a great job."
While Jones did share time with Jamaal Williams, who had nine carries for 28 yards and caught three passes for 13 yards, it was evident Jones is a difference-making player. After missing most of training camp and sitting out all four preseason games with a hamstring injury, he and the offensive line seemed somewhat out of sync in the season opener at Chicago, with Jones carrying 13 times for just 39 yards.
That was not a problem against the Vikings. He gained 15 yards on a swing pass on the second snap of the game — the play was later officially changed to a run because it was not a forward pass — and then picked up 6 yards on a traditional run play. On the next play, Williams scored a 15-yard touchdown on a nifty catch-and-run on a middle screen.
You have free articles remaining.
Register for more free articles
Stay logged in to skip the surveys
Interestingly, the swing pass to Jones and the screen pass to Williams for the touchdown came out of identical formations, with Rodgers in the shotgun and flanked by each back. Just as had been the case on the swing pass, Jones went in motion from the right to the left side of the formation, but this time, Rodgers quickly pump-faked to Jones, then turned and hit Williams, who followed blocks by center Corey Linsley, right guard Billy Turner and left guard Lane Taylor to the goal line, where Taylor shoved him across the plane and into the end zone.
"That's what we're trying to do, is to have multiple plays that start out looking the same that are different. That's part of our philosophy," LaFleur said of the two plays. "I knew that was something they probably hadn't prepared for because we really hadn't shown much on tape unless they were going back to last year in Tennessee (where LaFleur was the Titans' offensive coordinator in 2018). We like to present something new to a defense each and every week."
LaFleur explained on the first play, Rodgers had the option to either hand off to Williams or throw the swing pass to Jones. It's clear on the second play that Jones' motion draws the Vikings defense's attention before Rodgers shifts to Williams and gets the ball out of his hand quickly.
"Usually, you have a progression of how you want it to go in your mind to try and set something up," LaFleur said. "We actually had (the first play designed) so he could either hand the ball off to Jamaal or throw the little swing pass to Aaron, just depending on how the defense reacted to it. So it was an option for our quarterback to either hand it off or throw it to Aaron. And then the screen (to Williams) came off of it."
Through two weeks LaFleur has shown while he prefers to shuttle different personnel in and out throughout the game, he does seek out the most effective lineup combinations and uses them when they're hot. In Week 1 against the Bears, formations with two tight ends ruled the day, and the tight ends finished with seven receptions for 72 yards and a touchdown. Against the Vikings, LaFleur used the Williams-Jones tandem on and off throughout the game and got production from both.
"It adds a lot. If you put two playmakers on the field, they don't know who's getting the ball," Jones said. "You see me fly across one way, the first time they threw it to me. The second time I fly across, (Rodgers) fakes it to me and throws it back to Jamaal and everyone is running over there with me. There's a 1-on-1 and Corey picks up (Vikings linebacker Anthony) Barr and Jamaal is going in to score with Lane pushing him in."
Added Williams: "They ain't used to seeing two backs in there, me and Aaron at the same time. I felt like that helps out the offense a little bit more because we can put one in motion, we can have one running the ball (or) have one out on a route and one blocking. It's just picked your poison, really."
While Jones ended up playing only 43 of the Packers' 74 offensive snaps, he wound up touching the ball on 27 of those plays. Williams played 34 snaps and had 12 touches. He can probably expect a similar workload going forward, and he's just fine with that — even though he was a little surprised by how many opportunities he got against the Vikings.
"It just developed during the course of the game. I looked up and I was like, 'Man, I already have 15 carries,'" Jones said. "I'm just like, 'I'm liking this.'"