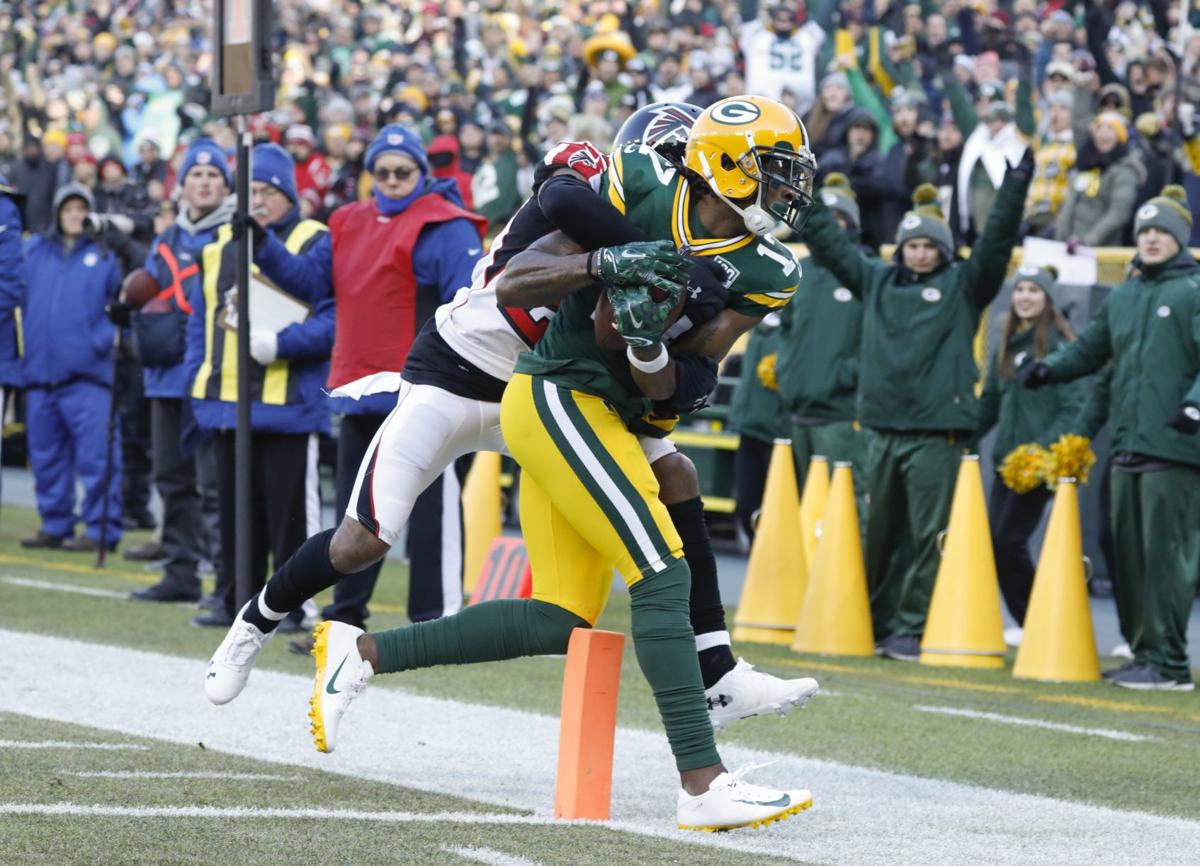 GREEN BAY — Predictably, Joe Philbin made it about his guys – and not himself – afterward.
"I'm really proud of the way the team responded this week," the Green Bay Packers' new interim head coach said following the team's 34-20 victory over the Atlanta Falcons Sunday at Lambeau Field. "Like I said to them, 'This is a players' game.' And they really stepped up."
That Philbin, who became the man in charge seven days earlier when the Packers fired longtime head coach Mike McCarthy after nearly 13 years on the job, would say something like that was in no way surprising to quarterback Aaron Rodgers, who has known Phlibin for nearly 15 years, or wide receiver Davante Adams, who'd never had Philbin as a coach until Philbin returned to the team as offensive coordinator 11 months ago.
Or even to cornerback Bashaud Breeland, who joined the Packers midway through the season and, as a defensive player, scarcely had heard Philbin speak before McCarthy's dismissal.
"Everybody just bought in. You could feel it around the locker room, you can feel it in plays. Everybody bought in to what Joe has given us," said Breeland, whose 22-yard pick-six interception return for a touchdown in the second quarter gave the Packers a double-digit lead on the Falcons, who never got closer than that again.
"He took control the first day he stepped in. It was a glorious moment for him to step in and get this win. It was a glorious moment for us to help him get this win."
Yes, make no mistake: With Philbin at the helm Sunday, the Packers were different. Maybe not the roster, maybe not the playbook. But the approach was different, the execution was different, the feeling was different – and the result was different for the now 5-7-1 Packers.
"It was new. It was like we hit the restart button a little bit," said Adams, who caught seven passes for 81 yards and a touchdown. "But nothing drastic happened. It was just more so the mentality, and how we had to approach this game."
Said Rodgers: "Like I said in the locker room (to the team), Joe's been a part of a lot of great wins around here. A lot of incredible moments over the years as an important part of what we've done, as the offensive coordinator. But it's fun to give him his first win as the head coach. He's a passionate guy, he really cares about the guys.
"He was in a tough situation this week with the change and trying to get the right messages across to get guys motivated at a time where we're 4-7(-1) and most people expect us to maybe throw in the towel. And guys didn't. Guys responded. I'm proud of them … but Joe deserves a lot of credit for the vision he set forth this week."
What the Packers' vision for the final three weeks of the regular season will be is hard to say. Remarkably, they still haven't been mathematically eliminated from playoff contention – "It's the truth," Rodgers said with a smile – and while they're 5 1/2-point underdogs for next week's game at NFC North-leading Chicago, the way they played against the scuffling Falcons (4-9) was encouraging.
Especially after how listless they'd been in their embarrassing loss to lowly Arizona a week earlier – an uninspired performance that led to McCarthy's firing less than an hour after the clock struck 0:00.
"We wanted to play complementary football and that's what we haven't been doing well this year," veteran defensive back Tramon Williams said. "When the offense got moving, the defense may not have been playing well. When we were playing well on defense, maybe the offense wasn't. That's what we wanted to do, and as a team today, we did that.
"When changes are being made, two things are going to happen. Either you're going to have a lot of energy, it's going to be breathe a little more energy into you, or it's going to deflate you. We didn't want to be deflated. We came in and we brought the energy and the focus today, and we're glad that it showed on the field."
It showed almost immediately on offense, as Rodgers (21 of 32, 196 yards, two touchdowns, 103.1 rating) directed three touchdown drives of 70 yards or more – more than the offense had put together in the previous two games combined (two) and tying their victory over Chicago on opening night and their loss to the Los Angeles Rams on Oct. 28 for the most such drives in a game this season.
The key? Third-down success, as the Packers converted 7 of 13 third-down situations (54 percent). In their previous three games combined, the Packers had picked up just 8 of 35 third downs (22.9 percent) in losses to Seattle, Minnesota and Arizona.
"Very refreshing," Rodgers said. "That was the key. And we did it in different ways. I think we hit like a third-and close to 15 there to Davante. We had some third-and-mediums, third-and-2 or 3 in the first drive that got things going. That's the key for us."
On defense, Breeland's interception was one of two takeaways for a unit that came in having forced just 11 turnovers. The Falcons actually outgained the Packers (344-300) but went just 3 for 12 on third down (25 percent) and picked up a host of garbage yards after Green Bay carried a 34-7 lead into the fourth quarter.
Whether the Packers can parlay it into three more victories – over the Bears at Soldier Field, against the New York Jets at MetLife Stadium on Dec. 23 and in the regular-season finale against Detroit on Dec. 30 – remains to be seen, but for a team that looked dead in McCarthy's final game as coach, at least they showed some life Sunday.
"It was an emotional week. We all know that," Philbin said. "I feel very happy for the organization and the players and the staff and everybody that works so hard to make this such a unique place. There was a lot of emotion. And I told the team – and I meant it: I was very, very proud to be their head coach today.
"It's not always going to go this way. It's not always going to be 34-7 (in the fourth quarter). But you know, it was a good way to spend a Sunday afternoon."
Jason Wilde covers the Packers for ESPN Wisconsin. Listen to him with former Packers and Badgers offensive lineman Mark Tauscher weekdays from 9-11 on "Wilde & Tausch" on 100.5 FM ESPN Madison.
Be the first to know
Get local news delivered to your inbox!