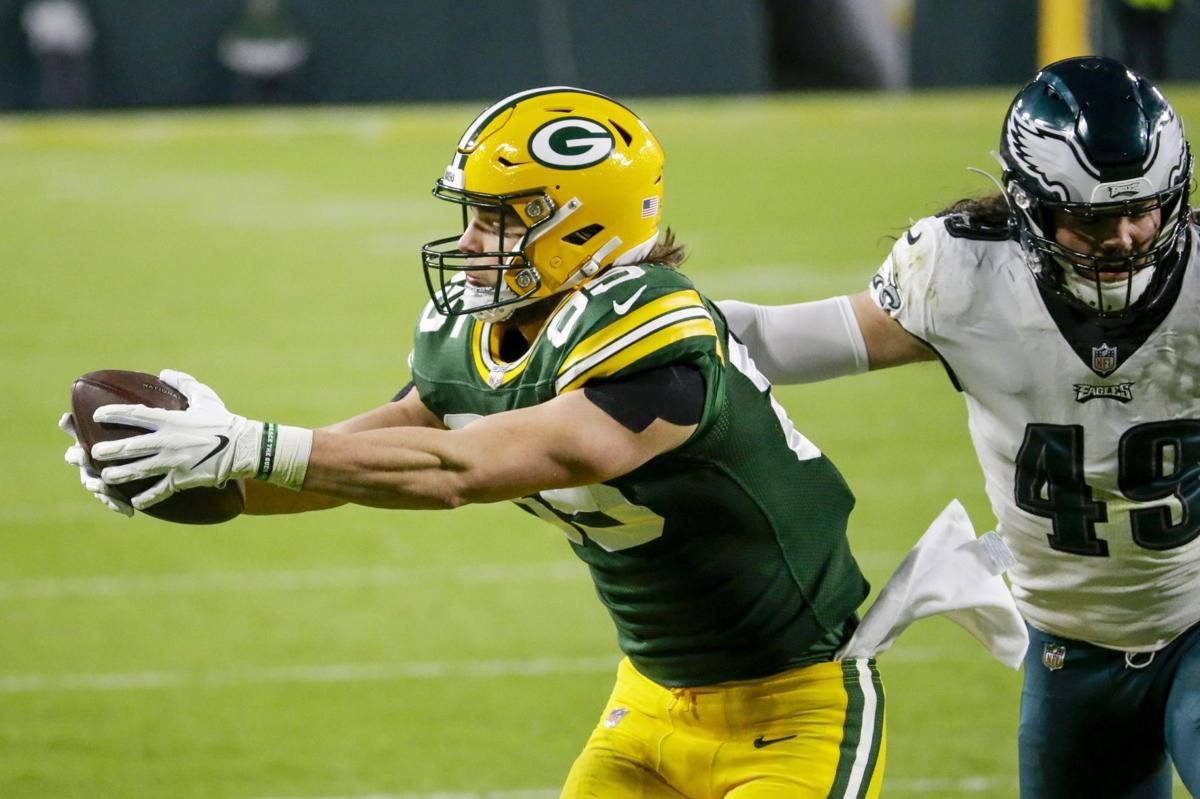 GREEN BAY — Aaron Rodgers can't necessarily say he saw this coming. But he had an inkling.
Three years ago this week, the Green Bay Packers two-time NFL MVP quarterback was on injured reserve, working his way back from a broken collarbone and leading the scout team while backup Brett Hundley prepped for that week's game against the Cleveland Browns. Rodgers' short-lived comeback was still a week away.
And that week, the Packers signed to their practice squad a little-known ex-college quarterback who'd moved to wide receiver late in his career and now was trying to be an NFL tight end as an undrafted free agent.
The kid's name? Robert Tonyan.
"You knew it," Rodgers said proudly, "early on."
At least he did. But not even Rodgers, who was tearing up the No. 1 defense in practice that week, could have predicted the level of growth he's seen from Tonyan, who enters Sunday's game against the Detroit Lions at Ford Field with 41 receptions for 497 yards and eight touchdowns. Only star wideout Davante Adams has more receptions (84) and touchdowns (13), and only Adams (1,029) and Marquez Valdes-Scantling (518) have more receiving yards.
After two seasons of flashing his ability only to be constrained by limited playing time (2018) or injury (2019), Tonyan appears to be the lead tight end the Packers have spent years searching for — from Jared Cook in 2016, to Martellus Bennett and Lance Kendricks in 2017, to Jimmy Graham and Marcedes Lewis in 2018 and '19.
Rodgers credits Lewis, who remains with the team as a veteran leader, strong blocker and occasional pass-catcher, and Graham, who was cut with a year left on his contract with the Packers and is now playing for the Chicago Bears, for helping Tonyan learn and hone his craft. Then, there are the offseason workouts Tonyan has had with one of his best buddies in football, San Francisco 49ers All-Pro tight end George Kittle.
But Tonyan has taken those lessons and applied them while simultaneously finding his comfort zone both with his body (6-foot-5, 237 pounds) and his game.
"I think picking up the preparation habits, and then learning how to be a pro, has been so important," Rodgers explained. "He's always had the confidence. Once he felt comfortable with his body with the weight that he's carrying — I think you've seen him really take off in all phases of what it means to be a tight end.
"I'm not surprised given some of his workout partners in the offseason. When you're around guys like that, you can't help but pick up some of the things that make those guys great. It's fun to see him with so many touchdowns this year and a lot of the hard work that he's put in come to fruition. That's always the tough thing for professionals — and you might not have the numbers that reflect the way that you're playing. But it is nice for Robert to have the stats to back up the progress he's made."
Rodgers also credited Tonyan's improved football IQ — "The best guys that we've had have that intelligence with route running," Rodgers said — while coach Matt LaFleur, offensive coordinator Nathaniel Hackett and tight ends coach Justin Outten also have noticed Tonyan is one of the players who has benefited most from being in the second year of LaFleur's scheme.
"He was a guy that we were really excited to get and see in Year 2 of this system," LaFleur replied when asked what he went into this year expecting from Tonyan. "We were really hoping to get a lot of those questions answered during (the offseason program). Unfortunately, that did not happen. But you've got to give Bobby a ton of credit for how he approached the offseason, going down to Nashville (with Kittle), working his tail off. Coming back, you could just see it in his body. He seemed more explosive. He was bigger and stronger, and it's translated.
"I think I can speak for Aaron in this regard: He's got a lot of confidence in Bobby and in his ability. I know we do as a staff in terms of not only in the pass game but in the run game. And he's definitely provided us with a lot of big plays this year."
Indeed, Rodgers has an astronomical 150.3 passer rating when targeting Tonyan, who has caught 41 of his 47 targets. Of the Packers' 55 plays of 20 yards or more this season, 48 of them have been passes, and of those, Tonyan has accounted for nine. Only Adams (13) has more.
"It might sound weird, but it's like a proud dad watching a kid go out and do this thing, and it finally clicks," Outten said. "He's worked his tail off the last couple years here and just getting his chance, it's cool to see. He's an emotional player, and you've got to be an emotional person in this game because it's a rollercoaster. You're battling through adversity all the time, and then finally when you get your chance and you're able to capitalize, it's really exciting to see."
Hackett, meanwhile, said he also saw a change in Tonyan's demeanor this season. While like Rodgers he believed Tonyan had confidence last season, he at times seemed overwhelmed by the process of learning a new scheme and it weighed on him. Now? That's not a problem.
"I feel like he's having a lot more fun. And I think it started earlier — it wasn't after the success that he's been having this season. He was just really enjoying himself right when we came into the building," Hackett explained. "I think that's allowed him to grow and be excited about ball. Not that it wasn't that he wasn't as excited last year. I think that when you're learning a new system, when you're trying to see where you fit and you've gone through some injuries and some of the things that he had to deal with last year, I think he's just been able to grow into the player that he is now. And I think that he's just going to continue to grow and get better."
For his part, Tonyan seems to have taken his success in stride — "It is nice to get more opportunities," he said, "(and) I'm definitely an improved player from last year" — but to find someone raving about him, you'd have to look elsewhere.
"His intelligence is a big part of (his success)," Rodgers said. "He just really understands the game, really understands timing really well, and it's paid off for him. He's made a number of big plays for us, we've called plays for him, which is great. He's done a really nice job of catching the ball consistently, and I think he's become a much better runner after the catch, too. His entire game has improved in his time here, and now he's getting the touchdowns to prove it. So I'm happy for him."
Dill activated from COVID-19 list
The Packers activated running back AJ Dillon from the reserve/COVID-19 list, where he'd been since Nov. 2 after a test he took a day earlier before the Packers' game against Minnesota came back positive. While he wasn't among the players who spoke to reporters via Zoom on Thursday, he posted on Twitter of the virus, "I'll be the poster boy for it's no joke!"
Happy to be back out there... remember Covid hits everyone differently! I'll be the posterboy for it's no joke! I appreciate all the support throughout the process. https://t.co/LJSWfOcy0j

— AJ "The Sauce" Dillon (@ajdillon7) December 10, 2020
It's unclear if Dillon will play Sunday against the Lions.
Extra points
Wide receiver Equanimeous St. Brown (concussion) was able to practice on a limited basis, indicating he has advanced in the concussion protocol. Tight end Jace Sternberger, who also sustained a concussion last week against Philadelphia, once again did not practice. … Wide receiver Malik Taylor was added to the injury report with a hamstring injury.
---
Photos: Packers' 2020 season so far in pictures