There are so many things that end up being out of Morgan McDonald's control when he runs a distance race that preparing any kind of plan is a futile effort.
Afterward, he can analyze and scrutinize himself and others and see where he fit in.
McDonald has a similar outlook when he's asked to identify his place among the best male distance runners in University of Wisconsin history.
There's a long list of accolades that could serve as testimony for McDonald. Three NCAA championships this school year along with three previous All-American finishes are at the top of his resume, with his tally of Big Ten Conference titles carrying over onto a second hand.
But he's not interested in any comparisons to his role models, not while there's another race to run.
"It's not like I really put myself in the same level as them," McDonald said. "And it's something that I always feel like I'm still striving for."
McDonald will have a go at a fourth NCAA title in his senior year and a place among an exclusive group of athletes on Friday night when he runs the 5,000 meters in his last race for UW.
The names that McDonald ticks off as role models are a who's who of Badgers distance runners: Chris Solinsky, Simon Bairu, Matt Tegenkamp, Mohammed Ahmed and Tim Hacker.
Should McDonald have a seat at that table? Absolutely, UW director of cross country and track and field Mick Byrne said, but not necessarily because of the times he has crossed the line first.
"(It's) what he's done to elevate our program," Byrne said. "Great kid in the classroom, great personality, and people are just drawn to Morgan. Back in November, when he won that cross country title, you could feel it. You could feel what he's meant to this university, you could feel what he's meant to the sport of cross country in our state."
The NCAA Track and Field Championships begin June 5 in Austin, Texas.
McDonald is among six Badgers athletes competing at the NCAA meet in Austin, Texas, that runs Wednesday through Saturday. Fellow Australian Olli Hoare, a junior, is in the 1,500 meters, which he won last year.
Seniors Banke Oginni (shot put) and Trent Nytes (decathlon), junior Amy Davis of Madison (10,000 meters) and sophomore Alissa Niggemann (steeplechase) also qualified.
As with all athletes at their level, they had to sacrifice at least some of the normal life of a college student for their sport. With McDonald, that realization came in a whirlwind freshman year in 2014.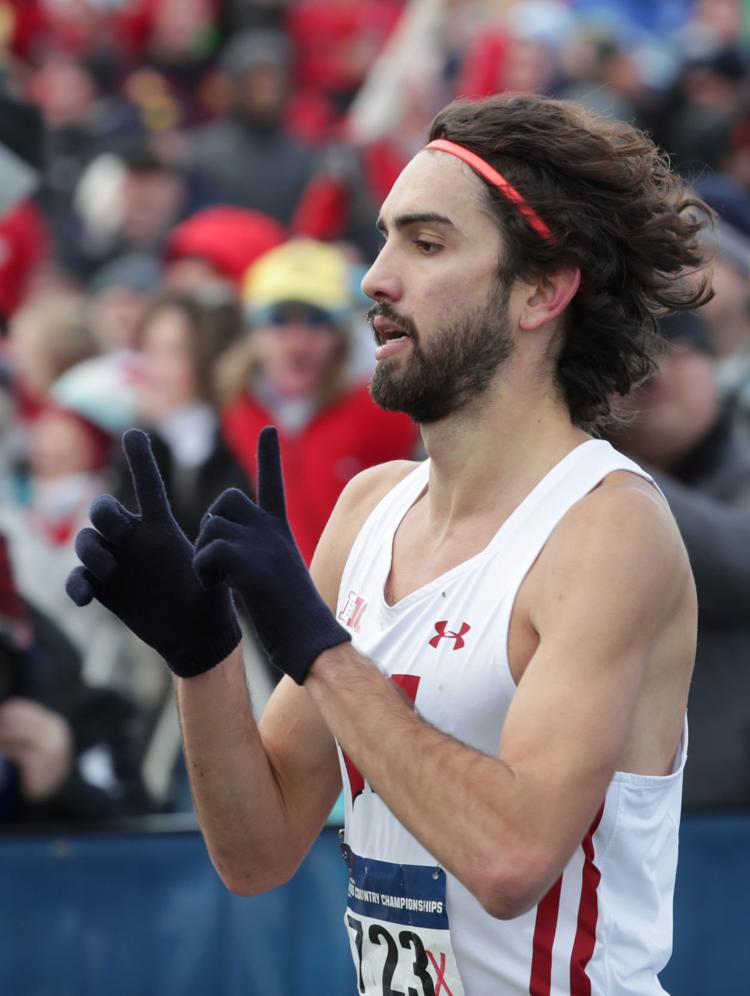 You have free articles remaining.
Register for more free articles
Stay logged in to skip the surveys
Already just trying to keep up with the adjustments to college life and being on the other side of the globe from his Sydney home, McDonald got called in for a talk with Byrne about committing to a lifestyle that would give him the best chance at running excellence.
"There's definitely (times) when he had to sit me down and maybe tell me off for doing certain things, but a lot of it is he expects you to take a certain amount of responsibility of yourself," McDonald said. "He definitely is trying to promote independence in us as people and as athletes."
All Byrne has to do is point at the results that have followed for McDonald to show the commitment has paid off.
McDonald, who redshirted last season so he could run in this race on the Badgers' home course, outkicked Stanford's Grant Fisher to capture the fifth individual championship in UW history and the first since Simon Bairu won his second consecutive title in 2005.
Already a six-time Big Ten champion, McDonald won his first NCAA title last November on home turf. His cross country victory on a snowy Thomas Zimmer Championship Course led the way for another conference trophy — in the indoor 5,000 meters — and a 3K/5K double at the NCAA indoor meet in March.
An eighth conference crown came in May, when McDonald won the 10,000 meters in his first time competing at that distance on the track.
A victory in the 5K in Austin would make him only the third men's runner to win the cross country, indoor 5K and outdoor 5K titles in the same school year. Oregon's Galen Rupp (2008-09) and Edward Cheserek (2015-16) are the others.
"There's a growth factor there for all athletes," Byrne said. "He decided very early on in his career that he wanted to be a world beater, he wanted to compete on the world stage and the Olympic Games, and he's going to get that opportunity next year. He's already competed at the World Championships. And he's a three-time NCAA champion. When he switched on the light switch, then look what happened."
It's not hard to see the close connection between McDonald and Byrne, who joked that McDonald is in the coach's office so much that he should have the couch named for him.
McDonald said the lines of communication have always been open with Byrne, which has contributed to his development.
"And we don't always agree on everything, necessarily," McDonald said. "But I have complete faith and trust in him. So I know that together we're always going to work through the problems and find the best solutions."
McDonald soon will start a pro career, with the World Championships later this year and next year's Tokyo Olympics in his sights. Like with a race, he's not planning too far ahead because of the different ways things could play out.
But he'll be taking a lot of what Byrne has shared with him. High on the list is the need to be fully committed to the lifestyle, even though that's coming more naturally now.
"If you're not enjoying it, if it's something that's really that hard for you to do, then maybe it's not for you," McDonald said. "If you're not loving it, then what's the point?"