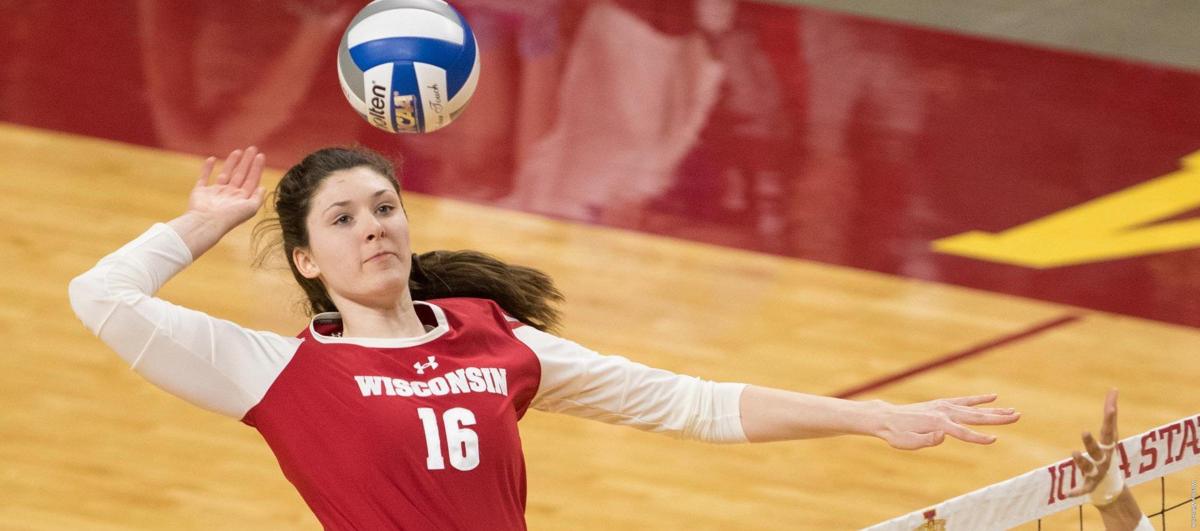 University of Wisconsin junior Dana Rettke has been named to the 14-player roster for the U.S. Women's National Team that will open play in the FIVB Volleyball Nations League in Ruse, Bulgaria.
Rettke, a 6-foot-8 middle blocker, is the youngest member of the U.S. team and one of three players with college eligibility on the overall 25-player roster, joined by libero Mary Lake of BYU and opposite Jordan Thompson of Cincinnati.
The U.S., which won the first Volleyball Nations League last year, opens the tournament against Belgium on Wednesday and then faces Japan on Thursday and host Bulgaria on Friday.
The VNL is a 16-nation league that includes 15 pool play matches for each country spread over five weeks. The top five teams from the preliminary rounds will compete along with host China in the VNL Final Six from July 3-7.
Rettke, a two-time first-team All-American, was second in the nation and led the Big Ten Conference with a .423 hitting percentage last season. She also ranked sixth nationally and led the Big Ten with 1.54 blocks per set.
Former UW setter Lauren Carlini, who led her Igor Gorgonzola Novara team to the European Champions League Super Finals gold medal on Saturday, also is a member of the 25-player U.S. roster.
With many of the more experienced players just completing their pro seasons, coach Karch Kiraly is going with a youthful squad for the first round-robin tournament. In addition to the three collegiate players, five others will be making their debuts in FIVB senior-level competition.
You have free articles remaining.
"Last year's first-ever edition of VNL was a huge hit with fans and teams alike," Kiraly said. "We're looking forward to an even-better version in year two, to learning how this youthful week one roster responds to the fierce challenges that top-level international competition will surely provide, and to laying the foundation for great development in the years ahead."
Ten of the 14 players selected for the first week of action are products of Big Ten programs.
Setters (2): Micha Hancock (Penn State), Jordyn Poulter (Illinois).
Liberos (2): Megan Courtney (Penn State), Mary Lake (BYU).
Middles (4): Chiaka Ogbogu (Texas), Dana Rettke (Wisconsin), Hannah Tapp (Minnesota), Haleigh Washington (Penn State).
Outsides (4): Mikaela Foecke (Nebraska), Madi Kingdon Rishel (Arizona), Simone Lee (Penn State), Sarah Wilhite Parsons (Minnesota).
Opposites (2): Annie Drews (Purdue), Jordan Thompson (Cincinnati).
The U.S. team will host Korea, Germany and Brazil for matches June 4-6 at Pinnacle Bank Arena in Lincoln, Nebraska.