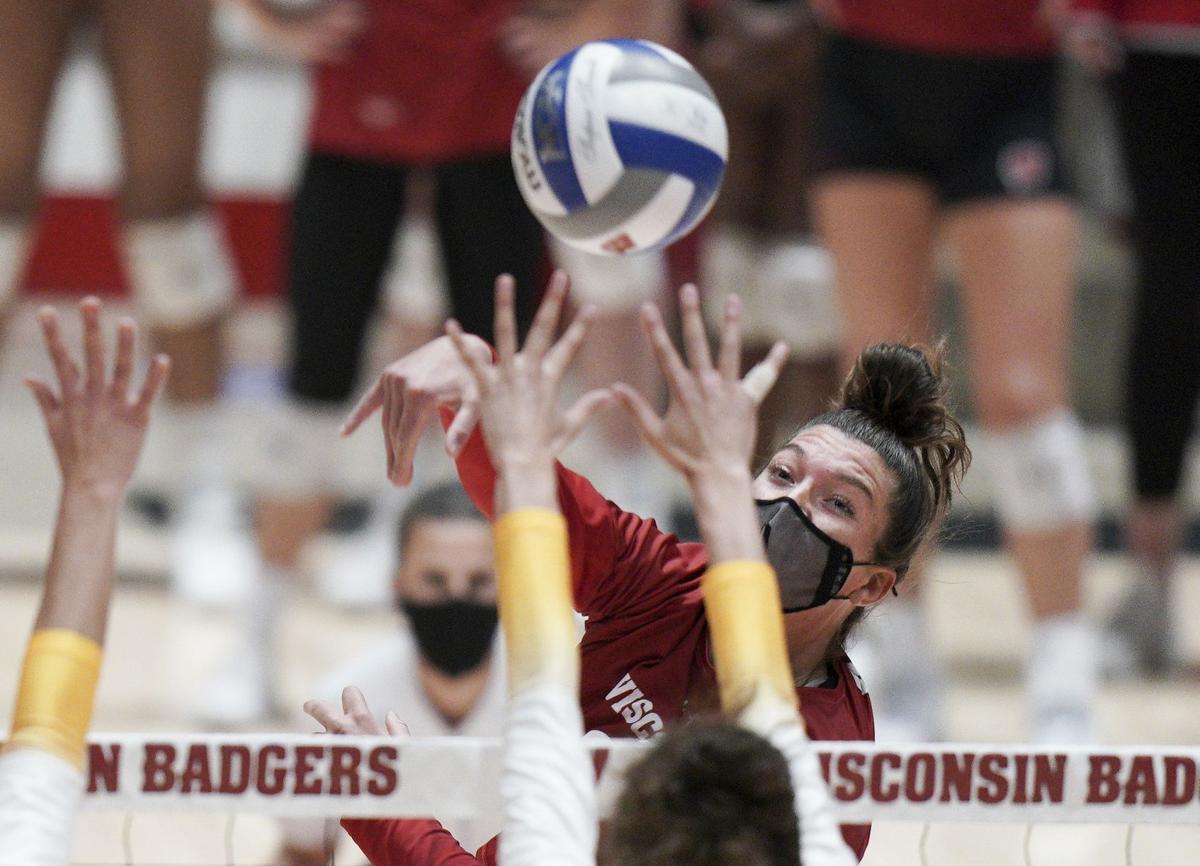 The University of Wisconsin volleyball team, which has been ranked No. 1 all season in the coaches poll, will go into the NCAA tournament as the No. 1 seed.
The Badgers received the top overall seed for the first time in program history Sunday when the tournament field was announced.
The Badgers, who were runners-up to Stanford in the last tournament in 2019, will be looking for their first national championship.
"This is obviously a talented team and they have goals of being the last team standing," coach Kelly Sheffield said. "One thing that this team has been really special at is trying to win the day, being good on that day, whether it's in a practice or in a match."
The Badgers will get a first-round bye in the tournament, which will be held entirely in Omaha, Nebraska. They will face the winner of a first-round match between Bowling Green (22-1) and Weber State (18-1) in a second-round match at 6 p.m. (ESPN3) on April 15.
While the No. 1 seed is a coveted distinction, it is less significant this year in that it doesn't provide a potential home-court advantage through the first four rounds as in previous years.
"It's why I'm not sure the seeds matter too much this year," Sheffield said. "You're really trying to get one of those top four seeds in a normal year because you want to play in front of your home fans. That's just incredibly beneficial. But this year we can't do that because they're all in Omaha, so it's not as big of a deal as it's probably been in the past."
The COVID-19 pandemic has affected the entire season, beginning with shifting it from the fall for most teams to the spring. And its impact will continue into the tournament, starting with the reduction in the field from 64 to 48.
That means the top 16 teams will get first-round byes, which leaves the seeded teams with some uncertainty about their opponent as they head to Omaha next Monday.
"Typically right now you know who you're playing and you're typically playing on Thursday or Friday," Sheffield said. "So the turnaround is really quick against a known opponent. Now it's quite a bit further away from you and it can be one of two opponents."
Sheffield said he and his staff will begin researching the two possible opponents but that he doesn't really know much about either of them.
"That's the thing with this season, there was no out-of-conference matches and you're so focused on your own team and trying to stay healthy," he said. "There just hasn't been a whole lot of watching anybody else outside of the league. You could ask me about just about any team in the country and if they're not in the Big Ten I wouldn't have a real good handle on them.
"That's one of the good things. We've got a week and a half to learn as much as we can about these teams."
Without knowing much in the way of particulars, Sheffield appreciates the accomplishments of both of the potential first-round foes in going through their seasons with just one loss apiece.
"These are teams that have had great seasons," he said. "They've obviously won a lot and with winning comes a lot of confidence. They've had great years and have had to persevere through things like all of us had. I'm really looking forward to learning more about these guys and locking in on our first-round opponent, whoever that may be."
UW is one of six Big Ten Conference teams in the field, with all of them chosen among the 16 seeds — No. 3 Minnesota; No. 5 Nebraska; No. 7 Purdue; No. 9 Ohio State and No. 13 Penn State.
The seeded teams in the Badgers' portion of the bracket are No. 8 Florida, Ohio State and No. 16 BYU.
The Badgers have advanced to at least the Sweet 16 in each of the past seven seasons.
UW finished with an undefeated record for the first time in history, but there's some discrepancy in that record. The Big Ten awarded the Badgers two forfeit victories over Northwestern, lifting their record to 15-0. But the NCAA doesn't recognize those forfeits and lists UW's record as 13-0.
The first-round, second-round and regional semifinal matches will take place in the Convention Center while the regional final, national semifinals and national championship matches will take place in the CHI Health Center Arena. The regional finals will be played April 19 with the national semifinals on April 22 and the championship match on April 24.