There was one rule whenever the Barnes family got together for a family volleyball game in their backyard in Naperville, Illinois.
Lauren and Caroline never were allowed to be on the same side.
That had something to do with preventing their competitive natures from getting in the way of team spirit.
"Caroline and I are very wired the same way," Lauren said. "We're all very competitive, especially when it comes to sports. We have a little experience competing against each other, but just in backyard family fun volleyball."
The stakes will be considerably higher Sunday when Lauren takes the court for the University of Wisconsin volleyball team, while her sister Caroline lines up at defensive specialist for the University of Illinois.
That match, of course, is secondary right now for both teams as the No. 5 Badgers (9-1, 1-1 Big Ten Conference) focus on Friday night's meeting with No. 7 Minnesota (7-3, 2-0) at the UW Field House while the Illini (10-3, 2-0) take on No. 4 Purdue (10-1, 2-0).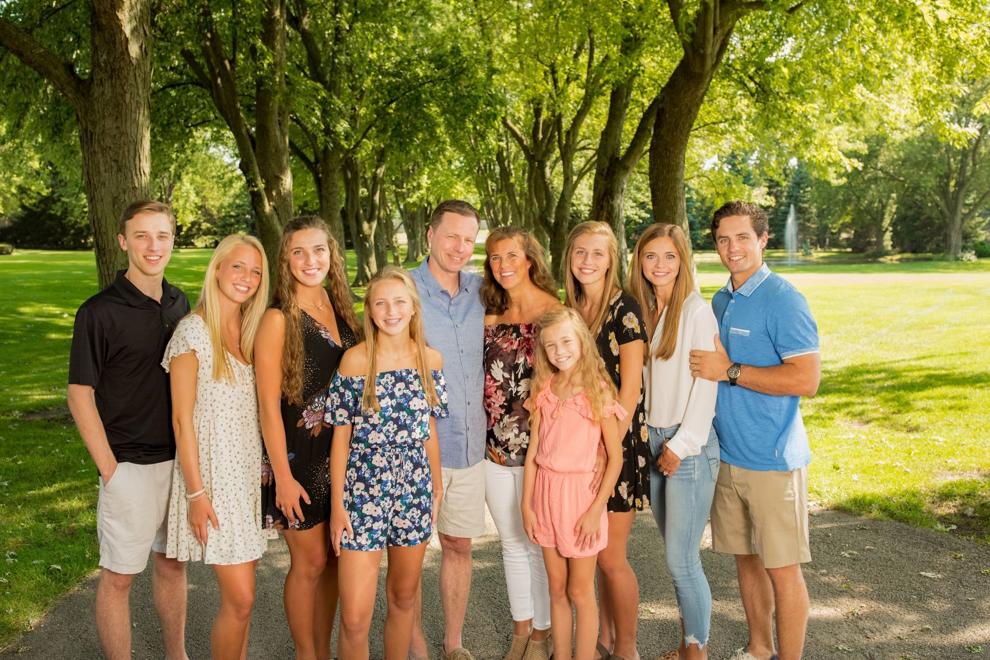 All significant matches. But Sunday's match holds a special attraction for the Barnes family.
It's a situation the family never anticipated with the sisters four years apart in school. But the COVID-19 pandemic opened the possibility for Lauren to return to UW for a fifth season to overlap Caroline's freshman year.
"It's kind of weird because in my mind, going through college and her going through her recruiting process, I was excited for her to pick a school, but there would never be an opportunity for us to play," Barnes said. "I would be done and I'd just get to cheer her on.
"But with COVID and everything, now I get the chance to play against her. I haven't really processed that yet. It probably won't sink in until I see her across the net. But I think it will be a fun match, a once-in-a-lifetime thing, at least for my family."
Make that a twice-in-a-lifetime thing since the teams will meet again a week later in Madison.
The Barnes family figures to have a large contingent at each venue. But that's a way of life for the Barnes family — parents Lee and Michaeline and their seven children: Nicki, 26; Lee, 24; Lauren, 22; Kathryn, 20; Caroline, 18; Jennifer, 16; and Jillian, 12.
It is an athletic bunch. Nicki played volleyball at Marquette (2013-16), Lee played hockey at Marquette (2017-19) and Kathryn spent a season with the volleyball team at St. Mary's in Notre Dame, Indiana. Jennifer and Jillian are on track to follow in their sisters' footsteps.
The kids all share a good work ethic and competitive spirit, according to their parents.
"We always said work hard, use your gift," Michaeline Barnes said. "That's what we always stressed. Dig in and let's go."
While all seven exhibited that approach, Lauren and Caroline always amped that up a bit. Hence their separation in family games.
"We always joke that it will be the first scrap ever on a volleyball court if somebody gets aced by the other," Lee Barnes said. "But they're good buddies. Being four years apart probably helped with the direct competitiveness, in sports especially. Those two don't have a middle ground, whether it's a backyard volleyball game or the Final Four, they're going the same way. Much to the chagrin of whoever they're playing in the backyard. They both have that mentality, that if you're going to do something you might as well go all out.
"Lauren and Caroline hate to lose. They're always going all out, like I'm going to will this team to win. They've both always been like that, more than the others."
That approach helped Lauren become a second-team All-American libero last season for the Badgers, who have advanced to the NCAA Final Four in both of her two seasons since transferring to UW from Minnesota following her sophomore season.
And Lauren sees many of the same traits in Caroline, who at 5-foot-11 is 5 inches taller than her "big" sister.
"She's doing a great job," said Lauren, who has been able to watch several of her sister's matches. "She owns her role and she really helps her team a lot."
The two text three or four times a week and they FaceTimed on Sunday when both had a day off.
"They talk all the time," Michaeline Barnes said. "They're good support for each other. Caroline is just getting her feet wet at this level and she looks for guidance and support from Lauren. I think it's nice that they have someone who is going through similar things as they are."
Lauren Barnes already had dreams as a middle schooler of being a Badgers player ... a Badgers hockey player, that is. She started out by tagging along with her brother and cousins and soon was competing with the boys. She switched in seventh grade to the Chicago Mission girls program, where she played until her sophomore year.
"Growing up I wanted to play hockey and I thought that was going to be my sport in college," she said. "I always had big dreams to play here."
Barnes mostly played right wing and concedes she was not a great goal-scorer.
"I didn't have the strongest shot," she said. "I more saw the ice well and could open it up for other people."
As much as she enjoyed hockey, Barnes concluded in her sophomore year she had to pick one sport.
"It was a close call," she said. "But it was getting to the point where I wanted to excel in one or the other and I didn't have the time to do the extra work in both. I ended up picking volleyball and I haven't regretted that decision."
Her father agrees she made the right call.
"I think she could've played at Division I in hockey," he said. "Whether she would've risen to the level she's at now, I don't know. She had a little tentativeness on the ice that I don't ever see on the volleyball court."
Barnes began her college volleyball career at Minnesota and played defensive specialist there for two seasons before deciding to transfer to UW.
That led to some understandably emotional matches the past couple seasons as she competed against her former teammates. But now, three seasons removed, there isn't quite the same spark to Friday's match beyond its significance in the conference race.
"It's definitely a little less weird now, just because I haven't played with as many girls on the team anymore," Barnes said. "In my first two years I knew the whole roster. Now there are some girls that I maybe only met during their recruiting process and some I probably haven't met at all. It's different. I'm approaching it like every other Big Ten match."
She'd like to say the same thing about the Illinois match. Officially, she says there's no added pressure to keep her younger sister from getting the upper hand. But she knows better.
"As the big sister, I'll show her who the big sister is, make sure we take care of business," she said.