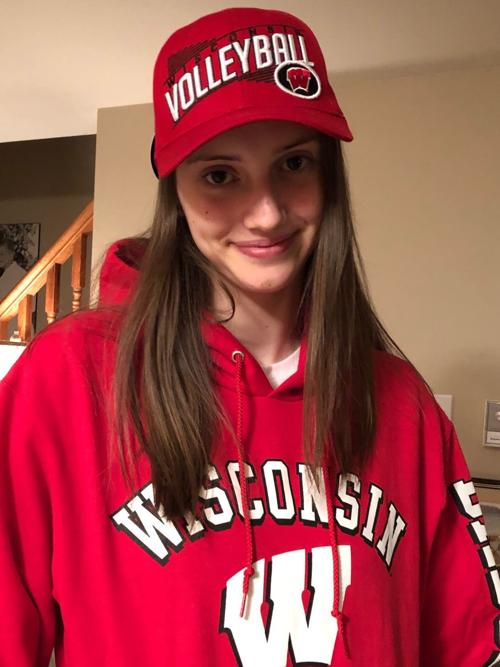 The comparisons are inevitable and unavoidable.
A 6-foot-8 girl comes to volleyball at a relatively late stage, possessing rare coordination and athleticism honed through years of dance training, but relatively unrefined compared to her peers as she makes a college commitment during her sophomore year.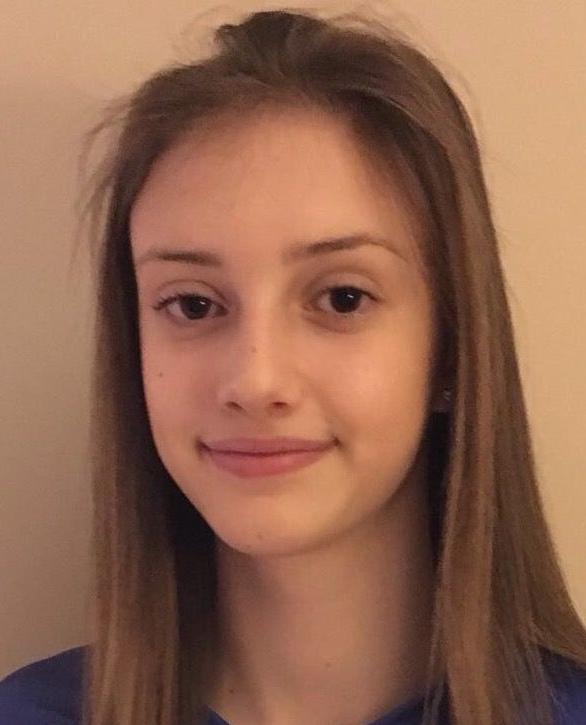 That describes Dana Rettke, the two-time All-American middle blocker for the University of Wisconsin volleyball team. And it also fits her likely successor, Anna Smrek, a 15-year-old from Welland, Ontario, who committed Thursday to join the UW program as the first member of the 2021 recruiting class.
While the task of following in the footsteps of one of the greatest players in program history might seem daunting to some, it was a big part of the appeal to Smrek, who has been following Rettke's career from afar for a couple years.
"We found her online and we were very impressed, especially seeing that there aren't so many people like me," said Smrek, who measures 6-8½ in shoes. "Since we are so similar in our physicality, just knowing how good she has gotten while being at Wisconsin, I know that they know how to train people like me with our height and how we move."
Kevin Horne, Smrek's coach at the Defensa volleyball club in Burlington, Ontario, said UW coach Kelly Sheffield and his staff emphasized the parallels between Rettke and Smrek in making their recruiting pitch. And he has no doubt that his pupil is up to the task of living up to that high standard.
"I know it's going to be impossible to avoid the comparisons because there are a lot of similarities," Horne said. "But Anna, as humble as she is, she's also incredibly competitive. She's going to go into it thinking, I don't want to be the next Dana Rettke, I want to be the next Anna Smrek.
"I totally get it, that there's going to be comparisons and it's cool that they've got another version of that player who's going to hopefully be able to take it to another level. I don't mean that as any discredit to Dana, because I know she's an incredibly strong player, but I just know that Anna has incredibly big aspirations for where she wants to get in this sport as well."
Which is an amazing turn of events for a player who as recently as 18 months ago had only a scant familiarity with the sport when she first came to Defensa.
"When she came to the club she didn't know if she was supposed to hit with her left hand or her right hand," Horne said. "So we gave her a ball and told her to throw it against the wall. She threw with her right hand, so we said you're right-handed. So the progress she's made in 16 to 18 months has been pretty impressive."
The buzz about Smrek began about a year ago after she made a couple of good performances in tournaments and grew as more people got to see her play as a member of Canada's Junior National team in the summer.
Things really took off after legendary Munciana volleyball club coach Mike Lingenfelter came to Canada to work with the Defensa club and began singing her praises.
"As soon as he went back home, that's when it really started blowing up," Horne said. "People knew about her but having his word behind it really solidified that this kid is the real deal.
You have free articles remaining.
"I think Mike told Kelly you've got to go look at this kid and you've got to do it now. I think that was huge for Anna, that Kelly was willing to pack his bags and travel right before they were about to enter the tournament to come see this kid. It spoke volumes as to how much of a priority she was to them."
The Defensa club had produced three previous Big Ten players — Autumn Bailey and Allyssah Fitterer of Michigan State and Penn State's Tori Gorrell — but the recruiting interest in Smrek reached a whole new level. Handling the daily emails and phone calls became almost a full-time job for Horne.
Michigan State had something of a leg up at first, but Penn State, Louisville, Ohio State and Washington also were among the schools in pursuit.
"You name it and they were there," Horne said.
But it didn't take long for Smrek, whose brother Luke is a tennis player at Marquette, to become enamored of UW.
What did she like best about UW?
"Basically everything," said Smrek, who came to Madison with her parents in January to look around campus. "There's no reason not to want to go to Wisconsin. It has the program that I like, the way they coach, the people, the whole image and the goals that the school works toward, I feel in my heart that that's where I need to be."
Horne said that Smrek continues to make rapid strides in all facets of the game and that she is almost automatic when attacking in system. He said her biggest area for improvement will be blocking.
"I think she can turn into a dominant blocker and a point scorer off her block," he said. "We're going to do everything we can to help her develop that part of her game but when she gets to Wisconsin and Kelly it's going to be pretty crazy to see what they're able to do with her in that part of her game."
Like Rettke, Smrek grew up as a dancer, from the age of 3 until she finally took up volleyball a couple of years ago at the insistence of her maternal grandfather, who coached water polo in Croatia.
"Always being taller than everyone else it was a lot harder to keep up with the timing," she said. "I always had to move just as fast and kick just as high and just as fast, so that definitely did help when I came into volleyball just with the movement."
Unlike Rettke, who focused on basketball until she was a freshman, Smrek never really played basketball, even though her father, Mike, spent seven seasons in the NBA as a 7-foot center and earned championship rings with the Los Angeles Lakers in 1988 and '89 while backing up Kareem Abdul-Jabbar.
"Even though my dad played basketball he never tried to force me into loving it," she said. "He's always been very supportive in having us do what we wanted to do. I played a little in elementary school just for fun but never really wanted to play it as my sport."
And that just could prove to be a blessing for the Badgers.
"She's a unique kid," Horne said. "I just know they're getting a really special, special kid."