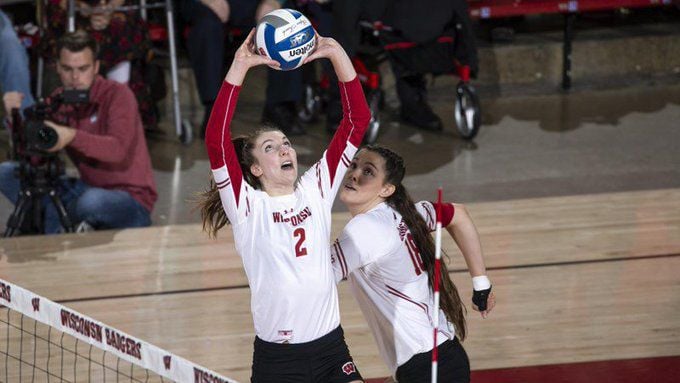 The role of a setter in volleyball often is equated with that of a quarterback on a football team.
So it's only natural that University of Wisconsin setter Sydney Hilley seeks input from Badgers quarterback Jack Coan from time to time. It's even more natural considering that Coan is her boyfriend of nearly two years.
"He comes to some of our games or watches them online and I'll ask him what he thinks," Hilley said. "I'll ask about leadership things because as a quarterback you have to be a really great leader and you have to know so much. I thought I had to know a lot and he shows me all the plays he has to know and I'm like, oh my gosh.
"It's really great that we can kind of bounce things off of one another because we are in very similar positions. There's a lot of pressure on us and a lot of leadership responsibilities. So it's cool that I get to be close to someone who also experiences those things."
Hilley, a 6-foot junior from Brooklyn Park, Minnesota, is coming off perhaps her best week as a Badger, leading the team to back-to-back victories over then-No. 5 Penn State and at then-No. 2 Nebraska.
She averaged 12.6 assists as the No. 7 Badgers hit a combined .339 in the two matches. That performance earned her Big Ten Conference Player and Setter of the Week honors and Tuesday she was named National Player of the Week by the American Volleyball Coaches Association.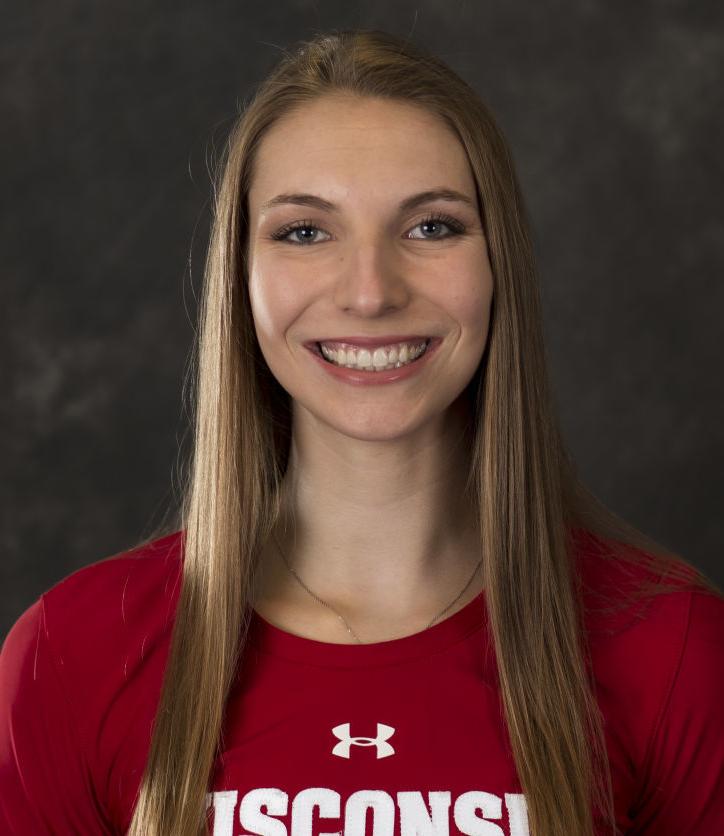 That done, Hilley's focus is to do even better this week as the Badgers (8-4, 4-0 Big Ten) travel to Northwestern (9-7, 0-4) Wednesday night before hosting No. 6 Minnesota (10-2, 4-0) on Sunday.
She subscribes to coach Kelly Sheffield's guideline that allows 20 minutes to celebrate a victory before moving on to the next match.
"Like Kelly always says, you can't keep patting yourself on the back because anybody can beat you," Hilley said. "If you're too busy basking in your accomplishments someone is going to get you."
Hilley has already accumulated her share of accomplishments since arriving on campus to succeed four-time All-American Lauren Carlini at setter. She's pretty much maintained that status, earning honorable mention All-American as a freshman and second-team status last season while leading the Badgers to the NCAA Elite Eight.
And this year Sheffield said Hilley is taking her game to an even higher level.
You have free articles remaining.
"It's certainly been fun watching her evolution," Sheffield said. "She came in as a really good player but I think anybody watching her is seeing that her game continues to evolve and it's probably never been better than what it is right now.
"I see a player that is totally trusting herself and trusting her teammates and playing free with a lot of confidence in a lot of people. Her range has gotten a lot bigger. She's got full command of the offense in transition right now. It's certainly fun to watch."
Middle blocker Dana Rettke, who has been with Hilley since they both enrolled early in January 2017, has witnessed a similar progression in her roommate and best friend.
"From day one to now she's definitely grown a lot as a leader," Rettke said. "She's constantly in that role of making her teammates better, pushing them in good ways and really being like the captain of this team. A lot of people look at her when things go south or when things are great. She's like our compass.
"Syd also has a very high volleyball IQ. She sees things I don't see multiple times. She has a really good read on the team as well. She has qualities I wish I had."
One of Hilley's biggest challenges as a leader has been to set aside her analytical nature at times and allow herself to have fun and show it while playing the game.
"As a leader I was never focused on that because I was so focused on what was happening on the other side, what should I be doing," she said. "But if you just take a moment to realize what an opportunity it is to play every game — even if you lose, this is going to be one of the best times in your life and you get to go play the sport you love with people you love in front of great fans.
"I've been trying to smile a lot more, maybe be a little sarcastic with them and look each other in the eye and let them know that I love them and trust them."
That point was driven home in the aftermath of a dreadful road loss to Washington, the kind of defeat that might fracture some teams, as it lowered the Badgers' record to 4-4 and cast doubts about their ability to achieve their lofty ambitions.
"After the match at Washington I got feedback that the things I was saying, the tone I was using was creating a little bit of stress, a little bit of panic in those really tight moments," Hilley said. "I really took that to heart and since then I've been trying to be more positive and forward looking."
That change of outlook has manifested itself at crucial points in matches. After repeatedly failing to close out matches early in the season, the Badgers have shown resiliency down the stretch in sets since the start of the conference season.
"Against Penn State and Nebraska we were down a lot but it never felt like we were down," Hilley said. "It felt like we had control because we were having fun and playing for each other and having each other's backs.
"I've always had a ton of confidence and trust in this team. Even when we were 4-4 in preseason and things weren't feeling awesome, I knew that we'd just get back in the gym and work and figure some things out. We're getting better every day and that's all you can ask for."