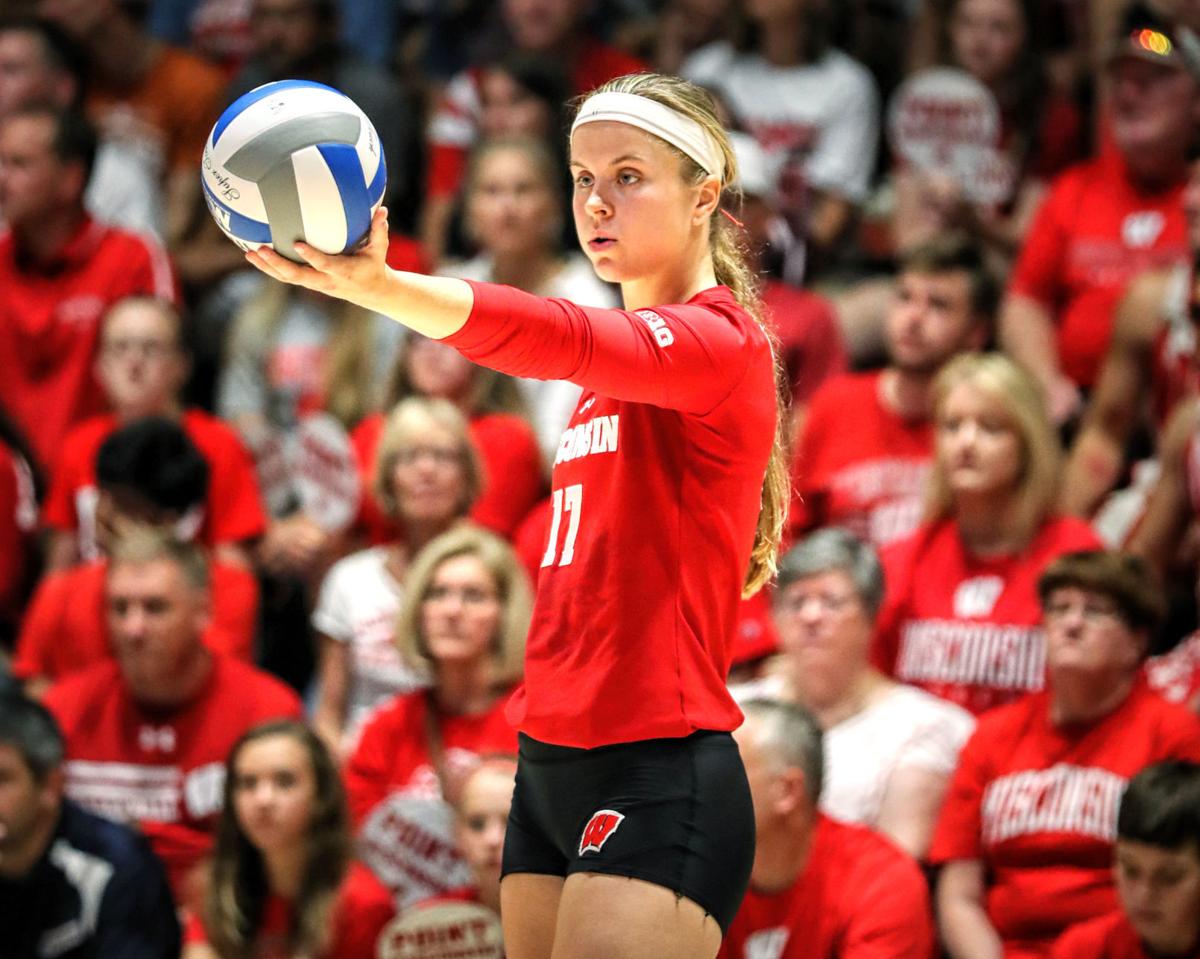 By next week the University of Wisconsin volleyball team figures to be No. 1.
Not in the American Volleyball Coaches Association poll — the Badgers currently are ranked No. 13 — but in the strength of schedule listing.
The Badgers (6-4, 2-0 Big Ten Conference) so far have played the second-toughest schedule in the nation behind Stanford, according to NCAA statistics. The Cardinal have been on a grueling run with eight consecutive matches against top 25 teams, including six against top 10 opponents.
UW hasn't been far behind, with six of its first 10 matches against current top 25 teams, including four in the top 10, led by this week's No. 1 team, Baylor.
And that schedule is going to get even tougher this week as the Badgers will face two top 5 teams, hosting No. 5 Penn State (9-2, 2-0) tonight and traveling to No. 2 Nebraska (10-1, 2-0) on Saturday.
"Those are two big league programs," coach Kelly Sheffield said, "and we're going to have to continue to get better defensively if we're going to give ourselves a chance against those two teams."
Defense, always a priority for the Badgers, has taken on heightened importance after some early season struggles that saw them drop to last in the Big Ten in opponents' hitting percentage.
But after a particularly abysmal performance at Washington (.457), UW got off to an encouraging start in Big Ten play, holding No. 15 Purdue and Indiana to a combined .127 hitting percentage.
You have free articles remaining.
Senior libero Tiffany Clark hopes a strong finish to Sunday's win over Indiana — .073 in the last two sets — will set the tone for the Penn State match.
"That last set, I felt on top of the world," said Clark, who had a season-high 23 digs against the Hoosiers. "I think everyone else did. Really good energy. Really just like playing for fun, having each other's back. I think that was the most fun I've ever had playing a set. We're really going to focus on carrying that feeling over into the Penn State match because that's when we play our best."
While Sheffield said he doesn't put any more emphasis on matches against programs such as Penn State and Nebraska than he does any other matches with his players, he knows his team will have to be at its best.
When it comes to the Nittany Lions, whose only losses came to Stanford and No. 4 Pittsburgh, he sees elite players everywhere he looks.
"There are athletes all over the place," Sheffield said. "They're just talented up and down. They know who they are and defensively they can give you a lot of issues.
"I think they've got one of the best liberos (senior Kendall White) in the country. They've got a setter (sophomore Gabby Blossom) that has stepped in and is doing a pretty good job.
"Their middles (sophomores Kaitlyn Hord and Serena Gray) are ridiculous. They're talented, they're fast off the ground, they've got arms, especially out of system they give you some issues blocking-wise.
"And they've got a special right side (sophomore Jonni Parker). They give her a lot of swings. She takes a lot of swings, in system and out of system. She's gritty and certainly fun to watch and can give you a lot of headaches."
Junior Molly Haggerty said she's learned to embrace Sheffield's philosophy of treating all opponents the same. But it's been a process. And no matter what you tell yourself, some matches just aren't quite the same.
"When I came first in, playing teams like Nebraska and Penn State, those were schools I watched when I was growing up and I got super pumped for those matches because I was going up against the best competition," Haggerty said. "Then once I realized that being in the Big Ten, every team is amazing and you have to prepare the same way. It really opened my eyes to how special the Big Ten is.
"But I think playing teams like Penn State and Nebraska gets your adrenaline going. You definitely can feel it, there's more energy in here when we play those big teams. I think our crowd is just as excited as we are for those matches."