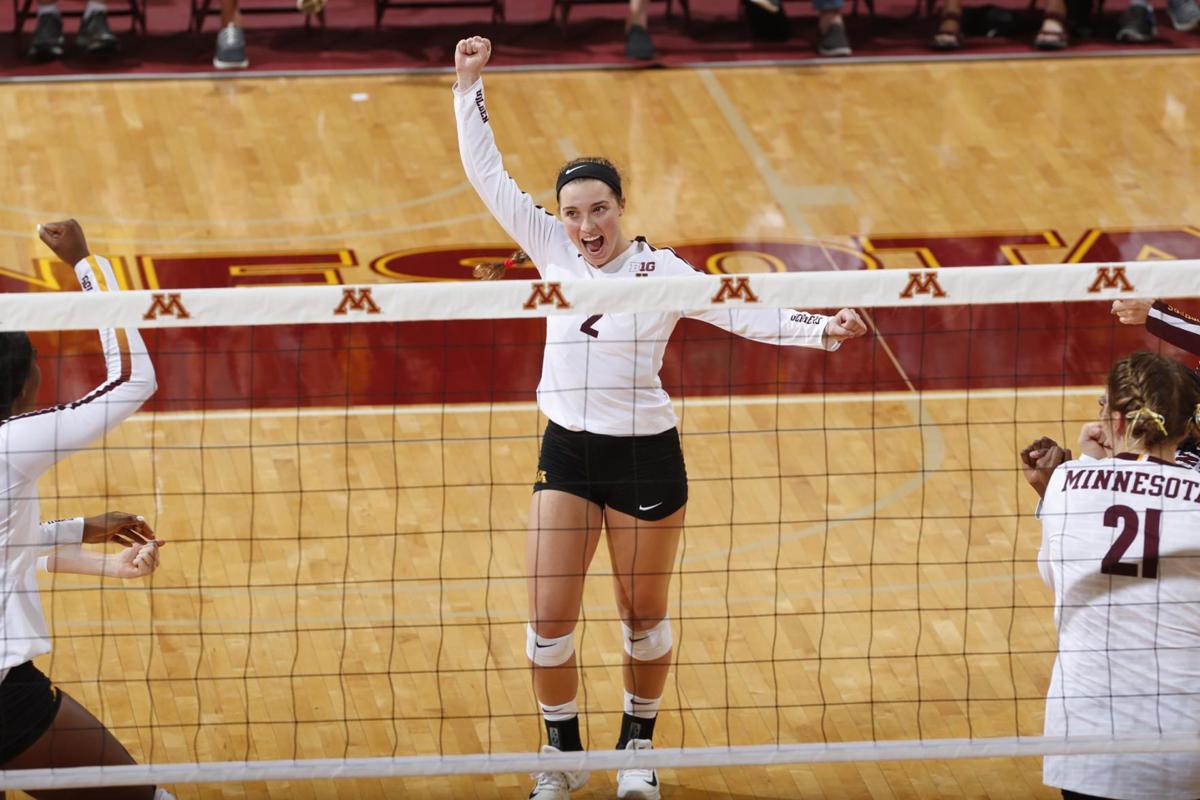 Kelly Sheffield wasn't really looking to add anyone to the back court mix for his University of Wisconsin volleyball team this year.
That was one area that appeared to be set with two senior co-captains, Tiffany Clark and M.E. Dodge, returning and promising incoming freshman Anna MacDonald expected to push for playing time.
But when Lauren Barnes' name showed up in the NCAA transfer portal, Sheffield was intrigued.
"She has spent two years kicking our butt," Sheffield said of Barnes, who spent the past two seasons as a defensive specialist for Big Ten Conference rival Minnesota. "She's really good.
"She's really an elite server. We had her as one of the top five servers in the Big Ten in just about every measurable way. And the two years that we've played against her there have not have been a whole lot of balls that we've served in her direction."
The Badgers won't have to worry about any of that going forward, as Barnes decided last week that she was going to transfer to UW for her final two years. She plans to appeal to the Big Ten for a waiver so that she will be eligible to play this fall.
Precedent would seem to be in her favor as the conference has granted immediate eligibility for the last two intra-conference volleyball transfers — Clark from Michigan to UW two years ago and Claire Sheehan from Iowa to Minnesota last year.
The 5-foot-6 Barnes played in all 65 matches and 225 sets during her two seasons as a Gopher. She averaged 2.6 digs per set and had 31 aces her sophomore season.
She said she had been thinking about transferring for a while but got serious about it a month ago. Contrary to common Minnesota speculation, her departure was not related to losing out to freshman CC McGraw for the libero spot last season.
"I would not say that is the reason I left at all," Barnes said. "I was looking for somewhere to go and compete and so I'm excited for my future. I'm going to leave what's in the past in the past and I'm ready to see my new beginning."
Barnes said she called a lot of coaches who had expressed interest before narrowing her list to four schools — UW, Nebraska, Texas and Washington. Ultimately, she cut that list to two schools — UW and Nebraska — for visits.
Her UW visit was April 12-13 and she liked what she saw.
"A big thing for me is academics and the business school really was awesome," she said. "I'd heard a lot about it before but then actually going there and talking to an adviser was awesome. And the volleyball aspect also is a huge part and I loved all the coaches and the girls. I fit in with the girls almost immediately. Just their idea of volleyball and competition is right where my mind is at."
Barnes had a head start in getting to know her new teammates. She and Clark were teammates for a season at Benet Academy in Lisle, Illinois, and she was a club teammate of middle blocker Dana Rettke at 1st Alliance.
Before Barnes came to campus Sheffield gave Minnesota coach Hugh McCutcheon a call to apprise him of the situation. And he took an unusual step in talking with Clark and Dodge about the possibility of Barnes joining the backcourt mix.
"That's not something I do very often," Sheffield said. "You don't go and look for permission from your players when you're going to bring somebody in. But what I wanted to make sure is that we're all on the same page, that we're not bringing someone in to replace them or that they're not getting the job done at the level we need so we're going to go out and do this.
"Tiff right away said, 'I played with her in high school, I love her, she'll be a great addition to our program.' M.E. right from the get-go said, 'Oh yeah, I'm all the way in. I've heard great things about her.' Both of them were genuinely excited about this as a possibility. It was a really mature outlook that both of them had."
Barnes joined a similar discussion during her visit and it helped set her mind at ease, even as Sheffield emphasized that playing time isn't guaranteed to anyone.
"We had a meeting all together and we're all honestly on the same page of whatever's going to be best for the team, whoever's going to be best on the court, we all want to win," Barnes said. "It's something that could be awkward but I think we're all on the same page, we're here to compete and win some games and we're willing to do whatever it takes to do that.
"I am pumped to be a Badger. I'm very excited. I haven't been able to stop thinking about it."
Be the first to know
Get local news delivered to your inbox!