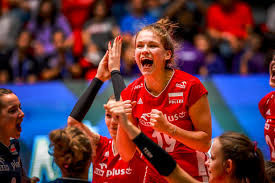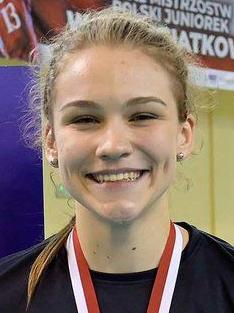 After the first of their two matches in Maribor, Slovenia, in June, the Polish U20 team posed for a giant group photo with the University of Wisconsin volleyball team.
Little did one of those Polish players, Julia Orzol, suspect at the time she someday would be wearing a UW uniform.
Orzol, just 16 at the time and the youngest member of the Polish team, apparently made a big enough impression on the Badgers that coach Kelly Sheffield would begin a long-distance recruitment and offer a scholarship just a few weeks later.
Likewise, the Badgers made a lasting impact on Orzol, as her eyes kept being drawn to the team on the other side of the net.
"I remember that their game made a huge impression on me," Orzol said in an email. "They played with so many positive emotions — joy, dedication, but all the time were focused on the win. Everybody seemed to do her best, even if she couldn't help in a physical way on the court."
After the first match the teams had dinner together and Orzol remembers talking with senior M.E. Dodge and freshmen Emma Whitehead and Courtney Gorum at her table along with several of her Polish teammates.
"The girls made such a good impression on me and I loved that evening we spent together," Orzol said. "In that moment I couldn't imagine that one day I could also have a chance to become a Badger."
After that initial exposure, the UW staff got another look at Orzol in July when assistant coach Brittany Dildine went to Mexico to watch her play in the FIVB World Championships.
She committed to UW in September, giving the Badgers a potential impact six-rotation outside hitter in their 2021 recruiting class, which also includes 6-8 middle blocker Anna Smrek from Welland, Ontario, and 6-2 outside hitter Lauren Jardine from Pleasant Grove, Utah.
"I felt so excited," Orzol said, "but I also knew that this decision would make me live far away from my family and home. I decided to join Badger family and I am sure it's the best choice I could make. I'll be able to make my dreams come true and be surrounded by people who have similar plans. Now I have two years left to join university and I can be peaceful about my future."
Orzol's future almost certainly includes a career in pro volleyball in Europe.
But Orzol, who is from Olsztyn, a city of about 175,000 located in northern Poland in an area known as "The Land of a Thousand Lakes," has spent the past two years in Legionowo, near Warsaw, attending school and training with other high level players. She had a chance to begin training and participating in pro games, but opted for a different path, shifting to a club in Stezyca, closer to her home.
"I made the decision not to join (the pros), because I think it's too early for me to begin this part of my volleyball adventure," said Orzol. "One day, when I enter pro volleyball world, I want to feel prepared for it. Now and in the near future I'd like to concentrate on details, technique, which pro teams don't have to focus on.
"Secondly, I also care about my school and education, so I don't want to neglect or leave it, because of my passion. I'm sure playing in Wisconsin will let me connect these two parts."
Orzol, who has never been in the U.S., said she never considered any other schools and hopes to set up a visit to UW sometime soon. She said math and English have always been her favorite subjects.
"English isn't my native language, so I am glad I'll be able to improve it in the best way possible -- by using it every day," she said.
Orzol, who recently turned 17, has been playing volleyball for nine years.
"As a child, I tried many things, even ballet," she said. "But after a few classes or trainings of practicing them I just used to get bored.
"This kind of thing has never happened to my volleyball passion. I can say this sport has become an integral part of me and I can't imagine leaving it. It gave me so many great lessons, experiences and thanks to it I met most of the important people in my life."
Be the first to know
Get local news delivered to your inbox!