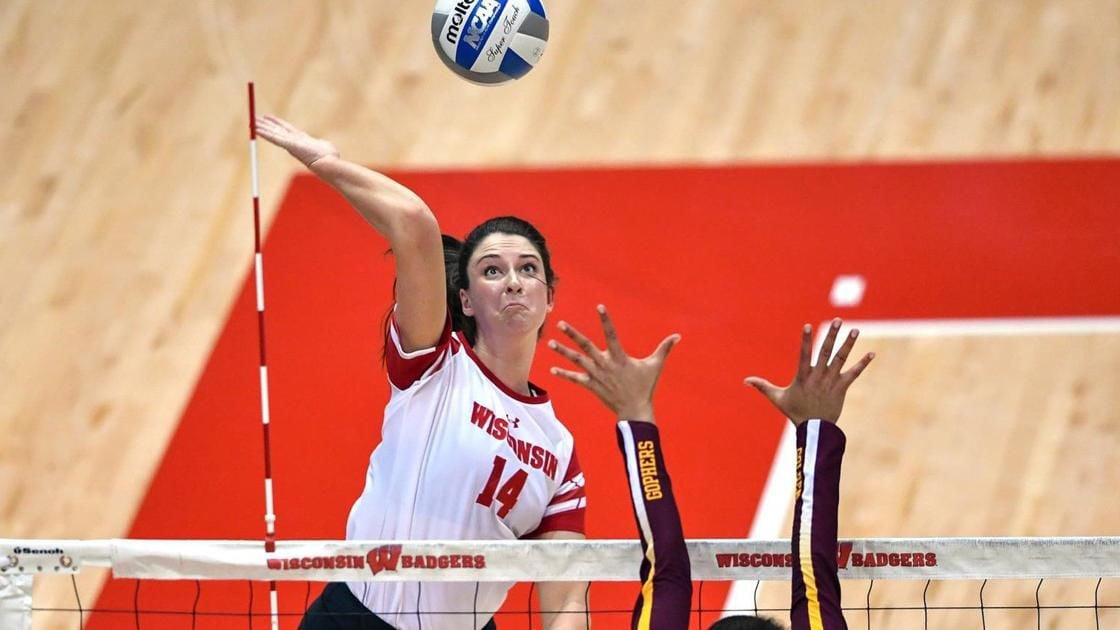 Madison Duello is finishing her University of Wisconsin volleyball career on a high note.
After five years of more than her share of ups and downs, Duello is peaking at just the right time as the No. 4 seed Badgers begin NCAA tournament play Friday against Illinois State at the UW Field House.
In a redshirt senior season that has been marred by a calf injury that caused her to miss three early matches and a strained abdominal muscle that hampered her much of the Big Ten Conference season, Duello finally is 100 percent healthy and playing some of the best volleyball of her career.
In the past four matches the 6-foot-3 Duello is averaging 2.43 kills per set with a .377 hitting percentage. And at a time of the year when most players are wearing down physically, she just set a personal best with an approach jump of 10 feet, 4 inches, matching Dana Rettke for the top mark on the team.
"I was kind of shocked," said Duello, whose jump was under 10 feet when she came to UW and 10-2 at the start of the season. "I was feeling springy."
That personal best is symbolic of the track Duello's career is on, coach Kelly Sheffield said.
"This is the strongest she has been in her career right now," Sheffield said. "I think we've got a kid that is very fresh.
"As much time as we have here at the end of her fifth year, I think she's poised to play her best volleyball. But what she brings to this team and this program is so much more than just what she brings during a match."
What Duello brings to the Badgers both on and off the court is a steadying influence and maturity that reflects her even-natured personality. It is an invaluable presence, even if it leads to her sometimes being overshadowed on a star-studded team. Which bothers her not at all.
"I'm fine with it," said Duello, who was voted to the All-Big Ten second team this year after receiving first-team honors last season. "It's not really my personality to be out there in front of everything. As long as I can be steady for this team and just be the best I can be every day, that's all I really care about."
Duello's evolution as a player has been a long, sometimes painful process. The No. 9 prospect in the nation according to PrepVolleyball's Senior Aces following her career at Liberty High School in Kansas City, Missouri, Duello saw sparse playing time as a freshman. She then suffered a torn ACL during the first offseason workout and sat out the 2016 season.
She returned as a part-time starter the following season, averaging 1.95 kills per set and hitting .268 before breaking out last year with 2.70 kills per set (.292) and earning third-team All-American honors.
Primed for a big final season, Duello has had to battle through injuries and after having to rely on tips and roll shots for much of the year she's regained her fastball of late.
"I definitely had bumps along the way," Duello said. "When you're in high school you think it will be smooth sailing, I'm going to be amazing. But my freshman year, that wasn't the case. I wasn't very good.
"I thought it would come easy for me but that wasn't the case. I didn't really do anything about it. Then after getting injured I realized that all I'm going to get out of this experience is what I put into it. I think after that I really turned it around."
The accompanying growth on and off the court has been rewarding to watch for Sheffield.
"She came in as kind of a raw talent that wasn't real sure of herself," he said. "Quiet and a kid that had to endure a season-ending injury and battle her way through that. I think along the way she found her voice, she found her strength, she found her confidence and gives that to others.
"She's dependable. There is a maturity to her that foundationally our program is built on. You've got to have those people you can count on and she's somebody we can count on."
Along the way her teammates have come to learn that there's a fire burning underneath Duello's usual placid demeanor.
"She seems like the type of player who doesn't show too much emotion and a lot of people might think she doesn't really care," junior Molly Haggerty said. "I've come to learn that she loves this game and she cares so much and is so passionate about it."
That passion comes out whenever she makes a big play.
"Duello is a very poised young woman and it shows in her play," senior M.E. Dodge said. "But when you light that fire, there's nobody else I'd rather be out on the court with. When she gets a big kill or gets that really important block, you can tell in her eyes when she turns around into the group huddle that she means business."
Duello will graduate with a degree in elementary education, but before she begins her teaching career she'd like to take a shot at professional volleyball in Europe next year.
Wherever she ends up she figures to be able to reclaim her given first name, something she rarely hears outside of class or when talking to her parents.
To her teammates she's universally referred to by her last name. And, of course, Sheffield famously nicknamed her Smooth Jazz, most often shortened to just Jazz.
"I remember the first time he called me Smooth Jazz and I thought, well that's weird," Duello said. "Kelly's really the only one that calls me that, so I'm used to it. I guess it fits. It just stuck. He said it was the best work he's done on nicknames."
Sheffield said he was inspired both by Duello's personality and his own fondness for jazz music.
"It's out of admiration," he said of the nickname that replaced the original one, Mellow Duello. "To me, that's who you are. I think it's right on. Nobody else agrees but to me, it's perfect."
"I think the Smooth Jazz nickname is priceless," said Kevin Schultz, the team's strength and conditioning coach. "It is who she is."
Smooth jazz that is ending with a crescendo.
Rettke was named the Big Ten Player of the Year and Sydney Hilley the Setter of the Year in a vote of the conference coaches announced Wednesday.
Rettke and Hilley also were unanimous first-team All-Big Ten selections and Grace Loberg also was named to the 18-player first team.
Duello, Haggerty and Danielle Hart were voted to the second team.
Sheffield was voted Coach of the Year by the conference media after leading UW to the Big Title with an 18-2 record, while Penn State's Russ Rose was selected by the coaches.