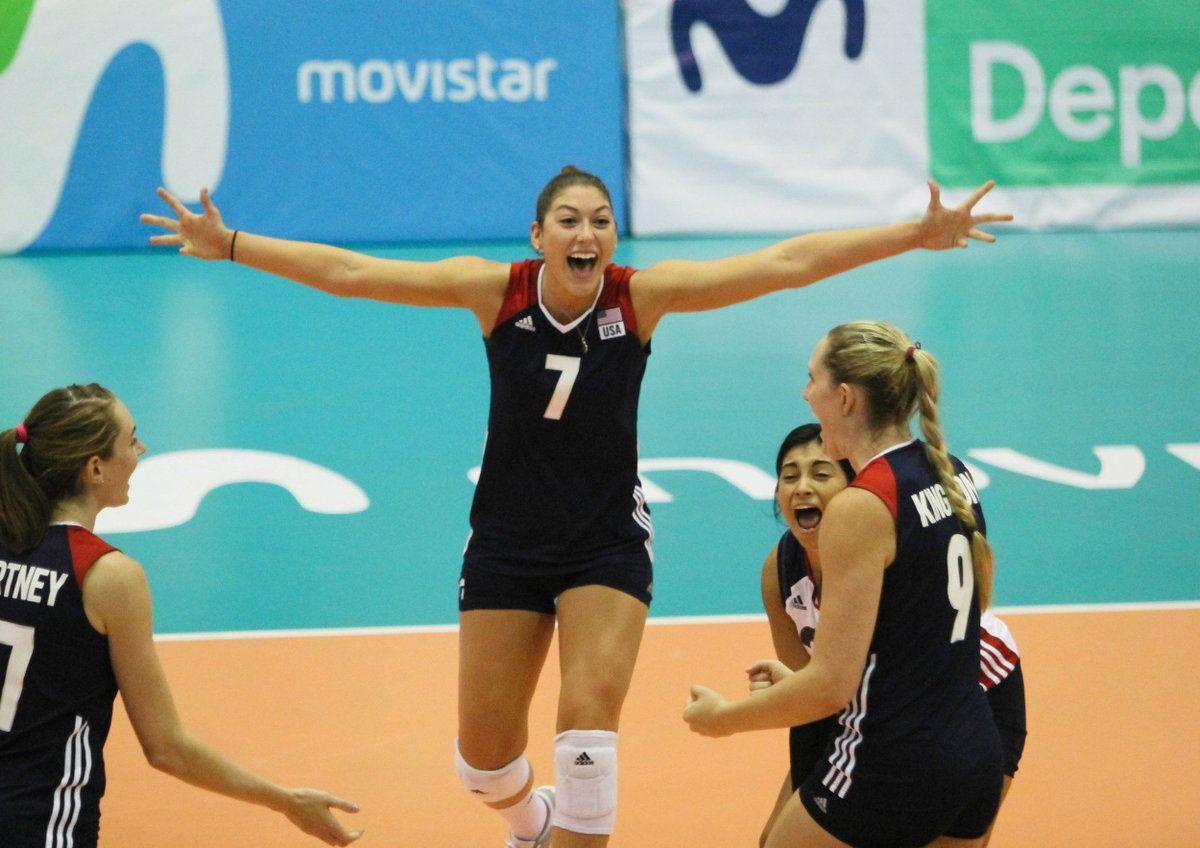 It has been a golden summer for Lauren Carlini and Dana Rettke. And the best may well be yet to come.
Carlini and Rettke, perhaps the two greatest products of the University of Wisconsin volleyball program, are united on the U.S. National Team that last week won the gold in the FIVB Volleyball Nations League finals held in China.
After a week off, they will prepare for the Olympic qualifier next month in Louisiana, looking to take a step toward the U.S. team's first-ever Olympic gold medal next year in Tokyo.
"It's two people who are going after big dreams, big goals and try to represent their country and play with the best players in the world," UW coach Kelly Sheffield said. "It's an amazing opportunity and both of them have represented themselves well and they're right there in the mix. So you're certainly happy for them and proud of them."
Carlini, 24, has emerged this summer as the No. 1 contender to become the starting setter on the Olympic team. That's a trajectory she seemingly has been on since her freshman season with the Badgers in 2013.
Indeed, it's a course she charted as a 9-year-old when she drew a picture of herself in a No. 7 USA jersey — the jersey she currently wears.
"It's crazy," said Carlini, who spent her week off visiting a middle school friend in Florida. "I was just thinking at this point next year we'll be traveling to the Olympics if we're able to qualify.
"Nothing is guaranteed and I know that, but I feel like I'm in a really good spot right now, confidence-wise and playing-wise. I just have to keep chipping away and showing to the coaching staff that I can do this. Hopefully, they'll keep giving me the opportunity to show that."
Carlini opened the summer as the No. 3 setter on the USA depth chart, as she got a late start with the team after leading her Italian professional team, Novara, to the Champions League title in May. She joined the National Team midway through the VNL competition and became the primary starter the last three weeks, leading the way as the U.S. rallied from a 0-2 deficit to defeat Brazil in five sets in the championship match.
Along the way, 2016 Olympic setter Carli Lloyd stepped away from the team, leaving only former Big Ten Conference rivals Micha Hancock (Penn State) and Jordyn Poulter (Illinois) in the competition for the two spots on the roster for Tokyo next year.
Carlini, the first three-time first-team All-American in UW history, will try to cement her status in the Olympic qualifier and then in September when the U.S. team attempts to win its first ever gold at the World Cup in Japan.
"Things can change so quickly and I'm just trying to stay in the moment and embrace every opportunity that I'm getting," she said. "I want to maximize my potential and squeeze out everything I've got going into the next Olympics. You've got to have tunnel vision at times, and at times it is fun to look back at everything that has happened."
Ahead of her time
If Carlini's career appears to be right on track, Rettke is well ahead of schedule.
The 6-foot-8 middle blocker, who will be entering her junior season at UW, figured to just get her feet wet in international competition when she was named to the 25-player VNL roster from which 14 players would be selected for each week's competition.
With many of the veteran players still involved in their professional seasons, coach Karch Kiraly went with a youthful roster the first two weeks, with Rettke, 20, the youngest of the bunch. She was among the team's top scorers in those matches, leading Kiraly to ask to have Rettke stay with the team for its third week of competition in Lincoln, Nebraska, causing her to miss the start of the Badgers' tour of Europe.
After returning to Madison from that trip and taking a final exam, Rettke headed back to the U.S. training center in Anaheim, California, and was chosen for the roster for the Nations League final round in China.
She only played in one of the matches there, but that did little to dim the luster of the experience.
"The success that I had over there I don't really think I expected or anybody else expected," said Rettke, who spent a few days in Madison and helped out at the UW team camp before heading back to Anaheim today. "I knew I was going to play my game and whatever happened would happen. I proved a lot to myself, as well as other people. The first couple weeks I gained a pretty big role on the team and I learned a lot about myself as a player and a leader.
"It's been a lot all at once, but it hasn't been overwhelming. For the most part I'm in the moment when I'm with USA. But sometimes I'll just sit there and it's like, wow, this is my life, this is what I'm doing. This is the best competition in the world and I get to play with them and against them and be a part of this team. I've thought about that more than once. It's been an incredible opportunity and I'm having so much fun."
Rettke's ascension in the volleyball world has been remarkable. She didn't really start playing volleyball until high school in Riverside, Illinois, and arrived at UW with loads of potential but a likely redshirt prospect as a freshman.
Instead, she won national Freshman of the Year honors and has been a first-team All-American each of her two seasons.
"When she first got here I remember her having a conversation with Lauren saying she never thought about being on the national team," Sheffield said. "She was never on a youth national team, never traveled to high performance championships. She never even thought about it.
"This is an awful lot for her, but she's done a really good job of managing it. She's learning as she goes. If you look at her long term, they could have somebody who is awfully good for a long time. They've done a really good job of giving her opportunities and being patient and communicating with her."
Rettke admitted she was a little intimidated at first playing with and against athletes with considerably more experience. But she was determined to be herself and quickly became more comfortable as she showed she was a fast learner and proved she could compete at the top level.
While she remains a long shot to make the 2020 Olympic roster, she's at least put herself in the mix. And if she did make it to Tokyo next July, she would still be able to return to UW for her senior season.
"It seems more real right now," Rettke said. "When I first got there, no, but now it is real and I think it is a possibility. I think I do have that opportunity and if I play well enough and I earn that spot, it would be absolutely amazing.
"But at the same time I am the youngest and I have so much to learn. It can definitely happen. It's in my mind. It's the Olympics, it's what every athlete hopes and dreams for. I'm always going to put my best foot forward and if it happens that would be a dream come true. And if it doesn't there are more Olympics."
Carlini and Rettke never played together at UW, but they became acquainted during Rettke's recruiting process and trained together during the spring before her freshman season.
And they've been able to develop an even stronger bond as the two Badgers on a National Team with a heavy Big Ten influence — 11 of the 14 players on the final VNL roster were from the conference.
"I know Badgers fans are really excited about us playing together and I was excited about it," Rettke said. "She helped recruit me and we've known each other for some time but this was a good time to get to know each other better.
"Lauren is just awesome. I've never seen a player with her mind-set, her demeanor and her personality. It just works so well together. She is so focused and so driven, yet at the same time she gives off this vibe of looseness and freeness. It's amazing to me."
Likewise, Carlini has been impressed with Rettke's evolution as a player.
"Obviously, she's super talented," Carlini said. "She's not only going to be a force to be reckoned with in college for the next two years but she's also already had the international spotlight on her. Karch and USA volleyball obviously see a lot in her. For them to bring someone who is still in the middle of her eligibility, that speaks volumes about her talent and her dedication to the game.
"I see Dana come in every day and work hard. She wants to get as much information as possible and you can see how much she cares. She wants to do everything in her power to be the best she can possibly be for us. She has such a bright future and I just hope that she continues to grow as a player and a leader."