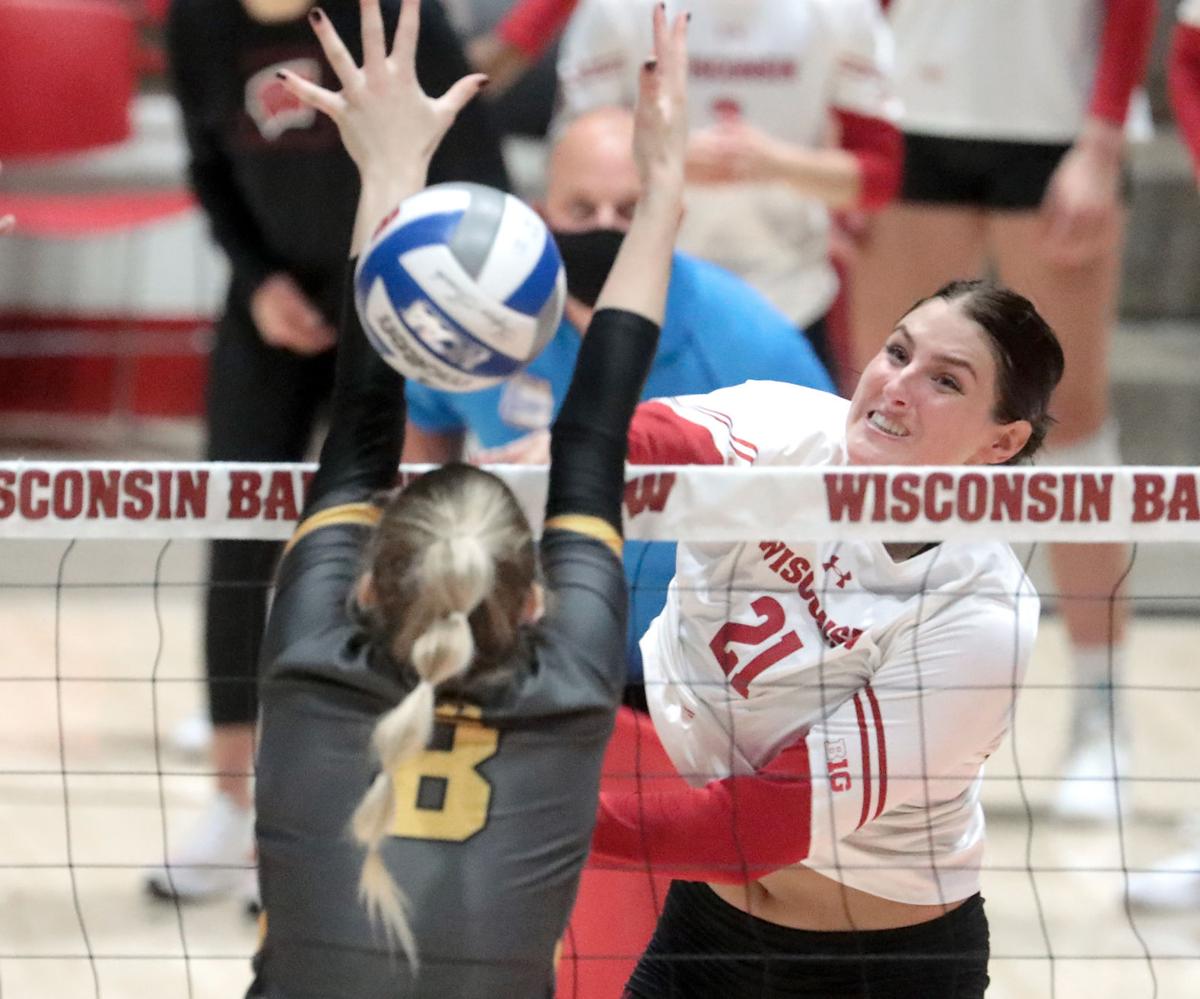 The University of Wisconsin volleyball team has just one item on its Black Friday wish list: a Big Ten championship.
The Badgers can clinch a tie for the title with a victory Friday in their showdown with Nebraska at the UW Field House. And they can wrap up their third consecutive championship by beating Indiana on Saturday.
The No. 5 Badgers (23-3, 15-3 Big Ten) and the No. 11 Cornhuskers (20-6, 15-3) enter the weekend tied for first place, one win ahead of No. 6 Purdue (22-5, 14-4). Nebraska closes out the season Saturday at Purdue.
"We've got an opportunity in front of us to win a Big Ten championship on our home floor," UW coach Kelly Sheffield said. "It should be something else. I know Badger fans are as fired up about it as we are. I'm sure the Field House will be as loud as it's ever been on Friday. We're going to need that."
The Badgers could become the first team to win as many as three titles in a row since Penn State's streak of eight championships ended in 2011. UW has won seven Big Ten titles in its history, second only to Penn State's 15. Nebraska has won two, the same number of national championships it has won since joining the Big Ten in 2011.
Nebraska coach John Cook, who has won four national titles overall, said winning a conference championship is a bigger accomplishment.
"You've got to grind for 10 weeks in the toughest conference," Cook said at his weekly press conference. "The NCAA tournament is six matches over three weeks. You got to get it hot for six matches. Big Ten you're on the road, home and away, grinding. So it's harder to win than a national championship, in my opinion."
Even though the Badgers are still in quest of their first national title, Sheffield concurs with Cook. And no matter how many you win, it never gets old.
"There's a reason why you hang banners for Big Ten titles, because it's really hard," Sheffield said. "It's some of the best players and best teams in the country. You have to show up every single week. It's a big goal because it's something that's earned.
"It's what is so exciting about this weekend. You're playing for a championship. You get banners and hats and trophies. The feeling of being able to win one, everything that you go through to get you to that point, is something special.
"We'll get locked into the NCAA tournament when the time comes, but that time is not here. Right now we're trying to find a way to win one match."
This year's Big Ten race figured to be even more challenging with most of the top contenders bolstered by the return of top players taking advantage of the extra year of eligibility granted by the NCAA because of COVID-19.
"Everybody was thinking that and it's proven to be that way," Sheffield said. "There's just so much talent in the league that it's made it really exciting. You come down to the last weekend and there's three teams that can win it and going into last weekend there were six teams that could win it.
"I think there's got to be some recognition that the conference did a great job of scheduling people. It's balanced competitively and the teams that are at the top of the league have all been playing each other down the stretch. It's extremely compelling."
The Badgers have five of the super seniors — Sydney Hilley, Dana Rettke, Grace Loberg, Lauren Barnes and Giorgia Civita — who will be honored Saturday on senior night, along with four-year player Julia Wohlert.
All-Americans Lauren Stivrins and Lexi Sun returned to the Cornhuskers for their bonus seasons.
"It's two teams that know each other really well," Sheffield said. "Both teams have an exciting mix of experience and young players. We both have players that have been in this situation before, players that have been in the mix for these things their entire career.
"I wouldn't be surprised if this is the most watched volleyball match of the year."
The first meeting between the two teams on Oct. 27 in Lincoln was the most viewed match of the season. The Badgers swept that match, extending their winning streak over the Huskers to six, including four consecutive sweeps.