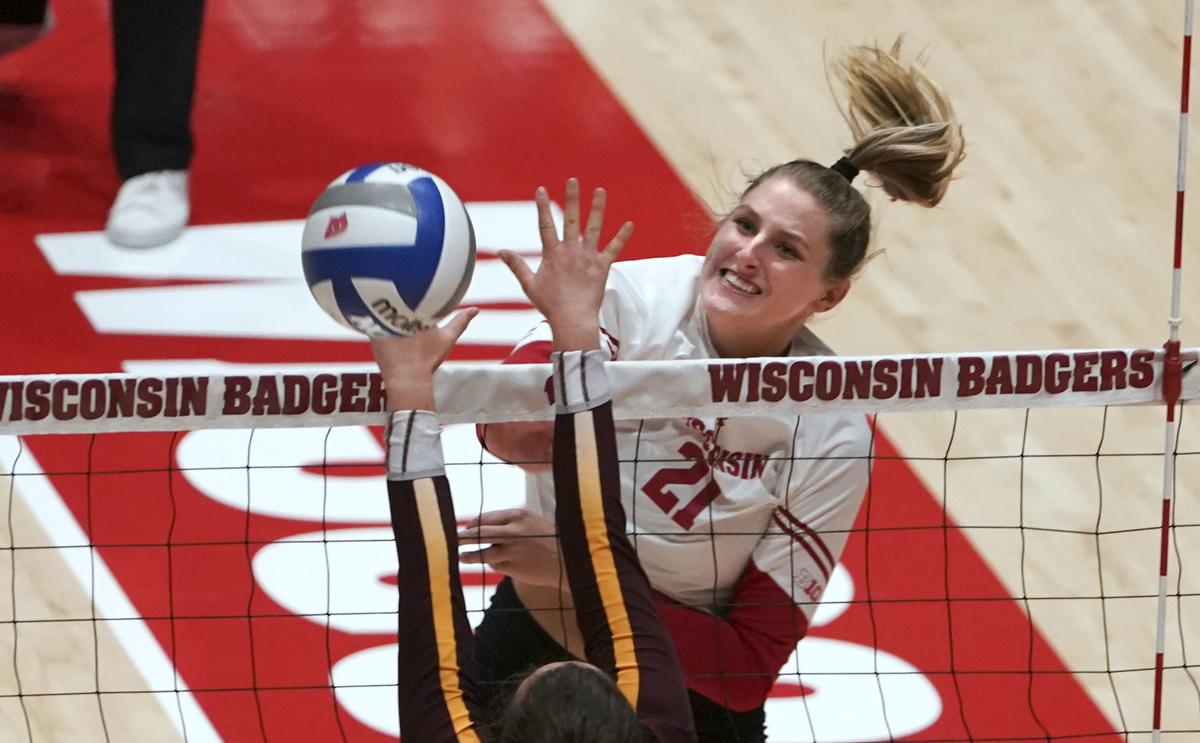 Sure, she had established herself as a fixture in the lineup as a six-rotation outside hitter for most of her sophomore season, ranking third on the team in kills per set.
Not bad, but Loberg knew it was not good enough. Not if the Badgers were going to achieve their lofty aspirations for 2019.
"After last season, which was the first season I played all the way through, I think I realized I needed to get better at every aspect of my game," Loberg said. "I realized that my hitting needed a lot of improvement. I needed new shots. I couldn't just keep hitting hard into the block.
"That was a huge focus for me in the spring, being able to have a bigger range with attacking, being able to work in roll shots. And also I had to get better at blocking. I looked at last season and I was like I need to improve a lot if I want to make a difference on this team. So I took this spring and summer really seriously and did everything I could."
That work is showing up on a consistent basis for Loberg as she has emerged as one of the most effective attackers in the Big Ten Conference.
Strong serving has been a theme for the No. 6 Badgers, and coach Kelly Sheffield says this year's team ranks with the best he's had in his seven seasons at UW.
As the No. 6 Badgers (12-4, 8-0 Big Ten) head toward the midpoint of the conference season with road matches against Michigan State (13-5, 4-4) and Michigan (13-5, 6-2) this weekend, Loberg ranks ninth in hitting percentage (.342) in Big Ten matches and is tops among outside hitters, as the top eight are middle blockers. Her 3.57 kills per set rank sixth in the conference and leads the Badgers, just ahead of Dana Rettke's 3.56.
"Grace has made dramatic improvement as we've gone through things," coach Kelly Sheffield said. "I think she's hitting a lot higher at the net. She's hitting with more range.
"The work and the effort she's put in in practice is really paying off. She's turned into a big-time outside hitter for us right now."
The 6-foot-3 Loberg has always has a big arm, but like a pitcher in baseball she's come to understand it takes more than a fastball to succeed at the highest level.
"I think last year when teams started scouting me and realized I love to hit cross court, my arm didn't matter at all because the (liberos) are better than my swing," said Loberg, who hit .208 as a sophomore. "So I had to learn to work in different shots and know that it's OK to throw in a tip on a perfect pass rather than swing right at the bro. It's just being smarter all the way around.
You have free articles remaining.
"It was hard, but now I think I'm doing a better job of reading the game and seeing things as they're happening. Last year I didn't do a great job of recognizing what the other team is doing to me and I feel like I'm doing better at that now."
Her fellow outside, redshirt junior Molly Haggerty, has gone through a similar process in her career and she appreciates the evolution in Loberg's game.
UW's junior setter is coming off perhaps her best week as a Badger, leading the team to back-to-back wins over then-No. 5 Penn State and at then-No. 2 Nebraska.
"She's done a really good job of developing different shots," Haggerty said. "She's always been a banger and likes to hit the ball super hard, but I think it's thrown teams off now that she's developed off-speed shots.
"I can see her every single year getting more and more confident and this is the most I've ever seen her have this much confidence and swag. It's really cool to see because I've always known she has it in her."
Haggerty ranks 14th in the Big Ten in kills per set (3.14), giving UW three players among the top 15. Nebraska and Illinois are the only teams with as many as two in that category, a measure of the Badgers' balance as setter Sydney Hilley spreads the ball around among those three, as well as middle Danielle Hart and right side Madison Duello.
That balance means Loberg and Haggerty don't get as many swings as conference kills leaders Temi Thomas-Ailara of Northwestern, Jacqueline Quade of Illinois and Paige Jones of Michigan, but they are making the most of their opportunities.
"We spread the ball around and that helps," Loberg said. "When teams are so outside heavy the blockers kind of know where the ball is going. With us I don't think the blockers know where it's going so that leaves seams or one-on-ones, which helps a lot."
One area where Loberg is focusing on making a bigger contribution is blocking. That's never been an area of strength, although she matched her career high of four blocks last week against Illinois.
"With blocking I just need to focus my eyes," she said. "I see the setter and I think she's going somewhere else and I take a false step and that really throws me off.
"It's just keeping my arms in, staying square to the net and being aggressive. You kind of have to approach it like hitting — we own the net, not them. I'm going to get better. I am getting better."