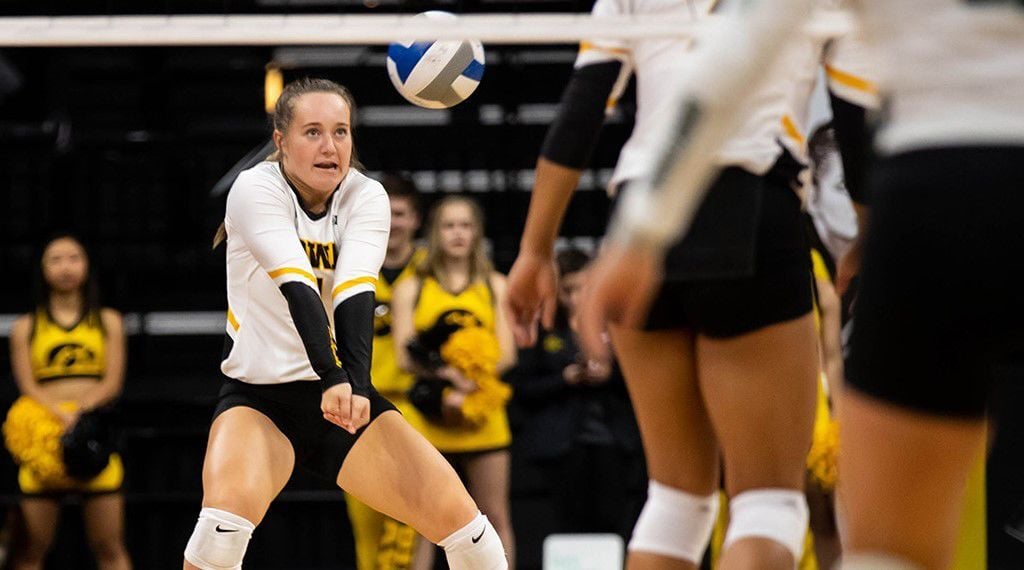 By Joslyn Boyer's count, that's how many it took to set in motion the new direction of her college volleyball career. More or less.
Boyer, a sophomore libero at Iowa, was looking for a new challenge when she decided to put her name in the transfer portal about two weeks ago. Within the first day or so she received an email from University of Wisconsin coach Kelly Sheffield.
"It was short and sweet," Boyer said. "It was, 'Hey, give me a call if you want.' I did and I'm glad I did."
Boyer's call to Sheffield led the way to her committing to transfer to UW, where she will have three years of eligibility remaining.
While she had been contacted by "a decent amount" of schools, once she heard from UW she pretty much knew where she wanted to go.
"I was never talking to a bunch of schools because I kind of knew what I wanted," Boyer said. "I wanted a big conference, I wanted a team that will win and compete for a national championship. So just talking to (Sheffield) and having that connection with him was cool. That narrowed down my search, for sure.
"My whole life, I've always bet on myself. That's something I've lived by and I chose that I want to do that again going to Wisconsin. I know I'm going to go in there and work super hard every single day and try to earn that spot again. I think Wisconsin is a great place to go and do that for me."
The 5-foot-6 Boyer played two seasons for the Hawkeyes. She was a defensive specialist as a freshman, averaging 1.55 digs per set. She took over the libero jersey this spring and averaged 3.72 digs per set.
She also proved to be one of the better passers in the Big Ten with a 2.18 mark, tying UW's Lauren Barnes for sixth best in the conference. Along with Giorgia Civita, who ranked third in passing, Boyer could bolster an area that was exposed in the Badgers' NCAA tournament matches against Florida and Texas.
Sheffield wasn't the only person involved in recruiting Boyer to UW, as Barnes also played a role.
Boyer, who is from Downers Grove, Illinois, and attended Montini Catholic High School, played with 1st Alliance, the same club as Barnes and Dana Rettke. Although they were in different age groups and didn't play together, the two talked several times during the transfer process.
In addition to their similar roots, Barnes also had the experience of transferring to UW from another Big Ten program (Minnesota).
"She was a really big help to me," said Boyer, who also hopes to follow Barnes into the business school at UW. "She kind of took that same path with transferring from business school to business school so we're kind of in the same situation. She's really helped me with figuring out that Wisconsin is the place for me."
With Barnes, a fifth-year senior, established as one of the top liberos in the nation, Boyer figures to compete with Anna MacDonald, Izzy Ashburn and Sydney Reed for playing time at defensive specialist, at least for the first season.
That's the path Barnes took when she joined UW while Tiffany Clark held the libero position for that first year.
UW and Iowa did not play each other in the spring season, but Boyer fondly recalls playing in the UW Field House as a freshman.
"It was very cool," she said. "Electric. I'm very excited to play there. It's different."
Boyer also is excited about the step up in competitive and expectation level from Iowa, which went 14-37 in her two seasons there, including 8-32 against Big Ten opponents.
"I want to be the best and play with the best and play against the best," Boyer said. "I think that's another reason why I really wanted to stay in the Big Ten because it's the best conference in the country.
"I just go in and compete and give 100% effort all the time and just have fun doing it. Competing, that's my favorite thing to do and I look forward to doing it with my new teammates."
TEXAS (kills-digs-blocks) — O'Brien 0-9-0, Butler 11-1-3, Petersen 0-9-0, Gabriel 0-8-1, Eggleston 17-9-1, Fields 12-2-0, O'Neal 11-4-3, Iosia 0-12-0, Cabello 0-0-0. Totals 55-58-5.
WISCONSIN (kills-digs-blocks) — Robinson 14-0-4, Rettke 6-1-2, Loberg 6-9-1, Haggerty 6-14-0, Hart 5-0-3, Hilley 2-14-0, Demps 1-0-0, Barnes 0-13-0, Civita 0-7-0, Ashburn 0-1-0, Kraft 0-0-0. Totals 40-59-6.
Hitting percentage — T .301, W .220. Aces — T 2 (Iosia 2), W 3 (Haggerty, Hilley, Barnes). Assists — T 52 (Gabriel 42), W 37 (Hilley 34). Att. — 4,948.