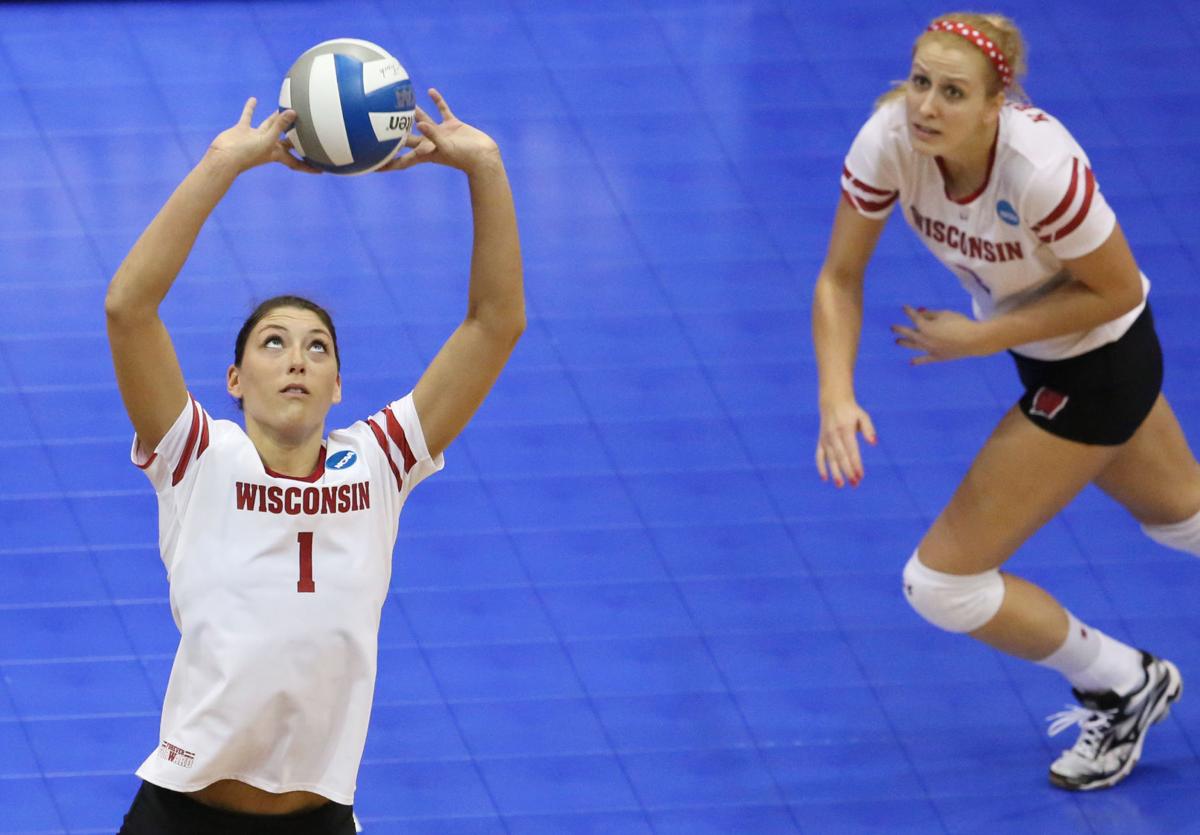 Lauren Carlini has taken her place among the greatest amateur athletes of all time.
Carlini, the four-time All-American setter for the University of Wisconsin volleyball team, was named the recipient Tuesday of the AAU James E. Sullivan Award, presented to the top amateur athlete in the nation annually since 1930.
Carlini becomes the first volleyball player and the first UW athlete to receive the award. Ron Dayne was a finalist for the honor in 2000.
Carlini was presented the award in ceremonies at the Downtown Athletic Club in New York after she was selected from a group of finalists that included six Olympic gold medalists — Kayla Harrison (judo), Laurie Hernandez and Aly Raisman (gymnastics), Ashleigh Johnson (water polo), Ginny Thrasher (target shooting) and Kyle Snyder (wrestling).
"First I was really surprised and then I was just so grateful because I am in such a great group of finalists," Carlini said in a phone interview shortly after the announcement. "They're all Olympians.
"Allie LaForce, the emcee, was saying during the ceremony, give it to the most qualified person, give it to the person who deserves it. I don't think I'm the most qualified among them, obviously. But just to be the first volleyball player to ever win the award, that in and of itself is a huge honor."
Carlini, 22, joins a list of winners that includes women such as Wilma Rudolph, Jackie Joyner-Kersey, Joan Benoit, Bonnie Blair, Janet Evans and Missy Franklin. Among the men to receive the award are Eric Heiden, Michael Phelps, Mark Spitz, Carl Lewis, Dan Jansen, Edwin Moses and Bobby Jones.
You have free articles remaining.
Last year the honor was shared by Navy quarterback Keenan Reynolds and UConn basketball player Breanna Stewart.
Carlini said it was humbling to join such elite company.
"I don't know how long it's going to take to soak in," she said, "but it will probably take awhile just because the names on the list of the AAU Sullivan Award winners are the best of the best. They're world-renowned athletes, so it's going to take me awhile and a lot of accomplishments to feel like I'm worthy of this award."
UW coach Kelly Sheffield said Carlini won two of the four categories used to determine the winner and that she made a big impression on the AAU committee members.
"The committee was blown away by her," Sheffield said. "Not just her accomplishments, but they were really impressed with her character. They said that kept coming up, her character, her ability to communicate and to represent what the award is all about.
"Lauren is going to continue to represent this sport and our university and what this prestigious award means to the best of her ability. She doesn't play things for awards, but she understands the history of this award. It means a lot to her because she knows what this award means."
Carlini said she hopes this inspires young volleyball players and that she also feels a special honor in becoming the first Badger to win the award.
"I think that's huge," she said. "Ron Dayne was here as a finalist and he's one of the best Badgers ever. In terms of being one of the best Badgers ever, that's going to take a few years for that to sink in for me as well. Just getting this award and being able to hold that torch as the first ever is pretty cool."