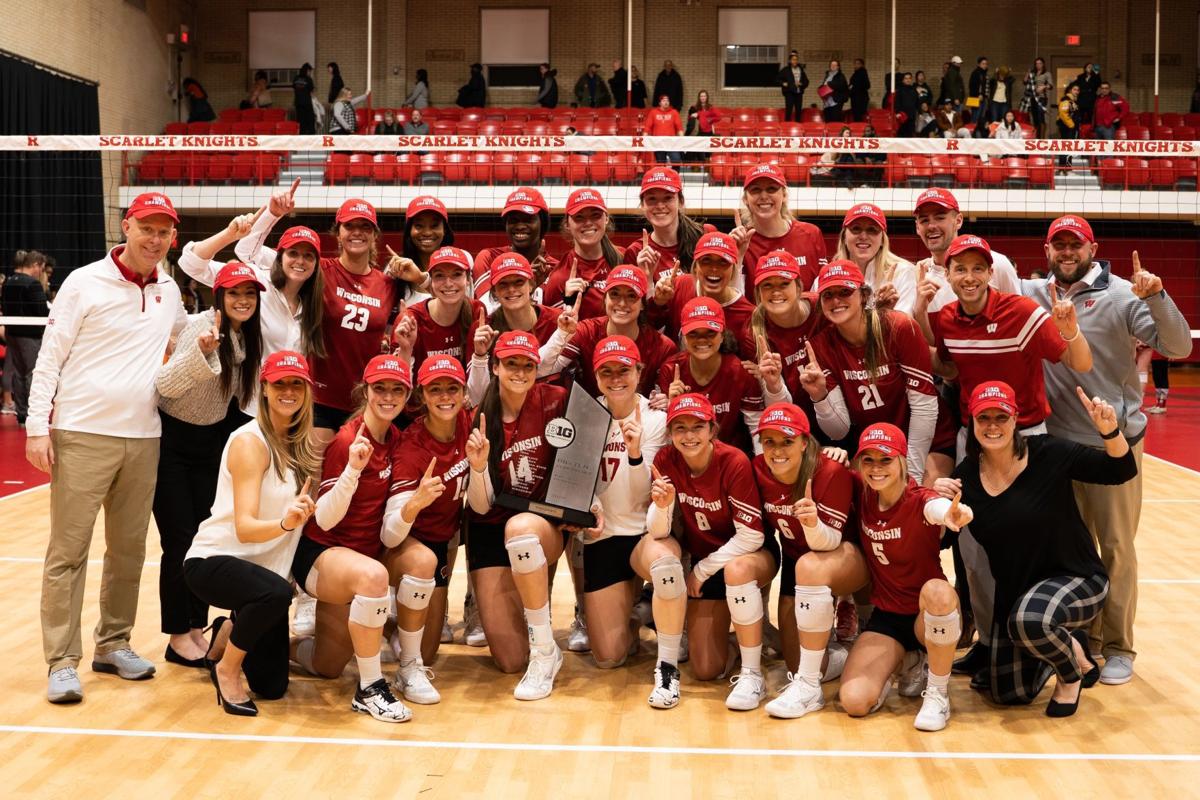 NEW BRUNSWICK, N.J. — One trophy down, one to go.
The University of Wisconsin volleyball team captured its first Big Ten Conference championship since 2014 and the sixth in program history with a 25-14, 25-12, 25-21 sweep of Rutgers on Saturday night.
Juniors Molly Haggerty and Grace Loberg each had 11 kills to lead the fifth-ranked Badgers (22-6, 18-2 Big Ten) as they never trailed against the Scarlet Knights (8-23, 2-18).
The victory earned the Badgers at least a share of the title and they got the outright championship later in the night when Penn State lost to Minnesota in four sets. UW and Penn State were tied for first going into the final matches of the season.
"It's epic," coach Kelly Sheffield said of the championship. "These things are earned."
The title is the second for Sheffield at UW but the first for all of the players.
"It's one of our two goals every single year so it feels good to have accomplished it during my time here," redshirt senior Madison Duello said.
"We've been talking about that the whole season," senior Tiffany Clark said. "And to have that dream realized, for me as a senior, I just had tears in my eyes because I've seen so many other teams hoist that trophy up. For it to be us to actually get to feel that trophy, actually get to kiss that trophy, it was an amazing moment. I'm without words. I'm on a cloud right now."
After taking some time to savor that goal, their focus will shift quickly to the other goal of winning the program's first NCAA championship. The tournament pairings will be announced Sunday night, with first- and second-round matches set for the UW Field House on Friday and Saturday.
You have free articles remaining.
Immediately after the match the Badgers put on Big Ten championship caps and posed for a team photo with the trophy. That photo will take its place on the champions wall in the team room at the Field House. Unless they can pose with a different trophy in three weeks.
"This won't be the picture that's hanging up in our locker room, we know that for a fact," Clark said. "We've got bigger and better things coming our way."
The Badgers were picked by the Big Ten coaches as the favorite to win the conference, but they struggled in the non-conference season with a 4-4 record. But they believe that experience helped prepare them for the Big Ten grind, in which they were the only top contender that had to play two matches each against the other top three teams.
"We learned a lot of lessons about ourselves in the preseason," Clark said. "We had a lot of issues we had to figure out. A lot of that was related to our mental side.
"We knew we had the talent, we knew we had the skill. Just for us to believe that and for us to show our mental toughness when we play, I think we really adopted that go-getter Badger personality during Big Ten. I'm really excited to see what we do in the tournament."
---
WISCONSIN (kills-digs-blocks) — Haggerty 11-3-0, Loberg 11-3-1, Duello 6-1-4, Hart 5-0-4, Rettke 3-1-3, Hilley 1-5-1, Barnes 0-10-0, MacDonald 0-1-0, Bell 0-0-0, Dodd 0-1-0, Ashburn 0-6-0, Clark 0-5-0, Dodge 0-9-0. Totals 37-45-7.
RUTGERS (kills-digs-blocks) — Stackhouse 10-0-3, Cieslik 7-4-0, Marmen 4-3-2, Maksimova 3-1-1, Weidt 3-1-1, Balyko 2-7-1, Kojadinovic 1-1-0, Miljevic 1-0-1, Swackenberg 0-13-0. Totals 31-30-5.
Hitting percentage — W .367, R .125. Aces — W 10 (Clark 3), R 1 (Kojadinovic). Assists — W 35 (Hilley 31), R 29 (Balyko 24). Att. — 289.