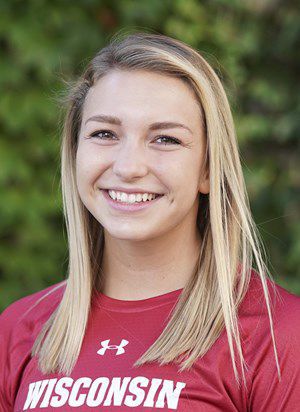 It was a generally forgettable night for the University of Wisconsin volleyball team, at least until the final moments.
The No. 7 Badgers overcame some inconsistent play Saturday night to complete a grinding sweep of Michigan State 25-23, 25-19, 25-22 before a full house at the UW Field House.
But the highlight of the night came late in the third set when senior defensive specialist Sarah Dodd made her season debut, subbing in to serve and playing out the last seven points of the match.
It was the culmination of a rehab process from a torn ACL suffered in April, that brought the fans to their feet when she entered the match and her teammates to tears in the locker room afterward.
Dodd, who tore the ACL in her right knee while training and had surgery April 19, said she never doubted she would return to the court this season. But coach Kelly Sheffield initially wasn't so sure.
"The timing of her injury, we thought her career might be done," Sheffield said. "She was like, I'm going to do everything I can. The timeline was pushing it, but we said hey, if you get yourself back we'll get you out there for Senior Day."
She beat that target by one match, as she was summoned by Sheffield with the Badgers leading 22-18 in the third set.
"It was an absolute thrill," Dodd said. "I try to practice that moment every day in practice. You try to prepare for that moment but there's nothing like it when it happens in real life. I was overwhelmed by the Field House reaction and the reaction of the bench. It was just awesome.
"I got back there and I heard the crowd and I had adrenaline pumping, shaking a little bit. I was like, I need to get my crap together here, make solid contact, get this sucker in and let's play some defense."
While that was an emotional time, it paled in comparison to what she experienced with her teammates in the locker room after the match.
"There were some water works, for sure," said Dodd, who tore her other ACL as a high school freshman. "Kelly came down and said this match was for one thing and one thing only, that was getting Sarah Dodd back in. As soon as he said that and pulled me up, I broke down, the rest of the team broke down. There were a lot of tears, but obviously happy tears."
You have free articles remaining.
There also was a mild sense of relief that the Badgers (19-5, 15-1 Big Ten) survived a less than stellar performance against the defensive-minded Spartans (14-11, 5-11).
"It was a little bit of an uneven match, to tell you the truth," Sheffield said. "It wasn't the prettiest volleyball on our side of the net."
The Badgers were led by junior Molly Haggerty's 14 kills, but they hit just .213 as a team and they were blocked nine times in the first two sets.
Junior Dana Rettke was rejected four times in the early going and had a couple other misfires, leading to her being pulled in favor of Nicole Shanahan early in the second set. Shanahan contributed a kill and a block before Rettke subbed back in late in the set and eventually put away the kill at set point. She also got the kill at match point after the Spartans had made things tight with a 3-0 run.
Sheffield said his message to Rettke was a direct one.
"Don't hit into the block," Sheffield said. "It's pretty simple. It's a big block and they were doubling up on her. There's got to be an awareness that I've got to go up and hit high and deep into the court, rather than try to pull down.
"Dana hit the reset button and came back. I told her after the match I was proud of how she responded. I don't know if she's ever gotten pulled since she's been here. I also don't think ever gotten blocked six times in the first set and a half before. What I was happy with was how she responded after coming back. That shows her character."
MICHIGAN STATE (kills-digs-blocks) — Alford 1-7-0, Norris 5-7-1, Cox 1-11-0, Kabengele 5-6-2, Monks 8-1-1, Chronowski 3-1-1, Shklyar 1-6-0, Swartz 2-1-1, Gros 3-0-7, Johnson 8-1-3, McLean 0-4-0. Totals 37-44-9.
WISCONSIN (kills-digs-blocks) — Barnes 0-6-0, Hilley 1-4-2, Dodd 0-0-0, Ashburn 0-4-0, Shanahan 1-0-1, Duello 3-0-3, Rettke 10-1-4, Clark 0-15-0, Hart 4-1-5, Dodge 0-0-0, Loberg 7-2-4, Haggerty 14-4-1. Totals 40-37-10.
Hitting percentage — MS .167, W .213. Aces — MS 2 (McLean), W 4 (Haggerty 2). Assists — MS 32 (Shklyar 13), W 38 (Hilley 33). Att. — 7,052.