Kelly Sheffield was in Halloween mode after watching his University of Wisconsin volleyball team's sometimes spooky performance Wednesday night.
"I thought at times our play was a little ghoulish out there," Sheffield said.
Despite some uncharacteristic sloppiness, the No. 4 Badgers still were able to sweep Maryland 25-21, 25-14, 25-20 at the UW Field House.
The Badgers (15-4, 11-0 Big Ten) trailed only once in the match to the Terrapins (12-11, 4-7). But that dominance was deceptive.
"We gave away a lot of points," Sheffield said. "It frankly wasn't one of our better matches. I don't think it was one of (setter Sydney Hilley's) better matches.
"But when you can come in here and sweep a good Big Ten team when you're not playing your best, that's certainly something you've got to feel good about."
The Badgers, who have dominated the serve-pass game in the Big Ten season, were out-aced (6-4) for the first time since the conference opener against Purdue. They also committed 11 service errors, the most since having 12 in a five-set loss to Marquette.
"It wasn't our cleanest match," Hilley said. "We were making some errors that we normally don't make, behind the service line especially.
"But I think we definitely got better as the match went on, even though we weren't playing our best volleyball. We stuck with it and kind of dug ourselves out of it, so that was a positive."
Junior Dana Rettke, in her second match since returning from a foot injury that sidelined her for two matches, was one of the biggest positives with 17 kills with no errors, hitting .654.
"It's definitely nice to have her there," Hilley said. "She has a really big window, so at times when the rally is getting pretty fast or something I can just chuck it up there and I know she's going to do something with the ball."
Rettke and fellow middle Danielle Hart were error-free on 35 swings, hitting a combined .657 to lead the Badgers to a .369 hitting percentage as a team.
Defensively, junior Lauren Barnes led the way, coming up with a season-high 16 digs and handling 20 serves without an error on a night when the team's passing was suspect at times.
"Lauren Barnes was spectacular in the backcourt," Sheffield said.
You have free articles remaining.
That's something her teammates have become accustomed to, no one more so than Rettke, who has known Barnes since they were teammates in club at 1st Alliance in the Chicago area.
"I've known Barnes for a long time," Rettke said. "She's just a really fiery, go-getter. She brings her 100 percent effort to every single practice, every single game. You know if she's upset, for sure, but it comes from a place of love and a place of wanting to be the best and wanting to play for the best. She's awesome."
Barnes had eight of her digs in the first set, as the Badgers raced out to a 9-1 lead and were up 20-11 before faltering down the stretch to let the Terps get as close as three points.
After giving up the first point in the second set, the Badgers were in command the rest of the way, finishing it off with a 6-0 run with senior Tiffany Clark at the service line.
Maryland was able to hang tough in the third set before opening up a 22-17 lead on a 4-0 run that included an ace by freshman Izzy Ashburn.
"You're not always going to be on top of your game and playing your best," Sheffield said. "That's certainly something you're trying for, but how do you handle things when it's a little bit choppier or uneven or you're not playing great?
"I thought we stayed with it. I didn't think we panicked. We stayed together. I'm proud of the grittiness our team displayed."
---
MARYLAND (kills-digs-blocks) — Alford 0-2-0, Jones 4-0-2, Schriner 1-0-2, Gardner 5-1-2, Pritchard 9-6-0, Rath 3-0-0, Rivas 0-13-0, Snyder 0-5-0, Burgio 0-8-0, Prejean 0-1-0, Myers 6-3-2. Totals 28-39-4.
WISCONSIN (kills-digs-blocks) — Barnes 0-16-0, Hilley 2-7-1, Ashburn 0-7-0, Duello 8-2-3, Rettke 17-0-4, Clark 0-10-0, Hart 6-0-1, Dodge 0-0-0, Loberg 5-2-0, Haggerty 9-4-0. Totals 47-48-5.
Hitting percentage — M .158, W .369. Aces — M 4 (Snyder 4), W 6 (Ashburn, Haggerty 2). Assists — M 25 (Snyder 12), W 44 (Hilley 40). Att. — 7,052.
---
Photos: Badgers volleyball sweeps Maryland
Wisconsin competes against Maryland in a women's volleyball match at the UW Field House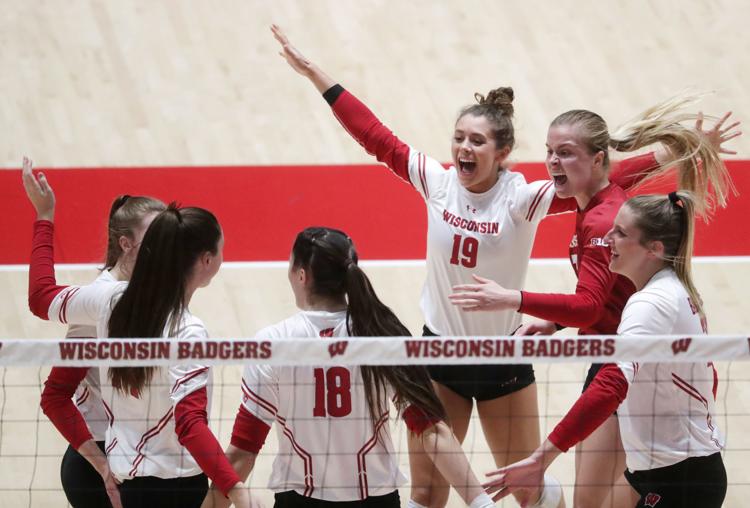 Wisconsin competes against Maryland in a women's volleyball match at the UW Field House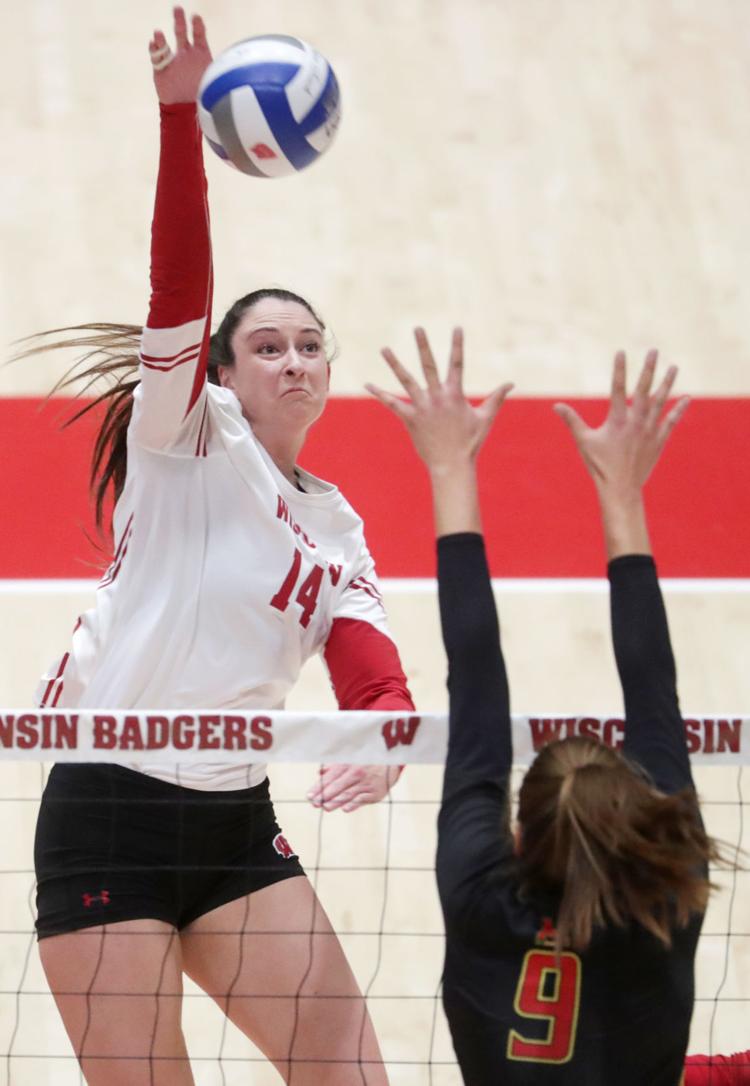 Wisconsin competes against Maryland in a women's volleyball match at the UW Field House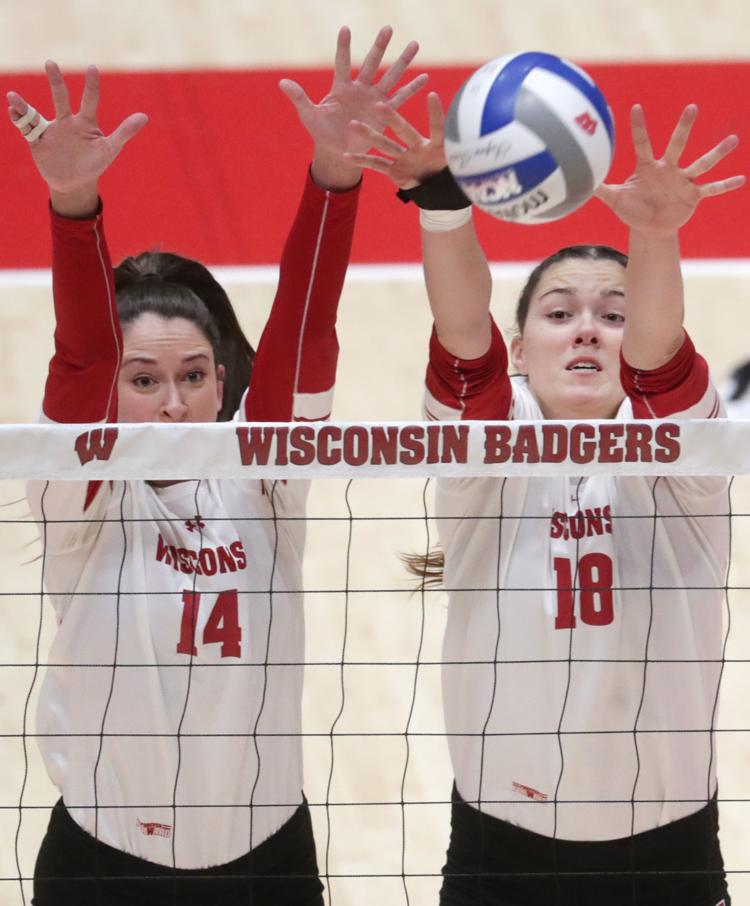 Wisconsin competes against Maryland in a women's volleyball match at the UW Field House
Wisconsin competes against Maryland in a women's volleyball match at the UW Field House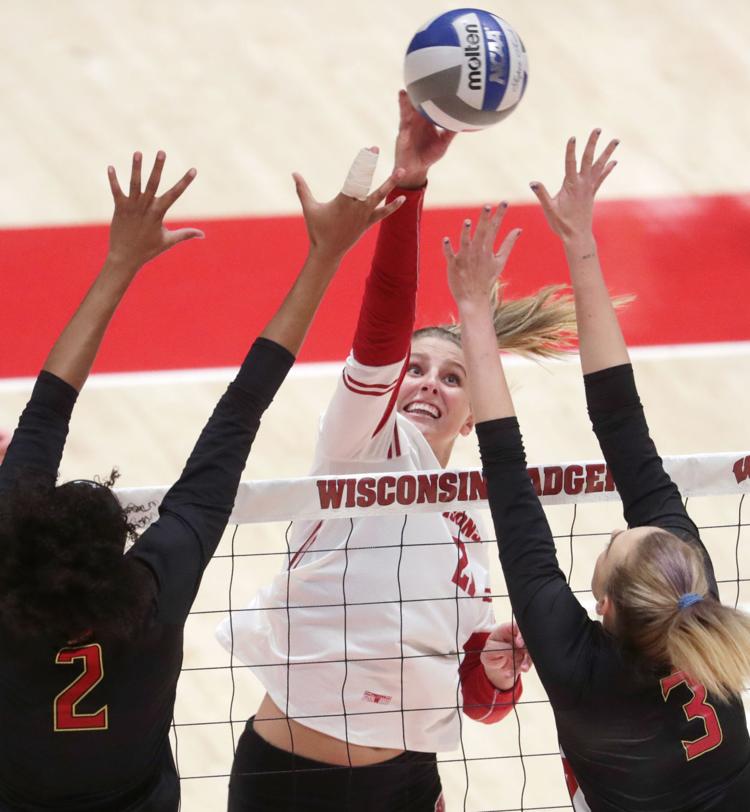 Wisconsin competes against Maryland in a women's volleyball match at the UW Field House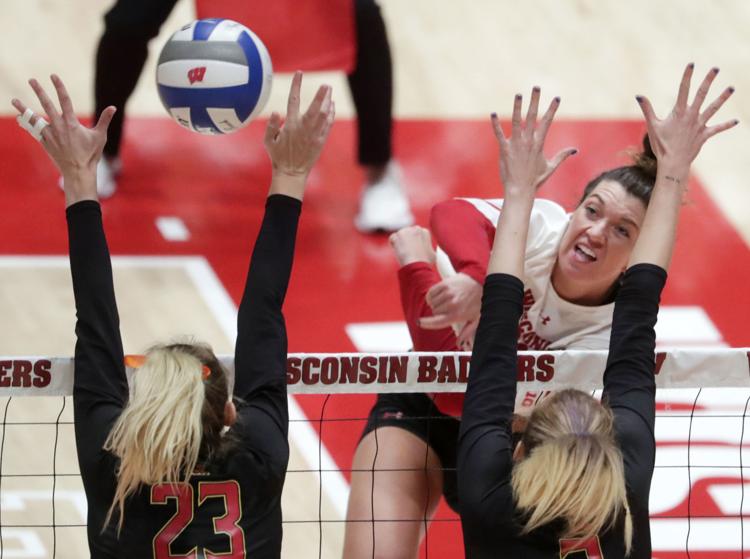 Wisconsin competes against Maryland in a women's volleyball match at the UW Field House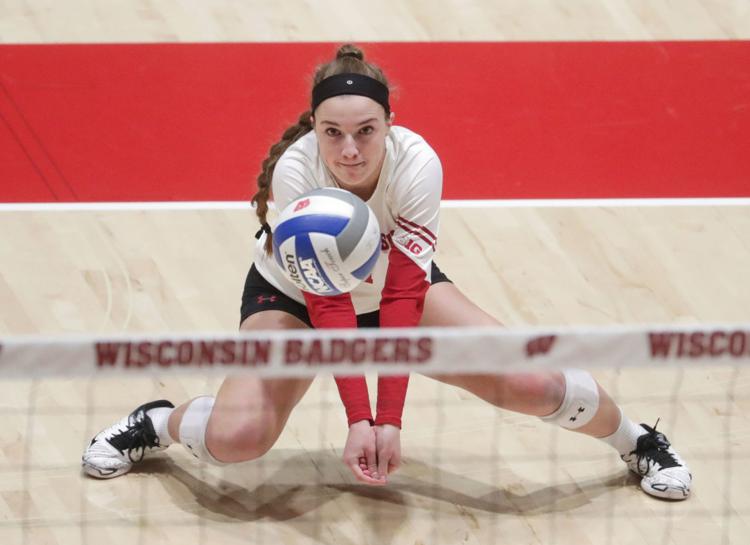 Wisconsin competes against Maryland in a women's volleyball match at the UW Field House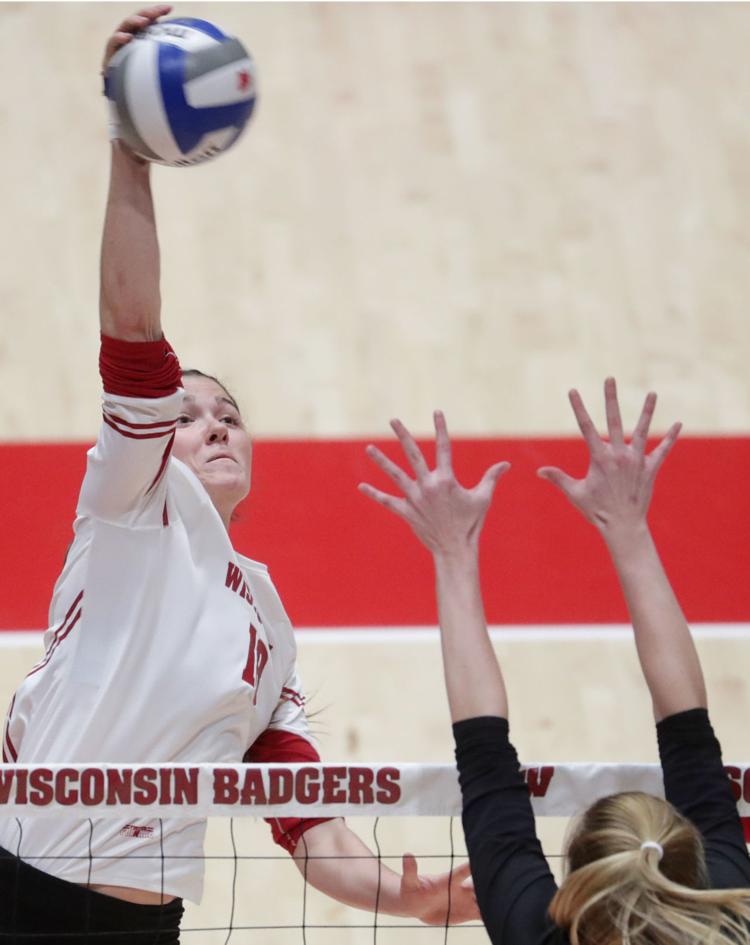 Wisconsin competes against Maryland in a women's volleyball match at the UW Field House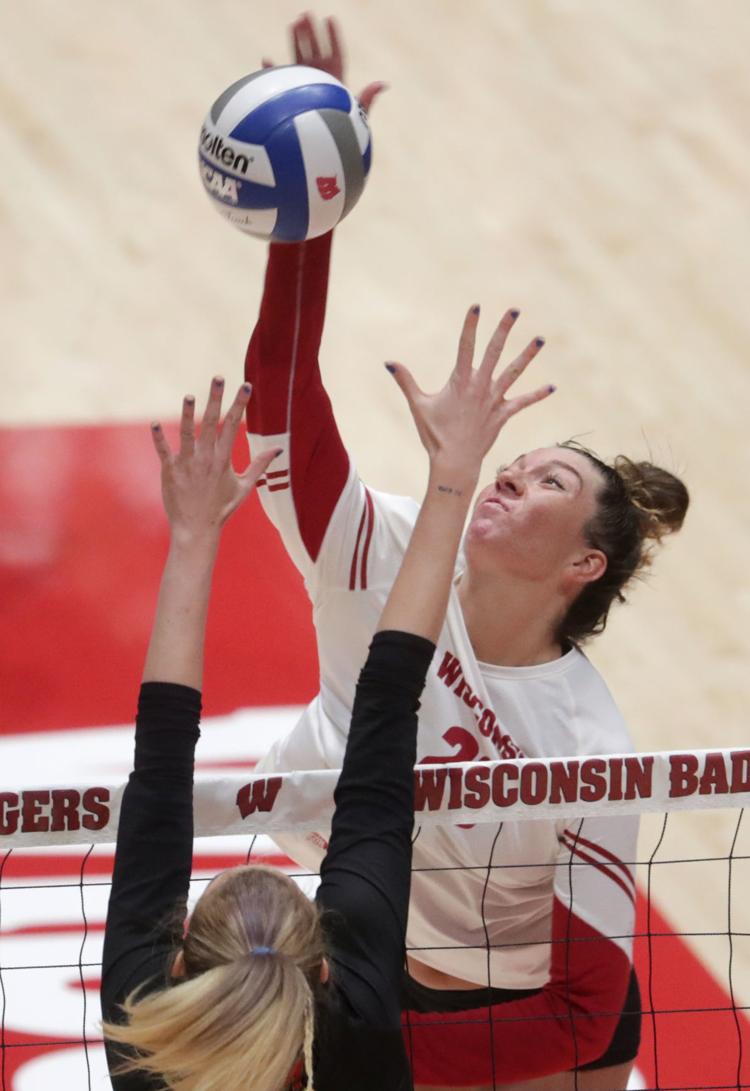 Wisconsin competes against Maryland in a women's volleyball match at the UW Field House